Chevrolet has been synonymous with American freedom and innovation for over half a century. While some may argue that this is no longer the case, the line-up for 2010 makes a compelling argument that the bow-tie is on the right tack to recovery. The all-new 2010 Camaro brings out the hooligan in all of us while the Silverado muscles on for the hard-working. The Tahoe and newly released Traverse ensure plenty of room for the family trip to Grandma's house, and the Malibu is at the top of its class for fuel efficiency. Overall, you'll be hard pressed to find a dealership with more diversity and value than your local Chevrolet establishment. MSRP is Manufacturer's Suggested Retail Price and is subject to change. See each vehicle's research page for the latest information. Photos courtesy of Chevrolet
Page 2
Why sacrifice comfort for utility? The Avalanche allows 6 passenger hauling and when necessary, the midgate can be removed and rear seats folded to increase the cargo box length from 5 feet 3 inches to 8 feet 2 inches. Not much new for 2010 besides a few color changes, an added USB port in the center console, and additional features included in the 1LT package. MSRP: $35,725-$48,865 Base Engine: 5.3-liter V8 with 310 horsepower Base EPA mpg: 15 city/21 hwy/17 cmb Competition: Honda Ridgeline, Ford Explorer Sport Trac, Hummer H2 SUT Model Highlights
5 Star NHTSA crash test rating
Optional rearview camera and blindspot detection system
Available Z71 Off-Road package features 2-speed transfer case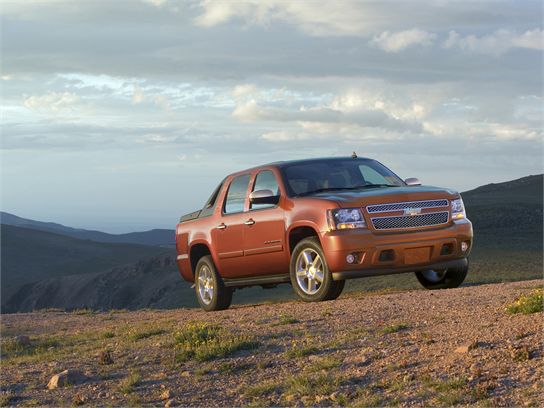 Page 3
Chevrolet's most fuel efficient vehicle receives powertrain revisions for 2010 that improve its already impressive fuel economy. This frugality makes it one of the cheapest cars to operate, and its low sticker price makes it one of the cheapest cars to purchase. MSRP: $11,965-$15,365 Base Engine: 1.6-liter 4-cylinder with 108 horsepower Base EPA mpg: 27 city/35 hwy/30 cmb Competition: Honda Fit, Nissan Versa, Hyundai Accent Model Highlights
Available as a 4-door sedan or 5-door hatchback
Four-speed automatic available on LT and LT2 models
Side impact airbags are standard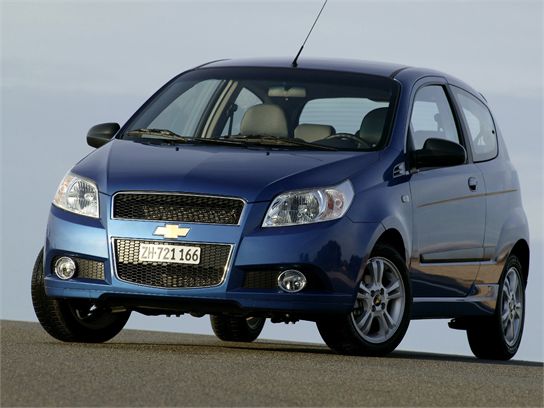 Page 4
After an 8 year hiatus, the Camaro is back and badder than ever. Oozing aggression, the production car is remarkably close to the concept we saw back in 2006. Squared off against Ford's Mustang and Dodge's Challenger, it's almost like 1970 all over again…just with MP3's, USB, Bluetooth, electronic stability control, and electronic launch control. Let the arm-dropping and burn-outs commence.
MSRP: $22,680-$26,875 Base Engine: 3.6-liter V6 with 304 horsepower Base EPA mpg: 18 city/29 hwy/22 cmb Competition: Ford Mustang, Dodge Challenger, Hyundai Genesis Coupe Model Highlights:
SS model features a 6.2-liter V8 from the Corvette that produces a tire-shredding 426 horsepower with a manual transmission
Available Bluetooth and USB connectivity
All models come with either an automatic or manual 6-speed transmission

Page 5
The now 5 year-old Cobalt soldiers on in 2010 with little changed. A few new exterior colors, a new MY LINK package that includes USB, Bluetooth connectivity, among other options should tide buyers over until the Cobalt's replacement, the Cruze, is introduced in 2011.
MSRP: $14,990-$24,535 Base Engine: 2.2-liter 4-cylinder with 155 horsepower Base EPA mpg: 25 city/37 hwy/30 cmb Competition: Ford Focus, Honda Civic, Toyota Corolla Model Highlights:
XFE model achieves an EPA estimated 37mpg on the highway
A 2.0-liter turbocharged 4-cylinder lives under the hood of the SS model producing 260 horsepower
Available as a sedan or coupe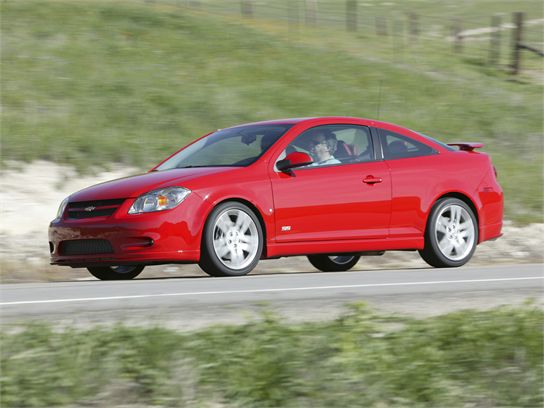 Page 6
Chevrolet's midsize workhorse sees greater efficiency and standard head curtain airbags for 2010. The 300 horsepower 5.3-liter V8 engine added in 2009 carries over in 2010 with a few revisions that increase overall performance. Unfortunately, the value proposition of the Colorado is a little tough to understand, so be careful when checking the option boxes.
MSRP: $16,985-$28,915 Base Engine: 2.9-liter 4-cylinder with 185 horsepower Base EPA mpg: 18 city/25 hwy/21 cmb Competition: Dodge Durango, Toyota Tacoma, Ford Ranger Model Highlights:
Capable of towing up to 6,000 pounds when properly equipped
ZQ8 sport package adds lower sport suspension, 18-inch wheels, ground effects and the 300 horsepower 5.3-liter V8 engine
1LT package now includes dual-zone climate control, power-adjustable pedals, remote start, and heavy-duty rear differential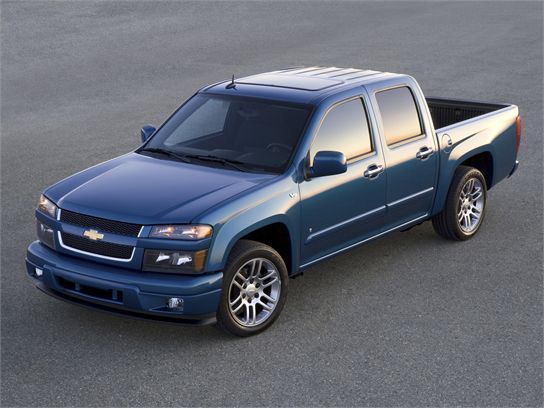 Page 7
Big news last year was the introduction of the fastest production vehicle Chevrolet has ever built, the 638 horsepower Corvette ZR-1. This year, the ZR-1 powers on while Chevrolet welcomes the Grand Sport to the Corvette family. The Grand Sport replaces the Z51 performance package on base model Corvettes while upping the performance ante with upgraded suspension, brakes, wheels, and transmission. It also looks very much like brother Z06 sporting the same front splitter and rear spoiler.
MSRP: $48,930-$106,880 Base Engine: 6.2-liter V8 with 430 horsepower Base EPA mpg: 16 city/26 hwy/19 cmb Competition: Dodge Viper, Ford Shelby GT500 Model Highlights:
Z06 model features a 7.0-liter V8 with 505 horsepower
Features an optional heads-up display
Base and Grand Sport models are available as a convertible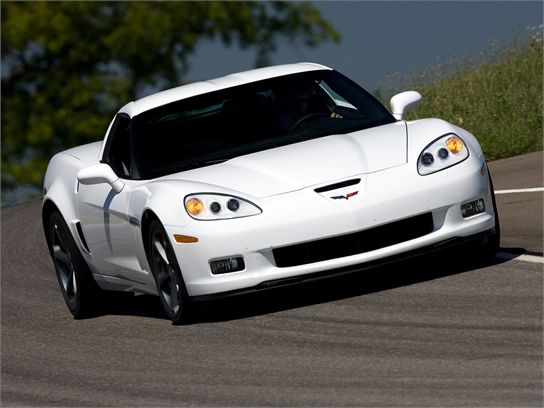 Page 8
Using the Malibu and Traverse for design inspiration, the Equinox is completely redesigned for 2010. Features such as Navigation, 40-gig hard drive for media storage, Bluetooth capability, and a new 2.4-liter 4-cylinder that achieves an impressive 32 mpg on the highway are staples for the new midsize crossover.
MSRP: $22,440-$29,795 Base Engine: 2.4-liter 4-cylinder with 182 horsepower Base EPA mpg: 22 city/32 hwy/26 cmb Competition: Honda CR-V, Ford Escape, Volkswagen Tiguan Model Highlights:
Available in either front- or all-wheel drive
Rear-vision camera system features a display in the rearview mirror
All-new interior features best of class materials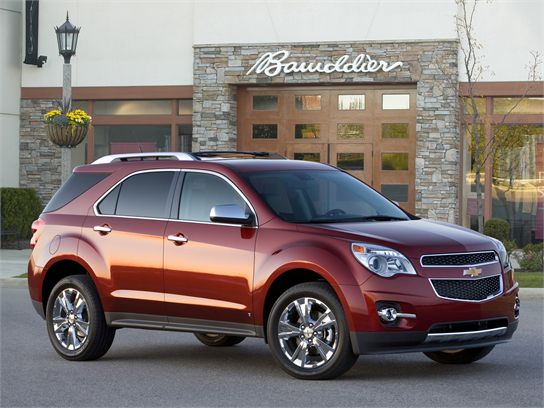 Page 9
A practical, unique, compact wagon/crossover, the HHR cruises into 2010 with little changes. Retro styling picks up where the PT Cruiser hasn't quite left off yet, and the HHR Panel with windowless rear panels make the HHR an overall distinctive yet versatile family or work hauler.
MSRP: $18,720-$26,255 Base Engine: 2.2-liter 4-cylinder with 155 horsepower Base EPA mpg: 22 city/32 hwy/26 cmb Competition: Chrysler PT Cruiser, Toyota Matrix, MINI Clubman Model Highlights:
2.0-liter 4-cylinder engine available in the SS model produces 260 horsepower
New rearview camera system will be available later in 2010
Seating for 5…except in the Panel, which is only a 2 seater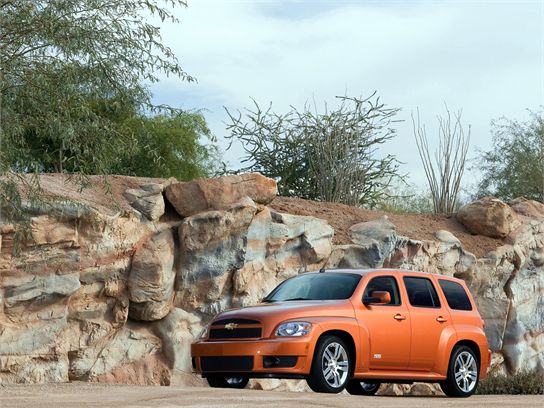 Page 10
Chevrolet's largest car-based family hauler is a somewhat underwhelming choice in the large car market. With minimal new developments for 2010, Chevrolet doesn't put much emphasis on the aging Impala. It does offer an array of standard equipment and is also one of the most fuel efficient vehicles in the large car class.
MSRP: $24,290-$29,930 Base Engine: 3.5-liter V6 with 211 horsepower Base EPA mpg: 18 city/29 hwy/22 cmb Competition: Ford Taurus, Toyota Avalon, Hyundai Azera Model Highlights:
Available SS package with 5.7-liter 303 horsepower V8
Five star frontal crash test rating from NHTSA
Rear seats fold flat for extra cargo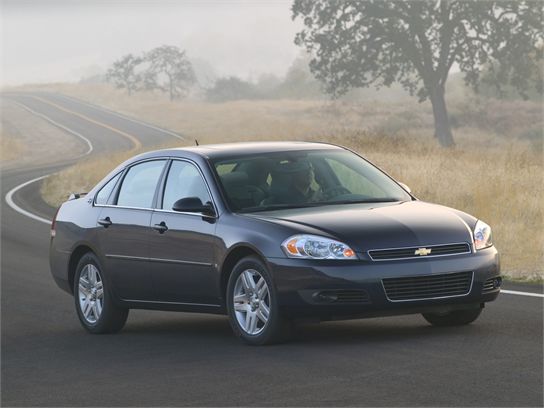 Page 11
This is one of the vehicles that prove Chevrolet knows how to build a great car. Being completely redesigned in 2008, the Malibu receives only a few tweaks to its award winning combination in 2010 including power driver lumbar support, an E85 capable 2.4-liter 4-cylinder engine, and a few new colors. Additionally, the Hybrid model has been discontinued for 2010.
MSRP: $21,825-$26,955 Base Engine: 2.4-liter 4-cylinder with 169 horsepower Base EPA mpg: 22 city/33 hwy/26 cmb Competition: Ford Fusion, Toyota Camry, Nissan Altima Model Highlights:
Available 3.6-liter V6 engine packs 252 horsepower and 26 mpg on the highway
If you're concerned about fuel economy while maintaining comfort, the top-line LTZ trim is available with the most fuel efficient engine option, the 2.4-liter 4-cylinder
5 star NHTSA crash test rating