Ford's lineup of new cars, trucks, vans, and SUVs promises more of what Ford has become famously good at in recent years. The F-150 looks ready to take on anything with its chiseled body, while the Ford car lineup benefits from multiple redesigns throughout, including a new Mustang, Taurus, and Fusion. The slick voice-activated Sync multimedia connectivity system is now available on every vehicle they make. Finally, Ford has made great strides both in vastly improving initial vehicle quality as well as long-term dependability, giving you more reasons than ever to consider a Ford. So whether you want to haul rear in a Shelby GT500 or haul 15 people in an E-Series van, the Ford lineup has something for you.
Written by Sarah Fairfield and William Sidney Photos courtesy of Ford
MSRP is Manufacturer's Suggested Retail Price and is subject to change. See each vehicle's research page for the latest information.
Page 2
Ford's perennial tire-shredder received a facelift for 2010, with a more slanted fascia, sculpted hood and sequential turn signals. With combinations such as V6 convertible, V8 GT coupe and every other combination in between, Ford ensures there's a Mustang perfect for grandma and one for her 16-year-old grandson.
$20,995 – $35,995 4.0-liter V6 with 210 hp 18 city/26 hwy/21 cmb Chevrolet Camaro, Nissan 370Z, Dodge Challenger
Available 4.6-liter V8 with 315 hp Convertible body style available Seating for four Improved handling and interior appointments

Page 3
With only minor cosmetic and trim changes for 2010, Ford's front-wheel-drive crossover features 17-inch alloy wheels, a six-speed transmission, and a quiet and comfortable interior with reclining rear seats. Though it has some snazzy interior options, like a panoramic sunroof, the Edge could use an update to its materials and center stack controls.
$26,920 – $35,770 3.5-liter V6 with 265 hp 18 city/25 hwy/20 cmb Nissan Murano, Toyota Venza, Chevrolet Traverse
All-wheel-drive model available Up to 3,500-lb. towing capacity Highest scores in IIHS front and side-impact testing Seating for five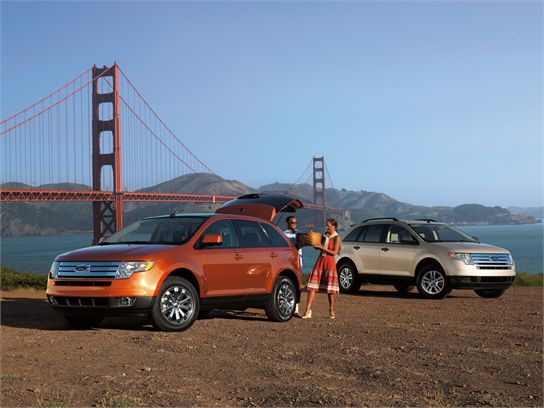 Page 4
The Escape is a small SUV with good towing power (on the V6 model) and great fuel economy. For 2010, it gets improved blindspot-spotting with a new driver's-side mirror and optional back-up camera, in addition to MyKey parental controls and an automatic parallel parking feature.
$20,515 – $27,020 2.5-liter 4-cylinder with 171 hp 22 city/28 hwy/24 cmb Honda CR-V, Chevrolet Equinox, Toyota RAV4
Up to 3,500-lb. towing capacity 16-inch alloy wheels All-wheel-drive model available Seating for five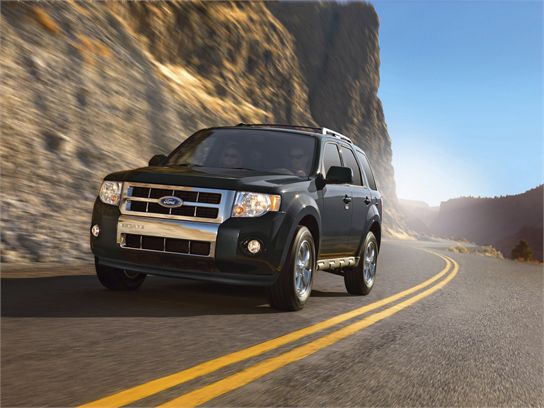 Page 5
The Escape Hybrid was the first available full-hybrid SUV, and still remains the most fuel-efficient SUV on the market. However, the significant cost premium over the regular Escape puts a huge dent in any future gas savings, so consider your options carefully. The Escape Hybrid gets all the same updates for 2010 as its aforementioned non-hybrid brother, with the addition of an electrically-driven air conditioner that stays on when the engine shuts off.
$29,750 – $34,010 2.5-liter 4-cylinder with 177 hp 34 city/31 hwy/32 cmb Toyota Highlander Hybrid, Chevrolet Equinox, Toyota RAV4
Available all-wheel drive
Upscale interior with nighttime ambient lighting
V6-like acceleration
Highest scores from IIHS for front and side-impact crash tests

Page 6
The 2010 Ford Expedition gets standard trailer sway control, and if you need to tow, this is the family mover you want. With three comfortable rows of seating, a smooth-riding independent suspension, and an available power folding third-row seat, the Expedition is a good option in the full-size SUV category. Also available are 4-wheel-drive and extended wheelbase models.
$35,085 – $50,740 5.4-liter V8 with 310 hp 13 city/19 hwy/15 cmb Chevrolet Tahoe, Nissan Armada, Toyota Sequoia
Available seating for eight IIHS highest safety ratings for front and side impacts Tows up to 9,200 lbs. Expansive cargo capacity

Page 7
The seven-passenger Ford Explorer is due for a major update, particularly to its outdated interior and thirsty engines. For 2010, the 292-hp V8 engine is only available on Eddie Bauer and Limited models. But for buyers looking to tow or go off road, this truck-based midsize SUV is still a good option, as it also offers some of the best road manners and handling in its class.
$28,880 – $38,200 4.0-liter V6 with 210 hp 14 city/20 hwy/16 cmb Toyota 4Runner, Dodge Durango, Jeep Grand Cherokee
Rear-wheel drive or 4-wheel drive with low-range transfer case Roomy, comfortable interior Up to 7,115-lb. towing capcity Top government ratings for front and side crash safety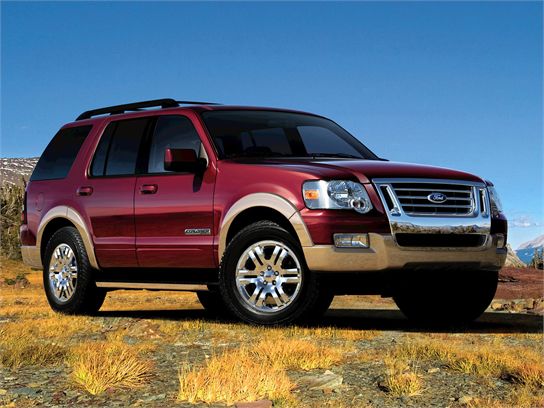 Page 8
Half SUV, half truck, the 5-seat Sport Trac is an Explorer with a pickup bed out back. One of a small number of players in this niche market, the Sport Trac caters to a buyer who needs some truck practicality with the driveability of an SUV. With its independent rear suspension and spacious interior, the overall ride is quite comfortable. The Explorer Sport Trac is available in 2WD, 4WD or full-time all-wheel drive with the Adrenalin Package.
$27,810 – $35,190 4.0-liter V6 with 210 hp 14 city/20 hwy/16 cmb Honda Ridgeline, Chevrolet Avalanche, Nissan Frontier
Available 4.6-liter V8 with 292 hp Up to 7,160-lb. towing capacity Top crash safety ratings from the government 4.5-foot utility box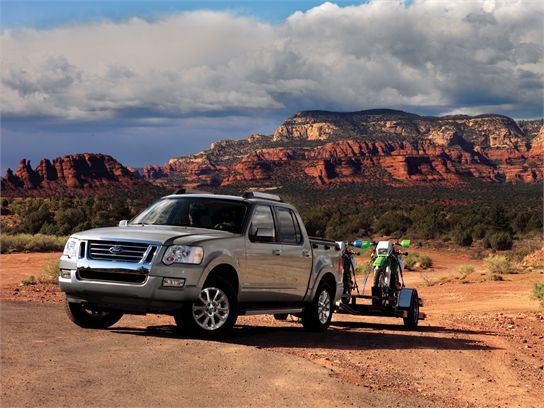 Page 9
America's best-selling vehicle for much of the last 30 years, the venerable F-150 gets a Harley-Davidson trim level and the new high-performance off road-ready SVT Raptor for 2010. There are a mind-bending number of different trim levels, three different truck bed lengths, three V8s, and plenty of available options. However, while the F-150 is a great all-around full-size truck, it lacks power compared to its rivals.
$21,380 – $45,835 4.6-liter V8 with 248 hp 15 city/19 hwy/16 cmb Chevrolet Silverado, Dodge Ram, Toyota Tundra
Quiet, comfortable ride 4-speed or 6-speed automatic transmission Up to 11,300-lb. towing capacity Available Ford Work Solutions technologies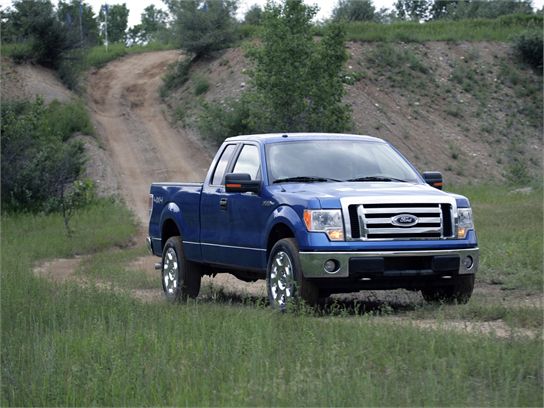 Page 10
For the question of serious hauling and towing, Ford answers with its range of F-250, F-350 and F-450 Super Duty pickups. A huge number of cabs, truck bed lengths and single or dual rear-wheel configurations are possible. Comfort is standard, and the ingenious Ford Work Solutions and Sirius Travel Link are available options. Get the 6.4-liter diesel V10 with 650 lb.-ft. of torque if you regularly haul Snuffleupagus-sized loads.
$25,300 – $55.660 5.4-liter V8 with 300 hp Dodge Ram Heavy Duty, Chevrolet Silverado Heavy Duty
Up to 24,500-lb. towing capacity Harley-Davidson and Cabela special editions Available trailer-brake controller Smooth-shifting automatic transmission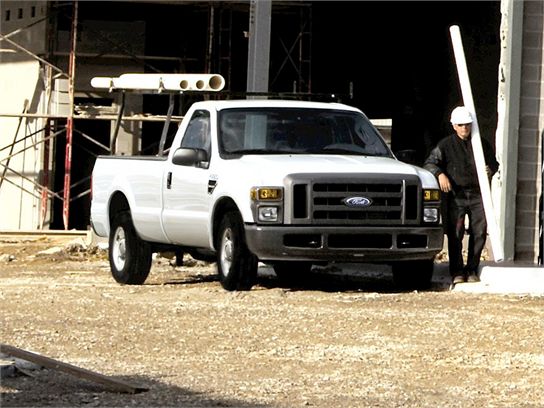 Page 11
Ford's Flex crossover wagon offers distinctive style, tons of creature comforts, and plenty of cargo space. Equally great for road trips, shopping for furniture and taking kids to practice their ball-related sport of choice, the Flex is a nice alternative for those who just can't stomach driving a minivan. There are some changes to standard and optional equipment for 2010, as well as a newly available twin-turbocharged EcoBoost V6 engine.
$28,550 – $42,065 3.5-liter V6 with 262 hp 17 city/24 hwy/20 cmb Honda Odyssey, Chevrolet Traverse, GMC Acadia
Seating for six (with second-row captain's chairs) or seven Available twin-turbo 3.5-liter EcoBoost V6 with 355 hp Top frontal and side crash safety ratings Available all-wheel drive