All-roaders, soft-roaders and everything in between.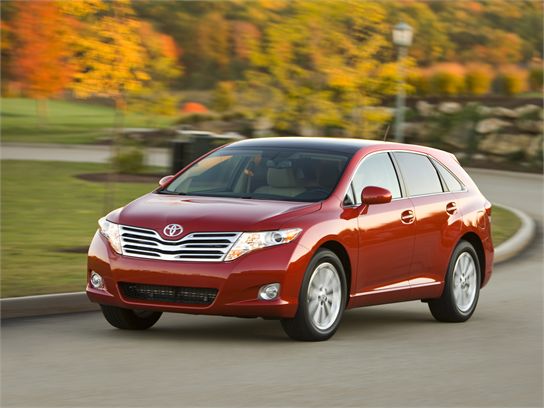 Toyota's SUV, truck and minivan offerings trump its car offerings 11 to 9. Reflecting the recent preferences of American car buyers, Toyota offers everything from the car-like crossover Venza, to the family toting, off-road going Land Cruiser. Lest we forget the full-size Tundra that's ready for work or play, and possibly the strongest offering in the midsize pickup segment, the Tacoma. The minivan market is shrinking, but the all-new for 2011 Sienna brings loads of practicality, versatility, and dare we say fun. Much like it's cars, Toyota's SUV, truck, and minivan offering are consistently highly regarded, so you really can't go wrong in selecting any of the vehicles on the following pages.
Toyota 4Runner
Redesigned for 2010, the rough-and-tough 4Runner stays true to its truck-based roots and off-road prowess. Toyota offers a base-trim, 2-wheel-drive SR5, a Trail trim with a hood scoop, locking rear differential, and off-road tires. There's also the top-of-the-line Limited which features 20-inch wheels, X-REAS adaptive dampers, leather interior, and many comfort features. This year's makeover adds more on-road refinement and a roomier interior, courtesy of the larger, borrowed FJ Cruiser platform. Blocky and rugged new looks on the outside, plenty of off-road tech, and details like an ECO meter to monitor fuel efficient driving habits inject a lot of new life in this long-standing SUV favorite.
$27,500 2.7-liter 4-cylinder with 157 hp 18 city/23 hwy/20 cmb Chevy Traverse, Jeep Grand Cherokee, Ford Explorer, Nissan Pathfinder
Model Highlights:
4.0-liter V6 gets a strong 17 city/23 highway fuel economy
V8 dropped for 2010, but V6 now gets 270 hp
90 cu. ft. of maximum cargo space and 9.6 inches of ground clearance
5-star side-impact rating from NHTSA

Toyota FJ Cruiser
Modeled after the classic FJ40 that has clawed its way into almost every corner of the world, the retro FJ Cruiser stands out on the road and still boast real off-road ability. The FJ's reworked V6 engine gets an extra 20 horsepower this year, as well as getting better fuel economy and no longer requiring premium fuel. A new Trail Teams Edition package is now offered that includes most of the All-Terain Package contents and extras like blacked-out trim, skid plates, special Sandstorm paint, and unique seat fabric. Despite all its charisma and versatility, the FJ does suffer from poor visibility which affects parking ease, and it has awkward reverse-opening rear doors that may make family vehicle shoppers shy away.
$24,180-$25,770 4.0-liter V6 with 259 hp 17 city/22 hwy/19 cmb Nissan Xterra, Jeep Wrangler, Jeep Liberty, Suzuki Grand Vitara
Model Highlights:
5-speed automatic or 6-speed manual transmissions offered
All Terrain Packages adds a locking differential and performance shocks
Interior is color keyed to exterior paint for cool retro look0
5-star side-impact rating from NHTSA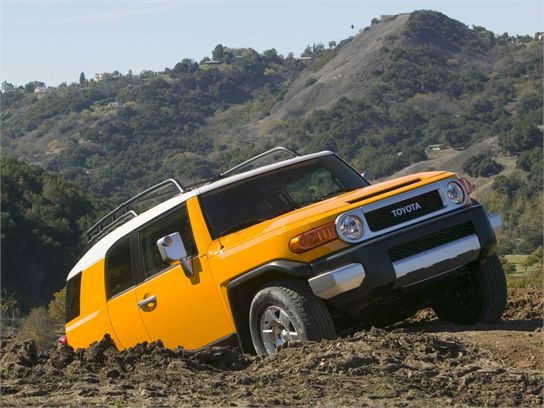 Toyota Highlander
It drives like a car and can tow like a truck -- the Highlander is one well-rounded midsize crossover. Its relatively boxy shape gives it a spacious interior, and a third row of seats is even available, though it will only comfortably fit pre-adolescents. A clever second-row design allows easy access to the back. The 4-cylinder engine will get you where you need to go with admirable fuel economy, but the 270-hp V6 gives a better balance between performance and gas consumption. For 2010 a sunroof is available on base 4-cylinder models, while a rearview camera can now be had on base V6 models.
$25,855 - $34,670 2.7-liter 4-cylinder with 187 hp 20 city/27 hwy/22 cmb Chevrolet Traverse, Mazda CX-9, Hyundai Veracruz, Ford Flex
Available 270-hp V6 is a popular (and good) choice
Complete set of standard safety features, including seven airbags
Up to 95.4 cubic feet of storage space with second and third rows folded
Can tow up to 5,000 pounds when properly equipped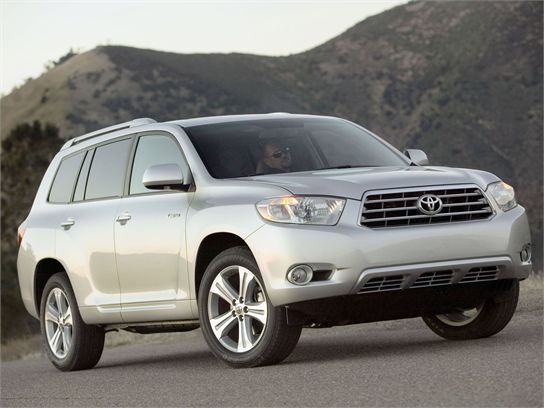 Toyota Highlander Hybrid
With all the same great features and practicality as its gas-powered fraternal twin, the Highlander Hybrid is simply a more fuel-efficient option and both trims come with all-wheel drive. Unfortunately, options like navigation, Bluetooth, the upgraded JBL stereo and a rear-seat DVD system are only available on the pricey Limited model. Though it doesn't get quite the mpg numbers of the Ford Escape Hybrid, the Highlander Hybrid offers more space and a third row while besting its larger GM hybrid competitors in both fuel economy and maneuverability.
$34,900 - $41,220 3.3-liter V6 + three electric motors for 270 hp total 27 city/25 hwy/26 cmb Ford Escape Hybrid, GMC Yukon Hybrid, Chevrolet Tahoe Hybrid
Two-mode hybrid system lets it run on electricity only at low speeds
Surprisingly quick 7.5-second 0-60 mph performance
Standard rearview camera
Can tow up to 3,500 pounds when properly equipped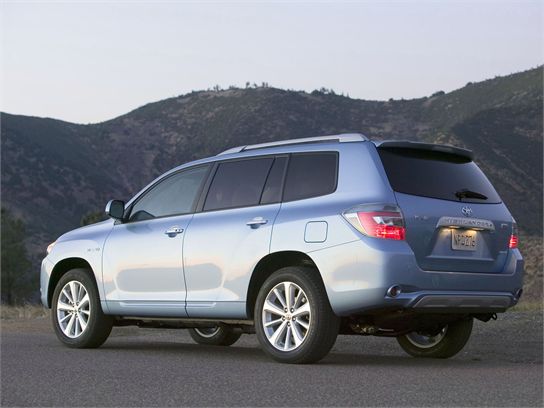 Toyota Land Cruiser
The Land Cruiser is one of the few large suvs that can confidently take you off road and coddle you in comfort the whole time. The single model is nicely equipped with heated front seats, Bluetooth, 14-speaker JLB audio system and a new Safety Connect telematics system (like GM's OnStar). Toyota's Kinetic Dynamic Suspension System (KDSS) automatically adapts the anti-sway bar stiffness to driving conditions, allowing for surprisingly composed on-pavement cornering and for greater suspension travel over rough off-road terrain.
$65,970 5.7-liter V8 with 381 hp 13 city/18 hwy/15 cmb Land Rover Range Rover, Cadillac Escalade, Mercedes-Benz GL450, Lexus LX 570
Off-road Crawl Control feature automatically modulates gas and brake so driver can focus on steering
Land Cruiser is much more affordable and reliable than its closest competitor, Range Rover
Disappointing cargo space for its size with a maximum 82 cubic feet
Can tow up to 8,500 pounds when properly equipped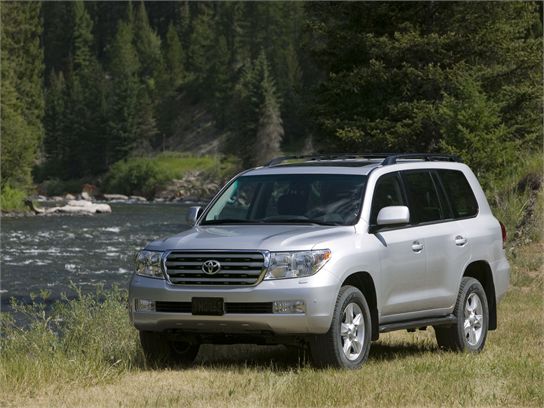 Toyota RAV4
As one of the first small crossovers on the scene, the RAV4 benefits from years of refinement. Both the 4-cylinder and optional 269-hp V6 are powerful and efficient, even with four-wheel drive. Though it's on the smaller side of midsize SUVs, cargo space is excellent at 73 cubic feet -- plus the rear seats fold flat with just the flip of a lever. The first and second rows are roomy, while a third row suitable for smaller kids is available.
$21,675 - $27,985 2.5-liter 4-cylinder with 179 hp 22 city/24 hwy/28 cmb Honda CR-V, Chevrolet Equinox, Nissan Rogue, Hyundai Tucson
Low load floor makes it easy to stow cargo
Four-wheel drive with 50/50 lock feature is available on all models
Can tow up to 3,500 pounds with optional tow package
Excellent Insurance Institute for Highway Safety scores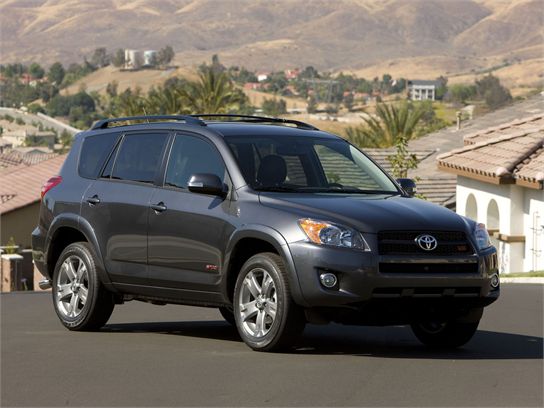 Toyota Sequoia
After an official one-year hiatus in 2009, the full-size Sequoia is back in 2010 with a more powerful base engine and some trim changes. The Sequoia has proven to be one of the most refined and user-friendly vehicles in the full-size SUV segment, which has stumbled as of late due to rising gas prices and shifting buyer preferences to smaller vehicles. The Sequoia's still hard to beat if you have a full family and need space for all their gear. Even if you need more space, when properly equipped, a 5.7-liter Sequoia can tow up to 9,100 pounds. Base MSRP: $39,030 Base Engine: 4.6-liter V8 with 310 HP Base EPA MPG: 14 city/19 hwy/16 cmb Competition: Chevrolet Tahoe, Nissan Armada, Ford Expedition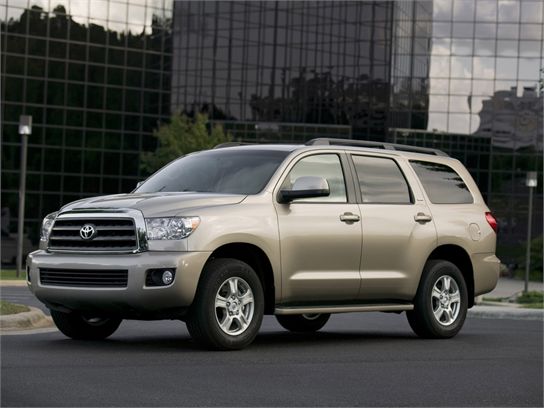 Toyota Sienna
While the number of minivans dwindle and the popularity of full-size crossover vehicles increase, Toyota still has faith in the minivan. 2011 brings a completely redesigned Sienna, replete with all-new exterior styling, all-new interior, a new "sport-tuned" SE model, and a new base 4-cylinder engine with 6-speed automatic transmission. In all, the new Sienna helps develop the ailing minivan market, and with clever marketing (search YouTube for "Swagger Wagon"), it may just catch on. Base MSRP: $24,260 Base Engine: 2.7-liter 4-cylinder with 187 HP Base EPA MPG: 19 city/24 hwy/21 cmb Competition: Honda Odyssey, Kia Sedona, Chrysler Town and Country Model Highlights
Optional rear seat screen can be split to display two separate sources
Can seat up to eight passengers
Sporty SE package adds sport suspension, 19" wheels, and unique front fascia
Optional 3.5-liter V6 produces 265 HP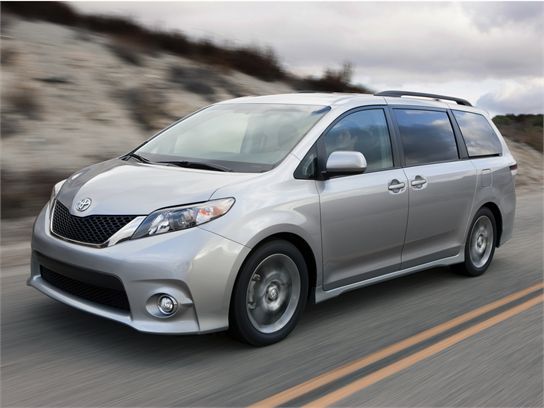 Toyota Tacoma
The small truck segment may be shrinking, but the venerable Tacoma soldiers on a top choice for those in the market. Offering ample trims and body styles, if you can't find a Tacoma to fit your needs, you shouldn't be looking for a small truck. Base fare is a work-ready 2-wheel-drive regular cab equipped with a manual transmission, air conditioning, and AM/FM CD player with MP3/WMA playback capability. $11,210 more nets you a top-end double cab with 4-wheel drive, a 236 HP 4.0-liter V6, 5-speed automatic transmission, and 16-inch wheels. Not much changes for 2011, besides a few more trims featuring standard automatic transmissions. Base MSRP: $16,365 Base Engine: 2.7-liter 4-cylinder with 159 HP Base EPA MPG: 21 city/25 hwy/22 cmb Competition: Chevrolet Colorado, Ford Ranger, Nissan Frontier Model Highlights:
When properly equipped, the Tacoma's maximum towing capacity is 6,500 pounds
IIHS top-rated "Good" in frontal offset and side impact crash tests
Both 5- and 6-foot cargo beds are available
PreRunner trim is rear-wheel drive but includes 4-wheel-drive look and suspension for saved weight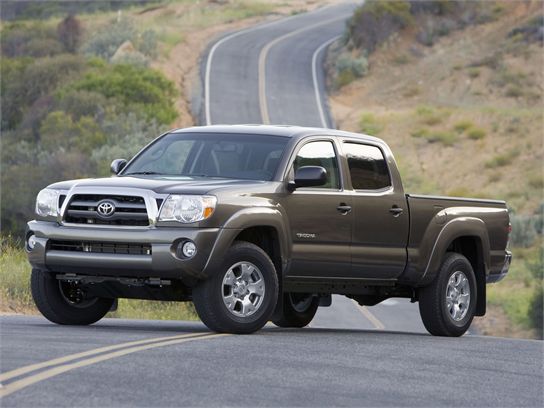 Toyota Tundra
Toyota's full-size pickup expands its entire line-up for 2010. From the new range-topping Platinum package to the business-only work truck package, there's a new Tundra for everyone. Additionally, a new mid-level V8 engine is available that cranks out an additional 39 horses over last year's model, and increases fuel economy by 2 mpg. Available in regular cab, double cab, and cavernous crewmax crew cab, the Tundra has plenty of space for your stuff, and your family if need be. Base MSRP: $23,455 Base Engine: 4.0-liter V6 with 236 HP Base EPA MPG: 15 city/19 hwy/16 cmb Competition: Ford F-150, Chevrolet Silverado, Dodge Ram Model Highlights:
Regular and double cabs can be had with 6.5- or 8-foot beds
Platinum package adds among other things, 20" wheels, and wood-grain-style trim
IIHS rated "Good" in frontal-offset crash tests
When properly equipped, Tundra can tow 10,800 pounds