World-class luxury and refinement meet cutting-edge style and technology.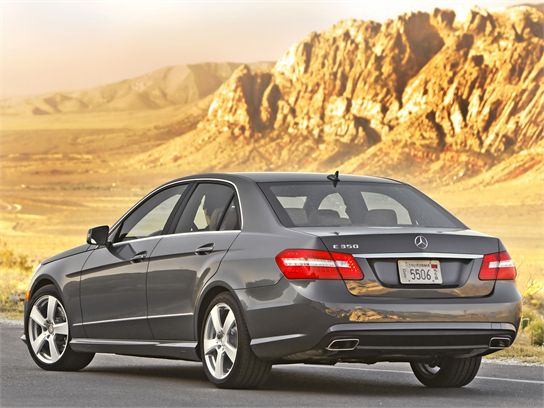 Mercedes-Benz is one of the oldest automobile manufacturers in existence and has a long history of building world-class vehicles that emphasize refinement and luxury, while pushing the boundaries of innovation and performance. A move toward bolder styling and reimagining some of it's storied past, Mercedes has and continues to refresh its model lineup. Currently, Mercedes offers a wide array of sedans, coupes, roadsters, crossovers, SUVs and exotic sports cars that can be had with regular gas engines, clean diesels and fuel efficient hybrid powertrains. With the 2010 introduction of the fantastically redesigned E-Class, the gullwing SLS AMG supercar, the S400 Hybrid and safety features like Attention Assist drowsiness monitoring, the Mercedes-Benz march towards performance without compromise continues with gusto.
Photos courtesy of Mercedes-Benz.
Page 2
Mercedes-Benz C-Class
The C-Class is the easiest and least expensive way to acquire the envied three-pointed star that Mercedes-Benz offers. Outfitted in Luxury and Sport versions, the C300 has great build quality, admirable safety features and strong resale value. It suffers slightly from the combination of lower power and a higher price point than its nearest competitors from BMW and Audi, but that's why they make the 268-hp C350 Sport. For 2010, a new optional Dynamic Handling package, including driver-adjustable suspension, speed-sensitive steering, paddle shifters and 18" AMG wheels, adds extra oomph to the Sport models. Of course, there is always the hasty C63 AMG for those looking for a 451-hp V8 in an entry level car. And who isn't? $33,600 – $57,350 3.0-liter V6 with 228 hp 18 city/26 hwy/21 cmb BMW 3 Series, Audi A4, Lexus ES350
Choice of 3.0-liter V6 or 268-hp 3.5-liter V6
Bold styling is an attention getter
Optional Dynamic Handling package bolsters sportiness
C63 AMG is a modern German muscle car

Page 2
Mercedes-Benz E-Class
The newly redesigned E-Class is an automotive tour de force in almost every way. With the launch of the E-Class Coupe, which replaces the discontinued CLK-Class, and the drop top 2011 E-Class Cabriolet, Mercedes has almost all its bases covered. Consumers still have to wait a little while for the beloved E-Class Wagon, but the brawny E63 AMG screams back on the scene with its addictive 518 hp. The E-Class has a new interior that matches or betters even the uber-luxury S-Class in build quality, materials and comfort. The ride and handling feel solid and over-engineered, the steering is communicative, technology abounds and luxury is in every corner. To make the E-Class even more ridiculously great, Mercedes managed to somehow price this world-beater below the previous E-Class. This vehicle is the epitome of what a Mercedes-Benz can be, and a credit to the company's impressive history. $48,050 – $85,750 3.5-liter V6 with 268 hp 18 city/26 hwy/21 cmb BMW 5 Series, Audi A6, Jaguar XF
High tech features perfectly blended with old world luxury
Engine choices galore, and diesel soon to return
The cutting edge of safety technologies
Quite possibly the best all-around vehicle in the Mercedes-Benz lineup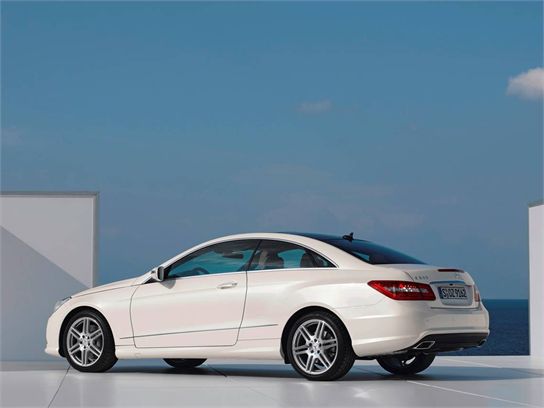 Page 2
Mercedes-Benz S-Class
The S-Class has been a flagship luxury sedan and technology showcase for an incredible 55 years. The 2010 model is no exception. Outside, minor styling revisions, crisper lines and LED daytime running lights keep things fresh. The introduction of the S400 Hybrid brings the first production use of lithium ion batteries to the automotive marketplace. On the other end of the spectrum, wild excess is personified by the S65 AMG and its twin-turbo V12 engine with...gulp...738 lb.-ft. of torque. Behind the wheel, the S-Class drives like a smaller sedan and features safety technologies, like Attention Assist, that monitors the driver for drowsiness. It seems that the cachet attached to the S-Class' reputation remains alive and well. $87,950 – $201,150 3.5-liter V6 and electric motors for a combined 295 hp 19 city/25 hwy/21 cmb BMW 7 Series, Audi A8, Jaguar XJ, Lexus LS
Definitive large luxury sedan with state-of-the-art features
Drive Dynamic seats adapt to cars movement to hold you in place
S400 Hybrid matches Lexus LS 600h MPG for less money
More safety features than almost any other car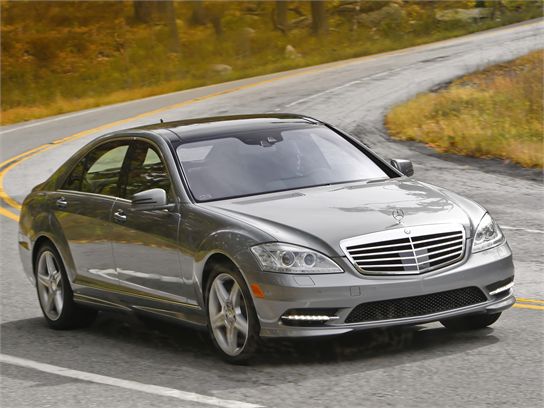 Page 2
Mercedes-Benz CL-Class
The CL-Class is a first-class luxury cruiser whose sleek, pillarless coupe body is based on the S-Class sedan, emphasizing sexy style over practicality. V8 and V12 engines are the sole high power options, starting with the CL550 4Matic to the wildly excessive CL65 AMG. For 2010, variable ratio steering, interior ambient lighting and optional rear seat entertainment have been added to the long list of performance and luxury features. To celebrate there three-point star logo's creation, Mercedes-Benz is building a limited "100th Anniversary of Mercedes-Benz Edition" of the CL550 4Matic. $110,400 – $207,170 5.5-liter V8 with 382 hp 14 city/21 hwy/17 cmb BMW M6, Audi RS5, Jaguar XKR, Maserati GranTurismo
Power choices from 382-hp V8 to 604-hp biturbo V12
Optional Drive Dynamic seats actively hold you in place during cornering
Pillarless-coupe styling is classic Mercedes-Benz
Myriad high-tech safety and driver-assist technologies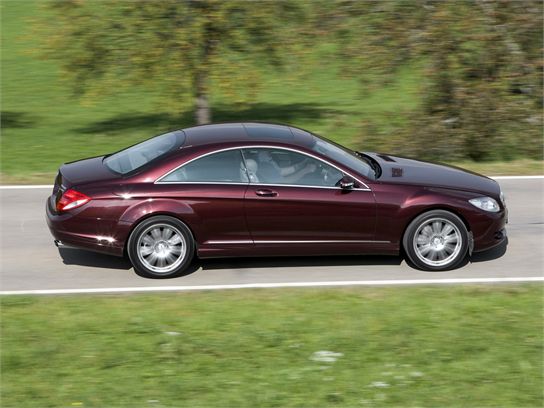 Page 2
Mercedes-Benz CLS-Class
The growing 4-door coupe body design trend was created by the stylishly practical CLS-Class. The only two configurations are the CLS550 with the corporate 5.5-liter V8 or the high-performance CLS63 AMG that serves up 507 horsepower at will. A new steering wheel has been added for 2010, along with real-time traffic navigation information and standard HD radio. Even though it's been around mostly unchanged for six years, the CLS-Class still turns heads and should continue to with its upcoming 2012 redesign. $72,400 – $97,950 5.5-liter V8 with 382 hp 14 city/21 hwy/16 cmb BMW 5 Series, Jaguar XF, Audi S5
7-speed automatic transmission standard with both V8s
CLS63 offers optional 705-watt Bang & Olufsen audio system
Rear headroom sacrificed to retain beautiful coupe-like styling
Tuned to be more fun-to-drive than other Mercedes sedans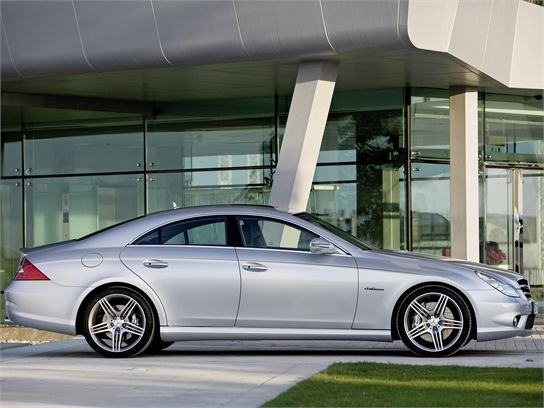 Page 2
Mercedes-Benz GLK-Class
The all-new GLK-Class brings Mercedes' values of solid feel, confident handling and best-in-class build quality to the compact SUV segment. Only offered as the 3.5-liter V6-equipped GLK350, the C-Class based chassis can be configured with rear-wheel drive or all-wheel drive. Unlike many SUVs' ambitious claims, the GLK really does drive like a car as it focuses on agility and comfort. The second-least-expensive Mercedes-Benz still brings luxury, Germanic efficiency and solidity into a very competitive corner of the market. $34,600 – $36,600 3.5-liter V6 with 268 hp 16 city/22 hwy/18 cmb BMW X3, Audi Q5, Lexus RX 350, Cadillac SRX
Blocky interior is well-built and very German-looking
Tough exterior styling looks like a mini G-Class
Quiet and comfortable ride
Not as roomy or versatile as competition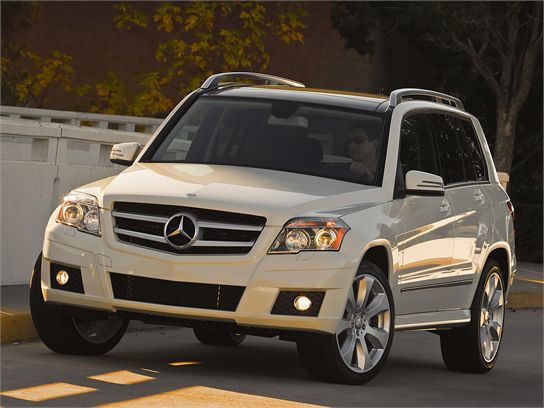 Page 2
Mercedes-Benz M-Class
Redesigned in 2009, the M-Class is Mercedes' bread-and-butter SUV that can be configured into an impressive seven models with five engine choices. This midsize SUV continues this year with the choice of a rear-wheel-drive or all-wheel-drive ML350, a quick ML550, a ridiculously fast ML63 AMG and an efficient 50-state-legal ML350 BlueTEC clean diesel. New to 2010 is the ML450 Hybrid that features a combined power output of 335 hp and can achieve 24 mpg on the highway. With beaucoup luxury features, ride comfort, a roomy back seat and outstanding build quality, there is little doubt that almost everyone can find something to love about the M-class. $45,700 – $91,050 3.5-liter V6 with 268 hp 16 city/21 hwy/18 cmb BMW X5, Audi Q7, Land Rover LR4, Porsche Cayenne
Five engines from fuel efficient to maximum performance
BlueTEC diesel and Hybrid can earn you a tax credit
Impressive towing capability when properly equipped
5-star crash test rating for front and side impacts

Page 2
Mercedes-Benz GL-Class
If you are looking for a luxury large SUV that stands apart from the American or Japanese staples, then look no further than the Mercedes-Benz GL-Class. Whether you choose the gas-powered GL450 or GL550, or the clean diesel GL350 BlueTEC with standard all-wheel drive, you can count on receiving class-leading refinement and a confident, sedan-like ride. Revised front and rear fascias, instrument displays and seats on the GL450 and GL550 are the only noteworthy changes for 2010. The competition simply doesn't or can't match the excellent road manners, refinement and curb appeal of the GL-Class, securing its position at the top of the large SUV heap. $59,950 – $82,850 3.5-liter turbocharged V6 diesel with 210 hp 17 city/23 hwy/19 cmb Land Rover Range Rover, Cadillac Escalade, Lexus LX, Infiniti QX56
BlueTEC diesel slightly underpowered, but has 485-mile range
Real seven passenger space and good towing capacity
Maximum cargo room sacrificed for luxury amenities
Excellent braking performance and standard safety features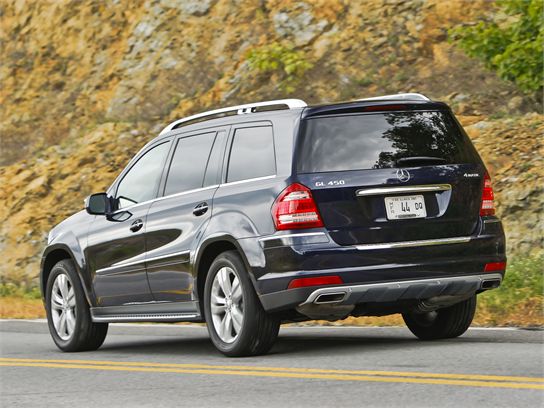 Page 2
Mercedes-Benz G-Class
In production for 30 years and sold in the US for the last eight years, the military-chic G-Wagen SUV combines luxury, extreme off-road abilities and brash styling to challenge your perceptions of excellence and excess. The standard G550 has plenty of grunt with its 382-hp V8, while the 500-hp G55 AMG inspires goofy no-SUV-should-go-this-fast grins. Exterior updates like bodycolor molding and new exhaust outlets, along with new seats, leather dash top, heated steering wheel and ambient lighting are new features for 2010. Poor handling and fuel efficiency, as well as a noisy cabin, are pretty significant trade-offs for the apocalypse-resistant build quality and performance. $104,000 – $122,700 5.5-liter V8 with 382 hp 11 city/15 hwy/13 cmb Land Rover Range Rover, Hummer H2, Toyota Land Cruiser
Stands alone since Hummer was discontinued
Can be factory-equipped with armor plating...really
Off-road capability is second-to-none
Hand-built, over-engineered quality

Page 2
Mercedes-Benz R-Class
Mercedes launched the R-Class in the US to head-scratching consumers wondering whether it was a minivan, station wagon or crossover. Whatever you call the R-Class (Mercedes calls it a crossover), it's a luxurious family hauler that can be had in the V6-powered R350 or clean-diesel R350 BlueTEC. A new safety feature, called Post Safety System, can unlock the doors and kill the engine in the event of an accident. If you can handle the rather strange exclusivity of owning one, the R-Class will deliver a comfortable, quiet, practical and luxurious driving experience for either six or seven of your passengers. $49,300 – $50,800 3.5-liter V6 with 268 hp 14 city/19 hwy/16 cmb Volvo XC90, Ford Flex, Lincoln MKT
R350 BlueTEC offers 400 lb.-ft. of torque and 500-mile range
All models have standard 4Matic AWD
Lack of sliding rear doors can be a deal breaker for some
Mercedes' latest "mbrace" telematics safety system standard