America's premier domestic luxury brand, Cadillac is not your grandfather's car anymore. Since the introduction of the Escalade and the CTS, Cadillac continues to step up to the plate with fresh designs, modern luxury and impressive performance that appeal to a younger group of car buyers. The CTS consistently earns rave reviews from the automotive press and an all-new Sport Wagon version is being introduced this year. The Escalade caught on like a California wildfire and remains popular with celebs and soccer moms to this day. From the personal two-passenger XLR Roadster and the more traditional STS to the SRX Crossover and Escalade EXT pickup truck, Cadillac offers a wide range of vehicles to choose from.
Photos courtesy of Cadillac
Page 2
Featuring edgy exterior design and performance to match, the CTS handles corners like every sport sedan should. It also offers a plush interior and a host of available luxury features and technologies.
$36,560 – $58,905 3.6-liter V6 with 263 hp 18 city/26 hwy/21 cmb Lincoln MKZ, Infiniti G37, Acura TL
Rear-wheel drive or available all-wheel drive Full MP3 and iPod connectivity Available 40 GB hard drive media system Available UltraView "double" sunroof

Page 2
Squeezing a Corvette ZR-1 engine into the CTS gives this luxury sport sedan stunning acceleration. Distinctive style, great handling, lavish comfort and obscene amounts of power, all for a price tag its competitors can't touch.
$59,875 – $68,515 6.2-liter supercharged V8 with 556 hp 16 BMW M5, Audi S6, Mercedes-Benz C63 AMG
Rear-wheel drive with limited slip differential 0-60 mph in 3.9 seconds 6-speed manual transmission or optional 6-speed automatic 19-inch wheels over huge 6-piston front and 4-piston rear brakes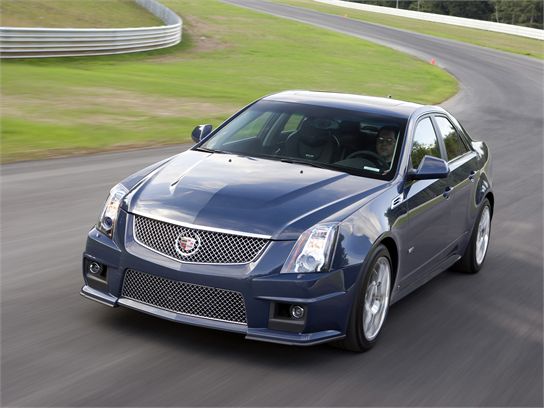 Page 2
Available at the end of summer 2009, the CTS Sport Wagon adds space and utility while maintaining the fuel efficiency and drivability of a sedan. A direct injection 3.0-liter V6 is tucked under the hood of its sleek new body, giving the Sport Wagon a few more horsepower than its CTS sedan sibling.
$39,830 3.0-liter V6 with 270 hp 18 city/27 hwy/22 cmb Audi A4 Avant, BMW 3 Series wagon, Volvo V70
Rear-wheel drive or available all-wheel drive Optional 3.6-liter V6 with 304 hp 58 cu. ft. of cargo space with rear seats folded Power liftgate and integrated load management system

Page 2
This full-size sedan offers an exceptionally roomy interior and a soft, quiet ride. The DTS is offered in three trim levels with a variety of comfort and advanced features available, such as heated and cooled front seats, and lane departure and blind spot warning systems.
$46,280 – $62,915 4.6-liter V8 with 275 hp 15 city/23 hwy/18 cmb Chrysler 300 C, Lincoln MKS, Lincoln Town Car
Optional 4.6-liter V8 with 292 hp Electronic stability control with brake assist HID low- and high-beam headlights Remote start with push-button ignition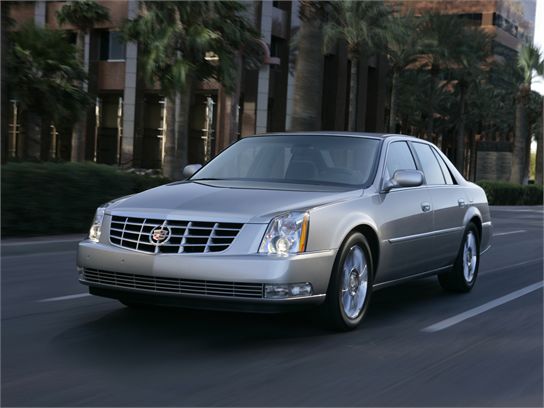 Page 2
The perennial favorite of rappers and professional sports stars everywhere, the Escalade combines size and presence with luxury and prestige. This extremely capable full-size SUV can now run on E85, but remains thirsty. The Escalade is also available in an extended wheelbase version that is over 20 inches longer, the Escalade ESV.
$62,205 – $87,460 6.2-liter V8 with 403 hp 12 city/19 hwy/15 cmb Lincoln Navigator, Infiniti QX56, Land Rover Range Rover Supercharged
High-quality materials throughout the cabin Five-star government safety ratings for front and side impacts DVD navigation system and surround sound audio system Rearview camera and rear sonar parking aids

Page 2
All of the extravagance and competence of the standard Escalade, still with plenty of power and much-improved fuel efficiency around town thanks to a hybrid drivetrain.
$72,135 – $87,510 6.0-liter V8 with 332 hp; electric motor 20 city/21 hwy/20 cmb Mercedes-Benz GL320 BlueTEC, 2010 Porsche Cayenne S Hybrid (unreleased)
Premium-appointed interior and SUV capability Two-mode hybrid technology 50% better city fuel economy than traditional Escalade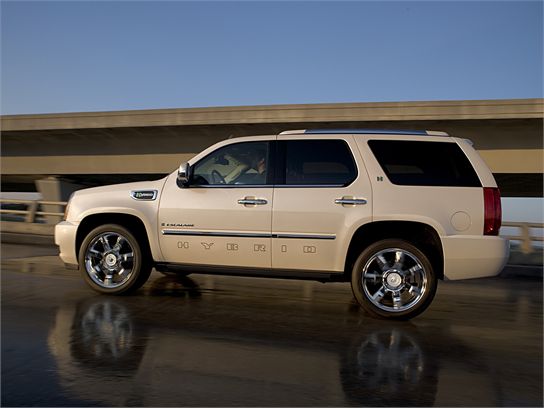 Page 2
Want luxury, but need a truck? The Escalade EXT fits the bill. Basically a plush SUV on the inside, the truck bed out back makes it distinctively versatile.
$61,130 – $69,700 6.2-liter V8 with 403 hp N/A Toyota Tundra CrewMax, Ford F-150 King Ranch, GMC Sierra Denali
Full-time all-wheel drive Converts from a 5-passenger SUV to a 2-passenger truck Standard DVD navigation system Bluetooth phone system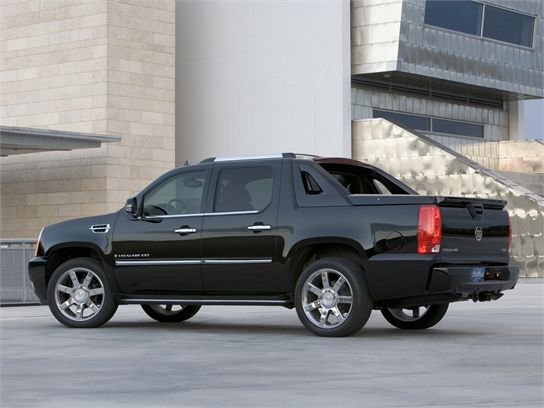 Page 2
All-new for 2010, the SRX luxury crossover wears chic duds and actually got smaller than its predecessor, losing an optional third row. Choose between front-wheel drive and all-wheel drive with the 3.0-liter V6, or get the all-wheel-drive SRX with a 2.8-liter turbo V6 engine.
$33,330 – $50,270 3.0-liter V6 with 265 hp 18 city/25 hwy/21 cmb Infiniti FX35, Mercedes-Benz ML350, Acura MDX
6-speed automatic transmission with performance shifting Modular under-floor storage Power rear liftgate with height memory Front and rear sonar systems for help with parking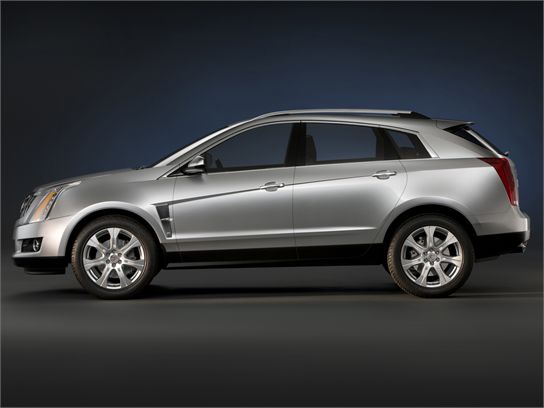 Page 2
Larger than the CTS, the Cadillac STS shares full-size premium sedan duty with the DTS, which is just barely bigger. There are both V6 and V8 engine options, and all-wheel drive is available with either. Exotic interior accents and materials come on the Platinum trim level.
$46,845 – $78,425 3.6-liter V6 with 302 hp 18 city/27 hwy/21 cmb Mercedes-Benz E550, Volvo S80, Jaguar XF
Keyless entry with remote start and push-button ignition Rain-sensing windshield wipers Available surround sound audio system and navigation Available computer-controlled adjustable suspension
Page 2
The high-performance version of the STS, the STS-V features a muscular supercharged V8 and a bunch of other sporty goodies. High tech features and luxurious appointments are still found throughout the interior.
$83,495 – $84,540 4.4-liter supercharged V8 with 469 hp 13 city/19 hwy/15 cmb Mercedes-Benz E63 AMG, Audi S6, BMW M5
Sport-tuned suspension and a limited slip differential Big Brembo brakes, 18-inch front and 19-inch rear wheels Unique wire mesh grille and rear spoiler Surround sound audio and navigation system