Stylish, affordable, and oh-so-nimble. Put Mazda on your short list.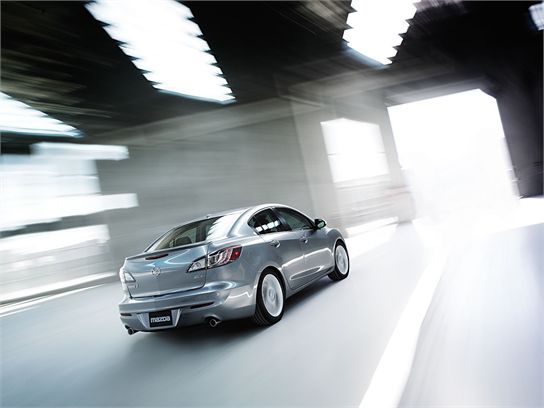 Mazda is a company that fully stands behind its Zoom-Zoom slogan with sporty passenger cars, nimble crossovers, and some of the purest sports cars anywhere. Taking their latest corporate design language to the next level, Mazda has given almost its entire lineup full refreshes or facelifts in just the last two years. They've added plenty of standard features and a bounty of optional luxury items to most models. Notably, the compact Mazda 3 and Mazdaspeed 3 models are all-new for 2010, and are quite exceptional. You won't find a more sprightly people-mover than the Mazda 5 van, which is becoming increasingly popular. The brand is coming into its own in terms of styling, performance and reliability, and buyers would be wise to put any Mazda on their short list.
Photos courtesy of manufacturer.
Page 2
Entirely redesigned for 2010, the Mazda 3 is (still) one of the best compact cars you can buy. Unique aerodynamic styling (the smiley-face grille grows on you), excellent handling, and a high quality interior all contribute to making the 3 especially fun to drive. It's available in 4-door sedan and 5-door hatchback body styles with choice of 4-cylinder engine, and offers luxury options like Bluetooth, navigation, leather upholstery and heated seats. We prefer the 5-door for its added versatility and hot-hatch looks.
$15,295 – $22,800 2.0-liter 4-cylinder with 148 hp 25 city/33 hwy/28 cmb Toyota Corolla, Honda Civic, Hyundai Elantra
Available 2.5-liter 4-cylinder with 167 hp and 21 city/29 hwy/24 cmb mpg
Height-adjustable driver seat and tilt/telescoping steering wheel
Optional auto-leveling and directionally adaptive bi-xenon HIDs
Standard brake assist and active front head restraints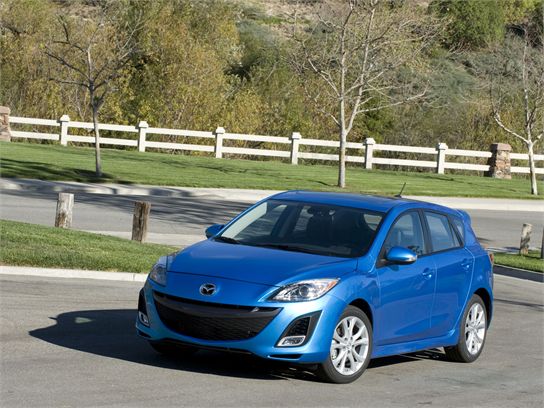 Page 3
Available in hatchback form only, the 263-hp 2010 Mazdaspeed 3 remains a prime budget performance car choice. This turbocharged version of the Mazda 3 received similar cosmetic updates as its sibling, but with sportier exterior flair and unique red and black interior accents. The suspension was also revised, improving cornering prowess while maintaining a smooth ride. And with 280 lb.-ft. of torque, acceleration is definitely brisk -- but so is the torque steer. Actual fuel economy far outpaces EPA estimates, with 30+ mpg easily attainable on the highway.
$23,195 2.3-liter turbocharged 4-cylinder with 263 hp 18 city/25 hwy/21 cmb Volkswagen GTI, Subaru Impreza WRX, Honda Civic Si
18-inch alloy wheels with high-performance summer tires
6-speed manual transmission and limited-slip differential
Available keyless entry and ignition
Optional Bose surround sound audio system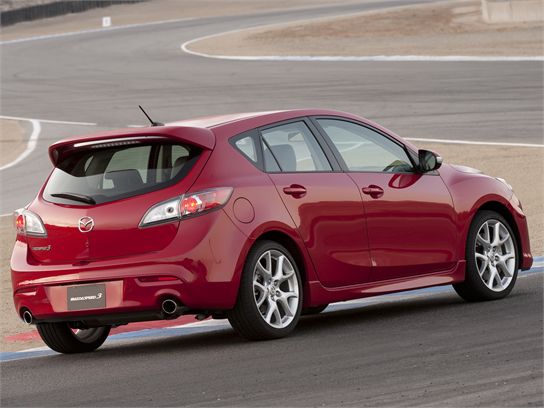 Page 4
With seating for six and a compact footprint, the Mazda 5 is a maneuverable and easy-to-drive alternative to SUVs and larger minivans. Handling lives up to the brand's zoom-zoom philosophy -- a wonderful surprise in a wagon-like vehicle. The manual sliding rear doors provide easy access in tight parking spots. Second-row passengers will find folding armrests and plenty of leg room, but the third row is cramped for anyone other than children. For 2010, the 5 gets standard stability and traction control.
$17,995 – $23,005 2.3-liter 4-cylinder with 153 hp 22 city/28 hwy/24 cmb Kia Rondo, Honda Odyssey, Toyota Sienna
17-inch alloy wheels
5-speed manual or 5-speed automatic transmission
Plenty of cargo space with seats folded
Good crash safety ratings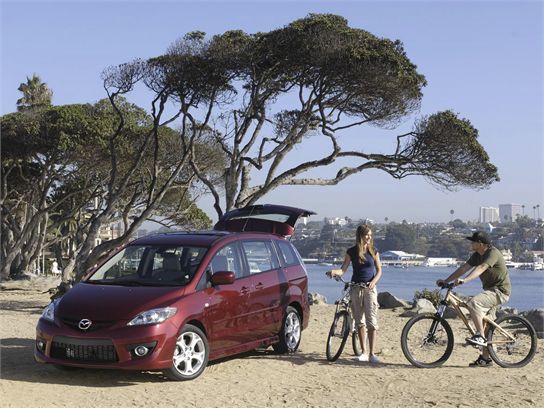 Page 5
Relatively unchanged for 2010, the Mazda 6 offers an abundance of passenger space and a positively cavernous trunk. It's also one of the best-looking and most-entertaining to drive among midsize sedans. The available V6 puts out 272 hp with a 6-speed automatic, and while it provides plenty of pep, fuel economy suffers. Upper trims have pretty luxurious interiors, but you'll find a few cheap materials on lower trims.
$18,450 – $28,390 2.5-liter 4-cylinder with 170 hp 20 city/29 hwy/23 cmb Nissan Altima, Chevrolet Malibu, Honda Accord
Improved 4-cylinder fuel economy with automatic transmission
Modern, attractive interior
Optional blind spot warning system
Excellent crash test safety ratings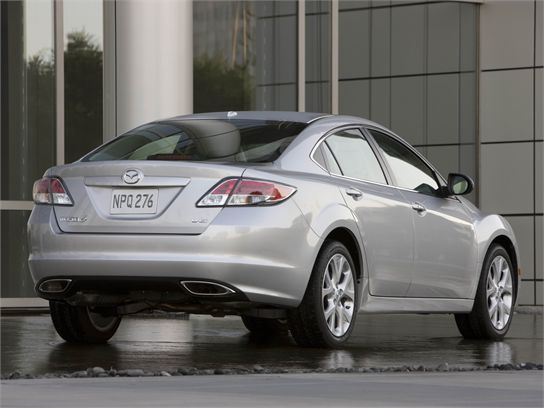 Page 6
The car that rekindled the roadster craze 20 years ago is still delivering miles of smiles to driving enthusiasts. Updated in '09 but mostly the same for '10, the Mazda Miata has the ultimate formula for fun: affordability, low curb weight, rear-wheel drive, responsive handling and wind in your hair. Buyers have a choice of vinyl or cloth soft top or power-retractable hardtop (PRHT), all of which have glass rear windows and are the fastest droptops in the business. The trunk is diminutive and taller drivers may feel cramped, but that's to be expected from a small roadster.
$22,810 – $29,350 2.0-liter 4-cylinder with 167 hp 22 city/28 hwy/24 cmb MINI Cooper Convertible, Nissan 370Z Roadster, BMW Z4
6-speaker audio system with auxiliary input jack
5- or 6-speed manual transmission, or 6-speed automatic with paddle shifters
Optional automatic climate control and heated seats
Available sport-tuned suspension and limited-slip differential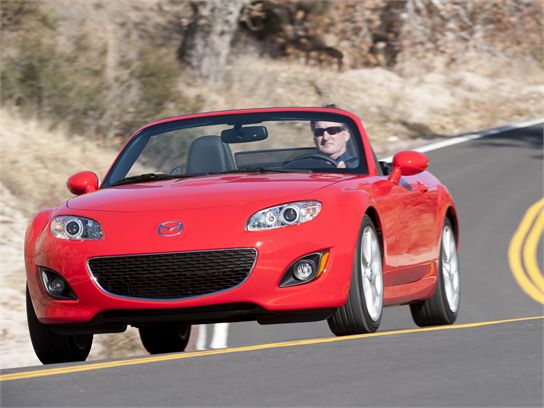 Page 7
With a clever 4-door coupe design, the only production rotary engine and a Jetsons-like exhaust note, the RX-8 sports car is one of the most unique cars on the road. To the delight of enthusiasts, the smooth-revving engine spins effortlessly all the way up to 9,000 rpm (with a manual transmission), while the lightweight and perfectly balanced chassis delivers incredible handling. Even the ride is smooth and livable for daily driving. It's unfortunate that the RX-8 also delivers disappointing low-end torque and fuel economy, but for rotary lovers it's worth the trade-off.
$26,495 – $32,660 1.3-liter rotary engine with 232 hp (manual trans) 16 city/23 hwy/19 cmb Nissan 370Z, Hyundai Genesis Coupe, Infiniti G37 Coupe
Room for four average-size adults
High standard feature content
Rear-opening back doors
Available R3 high-performance model

Page 8
One of few standouts in a crowd of relatively bland crossovers, the 5-passenger CX-7 gets a fresh new face and several updates. A new base 4-cylinder engine offers improved fuel economy, and the 244-hp turbo 4-cylinder has been tweaked to give a few more MPGs. The interior is attractive and comfortable, though rear legroom and cargo space don't quite measure up to competitors. The CX-7's calling card is that it looks sporty and acts the part, with aggressive wheel arches, swooping lines, and taut, responsive handling.
$21,550 – $32,885 2.5-liter 4-cylinder with 161 hp 20 city/28 hwy/23 cmb Honda CR-V, Nissan Murano, Toyota RAV4
Front-wheel drive or all-wheel drive
Automatic transmission with manual shift mode
Standard ABS and stability control
Excellent crash test ratings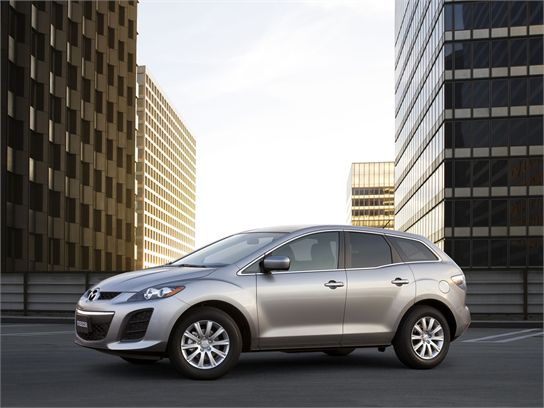 Page 9
The 2010 CX-9 large crossover also receives exterior and interior freshenings. The attractive interior offers two-tone leather, gorgeous red and blue gauge illumination, plenty of legroom and easy third-row access. And like the smaller CX-7, the CX-9's inspired styling and handling set it apart from its competitors. Available options include navigation, a rear-seat entertainment system, and two different rearview cameras. It falls short in number of useful storage compartments, but that's a small price to pay when everything else is so good.
$28,635 – $34,045 3.7-liter V6 with 273 hp 16 city/22 hwy/18 cmb Ford Flex, GMC Acadia, Honda Pilot
Smooth and comfortable ride
Up to 101 cubic feet of cargo space
Highest crash test safety scores
Available blind spot warning system 

Page 10
Mazda's 2010 Tribute small SUV gets some new standard equipment, including a standard rearview camera on the Grand Touring trim. All models can be had with front- or all-wheel drive, and both the 4-cylinder and 240-hp V6 are strong engine choices. Limited numbers of Tribute Hybrid models are sold in California, and they achieve up to 34 mpg city/31 mpg highway. Handling is responsive and car-like while the ride is smooth and comfortable, but braking performance is subpar and the interior could use an update.
$20,090 – $28,600 2.5-liter 4-cylinder with 171 hp 22 city/28 hwy/24 cmb Ford Escape, Nissan Rogue, Chevrolet Equinox
5-passenger capacity
Up to 66 cu. ft. of cargo space
Easy-to-use stereo and climate controls
Great crash test safety ratings