If you don't feel the need to flaunt a Bavarian-badged ride and you're looking for the best value in automotive transportation, Hyundai should be one of your go-to brands. With the most generous warranties in the business (5-year/60,000-mile bumper-to-bumper and 10-year/100,000-mile powertrain), high-caliber interiors, strong reliability ratings and all-around everyday capability, Hyundai has launched itself into serious competition with larger, better-established rivals relatively quickly. The Hyundai lineup runs the gamut from the pleasant Accent subcompact and luxurious Genesis sedan to the sleek new 2010 Tucson and upscale Veracruz SUVs. And to spice things up a bit, Hyundai even throws in an impressive and comely new rear-wheel-drive sports car, the Genesis Coupe. Read on to get the skinny on each of this rising Korean brand's models.
Photos courtesy of manufacturer.
Page 2
Available in 2-door hatchback and sedan body styles, the Accent receives some 2010 updates that improve its already impressive fuel economy and add new standard features. The base trim has no stereo and A/C is optional, but higher trims get a surprisingly good audio system, cruise control and a sunroof. As entry-level sub-compacts go, the Accent is quiet, comfortable and easy to drive. Unfortunately, anti-lock brakes are only optional, but highly recommended.
$9,970 – $16,995 1.6-liter 4-cylinder with 110 hp 27 city/36 hwy/31 cmb Nissan Versa, Honda Fit, Toyota Yaris
More interior space than Honda Civic or Toyota Corolla
6-way adjustable driver's seat
Reclining 60/40-split backseat
Six standard air bags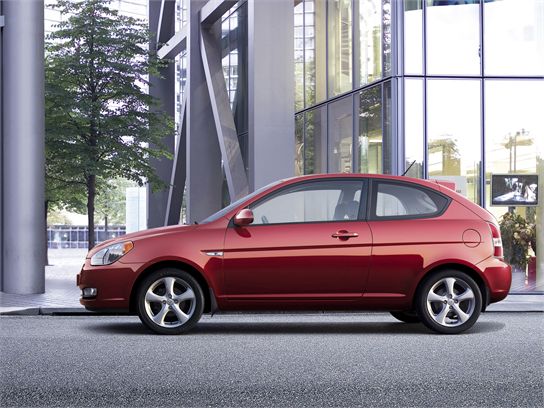 Page 3
The compact Elantra gets improved fuel efficiency and some updates to its sleek exterior for 2010. Its interior is surprisingly upscale and quiet for its class, and spacious both in terms of passengers and cargo. Anti-lock brakes and electronic brakeforce distribution are standard, and the Elantra has good reliability ratings. Though it looks like a bargain compared to its competitors, adding optional features quickly jacks up the price.
$14,145– $17,845 2.0-liter 4-cylinder with 138 hp 26 city/35 hwy/29 cmb Toyota Corolla, Honda Civic, Mazda 3 4-door
Large backseat suitable for adults
14.2 cu. ft. trunk
Power accessories and keyless entry
Active front head restraints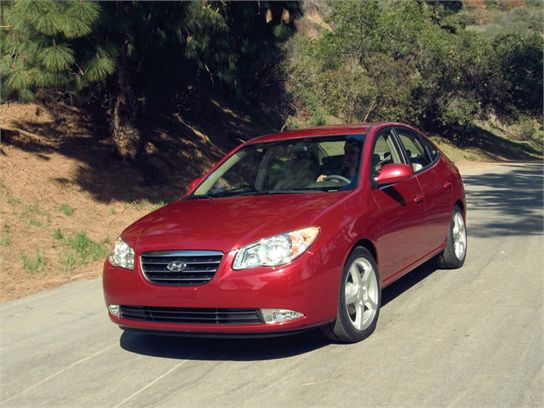 Page 4
Based on a European counterpart rather than the U.S. market Elantra sedan, the Hyundai Elantra Touring shows its heritage with direct steering and a smooth ride. For 2010 a lower-priced trim level and roof rails become available. The list of standard features includes air conditioning, heated side mirrors, and a 6-speaker stereo with satellite radio. The interior layout is clean and simple, not to mention well suited for hauling people and cargo. Though classified as a compact hatchback, inside it's nearly as big as some midsize wagons.
$15,995 – $19,795 2.0-liter 4-cylinder with 138 hp 23 city/31 hwy/26 cmb Mazda 3 5-door, Volkswagen Golf 4-door, Kia Soul
Over 65 cu. ft. of cargo space
Standard stability control and brake assist
Attractive European styling
Rear seat cupholders
Page 5
With an all-new 2011 Sonata coming in the spring of 2010, the current Sonata remains unchanged from 2009. Offering a solid list of standard features and a comfortable cabin, this Hyundai is a good all-around midsize family sedan for the price. Controls are simple and intuitive, while materials quality is fairly high. On the upper trim levels you can opt for a 249-hp V6 that gets 19 mpg city/29 mpg highway/22 mpg combined and comes with a 5-speed automatic.
$18,700 – $26,550 2.4-liter 4-cylinder with 175 hp 21 city/32 hwy/25 cmb Ford Fusion, Nissan Altima, Toyota Camry
5-speed manual or 5-speed automatic transmission
Cruise control and heated sideview mirrors
Good crash safety ratings
Available navigation system

Page 6
Due to be replaced next year, the 2010 Hyundai Azera is a very commodious large sedan. With subdued yet tasteful exterior styling, the Azera packs an abundance of standard safety features and a near-luxury interior. Those wanting more power will be pleased with the optional 3.8-liter V6 that delivers 263 horses, and with fuel economy that's nearly as good as the smaller V6. And those wanting a quiet cabin will like the general lack of wind and road noise. Among its competitors, the Azera is tough to beat for the price.
$24,970 – $29,570 3.3-liter V6 with 234 hp 18 city/26 hwy/21 cmb Toyota Avalon, Ford Taurus, Buick LaCrosse
17-inch alloy wheels
Dual-zone climate control
Power tilting and telescoping steering wheel
Available power-adjustable pedals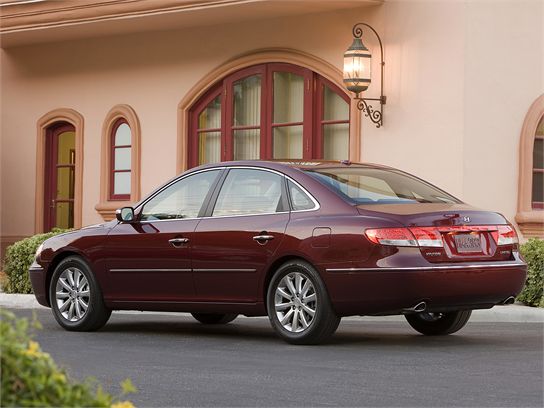 Page 7
Hyundai broke the luxury car mold with the debut of the rear-wheel-drive Genesis in 2009, and raises the bar for 2010 with an improved suspension, available adaptive cruise control and an enhanced navigation system. The impressive V8 engine options puts 375 horsepower to the ground. Though it doesn't have a prestigious luxury brand badge, this exceptional car deserves consideration. The capacious interior is richly appointed and Lexus-quiet at cruising speed, with creature comforts found on much more expensive competitors.
$33,000 – $39,500 3.8-liter V6 with hp 18 city/27 hwy/21 cmb Lexus ES 350, Infiniti M, Acura TL
6-speed automatic transmission with manual mode
2009 IIHS Top Safety Pick
Leather interior with heated front seats
Available adaptive HID headlights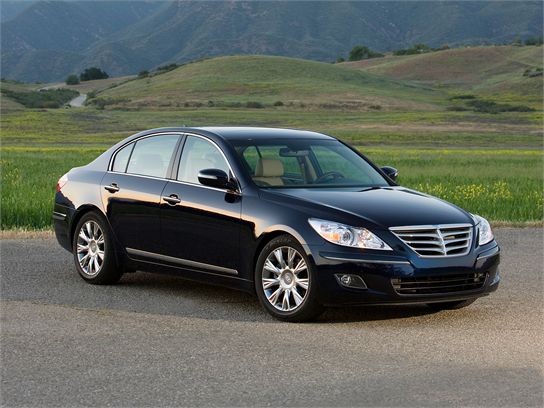 Page 8
The Genesis sedan's diametric opposite, the sporty rear-wheel-drive Genesis Coupe is new for 2010. This budget performance car offers a choice of a 210-hp turbo 4-cylinder or a throaty 3.8-liter V6 with 306 hp. The former does 0-60 mph in 6.9 seconds, while the latter puts 60 mph away in 5.9 seconds. The attractive cockpit features particularly supportive front seats on upper trims, but the back seat is too small for average-sized adults.
$22,000 – $32,000 2.0-liter turbocharged 4-cylinder with 210 hp 21 city/30 hwy/24 cmb Nissan 370Z, Chevrolet Camaro, Mazda RX-8
Direct, responsive handling
Standard 6-speed manual transmission
18-inch or 19-inch alloy wheels
Available Brembo brakes and sport-tuned suspension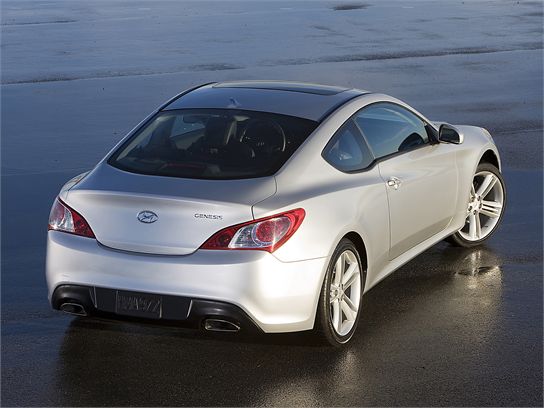 Page 9
All-new for 2010, the Tucson flaunts striking European styling in Hyundai's new "Fluidic Sculpture" design language. Combined with more horsepower, improved fuel economy and a full complement of standard safety features, the Tucson is a more attractive buy than ever for the small crossover shopper. The interior is more spacious than its predecessor in terms of passengers, clever storage spaces and cargo. Sales of the brand new Tucson start in December of 2009.
$18,995 – $28,695 2.4-liter 4-cylinder with 176 hp 23 city/31 hwy Honda CR-V, Nissan Rogue, Toyota RAV-4
Class-leading rear legroom
Available panoramic sunroof
Hill-start assist control and downhill brake control
Available touch-screen navigation system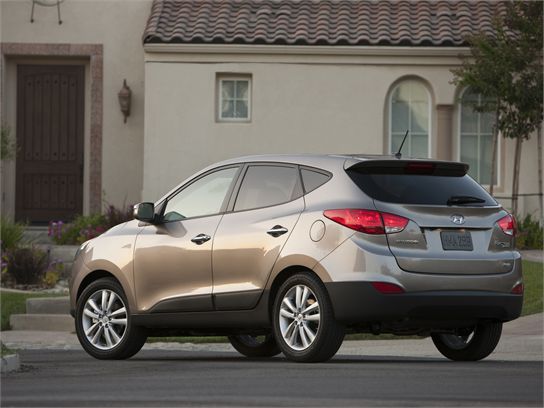 Page 10
Information on the 2010 Santa Fe is still scarce, but we expect a slightly updated exterior, including new headlights and taillights, as well as a new engine option. The 2009 model continues on for now, and it still represents a strong value in the midsize crossover class. The interior is upscale, especially on higher trim levels, with exceptionally comfortable second-row seats. Buyers have a choice of a 185-hp V6 or a 242-hp V6 and front- or all-wheel drive.
$21,695 – $30,545 2.7-liter V6 with 185 hp 19 city/26 hwy/22 cmb Nissan Murano, Toyota Highlander, Chevrolet Equinox
Room for up to seven passengers
Up to 78 cu. ft. of cargo space
Excellent crash test safety scores
3,500-lb. towing capacity 
2009 Santa Fe shown.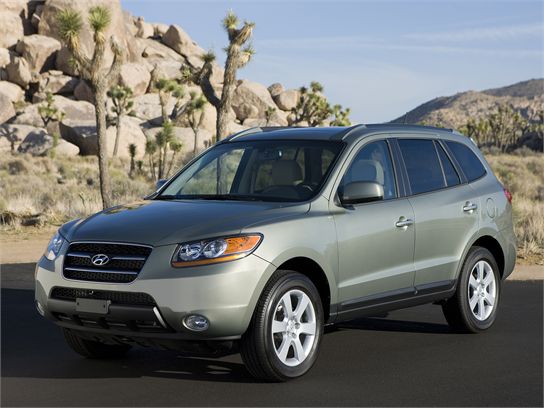 Page 11
Hyundai's largest vehicle is the Veracruz, a capable and comfortable large crossover with standard seven-passenger seating. The 2010 Veracruz has a very high quality interior and comes nicely equipped with gobs of standard equipment, like heated seats (on AWD), rear climate control, rear parking sensors and satellite radio. The third row is too small for adults and it carries slightly less cargo than its competitors, but its quiet ride, rich cabin and typical Hyundai bang for the buck still make it a good buy for many SUV shoppers.
$28,145– $35,895 3.8-liter V6 with 260 hp 17 city/23 hwy/19 cmb Mazda CX-9, Ford Flex, GMC Acadia
6-speed automatic transmission
Available power tailgate
Front-wheel drive or all-wheel drive
Excellent crash test scores