Get the lowdown on all the esteemed German automaker's luxury cars and SUVs.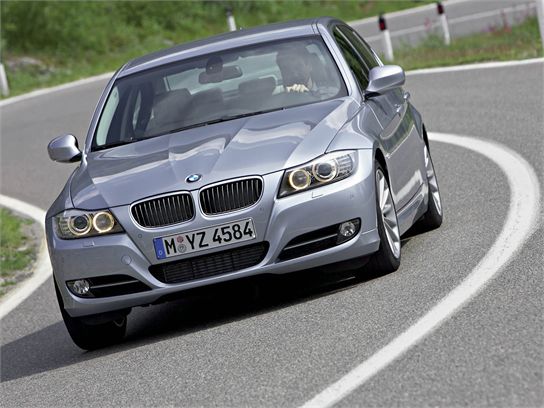 Introduction
BMW has established itself as something of a driving force, excuse the pun, in the automotive industry. With vehicles, engines, technologies and safety innovations that are constantly winning critical acclaim, it's easy to understand why the demand for BMW vehicles and their resale value remains some of the highest in the industry. In the past decade, they have moved through a period of groundbreaking yet divisive styling statements mostly unscathed, but now are in the process of introducing segment-defining and -defying vehicles like the 5 Series Gran Turismo, the ponderous X6 coupe/SUV cross-breed, ActiveHybrid models that are as innovative as they are expensive, and newly turbocharged engines across most of their models. One thing that cannot be denied is BMW's ability to build cars that seem to strike an otherworldly balance of performance, luxury and driver connection that makes this brand the envy of most of its competitors.
Photos courtesy of BMW.
BMW 1 Series Overview
The 1 Series is BMW's smallest offering and was created to be the spiritual successor to the popular BMW 2002 from the early 1970s. Available in either coupe or soft top convertible, buyers can choose the base 128i or the seriously quick, 300-hp 135i. The 128i coupe's standard sunroof has been made optional, while HD radio has been added along with optional automatic high beam headlights. The 1 Series does have quirks like polarizing styling, miniscule rear seats, and a somewhat entry-level feel, but most of these can be overlooked because of the excellent and fun driving dynamics. $29,150 - $40,350 3.0-liter inline 6-cylinder with 230 hp 18 city/28 hwy/22 cmb Volkswagen GTI, Audi A3, Nissan 370Z, Audi TT
300-hp turbo 135i is pricey but fast
Convertible features sun reflective leather to keep seats cool
Revamped iDrive with HDD Navigation is much improved
Sport Package front seats far outshine unsupportive standard seats

BMW 3 Series Overview
2011 begins the fifth year of production for the current version of BMW's quintessential luxury sport sedan. As usual, the 3 Series can be had in sedan, coupe, hard-top convertible and wagon versions with a dizzying array of engine and transmission combinations. Notable changes this year are a slight exterior restyling for the coupe and convertible, the 335i's new single-turbo engine with better fuel economy, a sportier 335is trim, a Competition Package for the M3, and the return of Harman Kardon premium audio. While options can quickly inflate the overall cost and the well-built interior is somewhat lacking in personality, all versions of the BMW 3 Series are basically without flaw. $33,150 - $67,050 3.0-liter inline 6-cylinder with 230 hp 18 city/28 hwy/22 cmb Audi A4, Mercedes-Benz C-Class, Cadillac CTS, Infiniti G37
All engines are great, 3.0-liter I-6, turbo, twin-turbo or diesel
Diesel returns 27 mpg highway with plenty of power
Variety of configurations have something for everyone
5-star side-impact crash rating (sedan & wagon), high-tech braking safety features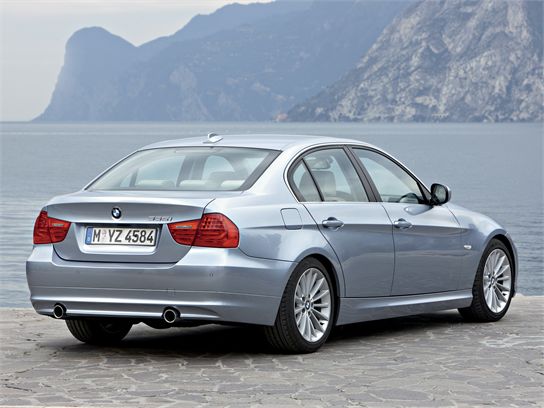 BMW 5 Series Overview
BMW's midsized luxury sport sedan has been completely redesigned for 2011 to keep up with the competition of the new Mercedes-Benz E-Class. The wagon, all-wheel drive, and M Performance versions have been temporarily omitted from this year's line-up of 528i, 535i and turbocharged, V8-powered 550i, all of which are still available with a manual transmission. A more conservative styling approach brings the 5 Series more in line with the brand aesthetic. Other newly available features include technology highlights like the improved iDrive system, auto parallel parking, a heads-up display, top and side cameras, and blind spot monitoring. $44,550 - $49,600 3.0-liter inline 6-cylinder with 240 hp 19 city/28 hwy/22 cmb Mercedes-Benz E-Class, Audi A6, Jaguar XF, Acura RL
528i gets more power, but is larger and heavier as well
535i's engine has better low-end torque and fuel efficiency
Excellent multi-contour front seats offer 14-way adjustment
Available pre-collision system and numerous other tech safety features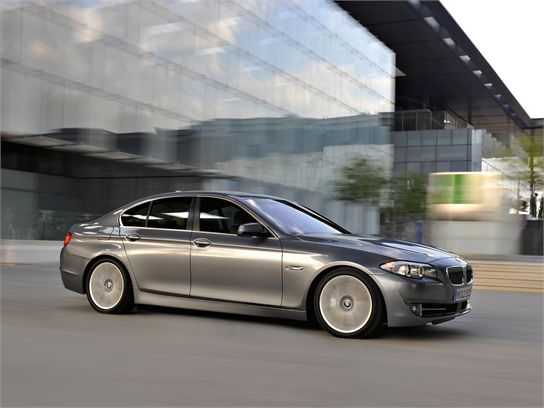 BMW 5 Series Gran Turismo Overview
The new Gran Turismo is part crossover, part wagon and all niche vehicle. It has roughly the interior spaciousness of the 7 Series, yet lacks the supreme comfort of the 7 Series or the sportiness of the 5 Series sedan. Configurations include the 535i or the 550i, whose 4.4-liter turbo V8 is shared with the 7 Series and can be enjoyed with either rear-wheel drive or all-wheel drive. The most unique feature has to be the rear hatch system that can be partially opened, emulating a traditional trunk, or fully opened for the true hatchback experience. The Gran Turismo has all the premium quality and technology that makes it a BMW, albeit wrapped in a very unique package.
$56,000 - $63,900 3.0-liter turbocharged inline 6-cylinder with 300 hp 19 city/28 hwy/22 cmb Acura ZDX, Lincoln MKT, Mercedes-Benz E-Class, Volvo XC70
Heated/ventilated front and rear seats
4-zone climate control with rear and side sunshades
5- or 4-passenger configurations with optional rear center console
Added weight and height slightly compromise 5 Series handling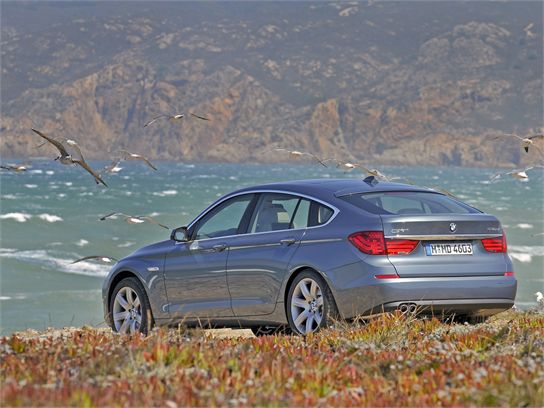 BMW 6 Series Overview
The current 6 Series carries on BMW's noteworthy luxury GT tradition as it enters its seventh year of production largely unchanged. The 650i is available as a coupe or soft-top convertible, both powered by a high-revving 4.8-liter V8 that is light on low-end torque, but is extremely refined. Changes for 2010 include an updated iDrive system and a hard-drive navigation system with 13 gigabytes of music storage, while the 6-speed automatic transmission with paddle shifters is now standard. With these changes, drivers and passengers can now enjoy technology features on par with the competition from the cushy front seats that serve up world-class comfort. $78,440 - $108,150 4.8-liter V8 with 360 hp15 city/23 hwy/18 cmb Porsche 911, Mercedes-Benz SL, Jaguar XK, Maserati GranTurismo
6-speed manual still optional, somewhat unique in this class
M6 version delivers 500 hp from a Formula One derived V10
Convertible rear window goes up and down, doubles as a windscreen
Questionable styling will be updated for 2011 models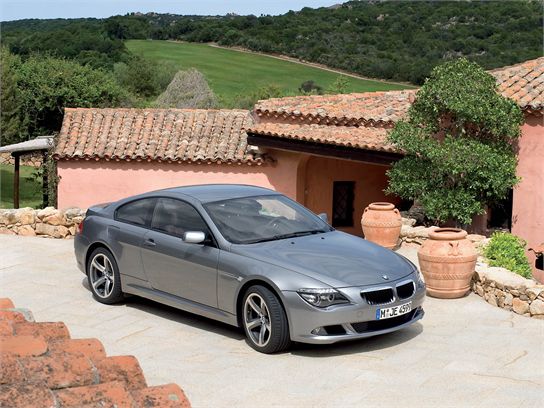 BMW 7 Series Overview
BMW's flagship sedan is hot off last year's redesign and continues to add variety to its mix of uber-luxury, extreme technology, first-class comfort, and awe-inspiring performance. In 2011, the new 740i and 740Li are powered by a 6-cylinder engine for the first time in 20 years, joining the carryover V8, V12 and ActiveHybrid powertrain variations. Speaking of hybrids, the new ActiveHybrid7 offers about 15 percent better fuel economy than the V8-powered 750i and has more standard technology features, but you do have to sacrifice over $100,000 for the privilege. When buying the long wheelbase versions of the 7 Series, it is advisable to purchase the Integral Active Steering for extra maneuverability with 4-wheel steering. The tuner version Alpina B7 also returns for 2011.
$70,150 - $102,300 3.0-liter turbocharged inline 6-cylinder with 315 hp 17 city/25 hwy/20 cmb Mercedes-Benz S-Class, Audi A8, Jaguar XJ, Porsche Panamera
535-hp, V12-powered 760Li on par with competition's uber-sedans
Driving Dynamics Control has four driver involvement settings
Massive amount of technology gets a little overwhelming at times
Sportier ride and handling than competitors, may be too rough for some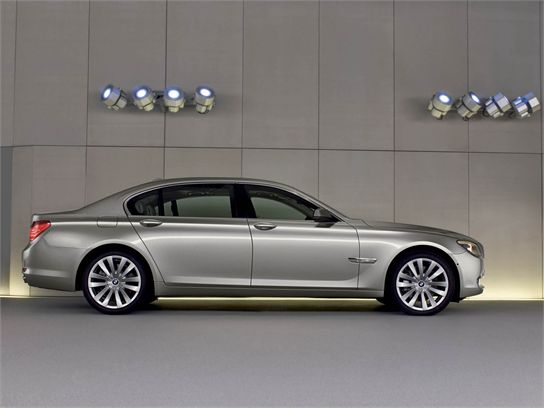 BMW X3 Overview
The X3 is BMW's entry level SAV (Sport Activity Vehicle) that caters to the consumer looking for something like a sport sedan but with greater versatility for carrying people and cargo. The sole X3 xDrive30i has a rev-happy 6-cylinder engine that's matched with a class-exclusive 6-speed manual transmission. Some minor changes for the 2010 model included the moonroof moving from standard to optional and the addition of HD radio. The X3 still outperforms the competition with the sportiest ride and handling in the compact luxury SUV class, showing off its strong high-speed stability and agility on curvy roads. $38,850 3.0-liter inline 6-cylinder with 260 hp 17 city/24 hwy/20 cmb Audi Q5, Mercedes-Benz GLK-Class, Cadillac SRX, Acura RDX
6-speed automatic transmission is a no-cost option
Substantial 71 cu. ft. of cargo space with rear seats folded
Stiffer, sporty ride may deter drivers looking for luxury
Add optional 16-way power front seats for ultimate comfort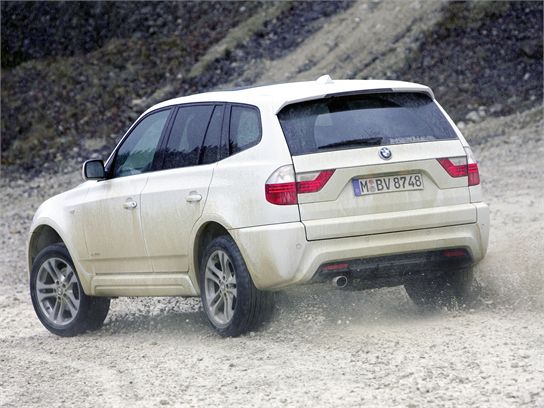 BMW X5 Overview
BMW has long been ahead of the game with its first Sport Activity Vehicle, the formidable X5. 2011 puts a mild styling refresh on the entry-level xDrive35i, the clean diesel xDrive35d, the V8-equipped xDrive50i, and the terribly fast X5 M. The new single-turbo 6-cylinder offers more power and better fuel mileage, while the xDrive50i shares its twin-turbo, 400-hp engine with the flagship 7 Series. All models, save the diesel, now get an 8-speed automatic transmission and the iDrive screen is now a bit larger for ease of viewing. Like past versions, the X5 trades an amount of practicality and utility for class-leading performance and handling, but you'd be hard pressed to find an owner that loses sleep over that fact. $45,850 - $85,500 3.0-liter turbocharged inline 6-cylinder with 300 hp 17 city/25 hwy/20 cmb Mercedes-Benz M-Class, Porsche Cayenne, Infiniti FX, Acura MDX
555-hp X5 M is fast, cheap and totally in control
Diesel X5 gets 26 highway mpg, still strong performance
X5 can have heavier steering at low speeds
5-star NHTSA side-impact crash test scores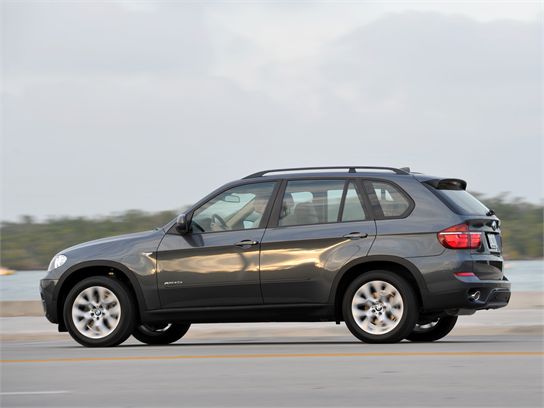 BMW X6 Overview
What BMW calls the first-ever "Sport Activity Coupe" is the X6's showcase of questionable function matched with unquestionable performance. The 2011 xDrive35i model has the new single-turbo, 3.0-liter engine for more power and efficiency. Both it and the xDrive50i get a new 8-speed automatic transmission and a regenerative braking system that helps power the vehicle's electronics. As if the X6 weren't mind altering enough, there is the option of a 480-hp ActiveHybrid X6 that features around 17 highway mpg or the certifiably insane X6 M, whose all-wheel-drive 555-hp combination somehow also manages 17 highway mpg. Huh? The X6 is too heavy for a sport coupe, too impractical for a small SUV and too pricey for an impulse buy, but it's different and it's a BMW.
$56,500 - $88,900 3.0-liter turbocharged inline 6-cylinder with 300 hp 17 city/25 hwy/20 cmb Infiniti FX, Acura ZDX, BMW X5, Porsche Cayenne
X6 M, where M stands for mental
Interior similar to X5, well built and luxurious
Less cargo capacity than a Hyundai Tucson
Maybe a used one will be cheap three years from now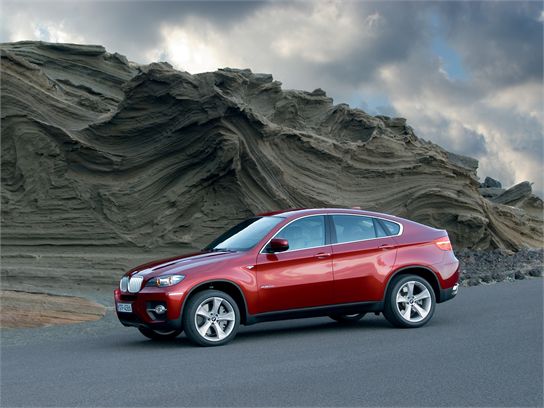 BMW Z4 Overview
The current Z4 has matured into a sporty roadster that strikes nearly the perfect balance between power, handling and luxury. At the entry level, the sDrive30i delivers up a smooth 255 hp, then the sDrive35i model ups the ante with a twin-turbo engine boasting 300 hp. Most importantly, 2011 introduces the fantastic, but difficultly named, Z4 sDrive35is. The "is" adds real performance advantages with an extra 35 hp, enhanced steering, adaptive suspension, sport seats and an exterior body kit. Luckily, most of these features can be had on the lower trim levels via the M Sport Package. The Z4 still impresses with one of the quickest-operating convertible hard tops, decent top-up trunk space and a cabin that is comfortable and top quality. $46,000 - $61,050 3.0-liter inline 6-cylinder with 255 hp 18 city/28 hwy/22 cmb Mercedes-Benz SLK-Class, Porsche Boxster, Audi TT
sDrive35is gets a higher top speed to go with extra power
Unlike some BMWs, interior design has atmosphere and character
Great visibility with top up, unique for roadsters
Customizable driving parameters: Normal, Sport, Sport+