Reliable cars, trucks and SUVs that fill many a niche.
Honda vehicles exemplify quality in affordable transportation. Civic and Accord, some of the best-selling cars in the world, are joined by some new talent in the form of the all-new 2010 Honda Insight hybrid, which costs less than the Toyota Prius, and the all-new 2010 Honda Accord Crosstour crossover. They offer three small and mid-size SUVs: a recently redesigned Honda Pilot, the CR-V and Element, along with the sub-compact Fit, Odyssey minivan, and the Ridgeline pickup. The S2000 roadster's last year of production was 2009, and you'd be lucky to find one on any dealer lot now. Hondas enjoy immense customer loyalty, and pricing is fair with MSRPs ranging from $14,900 to about $40,000.
Photos courtesy of manufacturer.
Page 2
The famously reliable Honda Accord gets some upgraded equipment on the upper trim levels for 2010. The Accord is available in Coupe or Sedan models, both with V6 or four-cylinder powerplant options. The sedan has grown quite large and offers a very spacious rear seat, but road noise levels are relatively high for its segment.
$21,055 – $31,305 2.4-liter four-cylinder with 177 hp 22 city/31 hwy/25 cmb Nissan Altima, Mazda 6, Toyota Camry
Available close ratio six-speed manual transmission in Coupe models
Optional 271-horsepower 3.5L V6 engine (19 mpg city/29 mpg hwy/23 mpg cmb)
Front, front side and side curtain airbags, and active front head restraints
Standard power accessories and cruise control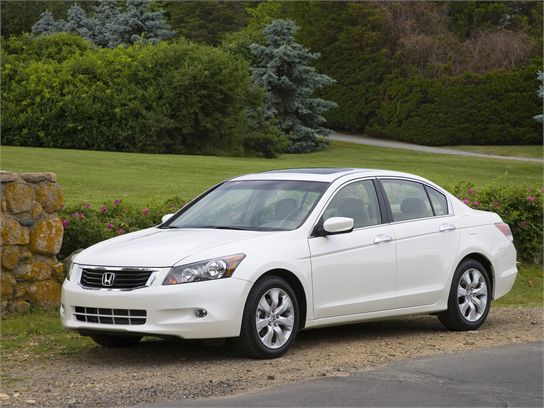 Page 2
The Accord Crosstour is an all-new crossover wagon for 2010. In other words, it's an Accord hatchback with controversial styling, a slightly higher ride height and available all-wheel drive. While it features a quieter ride and more cargo space than the Accord sedan, it's not as versatile as some other small crossovers with third-row seats and larger cargo holds.
$29,670 – $36,220 3.5-liter V6 with 271 hp 18 city/27 hwy/21 cmb Mazda CX-7, Toyota Venza, Subaru Outback
Five-speed automatic transmission
Up to 51.2 cu. ft. of cargo space
10-way power front driver's seat
Dual-zone automatic climate control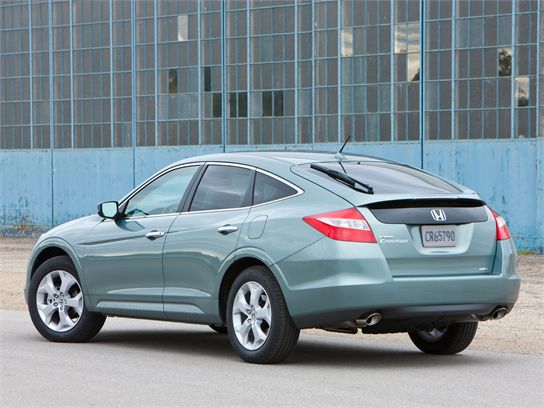 Page 2
The Honda Civic remains unchanged for 2010, offering drivers a great range of options in a small car with good gas mileage. Available in sedan, hybrid sedan, compressed natural gas-powered sedan, and coupe models. Despite the road noise that's typical of many Honda vehicles, you practically can't go wrong.
$15,455 – $27,000 1.8-liter four-cylinder with 140 hp 26 city/34 hwy/29 cmb Mazda 3, Toyota Corolla, Nissan Sentra
Excellent fuel economy on nearly all trim levels
Available 197-hp 2.0-liter four-cylinder on Si trims
Comfortable front and rear seats
Front, front side and side curtain airbags, and active front head restraints

Page 2
The Honda Fit is a fantastic car for commuters, students or anyone else looking for a small, fun, capable car. The rear "Magic Seat" comfortably fits regular-sized adults and has innovative folding features that allow for hauling either long or tall items. Having received many updates for 2009, the subcompact Fit stays the same for 2010.
$14,900 – $19,110 1.5-liter four-cylinder with 117 hp 27 city/33 hwy/29 cmb Nissan Versa, Scion xD, Toyota Yaris
Air conditioning and full power accessories
Up to 57.3 cu. ft. of cargo space
Good crash safety ratings
Available navigation system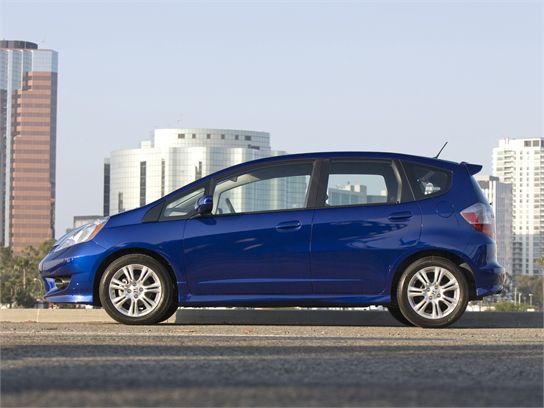 Page 2
New for 2010, the four-door hatchback Honda Insight is the most affordable way to get into a hybrid. Even the top trim level loaded with navigation costs barely more than a base Prius. The electric motor can power the Insight up to 30 mph on its own, and the transition between the gas engine and motor is seamless. Though the Insight's EPA estimates are lower than those of the Prius, real-world driving has produced higher numbers.
$19,800 – $23,100 1.3-liter four-cylinder with 88 hp 40 city/43 hwy/41 cmb Toyota Prius, Ford Fusion Hybrid, Nissan Altima Hybrid
Responsive steering
Standard automatic climate control
Eco Assist driver feedback system improves fuel economy
Aerodynamic body design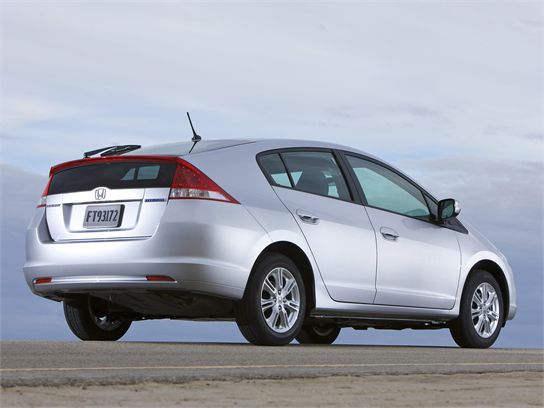 Page 2
For 2010 the CR-V gets some updates for the first time in four years. The four-cylinder engine gets 14 more horsepower and slightly better fuel economy, the exterior and interior are tweaked a little, and new Bluetooth and USB port options are available. This small crossover SUV comes with front-wheel drive and a five-speed automatic transmission, with all-wheel drive optional. But buyers wanting V6 power won't find it in the CR-V.
$21,545 – $29,745 2.4-liter four-cylinder with 180 hp 21 city/28 hwy/24 cmb Ford Escape, Toyota RAV4, Nissan Rogue
Sliding and reclining rear seat
Up to 73 cu. ft. of cargo space
Excellent steering and brakes
Two-level cargo area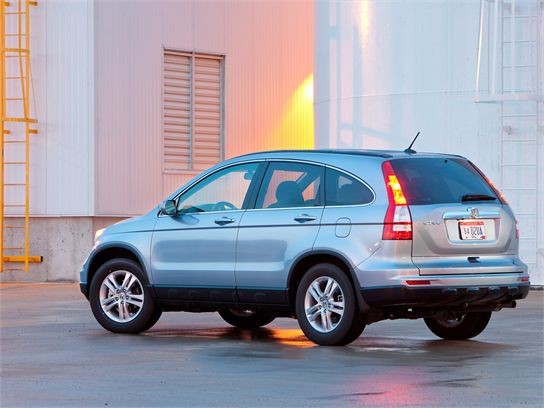 Page 2
With its ever-useful boxy shape and flexible interior, the Element is a good choice for outdoorsy types, DJs and anyone else that hauls substantial cargo. The cargo doors open wide for easy loading, the seats flip and fold in myriad ways, and clever features abound throughout. It only seats four people including driver, but this crossover is especially suited for hauling stuff, not the maximum number of people. New for 2010 is the Dog Friendly accessory package, which includes a ramp, pet bed, water bowl and more.
$20,525 – $25,585 2.4-liter four-cylinder with 166 hp 20 city/25 hwy/22 cmb Scion xB, Chevrolet HHR, Nissan cube Krom
Available four-wheel drive
Easy-to-clean urethane utility floors
Moisture-resistant seats
Available removable cooler in center console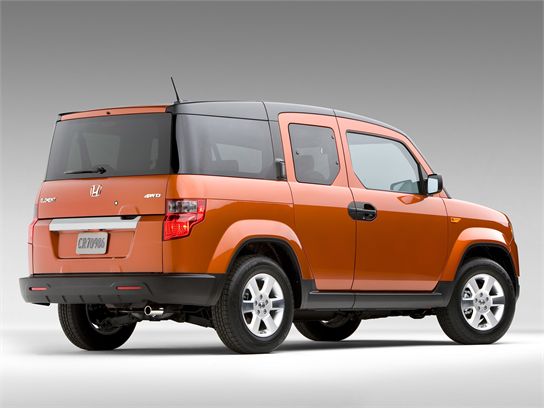 Page 2
The eight-passenger Honda Pilot was redesigned for 2009, so there are very few changes for 2010. This midsize crossover received excellent crash safety scores and is available in either front-wheel drive or all-wheel drive. Impressively, the third-row seat can fit two adults, which is more than can be said for many of its class competitors.
$27,895 – $40,245 3.5-liter V6 with 250 hp 17 city/23 hwy/19 cmb Toyota Highlander, Nissan Pathfinder, Chevrolet Traverse
Up to 87 cu. ft. of cargo space
EX-L includes leather seating surfaces with dual-stage heated seats
Available back-up camera in rearview mirror
Smooth, comfortable ride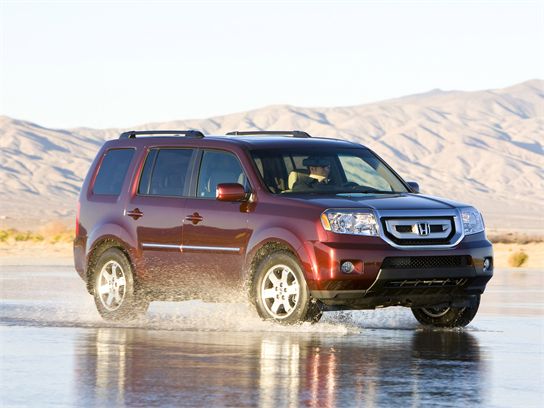 Page 2
Having changed little since 2005, the 2010 Odyssey is getting long in the tooth, but remains a practical minivan choice. It seats seven or eight and offers responsive steering, confident handling, and smooth V6 power. Standard safety features include front-seat side-impact airbags and full-length head curtain airbags with a rollover sensor.
$26,805 – $40,755 3.5-liter V6 with 244 hp 16 city/23 hwy/18 cmb Dodge Grand Caravan, Kia Sedona, Toyota Sienna
Available cylinder deactivation boosts mpg to 17 city/25 hwy/20 cmb
Up to 147 cu. ft. of cargo space
Excellent crash test safety scores
Available navigation system, rear parking sensors and back-up camera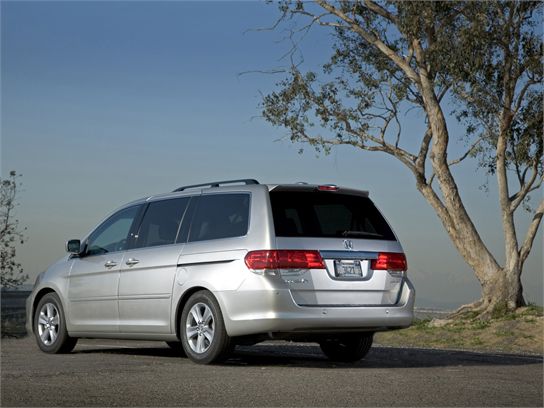 Page 2
Honda's midsize crew cab truck is just right for suburban dwellers that need pickup truck versatility, but don't need heavy-duty or serious off-road capabilities. Its carlike ride and handling make it much more pleasant to drive than the average truck, and the rear seat offers above average legroom. The lockable trunk is a handy feature that can double as a cooler, complete with a drain plug for dumping melted ice. Four-wheel drive is standard on all trim levels.
$28,450 – $36,780 3.5-liter V6 with 250 hp 15 city/20 hwy/17 cmb Toyota Tacoma, Nissan Frontier, Ford Explorer Sport Trac
5,000-lb. towing capacity and standard tow hitch
Power sliding rear window
Lockable 8.5-cu. ft. trunk
Dent- and rust-resistant truck bed