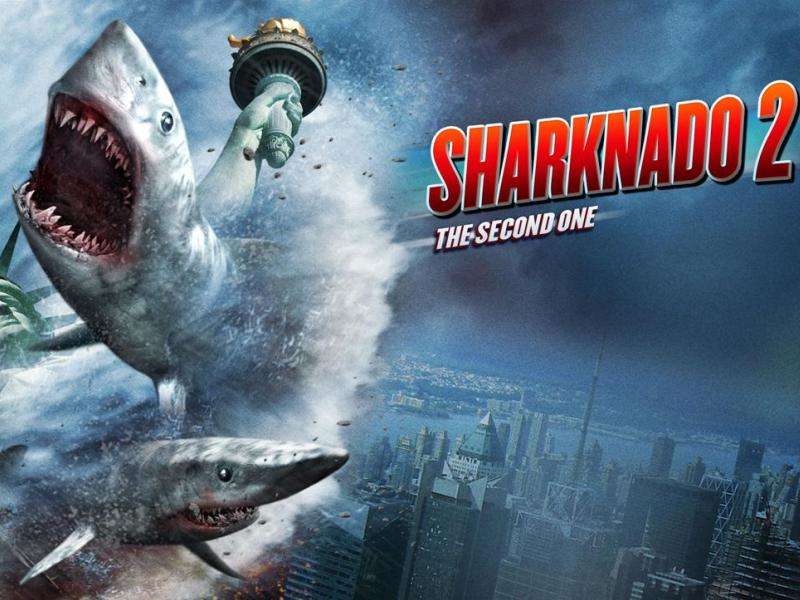 Sharknado 2 cars
If the original Sharknado wasn't enough, and it obviously wasn't, Sharknado 2 returns to haunt our dreams – this time taking a bite out of the Big Apple. But we're never one to leave well enough alone. What if an ocean-going car carrier crossed paths with the shark-lined storm? Is it that hard to believe when these four-wheeled creatures so resemble their sharply finned counterparts prowling the ocean floor like a four-lane highway?  Like the shark (Selachimorpha), they must move constantly in order to breathe exhaust, sport uniquely-shaped grills and prey on weaker species when trying to make a traffic light. So lock your doors, open your garages and witness the glory and drama of Carnado Too!
Sharknado Shark Cars: Subaru BRZ - Scubyliorhinus Barrociouz
Origin: Tokyo Bay
Description: The Scubyliorhinus Barrociouz is a mix breed machine, sharing many similarities with its so-called Toyobaru cousin that hails from the same waters. Thanks to a slick flat nosed front end and curvaceous rear quarters the Scubyliorhinus is able to navigate smooth waters quite swiftly. In the wild they have also been known to chase down much more powerful predators while grinning from gill to gill, so long as it was not a contest of straight line acceleration.
Habitat: Although numbers are limited, the Scubyliorhinus Barrociouz can be found along deltas and inlets wherever boy racers reside, being the low cost entry to rear wheel drive excitement that it is.
Phylum: Scubyliorhinus
Subphylum: Barrociouz
Class: sports car
Order: BRZ
Family: Subaru
Size: 166.7 inches
Weight: 2,764 lbs.
Thirst: 34 MPG
Range: 448.8 miles
Market price: $25,695
Predator: Hyundai Genesis Coupe R-Spec
Prey: Mazda Miata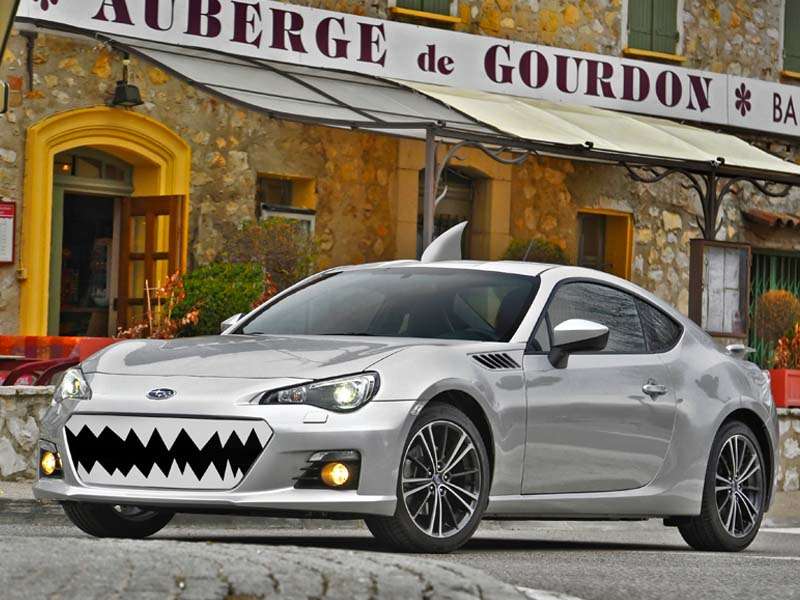 Sharknado Shark Cars: Toyota Camry - Camroscious Squatina
Origin: South Fork Licking River
Description: The Camroscious Squatina has long been looked over as a looker, but the species ability to gently and smoothly prowl the highways of America with its huge trunk that can swallow everything from bags of groceries to lengths of lumber. However, most often found bearing more mundane items like diaper bags and yoga mats. This creature of comfort seeks its prey by heartwarming stories of reliability and an amazing ability to endlessly glide through shoals while offering lots of space for those inside. Recent sightings have shown a more aggressive attitude for the Squatina, however not many details are known.
Habitat: Once the Camroscious truly became American made, it didn't take long to migrate upriver. The somewhat bland looking reliable best seller can be seen in mass along tributaries and roadways throughout the greater 50 states. However there have been sporadic sightings of much more vicious versions making their way down the Kentucky River towards Charlotte.
Phylum: Camroscious
Subphylum: Squatina
Class: Economy car
Order: Camry
Family: Toyota
Size: 189.2 inches
Weight: 3,215 lbs
Thirst: 35 MPG
Range: 595 miles
Market price: $22,425
Predator: Honda Accord
Prey: Ford Fusion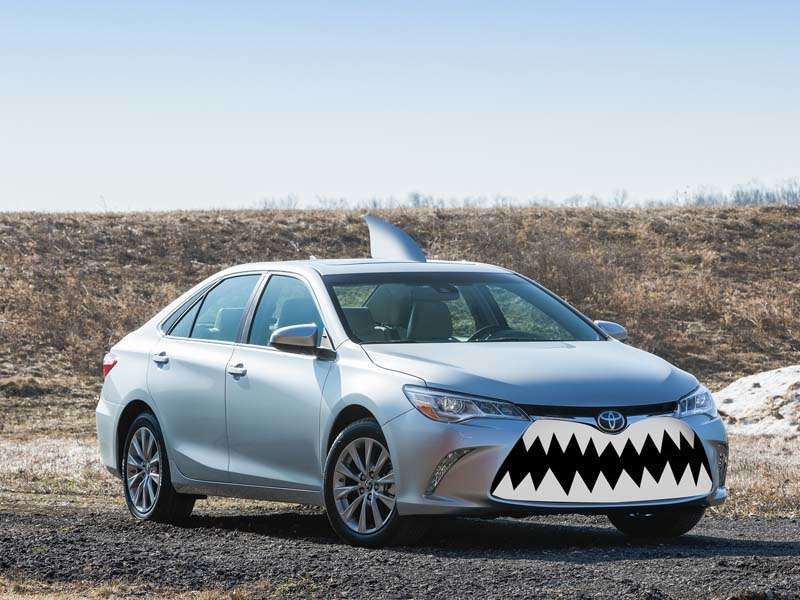 Sharknado Shark Cars: Cadillac ELR - Cadlacica Electricous
Origin: Detroit River Delta
Description: The Cadlacica Electricous represents a new breed for the Cadillac family. While not so distant ancestors were better known for over the top accoutrement and having a healthy metabolism, the Electricious is as sharp looking, as it is efficient. While the Cadlacica is an evolutionary revolution in terms of fuel efficiency and the future of personal transportation, the ELR refuses to sacrifice on fit finish and comfort.
Habitat: This luxury electric mutation has only recently made itself known to the public, but expect to find Electricous wherever incomes are unaffected by financial crisis and its super predator, Tesla Model S, is having trouble navigating new waters.
Phylum: Cadlacica
Subphylum: Electricous
Class: Luxury Electric
Order: ELR
Family: Cadillac
Size: 186.0 inches
Weight: 4,050 lbs
Thirst: 82 MPGe/35 MPG
Range: 340 miles
Market price: $75,000
Predator: Tesla Model S
Prey: BMW i3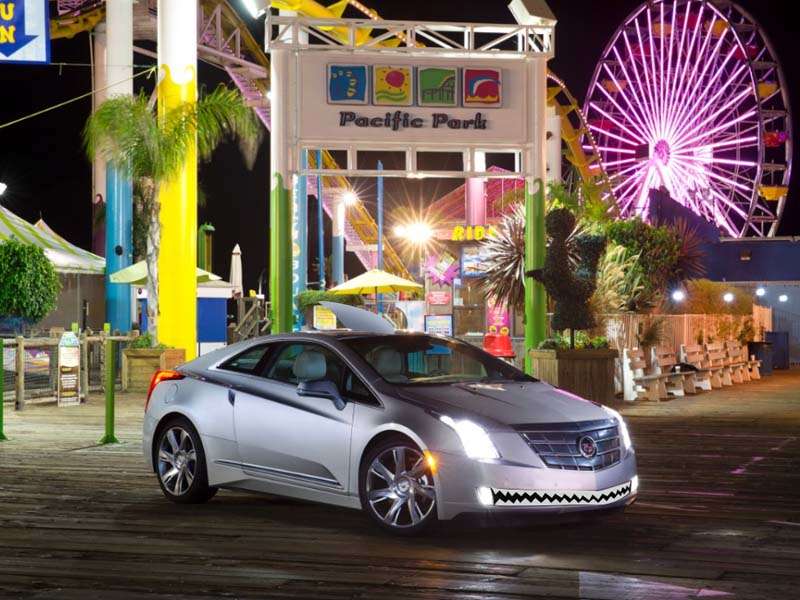 Sharknado Shark Cars: Ferrari FF - Exhortationem Feraculous
Origin: Adriatic Sea
Description: The Exhortationem Feraculous is quite the specimen. Thanks to a screaming V12 that produces over 650 HP at 8,000 tail strokes per minute, the FF can leap off the line with what can only be described as four fin drive and reach 60 MPH from a standstill in only 3.7 seconds before continuing on to a top speed of over 200 MPH. Unlike most other Exhortationem this Feraculous can swallow up to four full size adults and their overnight bags with room to spare. Don't dare call it a hatchback, for this one of Pininfarinas most daring design studies for the super car maker from Maranello. It might just eat you alive.
Habitat: Like the ELR you can expect to find the Feraculous in areas unaffected by fluctuations in the financial market. There have been reports of annual mass migrations, the Exhortationem have been spotted gathering in clusters in costal regions like the Monterey Peninsula and Palm Beach. However due to an insatiable appetite and known frequent outbursts of speed, sound and acceleration; you best bet to see and FF sitting still might be at a gas station.
Phylum: Exhortationem
Subphylum: Feraculous
Class: Luxury Exotic
Order: FF
Family: Ferrari
Size: 193.2 inches
Weight: 4,145 lbs
Thirst: 16 MPG
Range:  384 miles
Market price: $295,000
Predator: Mercedes Benz CLS63 AMG
Prey: Bentley Continental GT Speed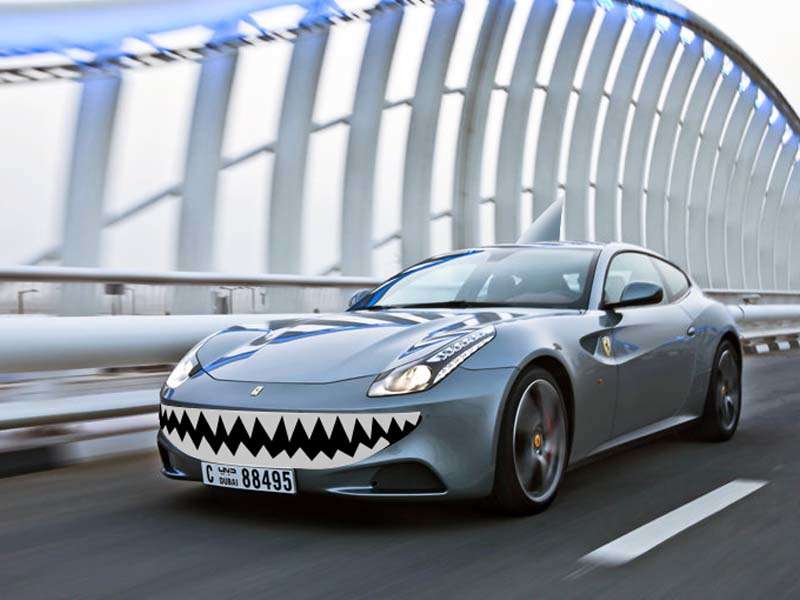 Sharknado Shark Cars: Ford Fiesta - Caetus Pars
Origin: Gulf of Mexico
Description: While Caetus Pars might be confused for lesser party machines, the most agile member of the Ford family can be identified by its big mouth bass approach to the world, allowing the oxygen to pass through its turbocharged gills, beefier pectorals as well as a more pronounced subterminal notch. Be warned the Pars is a feisty little bugger, the result of One Ford's interocean breeding.
Habitat: Despite being new to North America the Caetus Pars has found its way into the hands of a few very lucky individuals who don't regret their purchase one bit. Oh, and it exhibits the unique ability to carve canyons superbly and autocross like a boss; maybe that's why.
Phylum: Caetus
Subphylum: Pars
Class: Compact Sports
Order: Fiesta ST
Family: Ford
Size: 159.7 inches
Weight: 2,537 lbs
Thirst: 35 MPG
Range: 434 miles
Market price: $20,915
Predator: Ford Focus ST
Prey: Mazda2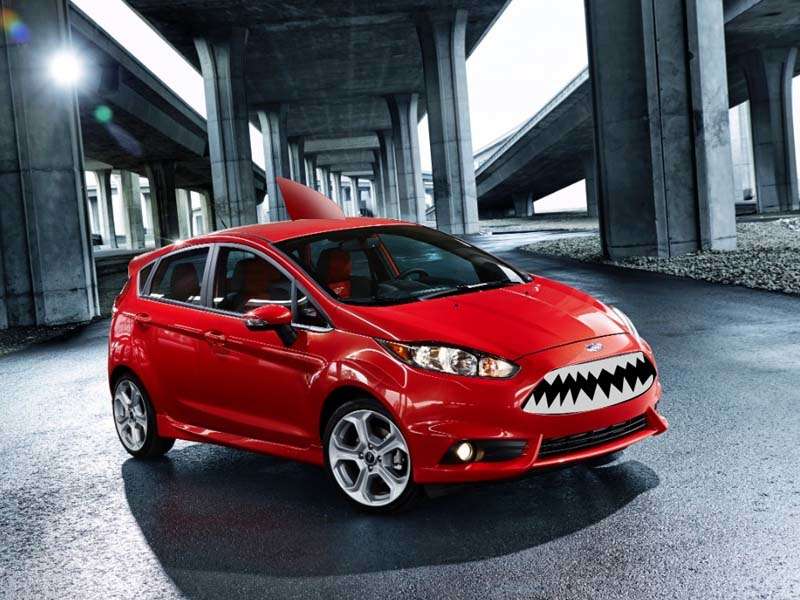 Sharknado Shark Cars: Jaguar F-Type - Falaelustrious Immaculatus
Origin: River Tame
Description: Falaelustrious Immaculatus with its origins in the United Kingdom, evolved from cat to shark almost immediately after its celebrated birth in 2013. Catapulting forward by a supercharged V6, it moves through the streets with the greatest of ease, but its more powerful twin brothers, have the inner-workings of a V8 to overtake some of the toughest enemies in all of cardom. Most compelling to its prey are its stunning good looks, which promise attention, status, street cred and upgraded companionship for all. Beware of this siren and remember, the price of entry is equal to the payoff.
Habitat:Once thought to be extinct for over 50 years, the Falaelustrious has made a recent resurgence and can be found amongst the most priveledged of performance enthusiasts.
Phylum: Falaelustrious
Subphylum: Immaculatus
Class: Luxury Sport
Order: F-Type
Family: Jaguar
Size: 176.0 inches
Weight: 3,477 lbs
Thirst: 28 MPG
Range: 518 miles
Market price: $69,000
Predator: Porsche 911
Prey: Porsche 911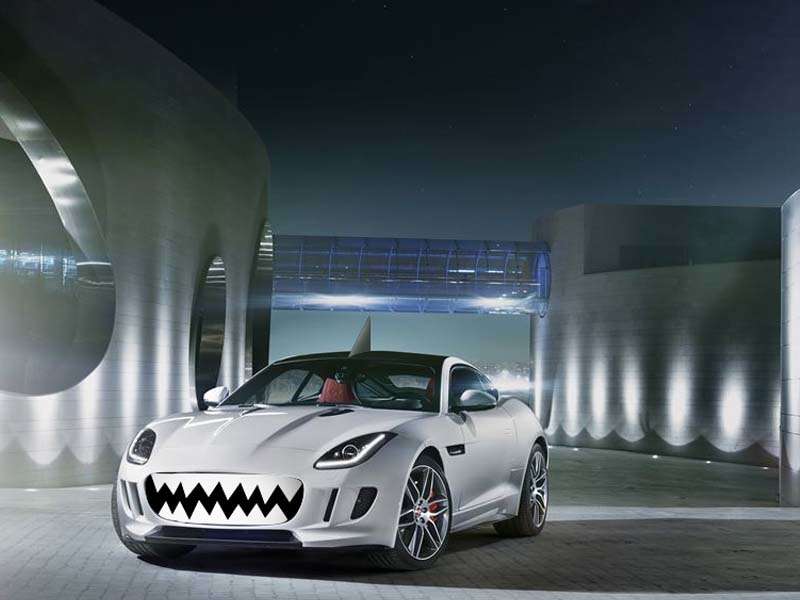 Sharknado Shark Cars: BMW i8 - Buprotomicuew Ieightous
Origin: Mulde
Description: Buprotomicuew Ieightous exemplify the elegance of this upscale robot built to pacify the attention-deficit ailing one-percenters of the new economy. It succeeds in its lure with the help of both performance and fuel economy on a grand scale. With both an electric motor and a 3-cylinder lightweight gas engine, a combined 362 horsepower make this street creature good for a top speed of 155 miles per hour. That doesn't come close to describing what this beast will do when fully engaged.
Habitat: While the Ieightous was once the kind of thing you only see in the movies or behind glass at an exhibition, but now it is a reality andyou can expect to find examples of the i8 wherever the word "tech" is part of everyday jargon.
Phylum: Buprotomicuew
Subphylum: Ieightous
Class: Luxury Electric
Order: i8
Family: BMW
Size: 190.0 inches
Weight: 3,274 lbs
Thirst: 28 MPG
Range: 23 miles electric/370 miles Eco Pro mode
Market price: $135,700
Predator: Audi R8 e-tron
Prey: Tesla Model S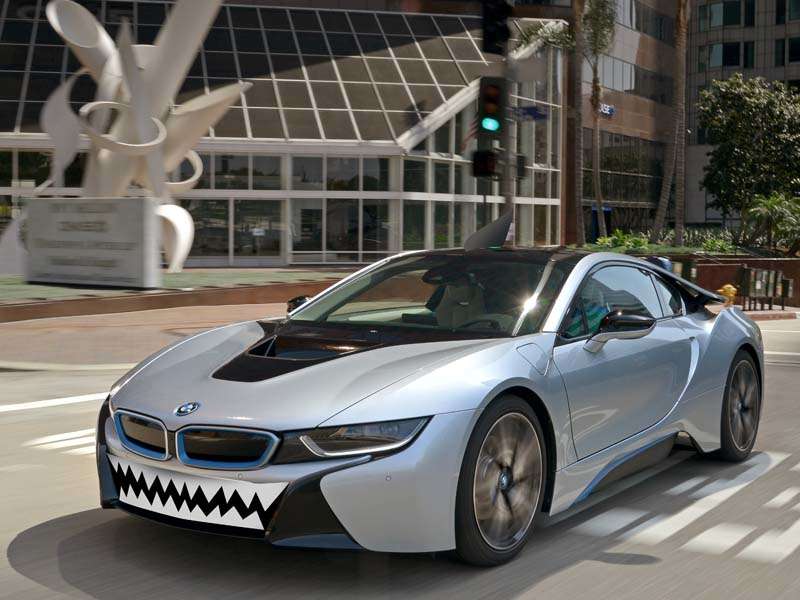 Sharknado Shark Cars: Nissan Juke - Maximus Funkyjukeous
Origin: Miura Bay
Description: Maximus Funkyjukeous is like hammerhead shark – it's a shark, but it looks like something else entirely. The funky body type of this unusual creature is what makes the Juke more appealing, along with its turbocharged 4-cylinder CVT and optional 8-speed manual transmission.
Habitat: Funkyjukeous are often shunned from mainstream society due to their radical outward appearance, expect to find examples trying to fit in with Jeep Cherokees and possibly Citroens. Sightings might be rare, however not as rare as its Crosscabrio cousin, popular among young drivers who might not know better, or single moms on a budget with something to prove.
Phylum: Maximus
Subphylum: Funkyjukeous
Class: Compact Crossover
Order: Juke
Family: Nissan
Size: 162.4 inches
Weight: 2,912 lbs
Thirst: 32 MPG
Range: 422 miles
Market price: $19,170
Predator: Juke-R
Prey: Nissan Murano Crosscabrio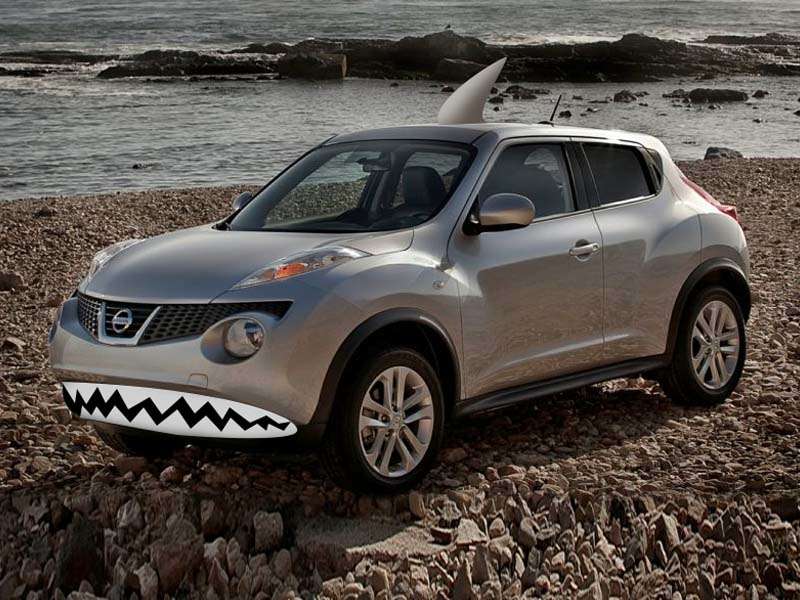 Sharknado Shark Cars - Ford Mustang- Mustelus Ponica
Origin: Huron River
Description: The Mustelus Ponica is a sleeker evolution of America's favorite pony car. Following up with the OneFord mantra and an Evos inspired appearance this Ponica is sure to make some waves with tried and true enthusiasts. The modern American muscle gets a bevy of power mills, ranging from a fuel sipping six cylinder all the way up to the obligatory V8. There is even a four cylinder EcoBoost option being thrown into the mix, not to mention the incorporation of an independent rear suspension.
Habitat: Many Mustelus can be found in places of closed course competion. However due to the aforementioned loss of a liveaxle, most will be migrating from their traditional straight line contests in favor of exploring new curves. So drop the dragstrip and head to your local road course instead.
Phylum: Mustelus
Subphylum: Ponica
Class: Pony Car
Order: Mustang
Family: Ford
Size: 188.3 inches
Weight: 3,575 lbs (est)
Thirst: 31 MPG
Range: 480.5 Miles
Market price: $23,600
Predator: Dodge Challenger Hellcat
Prey: Chevrolet Camaro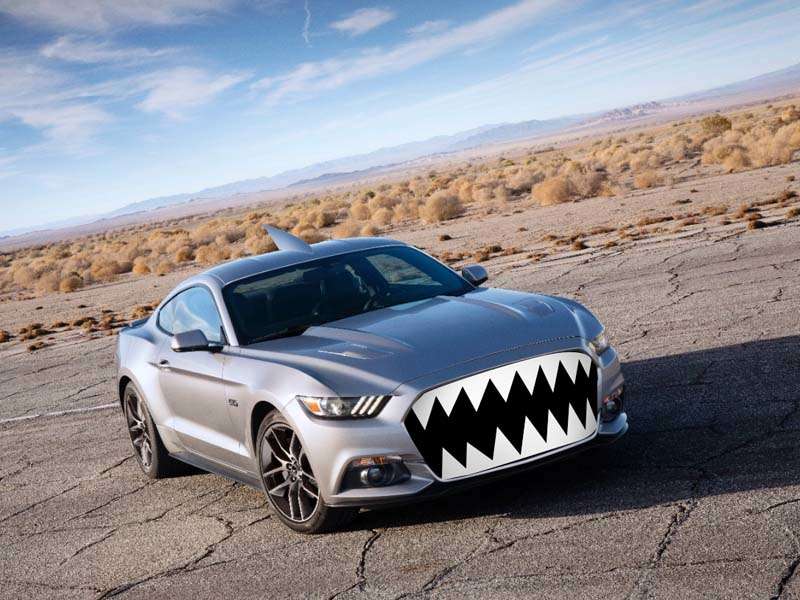 Sharknado Shark Cars: Mazda MX-5 Miata - Bellus Caetus Miatus
,Origin: Hiroshima Bay
Description: Bellus Caetus Miatus is an agile diminutive Selachimorpha that almost didn't make it. Thankfully the folks back in Hiroshima gave it the green light and it has thus gone on to become quite abundant, with almost a million in known existance. Miatus are often characterized by nimble nature and have been known to nip at the heels of much larger predators.
Habitat: Becuase of their lightweight fun to drive nature, Bellus Caetus can often be found suited up for competition. The Miatus is such a capable track day toy that even Ian Ziering could manage one of around a road course and bring it back home in one piece.
Phylum: Bellus Caetus
Subphylum: Miatus
Class: Sports Car
Order: Miata
Family: Mazda
Size: 157.3 inches
Weight: 2,480 lbs
Thirst: 28 MPG
Range: 355.6 miles
Market price: $23,970
Predator: Anything on a straightaway
Prey: Everything around the next curve