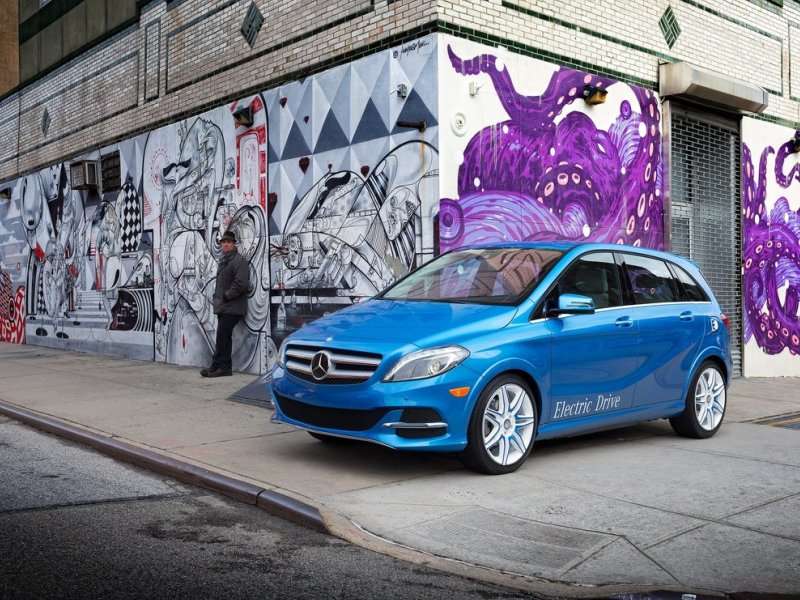 mercedes benz blue electric drive
While purely electric cars do have some limitations, usually including a lower range and higher weight, unlike a normal gasoline powered car they do hold the advantage of having all of their torque available from a standstill. This attribute means that electric cars can often out accelerate their petrol driven counterparts, especially at lower speeds. The vehicles on this list are not one offs – some are production models, while others are low volume cars. All except for one are road legal, though a couple of them are either out of production or not available in North America. Here is our list of the top ten high performance electric vehicles, sorted by their 0 to 62 mph times from slowest to fastest.
10) Honda Fit EV
0 to 62 mph – 8.4 seconds
Top Speed – 90 mph
Range – 82 miles
While it is the slowest of the electric cars on the list, with its 123 HP and 189 lb-ft the Honda Fit EV should have no problems keeping up with traffic – it's actually quicker than many subcompacts, including the gasoline version of the Fit. The Fit EV also outperforms other electric cars that didn't make the list, including the FIAT 500e, Ford Focus Electric, Kia Soul EV, Nissan LEAF, smart fortwo electric drive, and Volkswagen e-Golf. Like all 100% battery electric cars the Fit EV qualifies for HOV access in California until the end of 2018.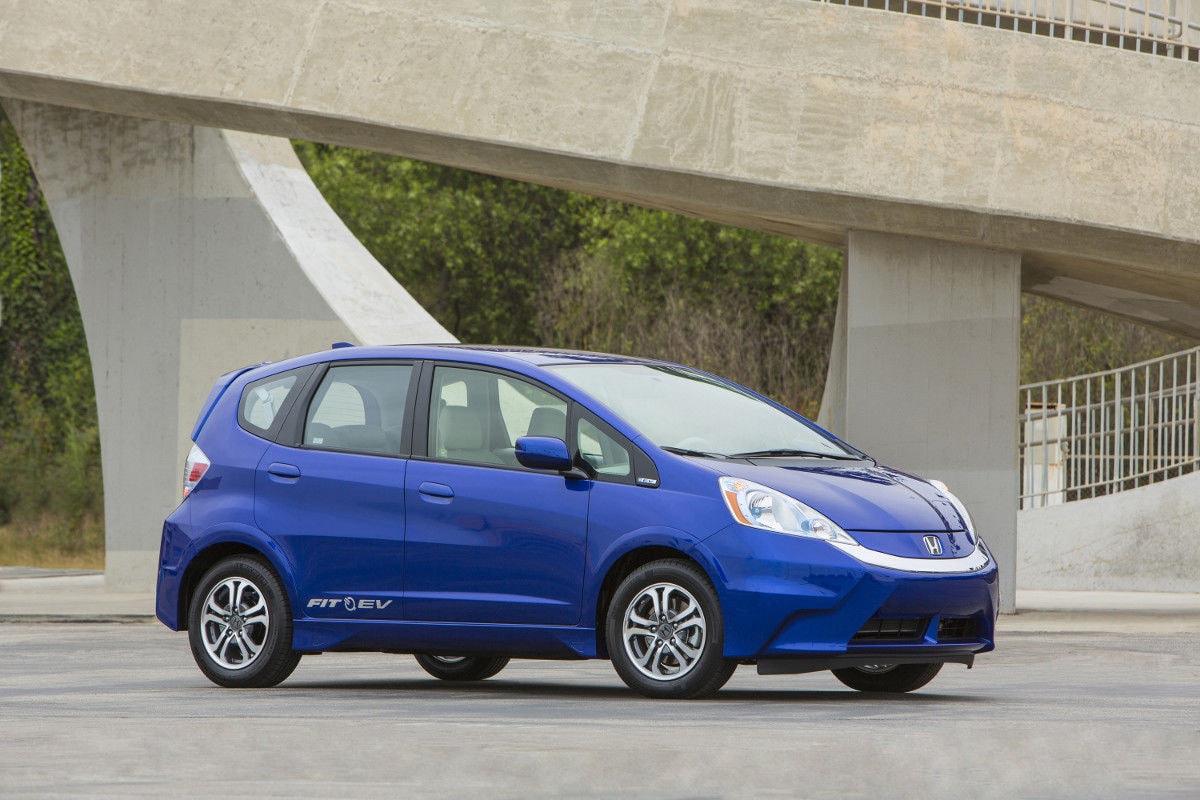 9) Mercedes-Benz B-Class Electric Drive
0 to 62 mph – 7.9 seconds
Top Speed – 100 mph
Range – 87 miles
The Mercedes-Benz B-Class Electric Drive is a deceptively large car, with lots of interior space, especially in the back with its sliding rear seat. The car's electric motor and battery are built by Tesla, and can generate 177 HP and 251 lb-ft of torque. With their similar driving ranges and prices it might seem as though the B-Class Electric Drive is positioned against the BMW i3, but the two vehicles are quite different in their design philosophies, with the Mercedes being larger and more substantial while the BMW is smaller and and over half a ton lighter.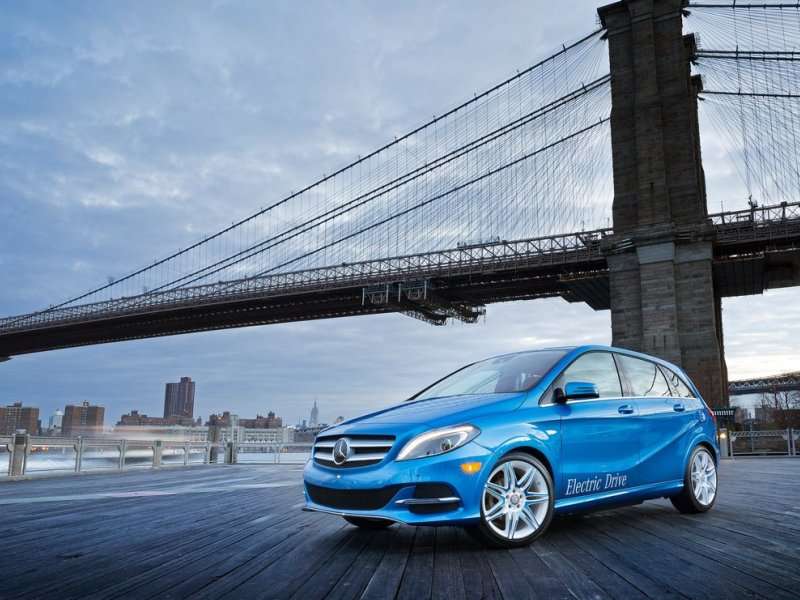 8) Chevrolet Spark EV
0 to 62 mph – 7.6 seconds
Top Speed – 90 mph
Range – 82 miles
General Motors is not a newcomer to the electric car game – they released their first electric car, the EV1, in 1996 (as a 1997 model). That car was well received, until GM ended the program and reclaimed the cars from the lessees. Unfortunately, no EV1s remain on the road today (if they did, they probably would have made this list, even almost 20 years later). The new Spark EV is powered by a 140 hp motor that puts out a powerful 327 lb-ft of torque. While it is the cheapest car on this list, the Spark EV definitely has its merits, and outranks some much more expensive electric vehicles.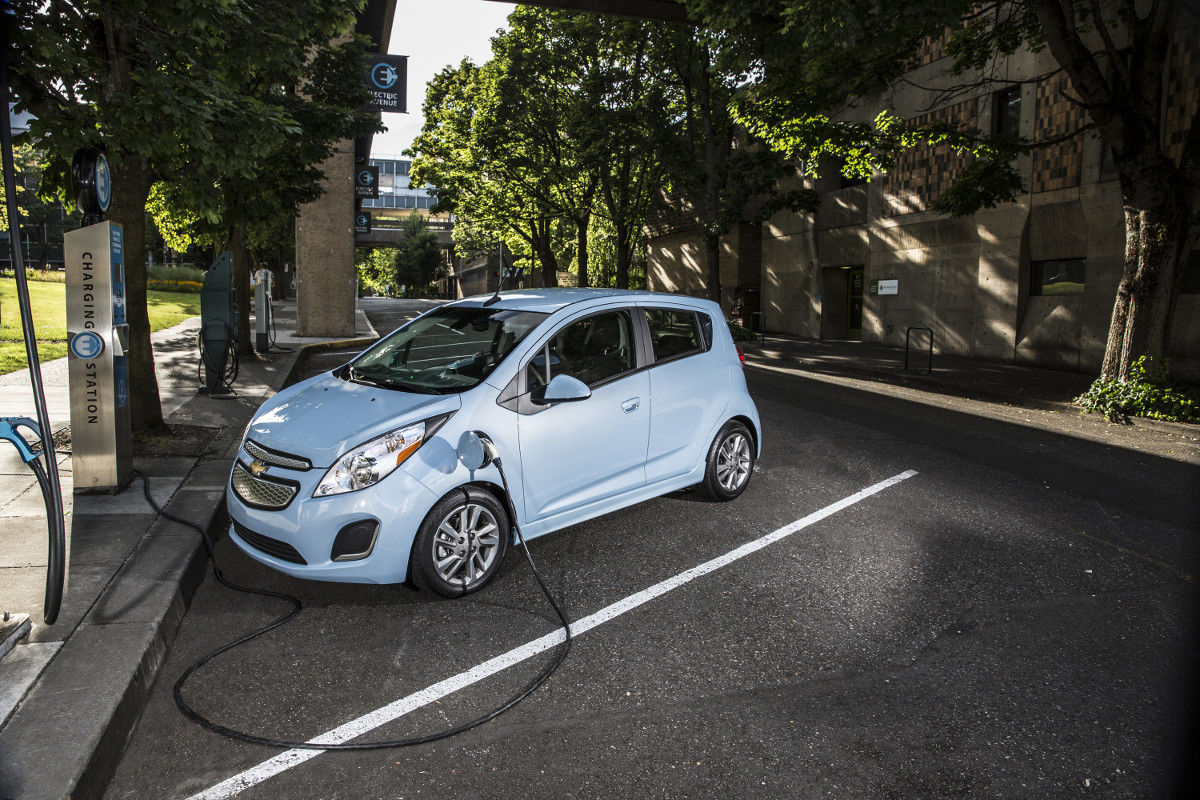 7) BMW i3
0 to 62 mph – 7.2 seconds
Top Speed – 93 mph
Range – 81 miles
The i3 is BMW's entry in the electric small car market. Unlike most of the cars at its price point, the i3 is largely made out of carbon fiber, which helps keep the weight down to a more than reasonable 2,800 lbs or so. The low weight helps the 170 HP and 184 lb-ft seem more powerful than it really is, though it still isn't one of the sportier BMWs. A range extender is offered, though it does increase curb weight by 265 lbs and lower the car's battery range by 9 miles, and an i3 equipped with one wouldn't be part of this list of purely electric cars.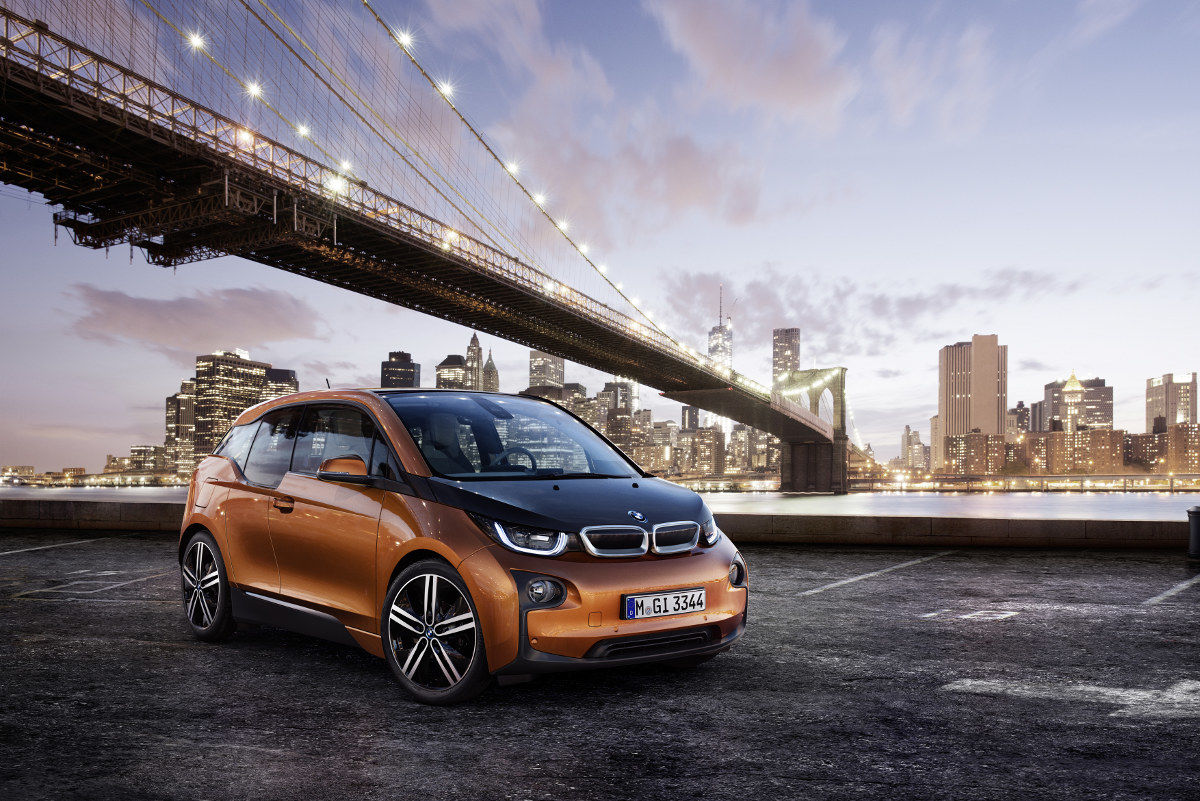 6) Toyota RAV4 EV
0 to 62 mph – 7.2 seconds
Top Speed – 100 mph
Range – 103 miles
The Toyota RAV4 EV was developed with some assistance from Tesla, who provides the electric drivetrain (the batteries and the motors). And it shows – with 153 HP and 273 lb-ft of torque this electric SUV can move. Unfortunately, unlike other RAV4s the EV is only available as a front wheel drive model (and with the previous model's sheetmetal ?????), however it should still be able to get you further off road than any of the other vehicles on this list. It also has lots of utility, with 37.2 cubic feet of cargo space behind the rear seats, or 73 cubic feet with the rear seats folded down.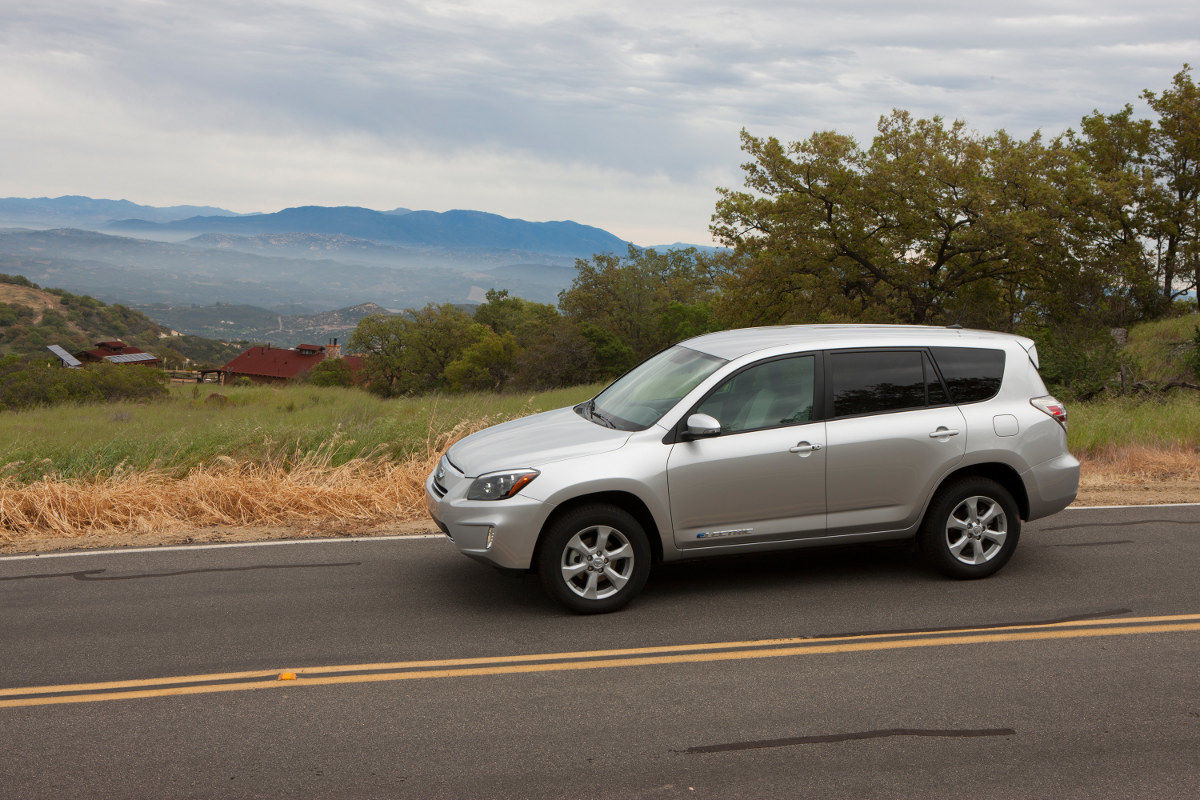 5) Tesla Model S Performance
0 to 62 mph – 4.4 seconds
Top Speed – 130 mph
Range – 265 miles
The fastest of the four door electric vehicles, and also probably the most luxurious vehicle on the list, the Tesla Model S Performance puts out a very respectable 416 HP and 443 lb-ft for torque, and more importantly, it does so without sacrificing its range (the highest on the list). The regular 85 kWh Model S, with its 362 HP and 325 lb-ft is no slouch either, reaching 62 mph in 5.6 seconds and a top speed of 125 mph. The 60 kWh model makes do with a range of 208 miles, 302 HP, 317 lb-ft of torque, a 0 to 62 mph time of 6.2 seconds, and a top speed of 120 mph.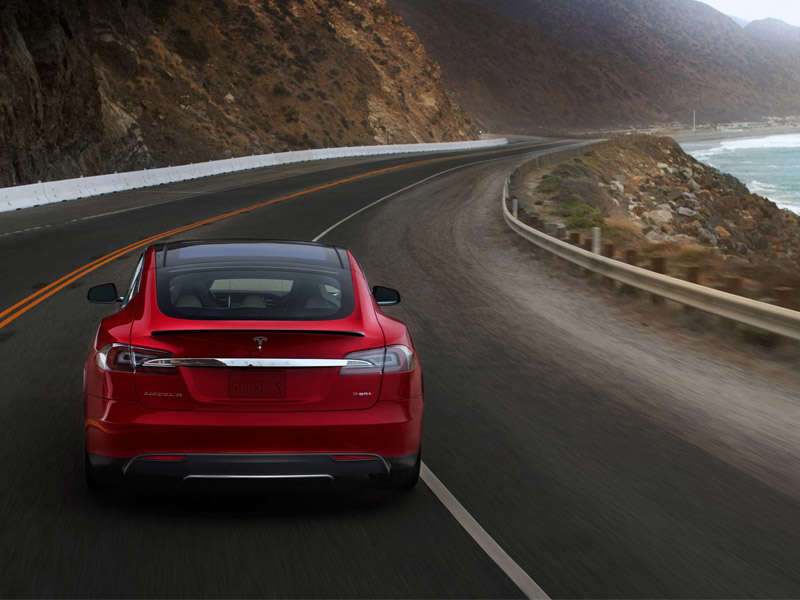 Photo by Tesla
4) Mercedes-Benz SLS AMG Coupe Electric Drive
0 to 62 mph – 3.9 seconds
Top Speed – 155 mph
Range – 155 miles
While you might think that the Electric Drive is based on the regular SLS AMG Coupe, the cars are quite different, with the Electric Drive storing its batteries in a specially designed center tunnel. The electric version of the SLS also sends its power to all four wheels. With 740 HP and 738 lb-ft of torque, the SLS AMG Electric Drive has lapped the Nurburgring in Germany in less than 8 minutes, despite its near two and a half ton curb weight. There was no word as to how much charge was left in the batteries to get you home after a hot lap, though the car's range is better than average. Unfortunately, even if you wanted one of these two seat coupes, this Electric Drive is not available in North America.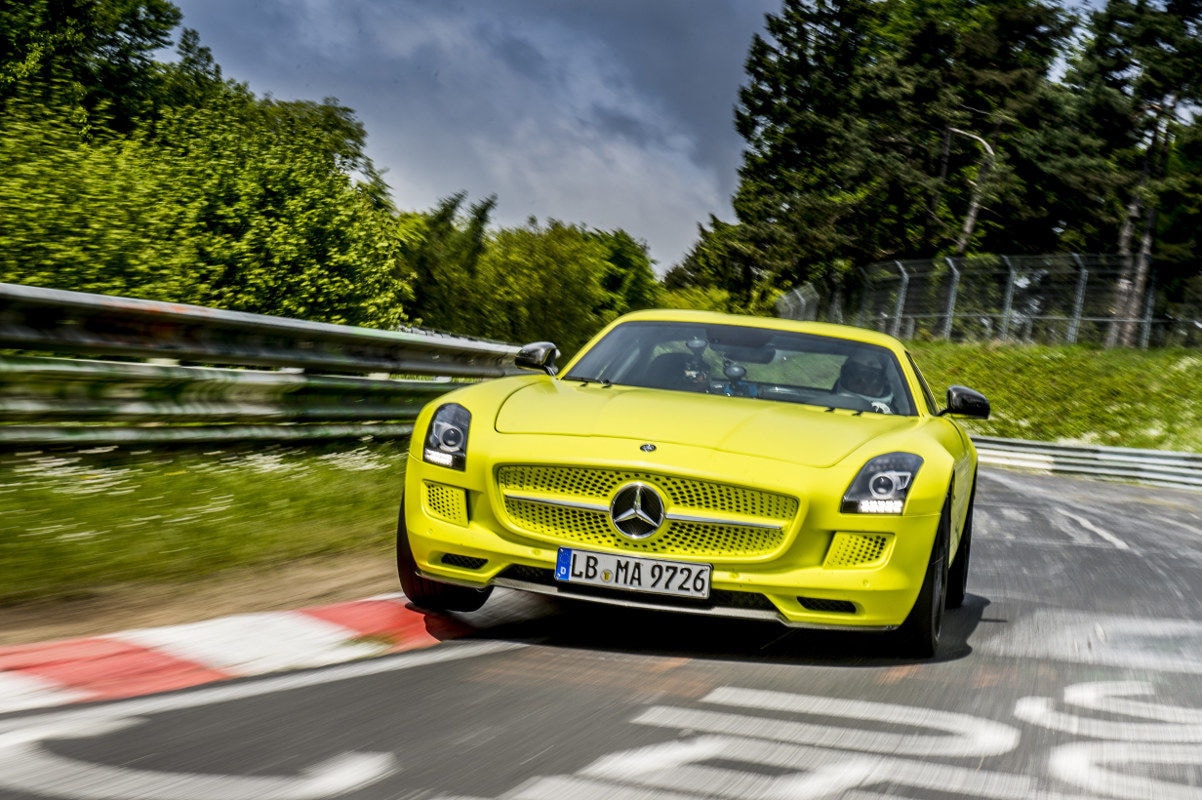 3) Tesla Roadster Sport
0 to 62 mph – 3.7 seconds
Top Speed – 125 mph
Range – 245 miles
Loosely based on the Lotus Elise (though the cars only share around 7% of their parts, mostly the front wishbones, windshield, dashboard, and soft top), the Tesla is fabricated out of an aluminum tub, with a body made mostly out of carbon fiber. With only 299 HP and 295 lb-ft it's hard to believe that the Tesla Roadster Sport is as quick as it is, but the instant torque and low weight of only 2,723 lbs make the car light on its feet. The featherweight design also helps the Roadster achieve its amazing range. Unfortunately the Roadster was discontinued in 2012.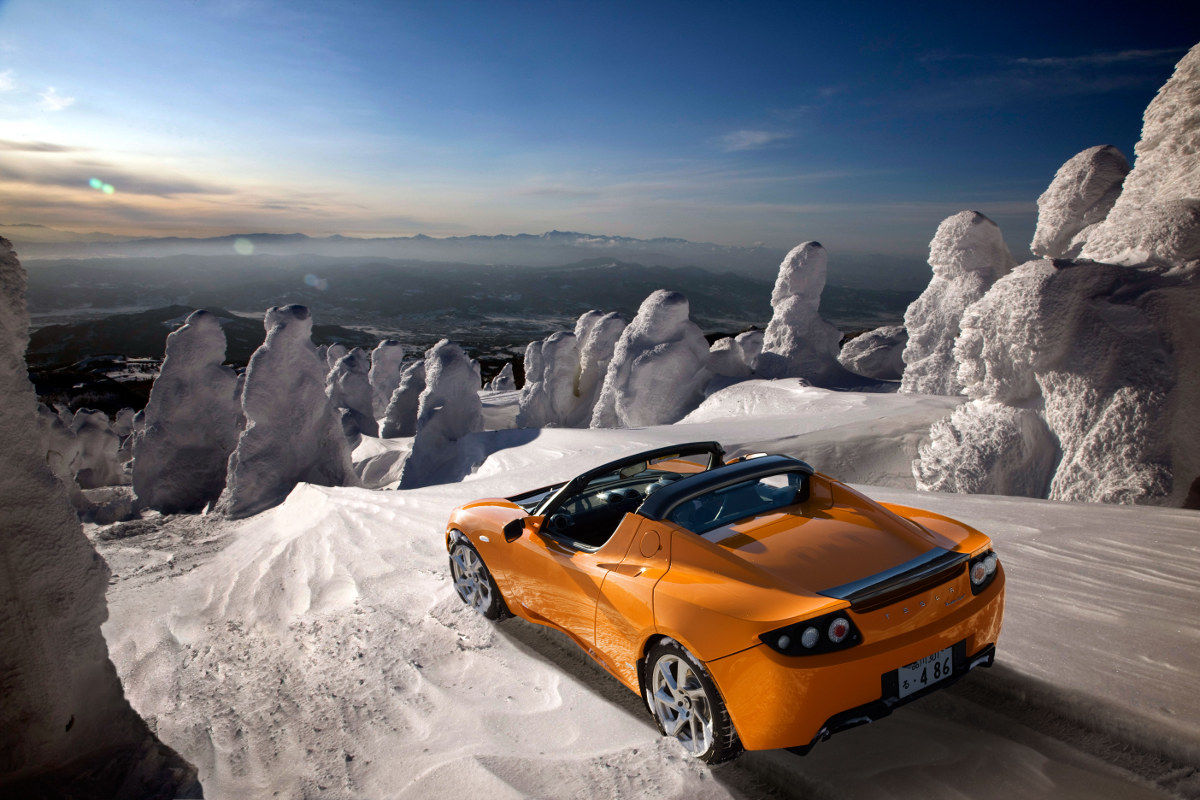 2) Commuter Cars Tango
0 to 62 mph – 3.4 seconds
Top Speed – 150 mph
Range – 80 to 200 miles
You may have seen George Clooney posing next to one of these weird narrow vehicles, and wondered what it was. The Tango is not cheap, but it is quick. The car is powered by two DC motors that each drive one of the rear wheels. Together these two motors can generate over 3,000 lb-ft of torque! Less wide than some motorcycles, with two seats and a tiny luggage compartment (the rear seat is removable for more storage space), this car is ideal for commuting or a sporty drive on a twisty road. A rear trailer hitch is provided to tow a generator cart, allowing you to extend the range when necessary.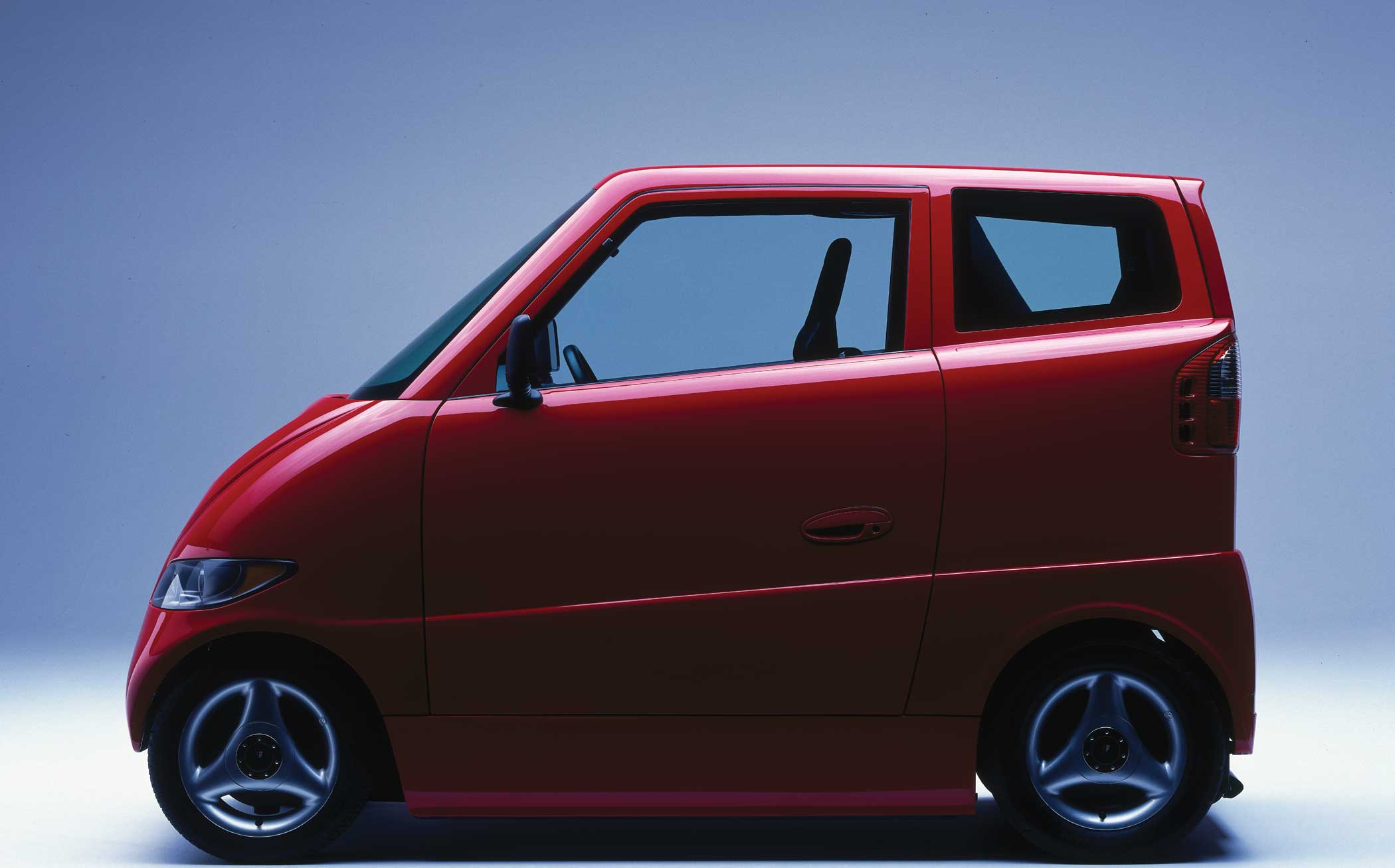 1) Spark-Renault SRT 01E (Formula-E Race Car)
0 to 62 mph – 3.0 seconds
Top Speed – 124 mph
Range – 20 minutes at racing speeds
These lightweight carbon fiber open wheel race cars are powered by a 268 HP electric motor that produces 103 lb-ft or torque. They look a bit like mini Indycars, and while they aren't road legal (and probably aren't available for the public to drive), you will be able to see them racing around the streets of Long Beach, Miami, and other cities around the world during their inaugural season. They will be driven by some well-known racing drivers, including Sébastien Buemi, Mike Conway, Nick Heidfeld, Katherine Legge, and Bruno Senna. The first round of the 2014-2015 Formula E season is September 13th in Beijing, China.