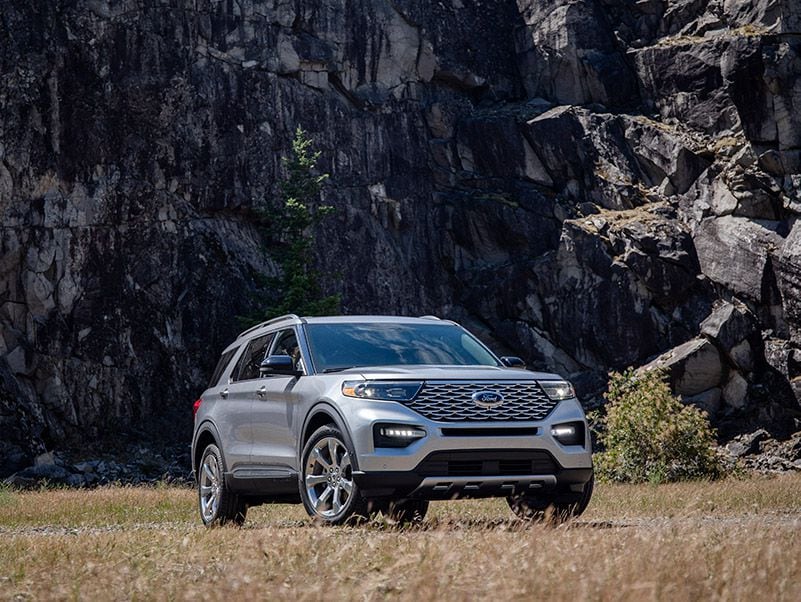 2020 Ford Explorer ・ Photo by Ford
Summertime and car-buying go hand in hand. Getting a new vehicle in time to take a family vacation is a longstanding American ritual, and in no year is that tradition more apropos than in 2021. With restrictions finally lifting across the country, the desire to hit the road is stronger than ever. The good news is that the nation's car companies are fueling that desire with excellent deals on some great vehicles. This roundup collects deals that are widely available across the country, but many car deals and incentives are only available regionally. To see what is available in your area, check with a local dealer or consult the manufacturer's website and input your location.
2021 Chevrolet Equinox
When some say, "Go big or go home," they might be referring to the 2021 Chevrolet Equinox. For several years, the Equinox has hung its hat on having one of the largest interiors in the compact crossover class, but now some vehicles, like the 2021 Nissan Rogue and 2022 Hyundai Tucson, might outdo it. But it still scores well in space and comfort, two very important attributes. Its base engine is a 1.5-liter 170-horsepower turbocharged 4-cylinder, while the optional engine is a 252-horsepower 2.0-liter turbocharged 4-cylinder engine with a 9-speed automatic versus the base 6-speed. Where the Equinox scores high is in its very easy-to-use infotainment system. All this becomes much more compelling when you consider the deals Chevrolet is offering. You can purchase an Equinox using 0% interest financing for up to 72 months. Or you can get 10% of the manufacturer's suggested retail price (MSRP) in cash back, which could mean  savings of over $3,000.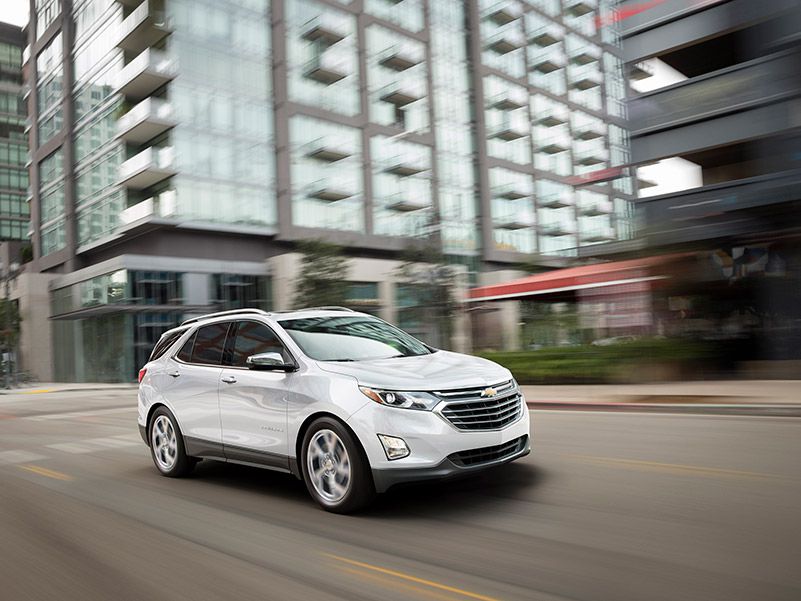 Photo by Chevrolet
2022 Kia Sportage
It isn't often that you see the newest model year of a vehicle — in this case, 2022  — heavily discounted. But the spunky 2022 Kia Sportage is an exception. With an all-new 2023 model year on the way, the 2022 Sportage won't look like the newest vehicle on your block for long. But between the Sportage's many virtues and the money you could save, you probably won't care. Most Sportage trims have a 2.4-liter 4-cylinder engine with 181 horsepower, while the SX Turbo trim has a 240-horsepower turbocharged 2.0-liter 4-cylinder that takes performance to a different level. The Sportage is among the smallest of the compact SUVs, but its 30.7 cubic feet of space behind the second-row seats is ample. One of the best deals on the 2022 Sportage compact SUV is 0% financing for up to 60 months. Or you can get $2,500 in customer cash and finance it yourself, which might work out even better.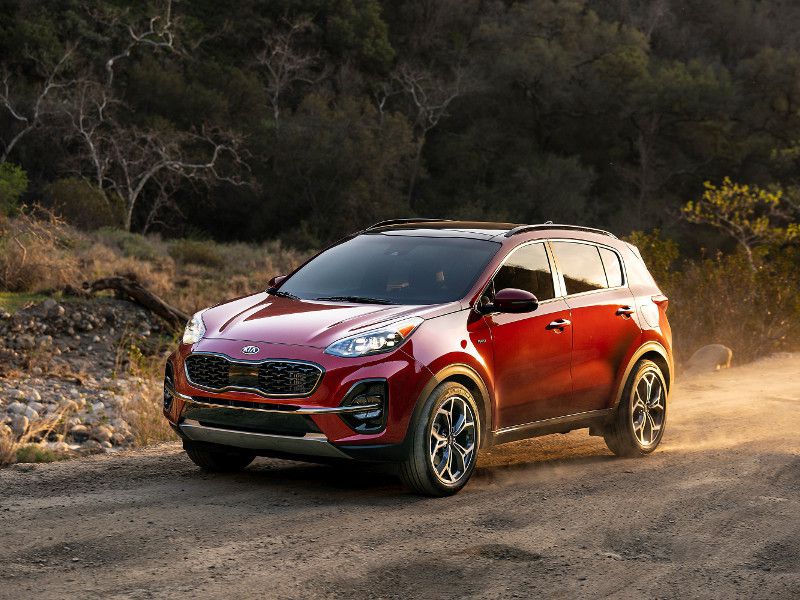 Photo by Kia
2021 Honda Pilot
The 2021 Honda Pilot is one of the most well-respected mid-size SUVs. With a large interior and three rows of seating, the Pilot can transport up to eight people without a hitch. It's powered by a tried-and-true 3.5-liter V6 delivering 280 horsepower and 262 lb-ft of torque, and it's paired with a 9-speed automatic transmission. For added convenience and safety, the Pilot is filled with electronic driver aids and safety features in a suite called Honda Sensing. If you're looking for luxury, the upscale Elite and Black Edition models include added touches like a heated leather-wrapped steering wheel and a 590-watt premium audio system with 10 speakers. The Honda Pilot is a front-drive platform, and all-wheel drive is available on all trims and standard on the Elite and Black Edition. With seven trims, there's bound to be a Pilot for every buyer. And to usher in summer, Honda's offering excellent deals. The 2021 Pilot can be purchased with 0% financing for 48 months, 0.9% financing for 60 months, or 1.9% financing for 72 months. It can be leased for as little as $309 per month for 36 months with $3,299 due at signing.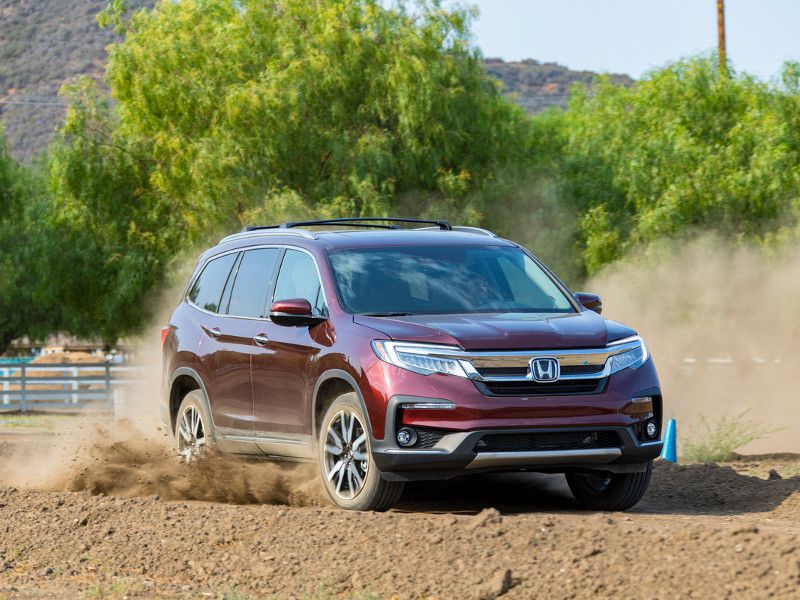 Photo by Honda
2021 Jeep Grand Cherokee
The 2021 Jeep Grand Cherokee is a very competent off-roader that's balanced and capable on pavement. It's available in rear-drive and four-wheel-drive configurations, and the various trim levels will help you find something that suits your needs and your wallet. One big advantage of the Grand Cherokee is its powertrain. The 5-passenger SUV offers a 360-horsepower 5.7-liter V8, and the performance-oriented SRT version has a 475-horsepower 6.4-liter V8. The standard engine is a 3.6-liter V6, which is rated at 295 horsepower. And if extreme performance is your goal, the Trackhawk has a 707-horsepower 6.2-liter supercharged V8 engine. In addition to engine choice and good towing ability, the Grand Cherokee features attractive, luxury-like interiors. This summer, there are great deals across the lineup. You can purchase the off-road superstar Trailhawk trim with 0% financing for 48 months plus receive a $1,500 cash allowance. Or you can lease a Laredo for $245 per month for 36 months with $3,855 total due at signing.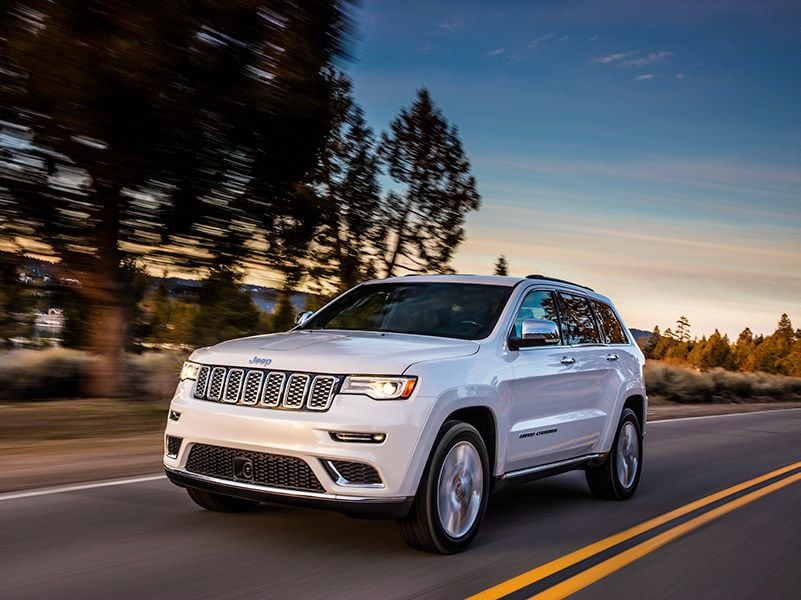 Photo by Fiat Chrysler Automobiles
2021 Nissan LEAF
If you've ever thought of buying or leasing an electric car, this summer could be the perfect time to try — especially with the deals on the 2021 Nissan LEAF. With its zero-emission battery, the LEAF isn't a great choice for cross-country road trips, but it is a smart option for commuters and errand-runners. Its standard 40-kWh battery pack is good for less than 150 miles of range on a charge, and that should be more than enough for your daily chores, no matter what they are. The base LEAF has a 147-horsepower electric motor, while LEAF Plus models have 214-horsepower motors. We admit the LEAF's interior isn't sumptuous, but it's comfortable and quiet. Nissan is offering two very interesting deals on the 2021 model of its LEAF electric car. It can be purchased using 0% financing for up to 72 months with a $6,000 discount on the price, or it can be leased for $199 per month for 36 months with just $1,149 due at signing.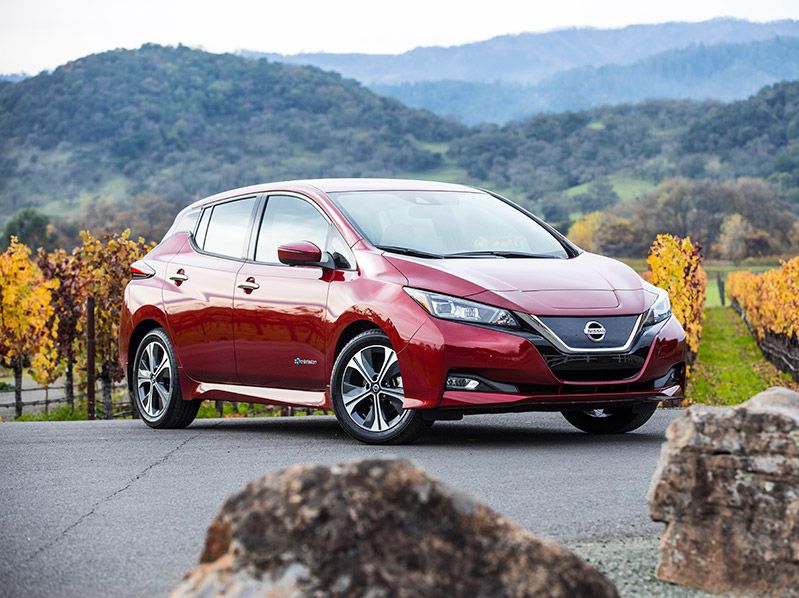 Photo by Nissan
2021 Ford Explorer
The Ford Explorer has been a well-known leader among the mid-size SUV class for decades. Completely redone for the 2020 model year, Ford switched from a front-drive-oriented platform to rear-drive architecture, and the results are positive. It has aided its driving dynamics and towing abilities. The Explorer also offers a dizzying number of powertrains. Base, XLT, and Limited trims are powered by a 2.3-liter turbocharged 4-cylinder engine that produces 300 horsepower. The luxurious Platinum edition Explorer has a 3.0-liter turbo V6 that offers 365 horsepower. The Explorer Hybrid has a 3.3-liter V6 supplemented by an electric motor to produce 318 combined horsepower. And the Explorer ST has a 400-horsepower 3.0-liter turbo V6 and four-wheel drive. With a variety of interior configurations that offer great people-hauling capabilities, the Ford Explorer is a prime family vehicle. Right now, the featured offer is 1.9% financing for 60 months plus $1,000 in customer cash. While that might not be on a trim that suits you, many Explorers can be purchased with 5.9% financing for a whopping 84 months.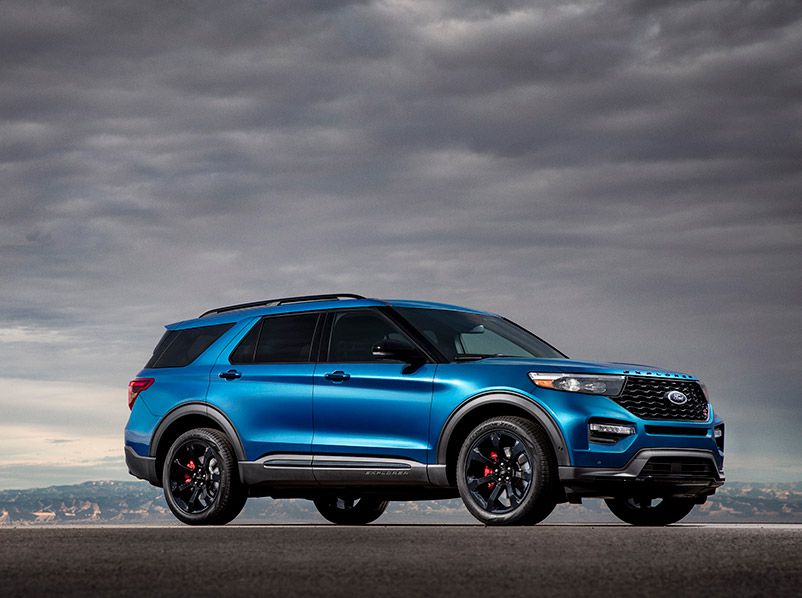 Photo by Ford
2021 Volkswagen Arteon
The 2021 Volkswagen Arteon is a 4-door sedan that is styled like a coupe and has the upscale demeanor of a European luxury car. Updated for the 2021 model year with a new front end, more interior refinement, advanced connectivity, and new driver assistance options, it is an under-heralded gem and a real summer bargain. Available with massaging driver's seat, ventilated front seats, heated rear seats, leather seating surfaces, and harman/kardon premium audio, the Arteon has a chi-chi presence. Five can ride in comfort, and the Arteon will hold a surprising amount of luggage in its shapely rear compartment. Its 268-horsepower 2.0-liter turbocharged 4-cylinder engine isn't the strongest powerplant in the segment, but the Arteon is still very pleasant to drive. If you need bad-weather traction, the VW 4MOTION all-wheel-drive system is available. In many areas of the country, an Arteon can be purchased with 0% financing for 72 months. Or it can be leased for as little as $319 per month for 36 months with $3,999 due at signing.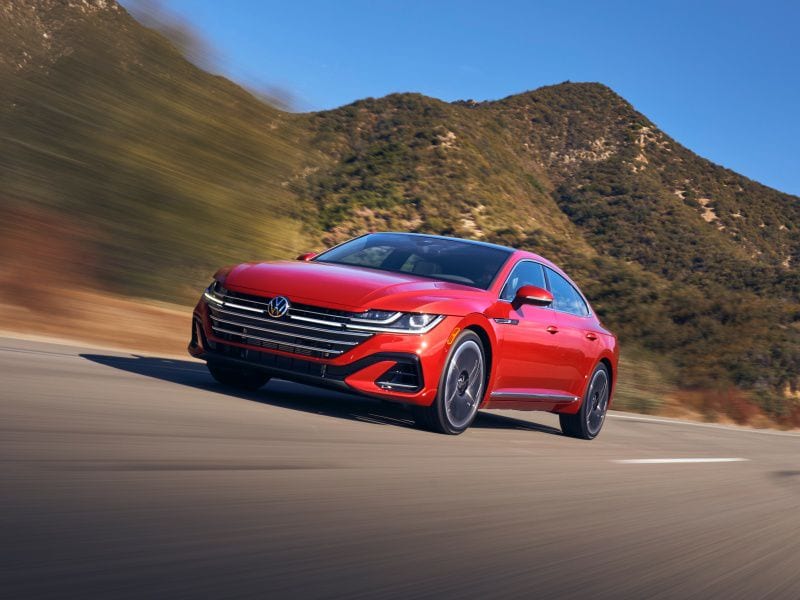 Photo by Volkswagen
2021 Dodge Charger
What would you call a family 4-door sedan that can morph into an ultra-quick performance car with immense horsepower? The folks at Stellantis call it the Dodge Charger. Reminiscent of American muscle cars of years gone by, the Charger will transport five and their luggage in comfort, while presenting its potential buyers with a number of high-performance choices. The ultimate of those is the 2021 Charger SRT Hellcat Redeye Widebody that has a 797-horsepower V8. But Charger models with less horsepower still have interesting performance stories to tell, like the Dodge Charger Scat Pack with a 485-horsepower 6.4-liter HEMI V8 engine. A great all-around bargain is the 2021 Dodge Charger R/T with a 370-horsepower 5.7-liter V8. It can be purchased with 0% financing for terms up to 72 months. A 2021 Charger SXT with V6 power has 0% financing for 72 months plus a $1,000 cash allowance.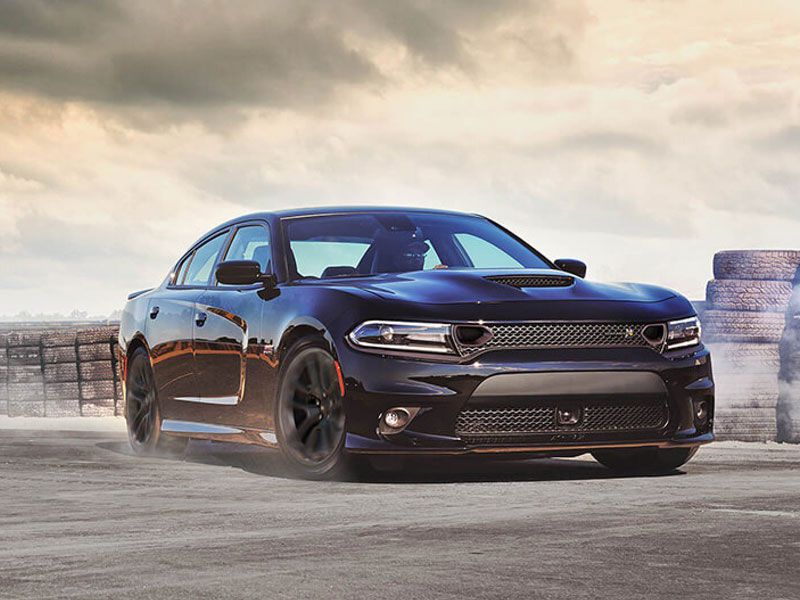 Photo by Fiat Chrysler Automobiles
2021 Subaru Legacy
While it is true that sedans aren't considered all that cool right now it is hard to turn your back on the value offered by the 2021 Subaru Legacy mid-size sedan. It offers a wealth of interior room, all-wheel-drive traction, and impressive safety technology. The Legacy's base engine is a 182-horsepower 2.5-liter horizontally opposed 4-cylinder, while the uplevel engine is a 260-horsepower 2.4-liter 4-cylinder. The base infotainment system has a 7-inch touchscreen, Android Auto, and Apple CarPlay, and most trims have an upgraded 11.6-inch touchscreen with more features. Navigation, wireless phone charging, and premium audio systems are optional. The Legacy offers a nice suite of safety and driver-assistance features. Subaru is currently offering 0% financing for 63 months on the 2021 Legacy sedan. Another deal that might even be better is the $199 per month 36-month lease with $2,879 due at signing.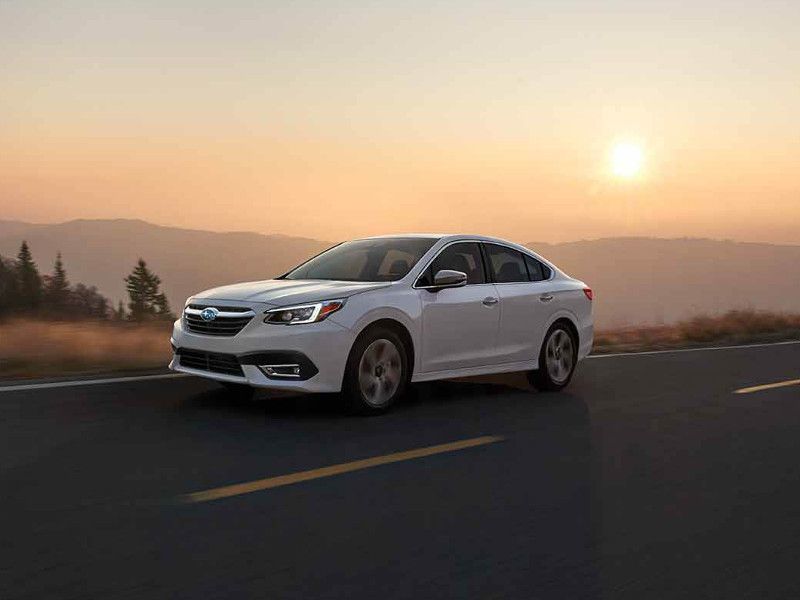 Photo by Subaru
2021 Hyundai Sonata
The 2021 Hyundai Sonata mid-size sedan is filled with comfort and convenience features that other cars in its class don't have. Included on that list are a high-speed wireless smartphone charging pad with cooling fan and the Sonata's remote parking feature that lets you operate the car at low speeds from outside the vehicle. The Sonata features three conventional drivetrains — 180-horsepower 1.6-liter turbocharged 4-cylinder, 191-horsepower 2.5-liter 4-cylinder, and 290-horsepower turbocharged 2.5-liter 4-cylinder. The Sonata hybrid features a 2.0-liter 4-cylinder engine plus a permanent-magnet electric motor with a total output of 192 horsepower. On the tech front, the top-level infotainment display is a customizable 10.25-inch touchscreen that features cloud-based speech recognition. The 2021 Sonata is the subject of several summer offers including 0% financing for up to 60 months with the first payment deferred for the first 90 days. Or customers can lease a 2021 Sonata for $169 per month for 36 months with $2,899 due at lease signing.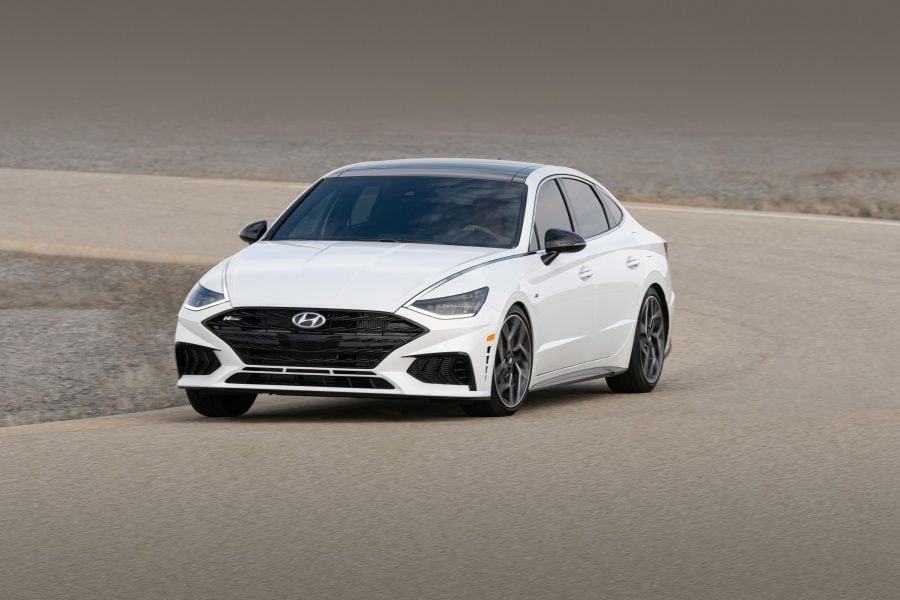 Photo by Hyundai