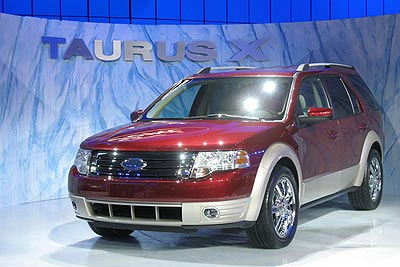 It was cold in Chicago – no surprise there – but it was also a cold Auto Show. Perhaps it was the continuing onslaught of early release information, or maybe automakers just don't have a lot to talk about right now. Either way, the show had an anticlimatic feel. Even the more important debuts were muted, as if the automakers were saying, in essence: whatever. Of course, there's always Ford. They're always good for a few paragraphs, this time because they think rental car names curry favor with car buyers. …the Taurus? Say Taurus and most people think of that white rental car they drove in Florida. Or maybe the company car they drove into the ground. As Ford president Mark Fields will tell you, in MBA-talk that's referred to as a lose-lose situation, or as Blackett writes, it's a boondoggle. Wardlaw – ever the optimistic Michigander – notes how it's a shame, for the name game hides two very decent vehicles.
Unlike Ford, Scion has no such trouble with names. In fact, they've got it down, to the point where it can market a warmed-over Yaris as the next Scion and gain favor in doing it. Keith Buglewicz gets out from under the sheets of the Swissotel to marvel at the marketing might of Toyota/Scion. As a matter of fact, Toyota, with its Scion and Lexus badges, is headed straight for a fight with GM, which, according to yours truly, is ready – finally – to take 'em on and battle for automaking supremacy.
As if any of that matters to car buyers. What's missing here, sadly, and what was missing at the Chicago Auto Show was forward motion by the automakers in regard to fuel economy and conservation. There were lots of exciting cars debuted, but ultimately the show in Chicago was another opportunity missed to demonstrate how the automotive industry can be part of the solution to what is emerging as the most critical issue of this age.
Interesting show…that should be held in May - Blackett
It's said that any publicity is good publicity, and if Ford's naming announcement at this year's Chicago Auto Show is any indication, the theory proves correct. The reintroduction of the Taurus and Sable nameplates to the Ford Motor Company portfolio, in addition to the new Taurus X, immediately had me shaking my head. As I mentioned in my preview of the Sable, these model names, while respectable 15+ years ago, have in more recent years come to represent the rental car market. Not exactly the image you want to push when trying to increase retail sales. And, to me, it seems that a company so desperate for a turnaround that it'd mortgage the whole farm for a some operating cash would be putting all available dollars into developing a B-segment (Honda Fit, Nissan Versa, Chevrolet Aveo) competitor or maybe expanding its hybrid lineup instead of shelling out scratch to market a new name. But, what it all boils down to is the fact that, regardless of how consequential or inconsequential you believe the name game to be, it's got people talking about Ford. Some would argue that this is not the kind of talk Ford needs or is looking for, but I'd disagree – when you get people such as our staff members spending literally hours discussing Ford (and I'd venture to guess thousands of conversations like ours have or will take place), what's right and wrong with the company, and thoroughly evaluating the merits of its product lineup, you've succeeded in increasing your brand awareness. That being said, I don't believe that a Taurus or Sable badge will directly lead to increased sales for Ford, nor do I believe that subtle styling changes, a more powerful V6 engine, and a six-speed automatic transmission will make any significant difference – the powertrain makes the cars competitive but not class-leading, and the styling still falls into the vanilla category. However, the all-wheel-drive feature has, and remains, a selling point. Enough about Ford. There were other things going on in Chicago that were much more important to car buyers, including the unveiling of three import products – two from GM and one from Toyota. Import products from GM? Those would be the Pontiac G8 (an Americanized Holden Commodore from GM's Australian brand) and the Saturn ASTRA (born on the other side of the pond by Opel). Pontiac will start selling the rear-wheel-drive G8 next year with V6 or Corvette-sourced V8 power early next year. Enthusiasts may want to opt for the six-speed manual with their 362 horses, a setup that will have clutches dumping and large sedans drifting all across the good ol' US of A. I'm not sure the G8 is single-handedly capable of putting Pontiac at the forefront of performance, but I can't imagine that the V8-equipped GT model will have problem selling. For its part, the Astra, which will be available as a three- or five-door hatch, promises to do things for Saturn that the Ion couldn't have dreamt of. As I walked around both versions on the Chicago Auto Show floor, I was impressed with the cars' looks, stance, and overall visual appeal. As far as five-door hatch styling is concerned, I'd put the Astra at the top of the list of current offerings, ahead of all the import contenders including the tough-to-beat Mazda 3. Of course, the proof is in the pudding, so I'll wait until I actually get some seat time before making a final judgment on these rides, but based on first impressions, the next year looks bright for Pontiac and Saturn. With GM covered, that leaves only the redesigned Toyota Highlander/Highlander Hybrid to discuss. Personally, I find the current version to be a bit bland and underpowered (apologies to all Highlander fans, including two family members), but in regards to comfort and driving dynamics, it's a perfect mainstream crossover. Toyota claims that buyers, and those who shopped the Highlander but bought something different, wanted more space, style, and power from the next-generation version, and hence, the larger, more muscular, and more powerful 2008 model was born. Such a move makes sense, especially when you consider that the redesigned RAV4, also larger and more powerful, became almost a direct competitor with the Highlander rather than a lesser alternative. To be sure, there are legions of Highlander fans who may or may not approve of the changes, but they can't dispute the fact that the crossover segment is growing in number and size. New competitors, such as the Saturn OUTLOOK, and updated existing competitors, including the Honda Pilot, require the Highlander to rise up to meet their challenges head on. Let the large crossover battle royal begin. So, there you have it – my take on the 2007 Chicago Auto Show, home of some noteworthy announcements and interesting new rides. Now, if organizers could just move the show to April or May when it's not so freakin' cold.
Send along a note to Thom: thomb@autobytel.com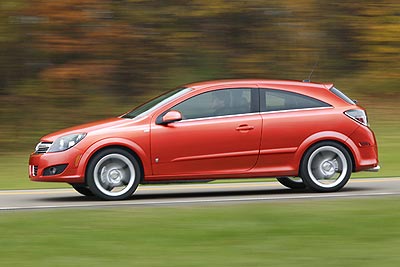 The Swissotel is a really nice place - Buglewicz
The Swissotel Chicago has some really nice rooms, with comfortable beds, prompt room service, a decent selection of television channels to watch, and a marble-encrusted bathroom that, frankly, rivals the one in my own home. Even with the sub-freezing – and sub-zero overnight – temperatures outside, my 25th-floor room stayed nice and cozy, with the heat turned up and extra blankets piled high on my bed. I appreciate my hotel room so much because I spent the majority of my time there during the Chicago show. Getting the stomach flu when you're at home is bad enough. Get it when you're 1,700 miles from home stuck in a hotel room, well, at least be sure the hotel room is nice, that's all I can say. My queasiness dissipated long enough to attend part of Thursday's activities, and Chicago had plenty to see: the imperceptibly changed Nissan Titan, Armada and Pathfinder; the laughably bad Dodge Dakota restyle; the strange reappearance of the Ford Taurus badge; the bass-boat sparkle of the Kia Rondo SX; the downright cool Saturn Astra. But few things caught my attention as much as the unveiling of Scion's newest cars, the redesigned xB and the all-new xD, which replaces the tiny xA. These aren't really significant cars as far as sales go – Scion intentionally limits sales to maintain its exclusivity. But the fact that there are second-generation Scions at all says a lot. The Scion experiment was met with a lot of skepticism when it was first announced. The idea of conservative old Toyota debuting a youth brand was akin to Trent Lott suddenly announcing that he was hooking up with Jay-Z on an album project. Frankly, the cars themselves didn't do much to quell the skepticism. A tiny hatchback and a wheeled breadbox? Based on the of all things? They were funny looking. They didn't have any power. They didn't handle very well. Automotive journalists by and large predicted a crash and burn, thinking that if anything, you'd see a lot of Scions being towed behind the motorhomes of retirees livin' the dream. Few considered that Toyota might actually know what it was doing. Turns out it did. Today Scion has the youngest demographic of any brand, with an average buyer age of only 30 years old. Most brands skew at least a decade older, some two or even three decades older. Furthermore, Toyota says that 80 percent of Scion buyers are new to the Toyota family, and when they replace their Scion, eight out of the top 10 replacement models are Toyota-branded products. The nail was hit so squarely on the head not because of remarkable cars – they're nifty, but not earth shattering – but because of clever marketing and ingenious product placement. The viral marketing Scion has relied on worked like a charm, so much so that other automakers are scrambling to emulate it, albeit with mixed results. The new cars themselves look to build upon the momentum Scion already has. The new xB has evolved perfectly. It's still small, still funky looking, but it's also more modern inside and out, with a more powerful engine. The same is true for the xD. Scion will surely sell out of these as it has with its other cars. It will also continue to serve as an object lesson in youth marketing and branding, and that we automotive journalists aren't always as smart as we like to think.
Send along a note to Keith: keithb@autobytel.com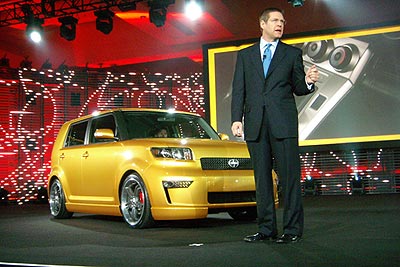 General Lutz wins in the Windy City - Chee
For almost ninety years, the Chicago White Sox stood for two things: losing and cheating. To be a fan was to be a second-class citizen in the team's own city, to suffer through year after year of shame, bad baseball and failed management. From Disco Demolition Night promotions to strange uniforms and weird players, the White Sox were a bad team that played in a cold stadium for a few fans in a city that didn't care. Even when they built a new stadium, it wasn't enough to put them on the map. Their city rivals were the biggest bunch of losers in the history of baseball. All they had to do is play good ball, win some games…nope. Losers. And not even lovable ones at that. Ozzie Guillen came to town and changed all that. He drew a line in the dirt and challenged the players, pushed them, and got their support. The players believed, played hard, and the White Sox started winning, all the way to the World Series. The style of baseball played didn't matter as much as the fact that the players played, and hard. As a result, they have a pennant and a new, hard scrabble identity: winners and rough necks. Perhaps Bob Lutz is for GM what Ozzie was for the White Sox. After all, Saturn is on the move, with a complete new lineup capped by the Astra hatchback and some aggressive programs designed to get people into their new cars. Pontiac is also on a roll, with the hot new G8 sedan crowning a newly aggressive lineup. It's exciting to watch the plans unfold: develop new vehicles, borrow a few and strategically rebrand them, then bolster that product with bold customer service programs. GM's warranty for new and used vehicles has been extended, and Saturn is offering shoppers home or office test drives and an evaluation checklist. Put it all together and you have new cars at competitive prices and excellent customer service. Talk about walking the walk. It's not clear how much involvement Lutz has had with the nuts and bolts of these developments, but at some level his fingerprints are on the plans. What's most important, however, has been his role as a rallying point for the company: it seems that he's the one who has emboldened the General's players to take a chance, to play hard and leave it on the field. The result is that people at GM believe in their cars again, believe that their cars are better, sexier and more worthy of a family's investment. You have to believe in yourself before others will believe in you, and for GM the magic is beginning to take hold. At the Chicago Auto Show, the feeling of pride was palpable at the GM press conferences. You can make an executive say the words, but you can't make 'em believe in them. When they do, it has a much greater impact – and the folks at Saturn and Pontiac clearly believe in the direction GM is headed. In between the hilarity of Ford's Follies and away from the shadow of Toyota's Towering new Truck, General Motors reveled in its new image. It's a look that resembles a silver-haired, cigar-chomping auto executive, and one that seems ready for the fight of its life.
Send along a note to Brian: brianc@autobytel.com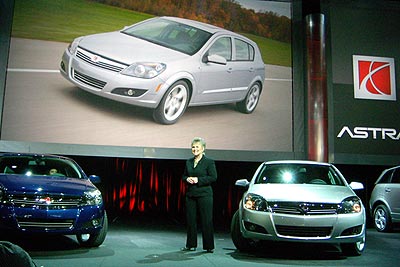 Ford did not fumble - Wardlaw
Critics are busy pissing all over themselves debating Ford's decision to resurrect the Taurus and Sable nameplates on the vehicles formerly known as Five Hundred, Freestyle and Montego. In the process, they are completely missing the greater point: these are exactly the products that Ford needs, potentially class-leading sedans and a crossover vehicle that, if anyone bothered to live with one for a week using it as a daily driver, are definitely keepers. Who cares if they wear Taurus and Sable badges? It's about the product, not the name. Nissan didn't alter the Altima moniker when a massive makeover morphed its family sedan from also-ran to head-of-the-class. Toyota didn't get cold feet about the Tundra when it finally got serious about building a full-size pickup. Why should Ford dump Taurus or Sable when they are applied to compelling products that, if given the chance, should score big sales for the company? Instead of kvetching about nomenclature that reminds of rental cars, critics should be praising the Taurus, Taurus X (shown above), and Sable. These are the first sedans in the marketplace to be equipped with a PZEV-rated V6 engine, one that makes almost as much horsepower as the vaunted V6 in Nissan's new Altima. That, friends and neighbors, is an accomplishment to be trumpeted – especially since the news debuts after a sobering report about the state of global warming and its impact on climate change. Instead of carping about the FoMoCo trio's dull styling – as if the vaunted Honda Accord or upstart Hyundai Sonata possess an ounce of visual excitement – maybe the media should remind readers that the Taurus and Sable have gigantic trunks, that the Taurus X is equipped with roomy seating for up to seven passengers, that the front passenger's seat folds for unparalleled cargo toting capability in the segment, and that all three sit up high giving the driver a great view out and making them exceptionally easy to get into and out of. Instead of complaining about historical missteps and writing about how the Taurus, Taurus X and Sable are doomed, responsible reporters would rightly identify them as worthy of consideration by consumers. These are crashworthy vehicles that contain standard side-impact and side curtain airbags, can be equipped with stability control, and are offered with an optional all-wheel-drive system. Just try to buy an Accord, Altima, Camry, or Sonata with AWD. I triple-dare you, and used Camry All-Tracs don't count. Add in an impressive powertrain warranty, free roadside assistance, and a pretty good track record for reliability, and it's clear that the Taurus, Taurus X and Sable are firing on all cylinders. However, let me be perfectly clear: no matter how good these cars are, they won't sell. They won't sell because Ford will probably botch the marketing message and because Americans are too insecure to show up in their immaculately groomed and uselessly gated subdivisions full of lookalike cookie-cutter houses sitting on streets with pretentious names like Remington Lane and Rio de Paradiso in anything but a Honda or a Nissan or a Toyota. Snobbery and materialism run rampant in the United States, where image counts for everything and character counts for nothing. A damn shame if you ask me. How do I know this? A guy in our office has a Ford Fusion SEL V6, top of the line, everything on it. After checking for the telltale rental car barcode in the back window and seeing none, I asked him if it was car. He replied in the affirmative, so I asked how he liked it. His response: "I like everything about it except the Ford badge." Clearly, until Ford fixes this problem before any other, until ownership of any one of its products inspires the same kind of heartfelt pride that Mustang and F-150 owners exude, it will continue to lose market share. In the meantime, if you're still with me and you're looking for a fantastic family car, the 2008 Ford Taurus, Taurus X, and Mercury Sable should be on your must-drive list.
Send along a note to Chris: chrisw@autobytel.com