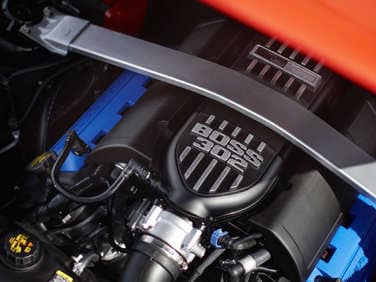 As awards season continues in the auto industry, Ward's recently released its annual list of "10 Best Engines," one of the most-watched powerplant prizes in the business. The goal here, according to Ward's, is to recognize "the latest powertrain technologies that are affordable to most consumers, boost horsepower and torque, sound appealing and integrate well with their respective vehicles," and this year a number of trends relating to fuel economy continued. Seven of the 10 engines on the list featured gasoline direct injection (which increases both fuel efficiency and low-end torque at the same time), five used a forced-induction system (four with turbos, one with a supercharger) and fully half the honorees relied on just four cylinders—and six were from mainstream automakers.
The Chrysler Group's 3.6-liter Pentastar V6 found in the Jeep Wrangler and Chrysler 300 S. This advanced V6 doesn't happen to use direct injection, but it has still delivered impressive power and efficiency gains in a wide variety of Chrysler Group applications. For example, the Wrangler now packs 285 hp, 260 lb.-ft. of torque and 21 mpg highway, representing gains of 40 percent, 10 percent and 10.5 percent, respectively, as compared to its 2011 V6. In the Chrysler 300 S, the same powerplant makes 292 hp and the same 260 lb.-ft. of torque, and when it's mated to the car's eight-speed automatic transmission, the result is 31 mpg highway. That means 16 percent more horsepower and more than 19 percent better fuel economy in highway driving. The same engine also is found in Chrysler Group products including the Jeep Grand Cherokee, Chrysler 200, Chrysler Town & Country, Dodge Avenger, Dodge Challenger, Dodge Charger, Dodge Durango and more.
Ford's 2.0-liter EcoBoost engine, as available in the Ford Edge. This four-cylinder engine, boasting the Blue Oval's innovative EcoBoost technology, was specifically lauded for its combination of six-cylinder power and four-cylinder fuel economy. It delivers 240 hp and a robust 270 lb.-ft. of torque in the Edge, while also helping it attain an EPA line of 21 mpg city/30 mpg highway/24 mpg combined. The EcoBoost advantage comes from technologies including turbocharging and direct injection, and is available in a growing number of the automaker's products, including the 2012 Ford Explorer, which uses the same 2.0-liter engine to ring up EPA marks of 20 mpg city/28 mpg highway/23 mpg combined. Other Ford products available with EcoBoost tech include the Ford Taurus, Ford Flex, Ford F-150, Lincoln MKX and Lincoln MKS.
The 5.0-liter V8 residing beneath the hood of the Ford Mustang Boss 302. The automaker's reborn 5.0-liter V8 was a 10 Best Engine last year when used in the Ford Mustang GT, and it obviously maintained its award-winning quality in the Boss. One big difference: Horsepower. Thanks in part to revised camshafts and a more aggressively tuned engine control module, the V8 now pours out 444 hp, to go with 380 lb.-ft. of torque, but without sacrificing a single mile per gallon. The Boss gets 17 mpg city/26 mpg highway/20 mpg combined with its six-speed manual transmission. The Boss' V8 also excels in another key Ward's category—the way the engine sounds. Which, in this case, is fantastic. That's because Ford engineers developed a unique intake system for the car, with a retuned induction sound tube, and routed the exhaust through a model-specific quad exhaust system with further sound-tuning measures.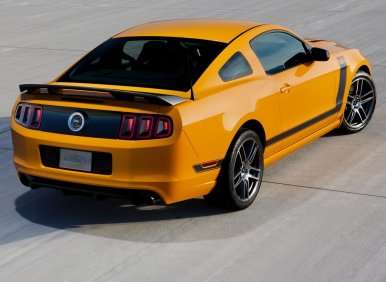 GM's 2.0-liter turbocharged Ecotec I4, as used in the Buick Regal GS. Buick is able to squeeze 270 hp and 295 lb.-ft. out of just 2.0 liters of engine, making this powerplant the most power-dense engine to be certified by the Society of Automotive Engineers (SAE). The result, according to Ward's, is "exhilarating acceleration and astonishing refinement." Vital to to this achievement, according to the General, are features like all-aluminum construction, dual overhead cams, four valves per cylinder and continuously variable valve timing, direct injection, forged-steel connecting rods, and an advanced, electronically controlled twin-scroll turbocharger that virtually eliminates low-speed turbo lag while propelling the Regal GS from 0-60 mph in under 6.7 seconds.
The 1.6-liter I4 "Gamma" engine from the Hyundai Accent and Kia Soul. Hyundai currently showcases the highest fleet fuel economy in the industry, and a crucial factor in doing so is the automaker's growing powertrain expertise. The 1.6-liter Gamma engine—also used by Hyundai's corporate sibling, Kia—uses gasoline direct injection, dual continuously variable valve timing, variable induction and other technologies to deliver 40 mpg highway and 138 hp in both the Accent and the Hyundai Veloster, as well as the Kia Rio. The Accent now boasts best-in-class horsepower as well as best-in-class EPA ratings of 30 mpg city/40 mpg highway/33 mpg combined. The less aerodynamic but much funkier Soul also received the engine for the current model year and gained 16 hp and EPA increases of 1 mpg city/4 mpg highway/2 mpg combined. It now posts ratings of 27 mpg city/35 mpg highway/30 mpg combined.
Mazda's SkyActiv 2.0-liter I4, used in the Mazda3. Earning Mazda's 10th appearance on the Ward's 10 Best Engines roster, the Mazda3's new 2.0-liter I4 engine introduced the automaker's SkyActiv suite of high-efficiency powertrain technologies to U.S. customers. A high compression ratio of 12:1, a 4-2-1 exhaust system, cavity pistons, multi-hole injectors, dual sequential valve timing and extensive reductions in weight and friction combine to boost horsepower by 5 percent, raise high-end torque by 10 percent and increase fuel-economy by 21 percent. The bottom line for the 2012 Mazda3: EPA ratings of 28 mpg city/40 mpg highway/33 mpg combined along with a peppy 158 hp and 148 lb.-ft. of torque. And notably, "the Mazda3 returns better than 34 mpg (6.9 L/100 km) for some editors, despite a sound thrashing," according to Ward's.
(FYI: The four other winners among Ward's 2012 10 Best Engines list were the 3.0-liter TFSI supercharged V6 in the Audi A6, the 2.0-liter N20 turbocharged I4 from the BMW Z4 and BMW 528i, the 3.0-liter N55 turbo V6 used by the BMW 335i coupe and the hybrid propulsion system that drives the Infiniti M35h.)