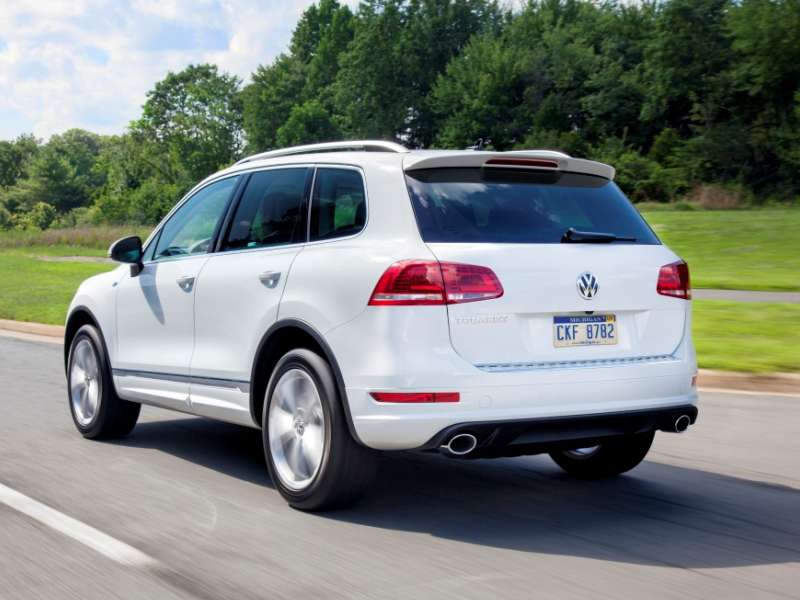 Everyone is always asking what's the best SUV to buy, but the answer always lies in a careful examination of one's particular driving needs.  Do you require a three-row hauler to get the family around town as comfortably as possible?  Are you looking for a frugal commuter that won't tap the gas budget too deeply?  Or are you interested in heading off-road on the weekends while still preserving respectable driving dynamics on the pavement?  There's a wide range of SUV options out there, starting at the entry-level and working up to luxury models, which means there's more than a single answer to the question of which one is the 'best.'
We've put together a list of 10 of the best SUVs to buy in 2014 that tackles a number of different categories.  While far from exhaustive, each of the models below makes a strong showing in its particular segment.
Best SUVS to Buy 2014 - 01 - 2014 Ford Edge
The 2014 Ford Edge earns a nod on our best SUVs to buy list due to its spacious environs and car-like driving experience.  Truth be told, piloting the Ford Edge isn't all that different from driving a large wagon, and this is true despite its additional heft and taller ride height compared to a standard sedan.  Inside the Edge, you'll find five passenger seating, up to 69 cubic feet of total cargo space, and the availability of high tech gear such as the MyFord Touch vehicle interface.
Pop the hood, and the 2014 Ford Edge displays either four or six-cylinder power.  The base model's 3.5-liter V-6 is good for 285 horsepower, while its optional 2.0-liter turbocharged EcoBoost four-cylinder delivers 240 horses.  There's also the Edge Sport, which bumps up to a 305 horsepower, 3.7-liter V-6.  All-wheel drive is optional with all but the Sport trim's V-6, which gets it standard, and fuel mileage checks in as 21-mpg city and 30-mpg highway for the thrifty four-cylinder motor.  A six-speed automatic transmission is included with each Edge SUV.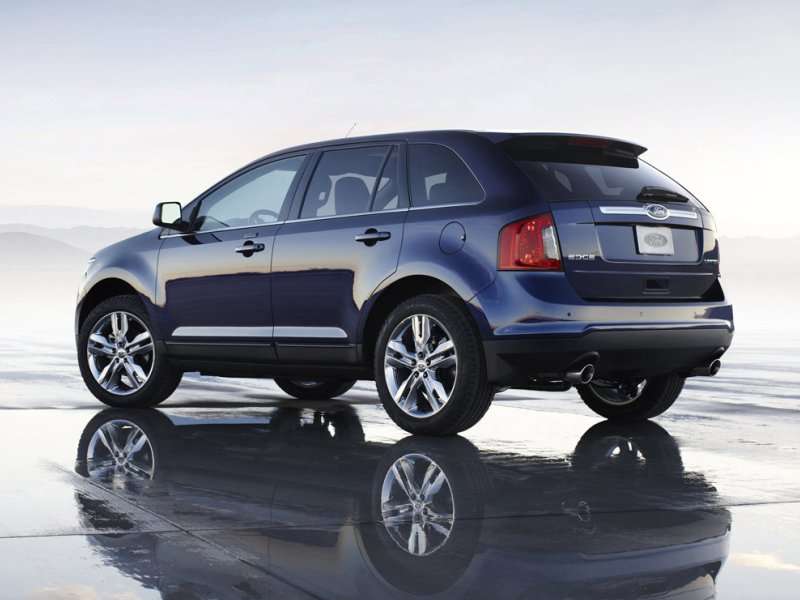 Best SUVS to Buy 2014 - 02 - 2014 Volkswagen Tiguan
The 2014 Volkswagen Tiguan is our pick for compact SUV shoppers seeking European styling on a reasonable budget.  The Volkswagen Tiguan has been given a chassis setup that prizes handling and a smooth ride, making it a more interesting drive than many of its small sport-utility rivals.  The Tiguan's interior, which can handle five passengers across two rows (or 56.1 cubic feet of gear with the back seat folded forward), also feels more upscale than its price would indicate thanks to the judicious choice of materials.
Although the 2014 Volkswagen Tiguan can be had in R-Line trim, which installs a stiffer suspension system, 19-unch rims, and a number of sport-oriented luxuries, each and every model features the same 2.0-liter, turbocharged four-cylinder engine.  This is a good thing, as the unit produces 200 horsepower and 207 lb-ft of torque, and can be matched with all-wheel drive.  A six-speed manual transmission is available on base models, while a six-speed automatic is offered on all other trims.  Fuel economy for the Tiguan is listed at 18-mpg city and 26-mpg highway.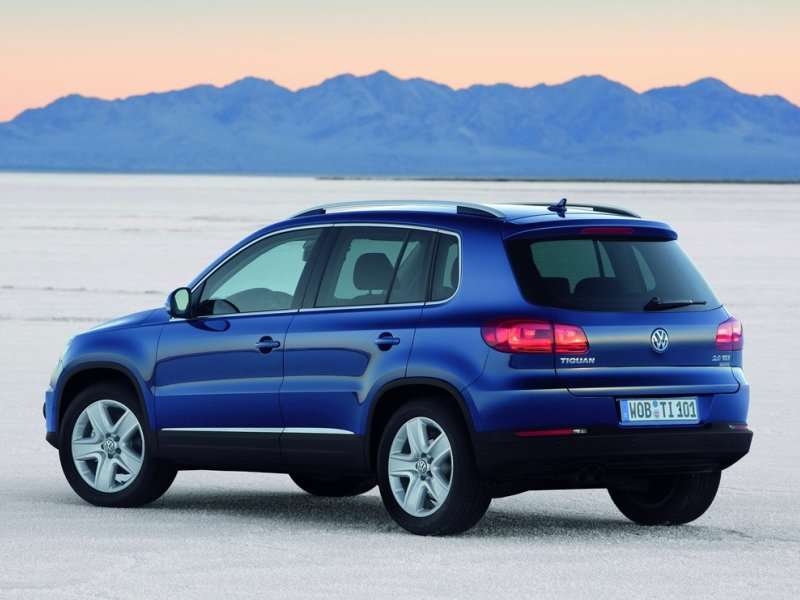 Best SUVS to Buy 2014 - 03 - 2014 Subaru Forester
The 2014 Subaru Forester straddles more than one world, depending on which trim level it is ordered in.  Basic transportation for five, including a generous 74.7 cubic feet of total cargo space, are available with any version of the Subaru Forester, and its affordable purchase price and standard all-wheel drive make it an appealing family choice.  Redesigned for the current model year, the Forester is also easier to get in and out of and features more pleasing interior styling than it did the year before.
To be sure, there's nothing wrong with the 2014 Subaru Forester's 2.5-liter, 170 horsepower four-cylinder base engine, which, when paired with the SUV's optional CVT instead of its five-speed manual gearbox, returns fuel mileage of 24-mpg city and 32-mpg highway.  The real action comes in the form of the Forester XT, which leverages a turbocharged 2.0-liter four-cylinder mill to grind out 250 ponies and 258 lb-ft of twist.  Performance fans would do well to upgrade to the XT in order to enjoy its much more aggressive character on or off the road.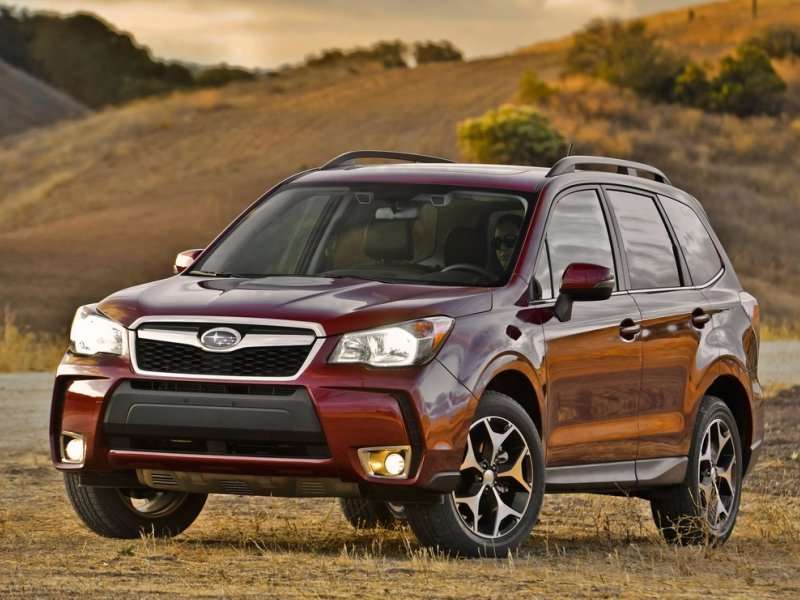 Best SUVS to Buy 2014 - 04 - 2014 Acura RDX
The 2014 Acura RDX is a premium compact SUV that tickles our fancy due to its status as a unique choice in its segment.  One of the benefits of choosing the Acura RDX over other small sport-utilities is that you won't see one parked on every street corner - there's something to be said for walking a different path.  Buyers will also enjoy the Acura's five passenger seating, 61.3 cubic feet of internal storage space, and combination of competitive pricing with a strong feature set.  In fact, a lot of what comes standard with the RDX (heated leather seats, Bluetooth connectivity, a sunroof) costs more in the form of options packages when looking at its European luxury rivals.
A 3.5-liter V-6 ensures that the 2014 Acura RDX is able to climb every (urban) mountain, as it stands firm on 273 horsepower and 251 lb-ft of torque.  A six-speed automatic transmission manages the RDX's output, and all-wheel drive can be ordered as an option.  Fuel efficiency for the Acura shows as 20-mpg in stop and go driving and 28-mpg on the highway.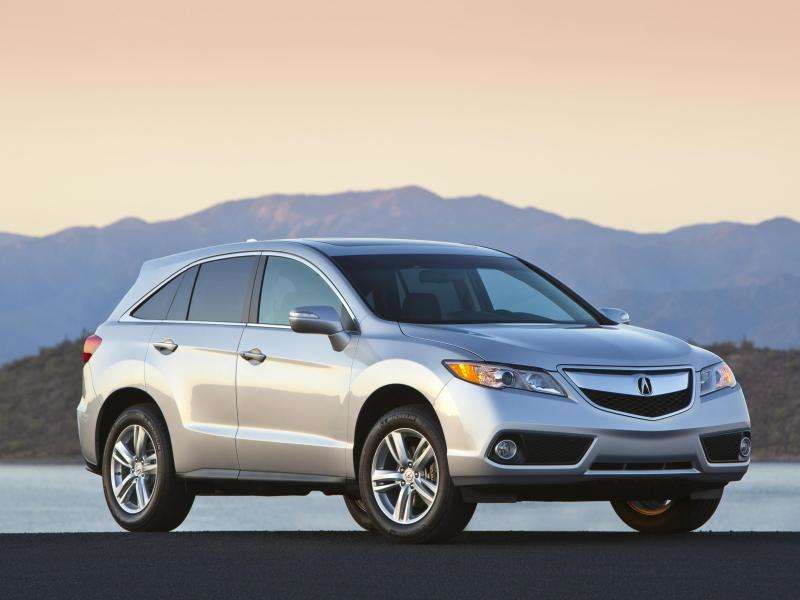 Best SUVS to Buy 2014 - 05 - 2014 Mazda CX-9
The 2014 Mazda CX-9 is another SUV that's got sporting flair, only this time it's also capable of hauling up to seven passengers.  There are very few three-row SUVs like the Mazda CX-9 that can be called legitimately enjoyable to drive - at least, not without spending a pretty penny in the luxury world - which makes the Japanese vehicle's performance even more noteworthy.  Curvy roads are not a problem for the CX-9, which also offers a stout 101 cubic feet of interior storage space.
The 2014 Mazda CX-9 keeps things simple on the order sheet by offering a singly V-6 engine.  The unit squeezes 273 horsepower and 270 lb-ft of torque out of its 3.7-liters of displacement, and it's bundled with a standard six-speed automatic transmission.  All-wheel drive is available with the CX-9, while front-wheel drive models turn in fuel mileage of 17-mpg city and 24-mpg highway.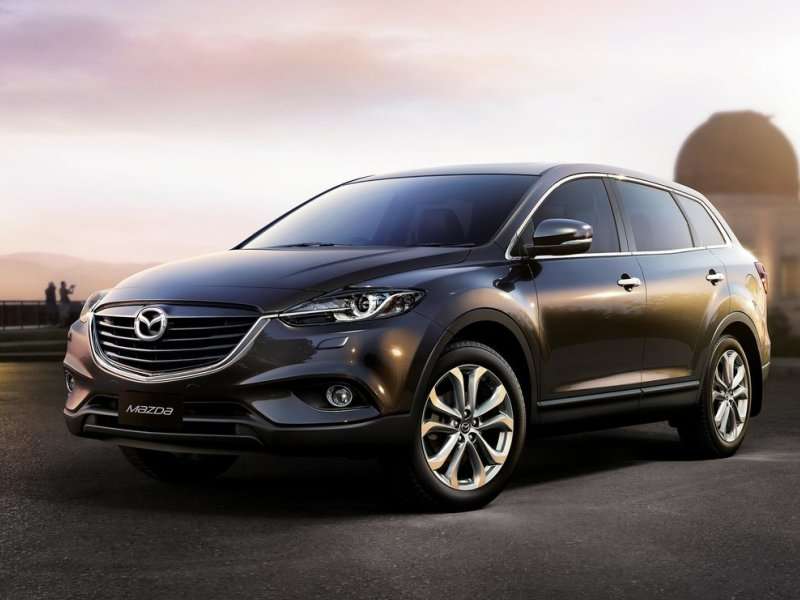 Best SUVS to Buy 2014 - 06 - 2014 Hyundai Tucson
The 2014 Hyundai Tucson is a value-first compact SUV that is also remarkable for the way it crams so much practicality into such a small package.  With a modest footprint that makes it quite suitable for city driving, the Hyundai Tucson eschews the 'bigger is better' attitude of several other compact SUVs and instead delivers respectable room for up to five passengers as well as 55.8 cubic feet of cargo space.  You can add to that a generous amount of standard equipment in the base GLS trim, including power windows and door locks, air conditioning, Bluetooth connectivity, and LED running lights.
The 2014 Hyundai Tucson starts out with a 2.0-liter, four-cylinder engine that has been tuned with efficiency in mind.  Capable of producing 164 horsepower and 151 lb-ft of torque, it also offers 23-mpg in city driving and 29-mpg on the highway.  There's also a 2.4-liter, four-cylinder engine available with the Tucson (182 horses and 177 lb-ft of torque).  All-wheel drive is optional with either motor, while a six-speed automatic handles the gear shifting duties for each.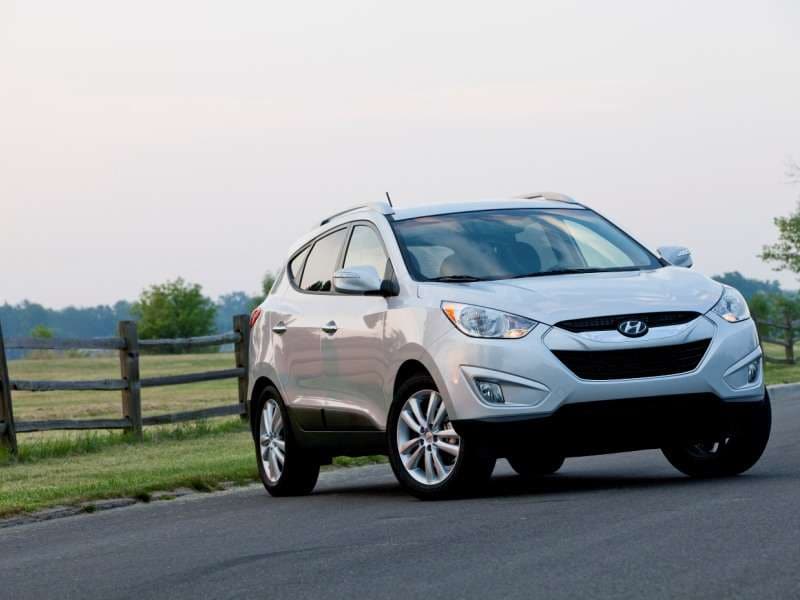 Best SUVS to Buy 2014 - 07 - 2014 Dodge Durango
The 2014 Dodge Durango is one of the best SUVs to buy for anyone who needs to be able to tow, but who doesn't want to dive into a full-frame, pickup-based utility vehicle.  The Dodge Durango's got all of the credentials needed to serve as an all-around family ride, including seven passenger seating, 84.5 cubic feet of total cargo space, and a maximum tow rating of 7,300 lbs, but it does so while sporting the same unibody construction as most modern sedans (albeit significantly heavier).
Of course, as with any eight-cylinder SUV, you pay a bit of a premium at the pump when ordering the 2014 Dodge Durango with the 5.7-liter Hemi V-8 that makes its towing performance possible.  360 horsepower and 390 lb-ft of torque are produced by this motor, but if you don't need that much output (and are willing to settle for 6,200 lbs of towing) then you can opt to stick with the base 3.6-liter V-6 and its 290 horses and 260 lb-ft of torque (and fuel mileage of 17-mpg city / 24-mpg highway).  An eight-speed automatic transmission debuts for 2014, and four-wheel drive can be had with either model.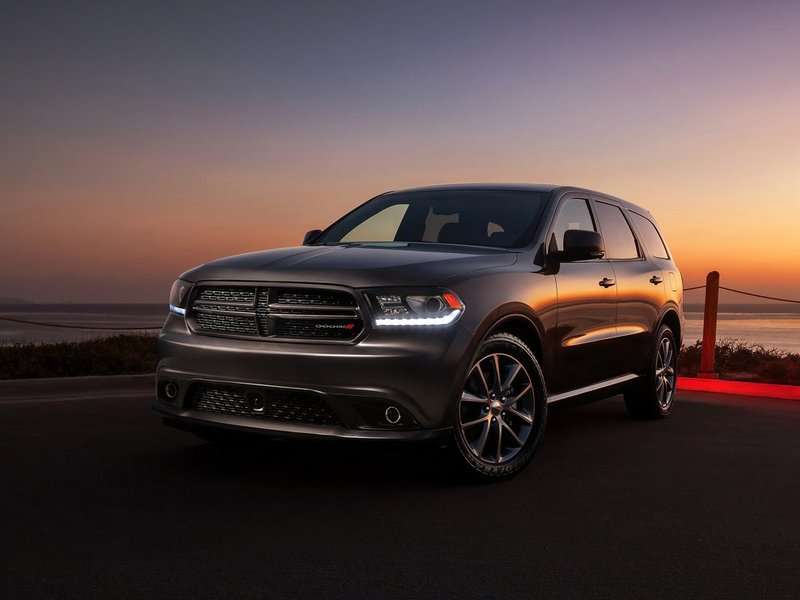 Best SUVS to Buy 2014 - 08 - 2014 Ford Escape
The 2014 Ford Escape is a highly-rated compact SUV that represents the cutting edge of what can be accomplished with technology in an inexpensive people mover.  Five passenger seating and 68.1 cubic feet of available cargo room are only part of what make the Ford Escape so popular, as buyers also love its safety gear (blind spot warning system, MyKey speed control), convenience features (automated parallel parking), and luxury gear (panoramic sunroof, navigation system, heated leather seats).
A trio of four-cylinder engine options await 2014 Ford Escape buyers, starting with a 2.5-liter that's good for 168 horsepower and ranging up past a 178 horsepower, 1.6-liter turbocharged EcoBoost mill all the way to a 240 horsepower, 2.0-liter EcoBoost option (also turbocharged).  Of the three, the 1.6-liter's 23-mpg city and 33-mpg highway leads the way in terms of fuel mileage, but in the real world each engine returns similar efficiency.  A six-speed automatic is the only transmission to be had with the Escape, and all-wheel drive is offered on all turbocharged models.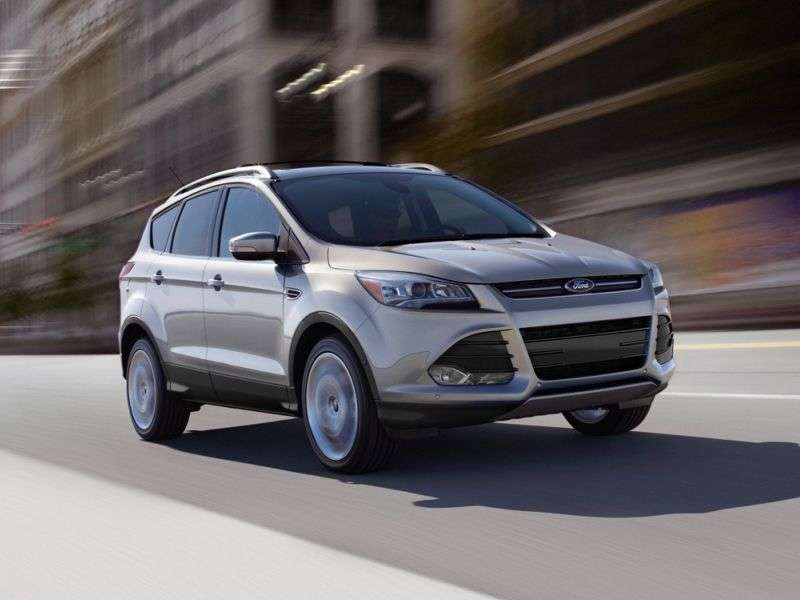 Best SUVS to Buy 2014 - 09 - 2014 Jeep Wrangler Unlimited
The 2014 Jeep Wrangler Unlimited represents one of the best SUVs out there for anyone who needs to justify their off-road jones.  With an additional set of passenger doors (for a total of four), plus comfortable seating for five passengers, the Jeep Wrangler Unlimited is perfectly practical as a daily driver.  Even better: the Wrangler Unlimited's domesticity has done nothing to quell its appetite for exploration, as it can be ordered with one of two different all-wheel drive systems to complement its rugged suspension system and terrain-friendly ride height.
The 2014 Jeep Wrangler Unlimited features a 3.6-liter, 285 horsepower V-6 as its only available engine.  Also capable of producing 260 lb-ft of torque, the motor can be stirred by either a six-speed manual or six-speed automatic transmission.  Fuel mileage for the Wrangler Unlimited checks in at 16-mpg city and 21-mpg highway.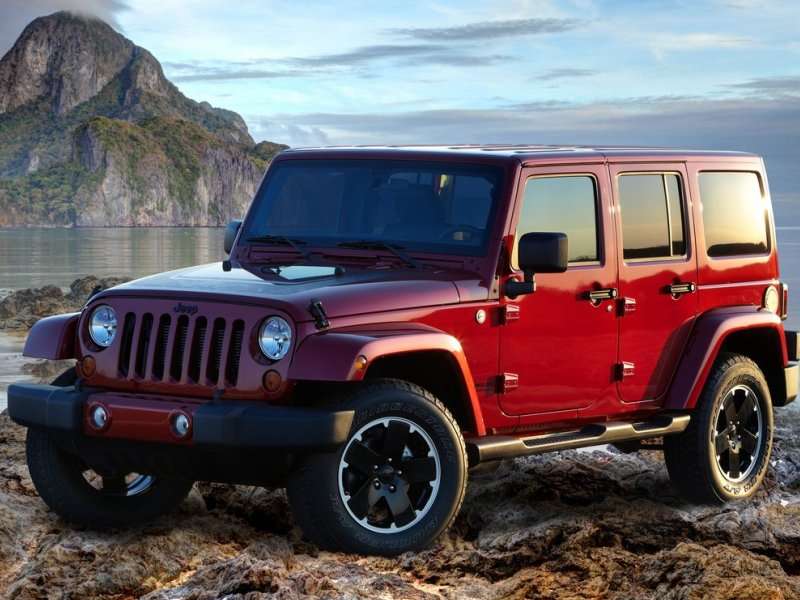 Best SUVS to Buy 2014 - 10 - 2014 Volkswagen Touareg
The 2014 Volkswagen Touareg ties together our list of the best SUVs to buy thanks to the availability of its turbodiesel engine option.  Of course, there are a lot of other reasons to like the Volkswagen Touareg - its good interior room for five, its towing capacity of up to 7,700 lbs, its 64 cubic feet of total cargo space, and its luxury-like cabin - which makes the SUV a somewhat stealthy option amongst similarly-priced European competitors.
The 2014 Volkswagen Touareg doesn't just come with a diesel engine, although we are quite enamored of that particular 3.0-liter turbocharged V-6's 240 horsepower and 406 lb-ft of torque.  For those with more modest power demands the vehicle's base 280 horsepower, 3.6-liter V-6 will do quite nicely.  An eight-speed automatic transmission is standard for all versions of the Volkswagen, and fuel mileage for the diesel shows as an astonishing 20-mpg city and 29-mpg highway.