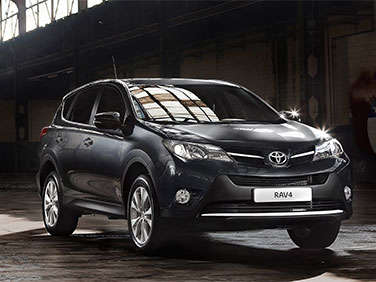 The best compact SUVs and crossovers in America are some of the best SUVs and crossovers in America period. Which makes sense, since the growing demand for smaller, more fuel-efficient vehicles has seen even premium auto brands like BMW and Buick begin dipping their corporate toes into the segments. Meanwhile, mainstream entries from Ford and Honda are achieving record volumes. A key reason for this success? Today's top compact SUVs and crossovers offer the environmental benefits of smaller cars, but with an added dose of interior versatility for an improved all-around ownership experience.
One thing these choices don't offer, however, is a standardized approach to sizing. Thus, while the current compact mainstream sedans are all right around 180 inches long, Autobytel's list of 10 top compact SUVs and crossovers offers choices in a fairly wide range of lengths, but with that 180-inch mark as the upper limit.
10 Best Compact SUVs/Crossovers: BMW X1
Debuting late last year as the smallest member of BMW's "sport activity vehicle" lineup, the 2013 BMW X1 earns a place among our best compact SUVs and crossovers by combining the brand's hallmark approach to driving dynamics with the ability to cram 47.7 cubic feet of gear into a vehicle that's just 176.5 inches long. The advantage here is a 40/20/40 split rear seat that can fold flat, be positioned with the seatbacks nearly vertical, or recline them up to 31 degrees. Well, that's one of the advantages; others include a standard twin-turbo V6 engine that serves up 240 hp and 34 mpg on the highway, as well as an available 300-hp 3.0-liter I6 that can still provide a highway mark of 27 mpg.
BMW's xDrive technology also can be added, as can all of the accoutrements from the brand's xLine, Sport Line and M Line packages, and the price of admission is a mere $30,800 for this highly athletic entry on the "top compact SUVs" roster.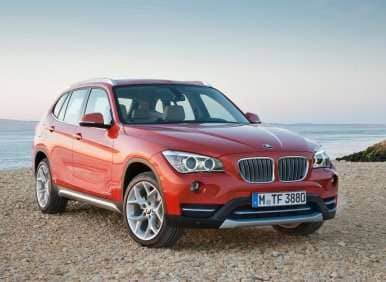 10 Best Compact SUVs/Crossovers: Buick Encore
The nimble new Buick Encore comes in at 168.4 inches in length and brings a slightly more traditional silhouette to the rankings of best compact SUVs and crossovers. Yet its distinctly upright shape clearly retains the kind of design cues that make the current Buick family so successful, with a bold waterfall grille and prominent lower-side character lines that flow back to the Encore's notably strong rear wheel arches. The interior is highlighted by unique hidden storage areas, up to 48.4 cubic feet of cargo space, and much in the way of standard premium content, including Bluetooth technologies, Buick's IntelliLink infotainment/connectivity system, a leather-wrapped steering wheel and rearview camera.
One of the most affordable of the best compact SUVs and crossovers on the road today, the Buick Encore starts at $24,200 and is motivated by a turbocharged 1.4-liter Ecotec I4 engine that blends 138 hp and 148 lb.-ft. of torque, with an EPA line of up to 25 mpg city/33 mpg highway/28 mpg combined.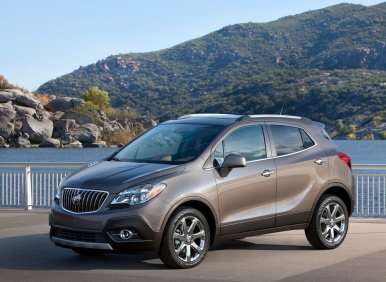 10 Best Compact SUVs/Crossovers: Ford Escape
The best-selling of the 10 best compact SUVs and crossovers is the all-new Ford Escape, which also happened to be the top-selling SUV/crossover of any size last month. In fact, the Escape has now achieved all-time monthly sales records for three consecutive months, capped of by a March in which the vehicle achieved its highest single-month sales volume since it went on sale in 2000—needless to say, the Escape also realized its highest quarterly volume of all time this year.
And we're talking some serious numbers, too: Last month, the Escape posted 28,934 sales (+27.6 percent) and outperformed its nearest rival by more than 2,000 deliveries.
Certainly helping matters, this one of the top compact SUVs in America serves up a sophisticated, modern design, available EcoBoost power, EPA marks of up to 23 mpg city/33 mpg highway/26 mpg combined, exclusive technologies—like it's foot-operated power liftgate—and a pricing that opens at $22,470.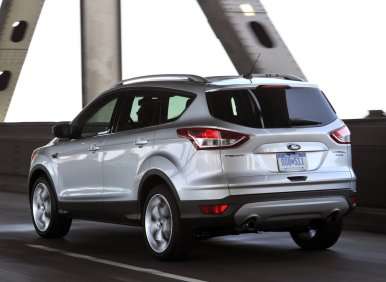 10 Best Compact SUVs/Crossovers: Jeep Wrangler
Shoppers looking for one of the industry's best compact SUVs or crossovers may be surprised to learn the Jeep Wrangler is only 152.8 inches in length, and even the four-door Wranlger Unlimited is just 173.4 inches long. The Wrangler MSRPs are fairly small as well, with a starting point of $22,195, but remember: No other entry on the best compact SUVs list has anywhere near the off-road capabilities of the Wrangler, which delivers trail-rated performance that today's soft-roaders can't match.
On the other hand, Wrangler riders won't have to trade on-road manners for off-road performance, since the 2013 model offers a comfortable, modern cabin, backed by a surprisingly refined powertrain that features the award-winning 3.6-liter Pentastar V6 engine.
The Wrangler also is the only vehicle among Autobytel's top compact SUVs and crossovers to offer the thrill of open-air driving, courtesy of three different top alternatives.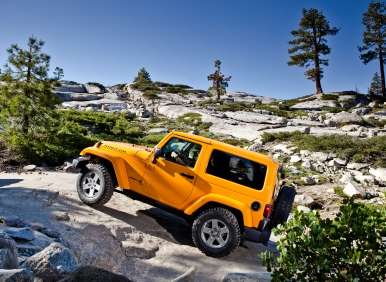 10 Best Compact SUVs/Crossovers: Kia Sportage
Showcasing a particularly sharp execution of the brand's current design language, the Kia Sportage brings a strong value proposition to our portfolio of the top compact SUVs and crossovers in America.
The 175-inch Sportage opens at $19,000 and includes standard equipment like:
A 2.4-liter I4 engine rated at 176 hp and 30 mpg on the highway
AM/FM/MP3/SiriusXM audio, with four speakers, door-mounted tweeters, a USB port, Bluetooth audio streaming and steering-wheel-mounted audio controls
Power windows/doors/exterior mirrors
Air conditioning
Rear underfloor storage and 54.6 cubic feet of rear cargo space (with second-row seats folded flat)
16-inch alloy wheels
Owners can then upgrade with a 2.0-liter turbo I4 (making 260 hp and 269 lb.-ft. of torque), Kia's UVO telematics, a rearview camera, voice-control navigation, a cooling glove box, leather seating (with a heated front row and air-cooled driver's seat), a power-folding rear seat, 18-inch wheels, and the unique "Blue" package that provides an exclusive cabin environment for those who want some eye-catching exclusivity in one of the country's top compact SUVs or crossovers.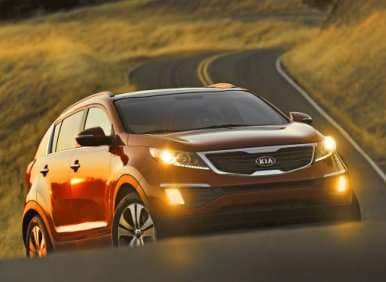 10 Best Compact SUVs/Crossovers: Toyota RAV4
The Toyota RAV4 just squeezes in under the length limit for the 2013 top compact SUVs list—at 179.9 inches—and because it's also been squeezed out of the segment's top-sellers list, it provides a rather unexpected opportunity for buyers. Consider: In the most recent sales results, both the Ford Escape and the Honda CR-V each delivered an additional 10,000 more units than did the RAV4.
That means Toyota dealerships should be highly motivated to help the all-new RAV4 recapture its sales momentum, even if it takes incentives to get the job done. And that's on top of a package that starts at $23,300 and includes standard features like Toyota's Display Audio system with a 6.1-inch touchscreen and six speakers, and Bluetooth technology, combined with an eager yet efficient 2.5-liter I4 engine that develops 176 hp, achieves 31 mpg on the highway, and can help tow up to 1,500 lbs.
Plus, the RAV4 shows off a cavernous cargo hold that can fit 38.4 cubic feet of gear behind the second-row seats and handle 73.4 cubic feet with those seats folded.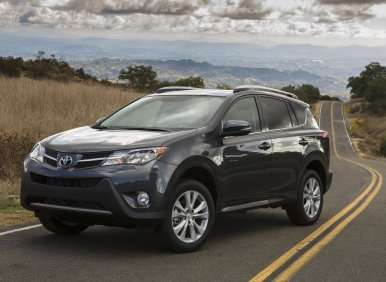 10 Best Compact SUVs/Crossovers: Mazda CX-5
If you're interested in the top fuel-economy marks among our top compact SUVs and crossovers, the Mazda CX-5 should be right at the top of your list. When configured with a six-speed manual transmission mated to its 2.0-liter I4 engine—and both featuring the brand's SKYACTIV technologies—the CX-5 can achieve EPA grades of up to 26 mpg city/35 mpg highway/29 mpg combined. And even though the available six-speed automatic does decrease the vehicle's highway performance to 32 mpg, its city and combined fuel-economy marks are unchanged.
Like most of the best compact SUVs and crossovers on the 2013 honor roll, the CX-5 has one of those MSRPs that matches its dimensions, too. Thus, the former is a relatively compact $21,195 and the latter includes a length of 179.3 inches, which wraps around a cabin that can swallow 64.8 cubic feet of stuff with its rear seats flattened or 34.1 cubic feet with the seatbacks up.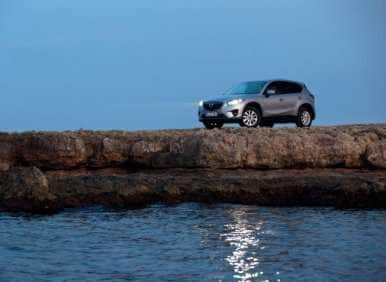 10 Best Compact SUVs/Crossovers: Mitsubishi Outlander Sport
A dark-horse candidate for the best compact SUVs and crossovers roster, the Mitsubishi Outlander Sport is a bright spot as the best-selling model in the automaker's lineup, offering refined good looks, agile dimensions and the kind of driving dynamics one expects from the same company behind the Mitsubishi Lancer Evolution. Perhaps less expected: For those keeping score, the Outlander Sport is now built in this country, at Mitsubishi's facility in Normal, Ill.
Each Outlander Sport then leaves the Land of Lincoln—or heads to a local dealership—wearing a refreshed exterior design both fore and aft, complemented by new chrome door accents, black side sills, and 18-inch alloy wheels.  Inside, the 2013 Outlander Sport offers a more environmentally friendly environment, thanks to improved cabin materials that also result in fewer volatile organic compounds (VOCs) being released into the atmosphere, and noise pollution also will be reduced as a result of the improved cabin insulation.
Yet even with all this and more, the MSRP for the Outlander Sport is among the lowest of any of the top compact SUVs and crossovers: $19,170.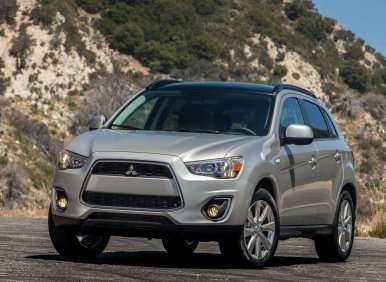 10 Best Compact SUVs/Crossovers: MINI Countryman
The compactest of Autobytel's 10 best compact SUVs and crossovers is, unsurprisingly, the MINI Countryman—although it was a close call. The Countryman runs about 161.75 inches, while the Nissan Juke is listed at 162.4 inches. On the other hand, the Countryman does offer significantly more cargo space, with 42.2 cubic feet that are 17.5 percent more than what you get in the JUKE. Also, despite the diminutive dimensions of the Countryman, engineers were able to install an all-wheel drive setup to match its size—in this case, MINI's permanent all-wheel-drive traction system that's standard on the hi-po John Cooper S and John Cooper Works Countryman ALL4 models
The latter, with a starting point of $35,550, also boasts a 208-hp turbocharged I4 engine that catapults the Countryman from 0-60 in just 6.6 seconds and delivers a top speed in excess of 125 mph.
For those who put more of an emphasis on going green than on going that much over the speed limit, the British-born representative to the top compact SUVs conclave begins at $22,700 while delivering 30 mpg—combined.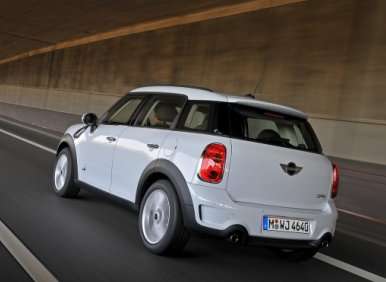 10 Best Compact SUVs/Crossovers: Nissan JUKE
Well, the Nissan JUKE may hold the unenviable title as the least capacious of the best compact SUVs and crossovers of the year, but it gives the MINI a run for its money in terms of both fun and style. And speaking of money, the JUKE also is a non-negligible $1,720 less expensive than the Countryman, and is stickered from $20,280, and that sticker price includes a healthy dose of extra power as compared to its entry-level rival—and many of the other of our top compact SUVs and crossovers.
Credit here goes to the JUKE's 1.6-liter direct-injection I4, which leverages turbocharging to deliver 188 hp, 177 lb.-ft. of torque, and EPA grades of 27 mpg city/32 mpg highway/29 mpg combined. But for 2013, the extra credit goes to NISMO, since Nissan's in-house performance partners will help launch the JUKE NISMO this year with 197 hp and 184 lb.-ft. of torque—and the exact same fuel-economy grades as the standard JUKE.