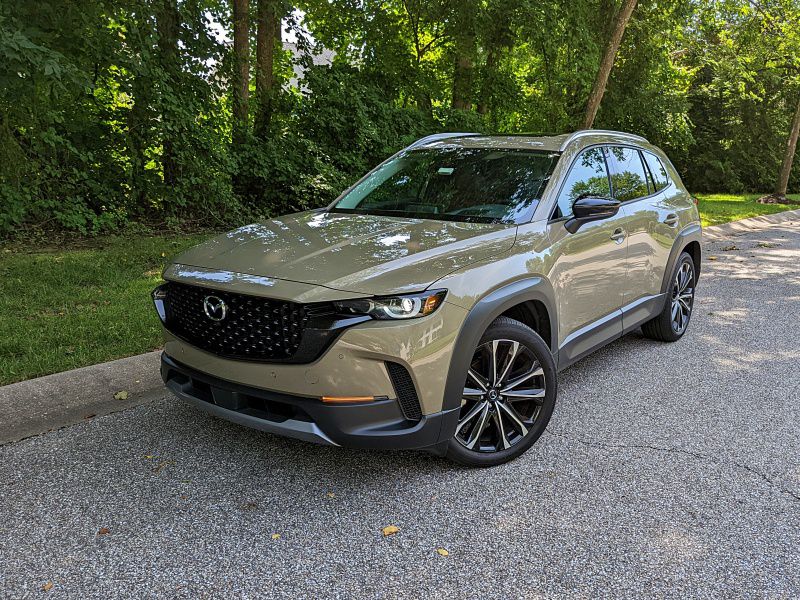 2023 Mazda CX-50 ・ Photo by Brady Holt
Pretty much everyone sells a small SUV these days. The segment is so hot, some automakers decided to take a stab at selling two. 
Enter the all-new 2023 Mazda CX-50, which the company is selling right alongside the aging but still excellent Mazda CX-5. You may know Mazda best for its sporty MX-5 Miata convertible, but the brand seeks to make all its cars fun to drive: from the Mazda3 economy sedan to the CX-9 three-row crossover. What's more, the company has embraced an identity as an affordable alternative to a luxury marque. And it wants to emphasize the capability of its crossovers as well. You'll find all three qualities in the new CX-50. To see how this balance comes together, we spent a week driving the newest Mazda. Keep reading to see what we learned. 
The More Rugged Mazda
The CX-50 is longer, wider, and lower than the CX-5, and it has a more squared-off body and details. These road-hugging proportions make it look purposeful and reduce its center of gravity. Mazda also says the lower roof is an asset for active-lifestyle customers; although it reduces total cargo capacity (more on this later), it makes it easier to load a kayak or bicycle onto the roof. 
Mazda also made the CX-50 look more rugged than typical Mazdas. Black plastic cladding adorns the lower bumpers and squared-off wheel wells, and the overall shape is a chunkier evolution of Mazda's svelte design language: still clean and upscale, but no delicate on-road-only crossover. Skip the upper trim levels' big 20-inch wheels if you'll spend much time in the dirt, though; the base 17-inchers should be more forgiving, and to our eyes, they're also a better visual complement to the CX-50's off-road-ready vibe.
Photo by Brady Holt
Luxury-Grade Dashboard
Inside, blocky climate vents make the CX-50 more overtly SUV-like than other Mazda crossovers. Still, the overall vibe is both similar and appealing to the subcompact CX-30, compact CX-5, and mid-size CX-9. 
The CX-50 has a slim and richly finished dashboard. It features an infotainment screen up above (8.8 inches on the base model, 10.25 inches on the rest of the lineup), climate controls clustered in the middle, and other physical controls moved down to the center console between the front seats. We don't love this infotainment system; a touchscreen interface would be simpler, and the wide, low screen doesn't make great use of its space. But everything looks and feels great — including moving parts that feel ordinary on other Mazda models. We've been in luxury-branded vehicles that feel less upscale than this Mazda.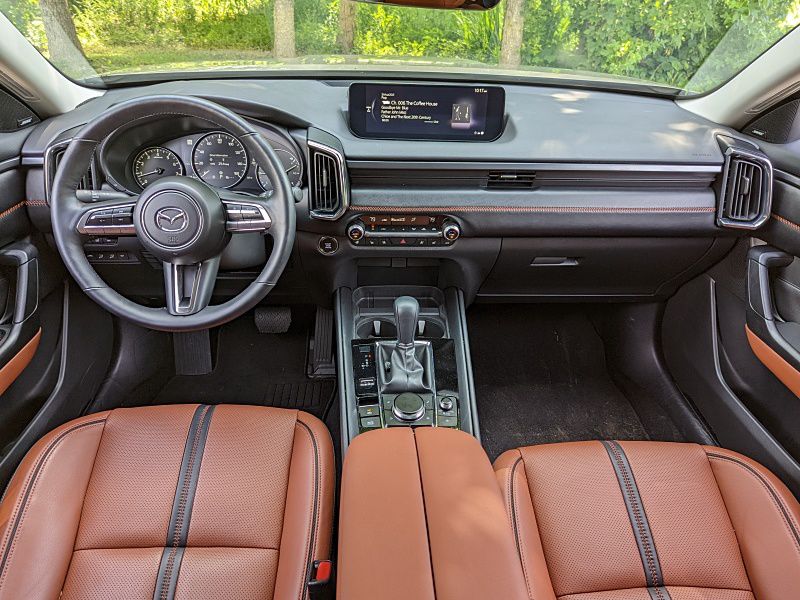 Photo by Brady Holt
Usefully Roomy Interior
The CX-50 is nearly 6 inches longer and 3 inches wider than the Mazda CX-5. The advantage doesn't show up much on paper, but while we feel squeezed into the back of the CX-5, the CX-50 is friendlier to carrying the whole family or a road-trip group. We also preferred the CX-50's front seats; they held us in place more snugly, yet they remained comfortable for everyday use. 
It's the same story for carrying cargo. Total volume is 31.4 cubic feet behind the rear seat and 56.3 cubic feet with the rear seat folded (versus 29.1 and 59.3 cubic feet, respectively, in the CX-5). That's on the low side for a compact crossover. But most of the lost space comes from the lower roof, so you'll only feel the shortfall when you'd be packing your SUV to the roof. We also found it quicker and easier to fold down the rear seat in the CX-50 than in the CX-5. Towing capacity is 2,000 pounds with the CX-50's base engine and 3,500 pounds with an optional turbo, great for a compact crossover.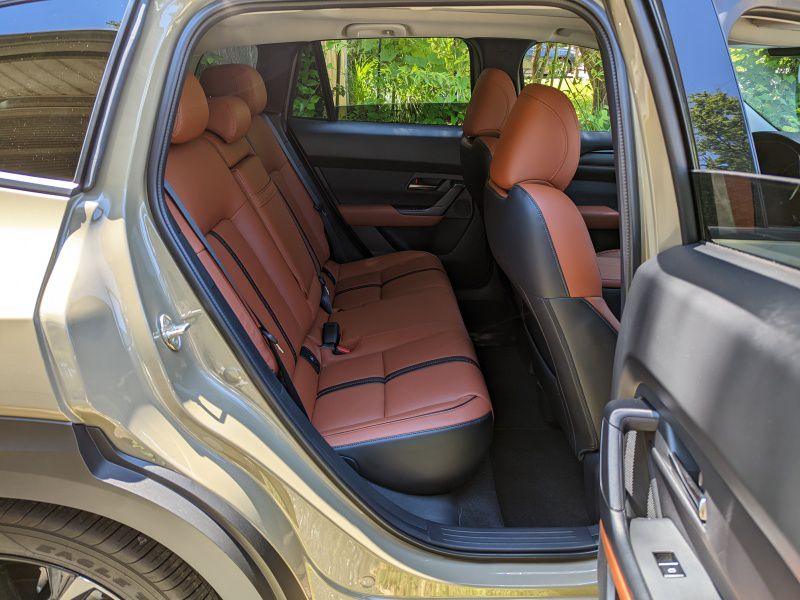 Photo by Brady Holt
Sophisticated Ride and Handling
As with its meticulously finished interior, the CX-50 drives with the polished precision you'd expect from a luxury suv. Some critics have found the ride too stiff with the upper trim levels' 20-inch wheels, but we didn't mind its tautness. The base 17-inch wheels should be gentler, too. 
Better still are the firm, responsive steering and the agile handling. Both are great for a crossover, and we found the CX-50 even more fun to drive than the well-regarded CX-5. That's particularly impressive when you consider the CX-50's higher ground clearance, which is an excellent 8.3 inches. A choice of driving modes includes Normal, Sport, Off-Road, and Towing settings, and we appreciated the subtle but effective adjustments in each one. Our only caveat about the CX-50's driving manners is that some folks will wish for a competitor's feather-light steering. Mazda might do well to consider a "Comfort" mode that lightens things up for their tastes.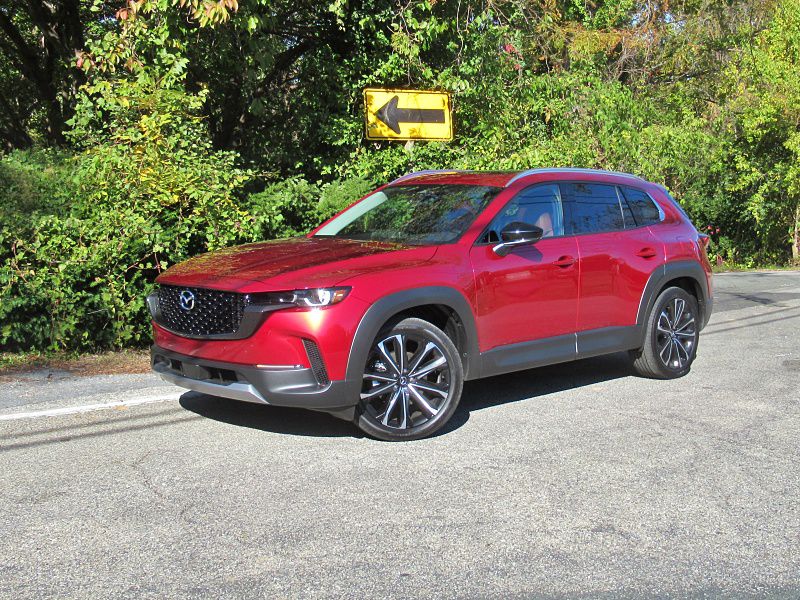 Photo by Brady Holt
Choice of Two Engines
The CX-50 shares its choice of two engines with the smaller CX-5 and CX-30 crossovers, as well as the Mazda3 economy car. A 187-horsepower 2.5-liter four-cylinder is standard, while a turbocharged 227-horsepower version of this engine is included on upper trim levels (and it manages 256 horsepower on premium-grade fuel). Even the base model offers competitive performance, and the turbo is effortless if not thrilling.
The base engine has EPA ratings of 24 mpg in the city, 30 mpg on the highway, and 27 mpg combined, while the turbo scores 23 mpg city, 29 mpg highway, and 25 mpg combined. Our turbocharged test vehicle fell a bit below that, averaging 24 mpg in mixed driving. These figures trail most mainstream-brand compact crossovers, but the CX-50 does well against luxury models. Also, note that all-wheel drive is standard on the CX-50; if you prioritize efficiency over extra traction, Mazda doesn't give you the choice to stick with front-wheel drive like most competitors.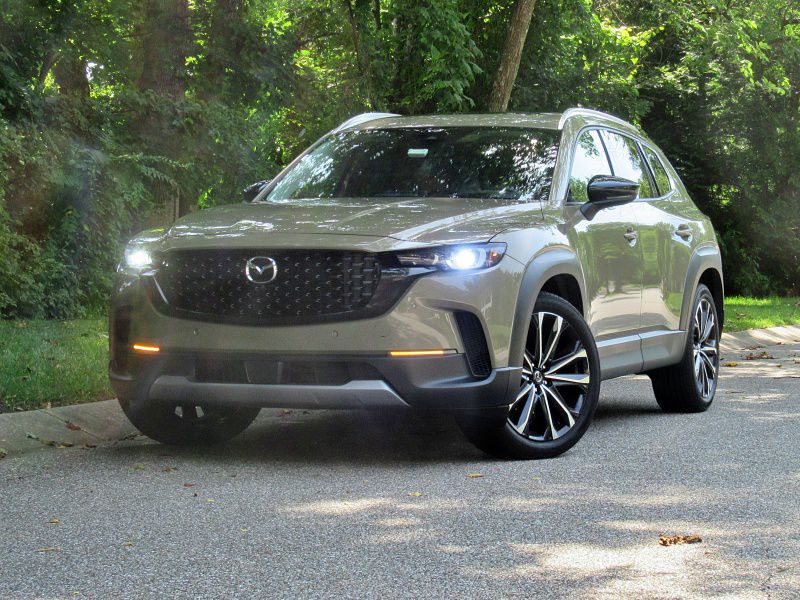 Photo by Brady Holt
Packed With High-End Features
The 2023 Mazda CX-50 starts at $27,550 for the 2.5 S model, and even this base version is already generously equipped. Amenities include 17-inch alloy wheels, an eight-speaker stereo, push-button starting, adaptive cruise control, forward automatic emergency braking, lane-keeping steering assistance, blind-spot monitoring, and all-wheel drive. And the 2.5 S Select, a modest $28,950, brings the bigger touchscreen, automatic climate control, and leatherette upholstery. Other trim levels reach as high as $37,150 with the base engine.
If you want the turbo engine, the starting price is also $37,150. It's a $2,000 premium over the most equivalently equipped non-turbo model. The top 2.5 Turbo Premium Plus (like our test vehicle) costs $42,300, but it includes some features you won't find on any other CX-50: GPS navigation, front and rear parking sensors, rear automatic braking, a surround-view parking camera, and heated rear seats. It's a great deal for all the content you get, considering that's around the base price of an Audi Q5 or BMW X3. However, if you wanted those features, you might wish Mazda hadn't reserved them for the top trim.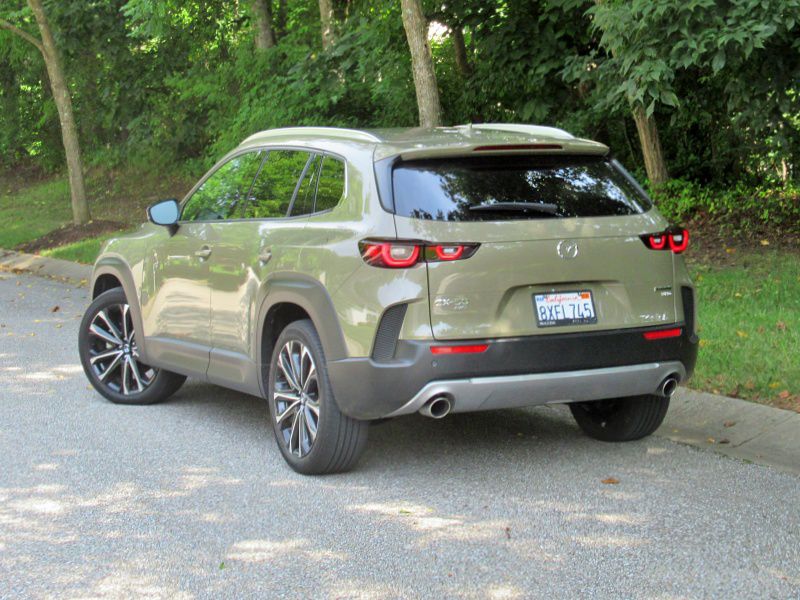 Photo by Brady Holt
CX-50 vs. CX-5
Since they have similar names, similar sizes, similar prices, the same engines, and the same company making them, it's natural to compare the Mazda CX-50 against the Mazda CX-5. The older but more established CX-5 remains far more popular, and here's how you'd choose between them. 
The CX-5 costs a little less than the CX-50 (typically a difference of less than $1,000 between comparable trim levels), sits a little higher, and has a bit more total cargo room. The CX-50 has richer interior details, a higher towing capacity, and (to us, though we've heard mixed opinions) sharper handling and more comfortable seats. The remaining differences are aesthetic, and you'll choose your flavor between the more genteel CX-5 and the more aggressive CX-50. You can also see which model your local Mazda dealer is more willing to discount (or mark up less).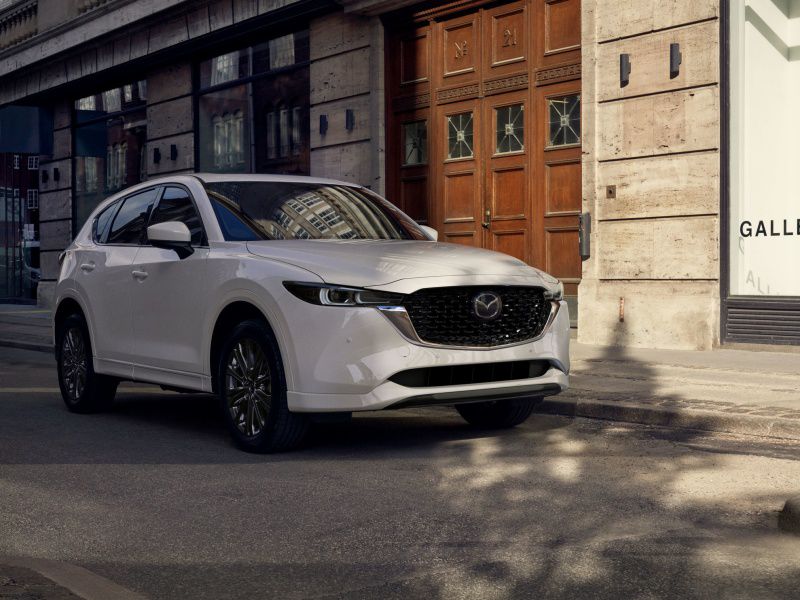 Photo by Mazda
CX-50 vs. Other Competitors
Mazda says it built the CX-50 to challenge the Subaru Outback as a useful companion to an active outdoor lifestyle. To us, the comparison is an odd one. The CX-50 is poshly finished and crisply styled, and it has tautly honed on-road manners. The Outback is unabashedly homely, prioritizes a cushy ride over agile handling, and has a lot more space. 
In comparison to more conventional compact crossovers, the CX-50 is significantly more upscale than the Toyota RAV4 but has less cargo room and worse gas mileage. It has the same demerits against the Honda CR-V and Nissan Rogue, but these rivals come closer to its high-end demeanor. All three cost thousands of dollars more when comparably equipped. Fellow budget models like the Kia Sportage and Hyundai Tucson are roomy and look flashy, but they lack the Mazda's handling verve. And the economical, fun-to-drive Ford Escape lacks the CX-50's panache. Given this Mazda's optional 250-hp engine, poised handling, and artfully finished interior, it's also a wallet-friendly alternative to luxury suvs like the Acura RDX, Audi Q5, or Lexus NX 350. The Mazda isn't perfect... but neither are they.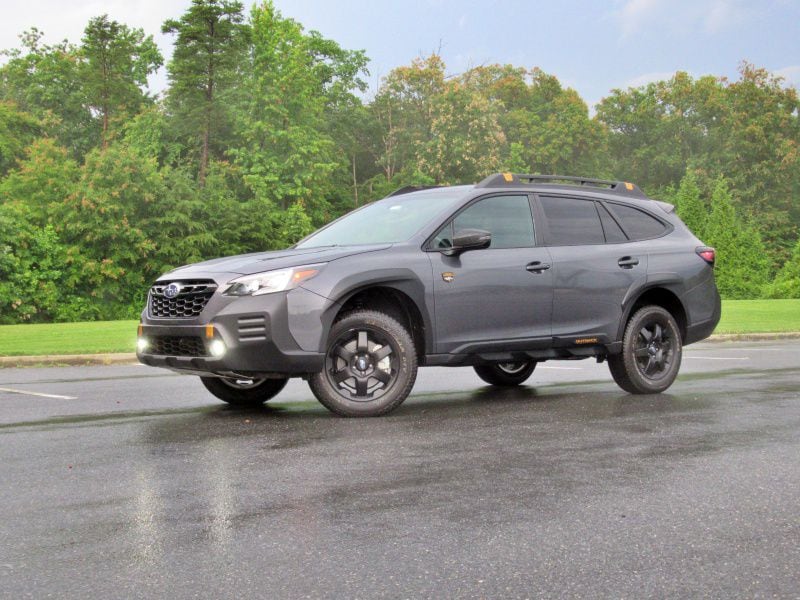 Photo by Brady Holt
Affordable Luxury
If you buy an entry-level Mazda CX-50, you're getting a well-executed compact crossover at a below-average price. You might find its dose of panache to be icing on the cake. And if you're choosing a high-end model, you're getting a truly high-end experience for a lot less money than you'd spend on a luxury-branded SUV. 
Its instrument layout, cargo capacity, and gas mileage leave the CX-50 coming up a bit short for someone who's just looking for practical transportation. Such a buyer might also wish for lighter steering. But the CX-50's extra-reasonable prices mean it can be a viable choice for a broad swath of the market, and its appeal extends far beyond bargain hunters. Along with the CX-5, it's a second great reason to stop by your Mazda dealer if you're considering a small SUV.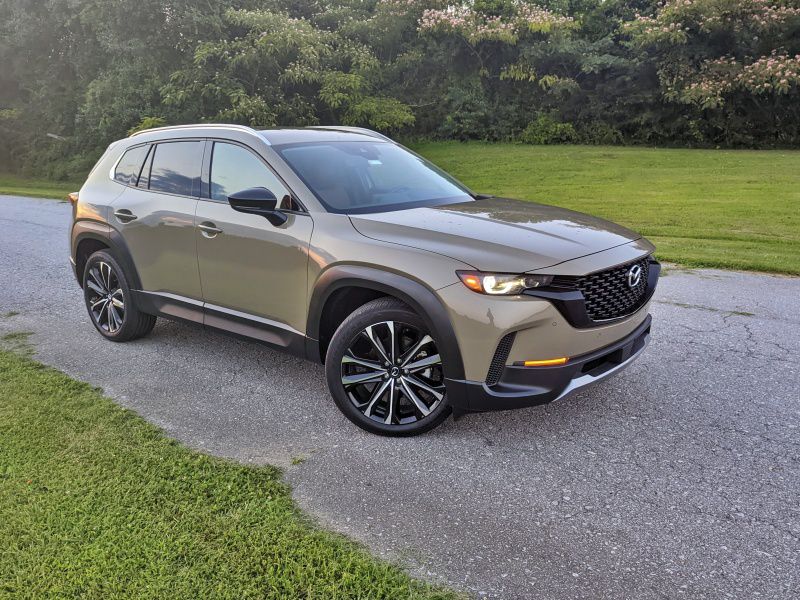 Photo by Brady Holt