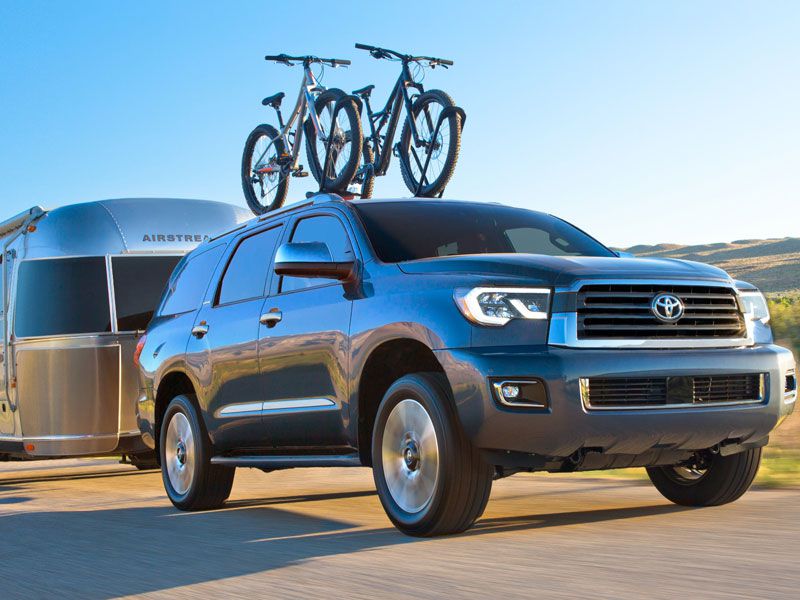 2019 Toyota Sequoia towing airstream trailer ・ Photo by Toyota
You might not tow a lot, but when you need to, you want to be certain that you have the capabilities to do so. Since front-drive vehicles typically aren't very competent tow vehicles, the shift to front-drive has limited the number of options that can tow loads of at least 5,000 pounds.
Still, there are several excellent choices that will tow two-and-a-half tons or even more. We resisted the temptation to simply identify all the full-size body-on-frame SUVs, because you might not need the size nor want to pay the freight for the largest of the SUVs. So this list of 10 SUVs that can tow 5,000 pounds includes some mid-size vehicles as well.
2019 Chevrolet Tahoe — 8,600-lb Tow Capacity
Based on the chassis of the popular Chevrolet Silverado pickup truck, the Chevrolet Tahoe uses rugged body-on-frame construction. It is equipped with a 355-horsepower V8 engine that offers 383 lb-ft of peak torque.
The "Max Trailering" package available on all trim levels enables the Tahoe to pull as much as 8,600 lbs with rear-wheel drive. Four-wheel drive models have a slightly lower tow rating. The optional locking rear differential can help in low-traction situations like pulling a boat and trailer up a slippery boat ramp. Of course, because the full-size Tahoe has tons of room, you can transport a lot of stuff inside the vehicle, too.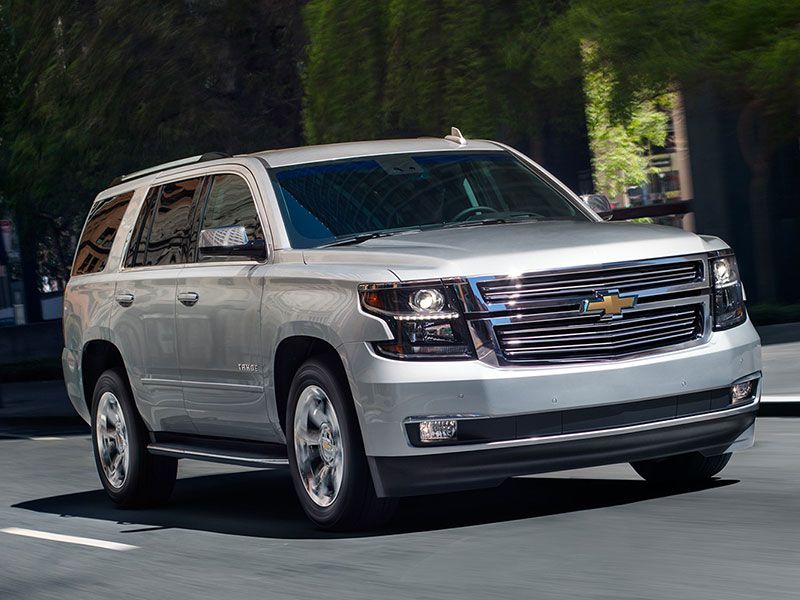 Photo by General Motors
2019 Ford Expedition — 9,300-lb Tow Capacity
The Ford Expedition got a complete makeover for 2018, and in the process, its already-good towing capacity was improved significantly. The 9,300-lb towing capacity is just the beginning. The handsome and roomy SUV features trailer sway control in conjunction with electronic stability control. Optional blind-spot monitoring helps you keep track of vehicles that are hidden in your vehicle's and your trailer's blind spots.
Another slick system is Pro Trailer Backup Assist that helps you steer a trailer in reverse with just the turn of a knob. The Expedition has an even bigger version called the Expedition Max with similar towing abilities, Ford's answer to the Chevy Suburban.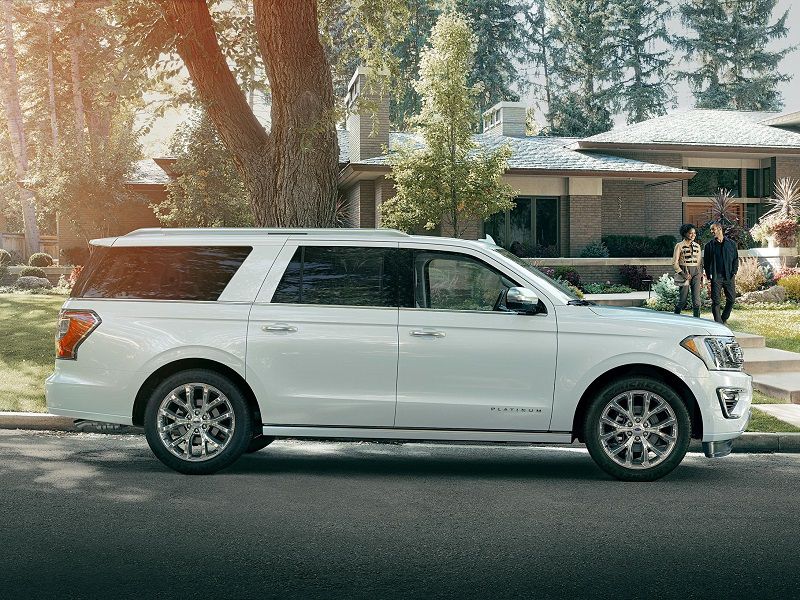 Photo by Ford
2019 GMC Yukon — 8,500-lb Tow Capacity
As the near-twin of the Chevrolet Tahoe, the GMC Yukon provides very comparable performance as a tow vehicle. First off, there is substantial power from its standard 5.3-liter V8. With Active Fuel Management (cylinder deactivation), direct injection, and variable valve timing, the engine delivers 355 horsepower and 383 lb-ft of torque. The engine is backed up by a tried-and-true six-speed electronically controlled automatic transmission with overdrive, tow/haul mode, and tap up/tap down shifting.
The heavy-duty trailering package includes a revised rear-axle ratio, trailer brake controller, and revised suspension. In four-wheel drive versions, it also includes a two-speed transfer case. Four-wheel drive models offer an 8,200-lb maximum tow capacity, in contrast to the 8,500-lb capacity offered by the rear-drive versions.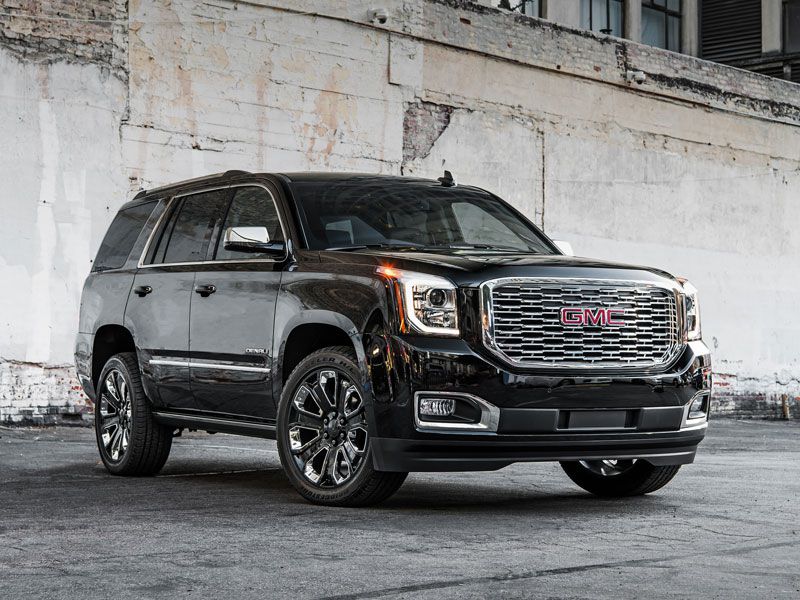 Photo by GMC
2019 Dodge Durango — 8,700-lb Tow Capacity
The Dodge Durango isn't the most modern SUV we've selected for towing at least 5,000 pounds, but it has upped its towing capacity in recent years. Sheer power and four-wheel drive are two big reasons. With its top-level 6.4-liter V8 engine and four-wheel drive, the Durango delivers an 8,700-lb towing capacity thanks to its 475 horsepower and 470 lb-ft of torque.
Meanwhile, a 5.7-liter V8 with 360 horsepower offers a 7,400-lb towing capacity in rear-drive form and a 7,200-lb capacity with four-wheel drive. The four-wheel drive models have a low-range transfer case that helps ease maneuvers like backing up with a trailer. The integrated trailer brake is now part of the available trailer tow package.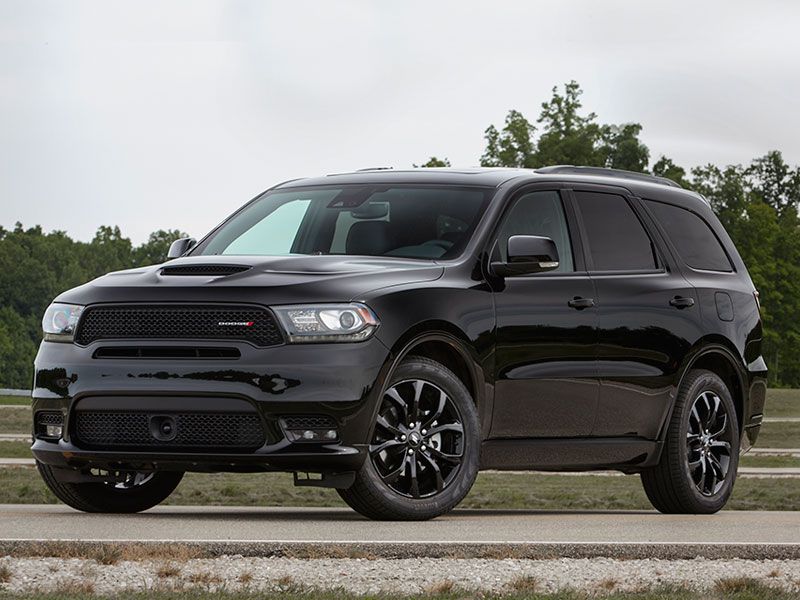 Photo by Fiat Chrysler Automobiles
2019 Jeep Grand Cherokee — 7,200-lb Tow Capacity
When it comes to off-road capabilities, Jeep is known for building the best SUVs in the business. The mid-size five-passenger Grand Cherokee is a surprisingly good tow vehicle. The base 3.6-liter V6-powered Grand Cherokee is rated at 295 horsepower and 260 lb-ft of torque, and it tows up to 6,200 pounds.
Then there's the available 5.7-liter V8. It sports 360 horsepower and 390 lb-ft of torque for a towing capacity of 7,200 pounds. Five dynamic drive modes are available in some upscale versions. They control the four-wheel drive system, transmission, stability control, suspension, and steering. Among the modes, Tow adjusts suspension settings to combat pitch and yaw.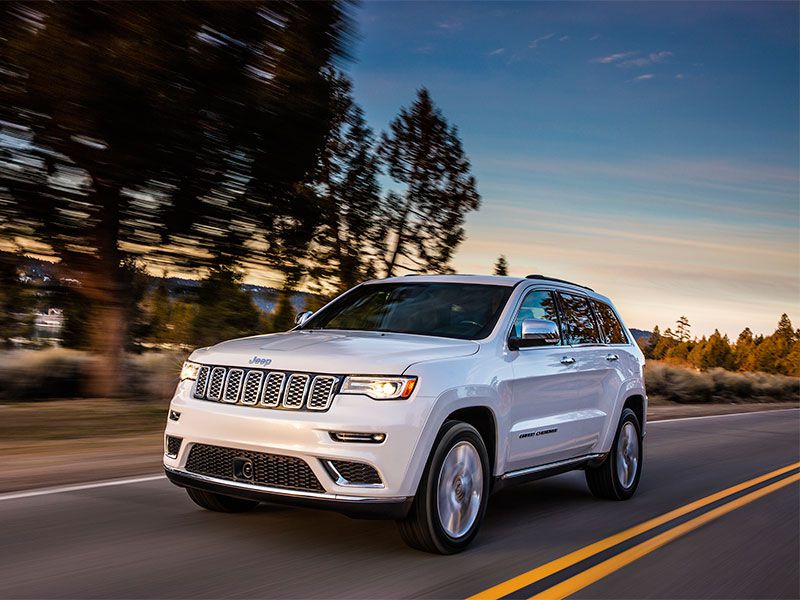 Photo by Fiat Chrysler Automobiles
2019 Toyota Sequoia — 7,400-lb Tow Capacity
The Toyota Sequoia is an old soldier that refuses to die. And one of the reasons is it still excels as a tow vehicle. The 5.7-liter V8 engine delivers 381 horsepower and 401 lb-ft of torque, and it is coupled with a six-speed electronically controlled automatic transmission.
Compliant with the SAE J2807 towing standard, the Sequoia uses its richly available low-end torque tow up to 7,400 lb. For added strength, the Sequoia's standard tow hitch is integrated into the frame. And to help with the hookup, the standard rearview camera gives you a look when backing up to a trailer. Standard trailer sway control uses the vehicle stability control to help counteract trailer wobble.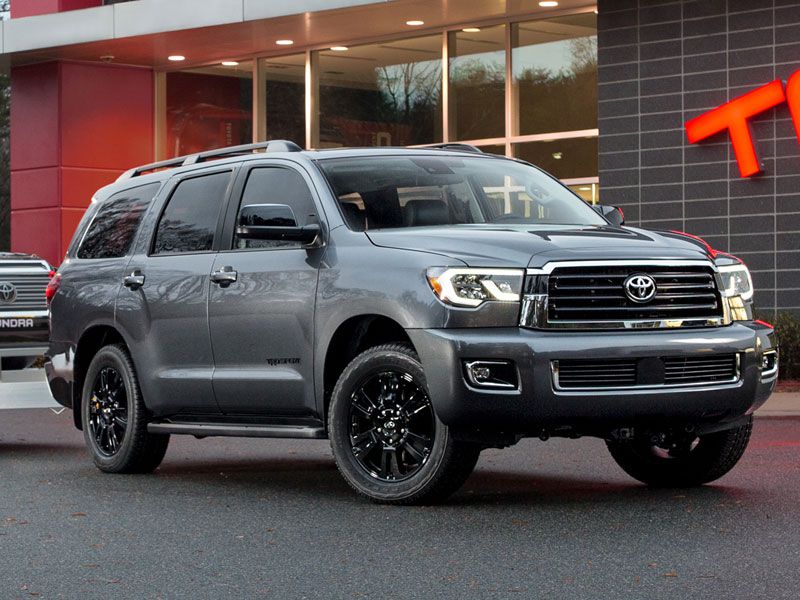 Photo by Toyota
2018 Nissan Pathfinder — 6,000-lb Tow Capacity
Many of the current mid-size crossover suvs have woefully low towing capacities. But not the Nissan Pathfinder. This well-regarded and well-finished SUV offers nice interior amenities, a classic exterior shape, and a 6,000-lb towing capacity. The standard 3.5-liter V6 direct-injection engine is rated at 284 horsepower and 259 lb-ft of torque. The engine gets power to the wheels via Xtronic continuously variable transmission that includes D-Step Logic Control, which simulates shifts, giving a more natural feeling of acceleration.
The advanced transmission with standard oil cooler helps keep engine rpm optimized while towing without the annoying "hunting for a gear" feel that some automatic transmissions have. Standard hill start assist helps prevent loss of control when getting underway on a steep incline.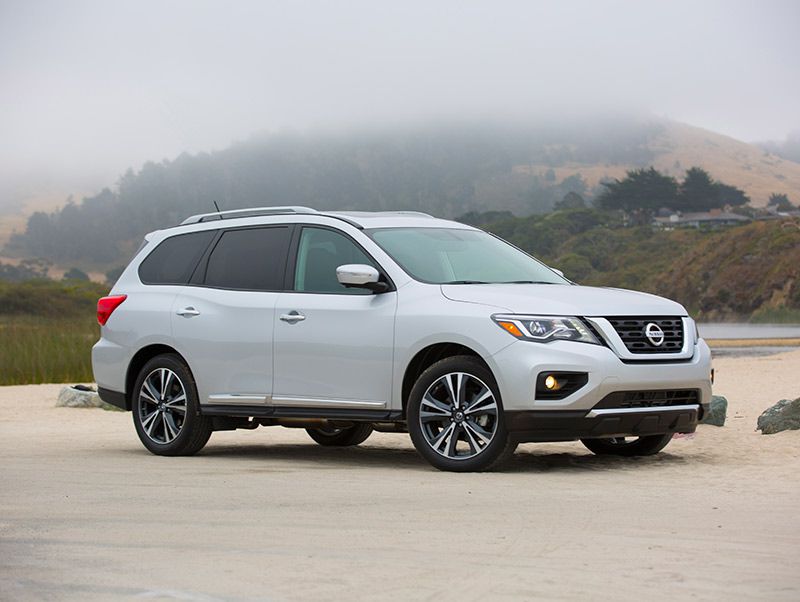 Photo by Nissan
2019 Toyota 4Runner — 5,000-lb Tow Capacity
The Toyota 4Runner is an old-school SUV based on the popular Tacoma pickup truck chassis. That means it's a rear-wheel drive platform well-suited for use as a tow vehicle. Its body-on-frame construction features a four-link rear axle and coil-spring suspension.
The 4Runner offers the choice of rear-drive, part-time four-wheel drive with a two-speed transfer case or full-time multi-mode four-wheel drive with a two-speed transfer case and locking center differential. Four-wheel-drive models have 9.6 inches of ground clearance. The 4Runner's 270-horsepower 4.0-liter V6 engine routes its stout 278 lb-ft of torque through a venerable five-speed automatic transmission. All 4Runner models can tow a maximum of 5,000 pounds with a maximum 500-pound tongue weight.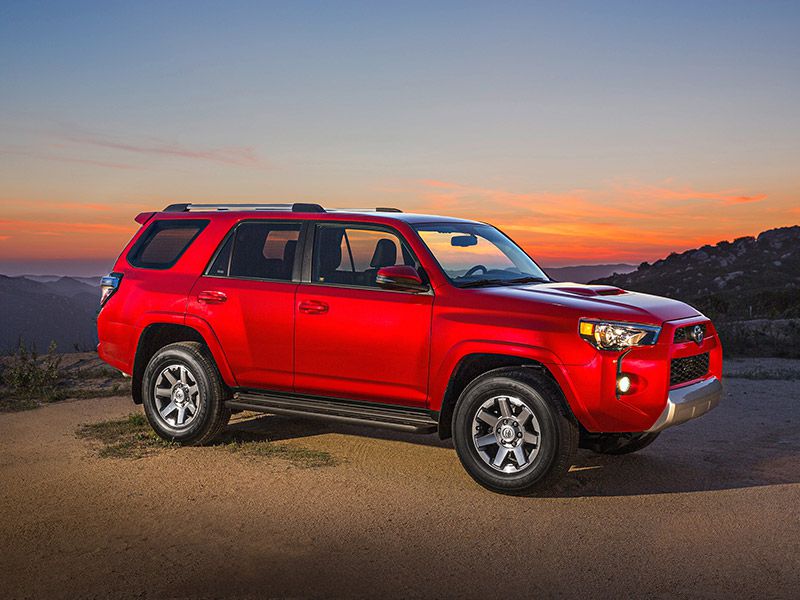 Photo by Toyota
2019 Ford Explorer — 5,000-lb Tow Capacity
The mid-size Ford Explorer crossover uses high-tech engine technology to improve its towing abilities. The 3.5-liter EcoBoost V6 combines turbocharging and direct injection to deliver 365 horsepower plus 350 lb-ft of torque. Building on the Explorer's electronic stability control, the standard trailer sway control selectively brakes and adjusts engine power to maintain trailer tracking.
A Class III trailer tow package is available for Explorers with the naturally aspirated 3.5-liter V6 engine, and it comes standard with models powered by the turbocharged 3.5-liter EcoBoost V6. A Class II trailer tow package is optional with the 2.3-liter EcoBoost four-cylinder engine. When properly equipped, the Explorer can tow up to 5,000 lb.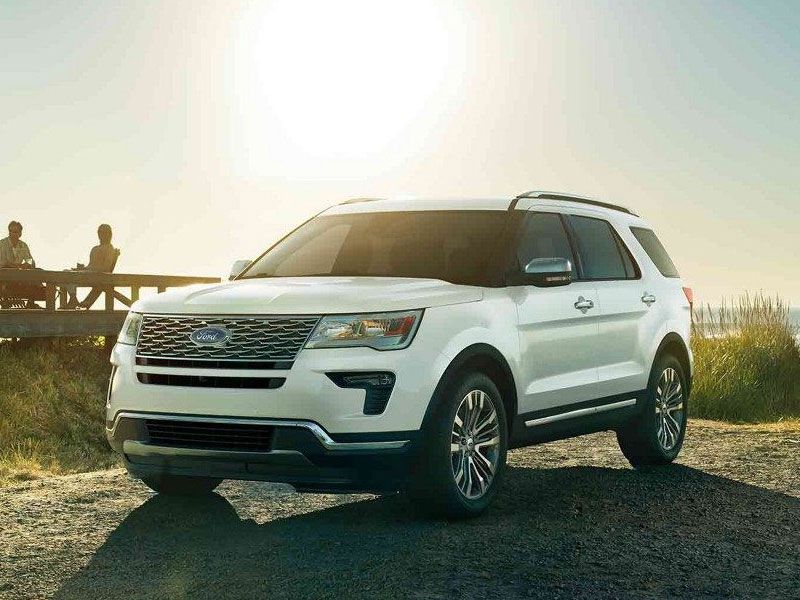 Photo by Ford
2019 Toyota Highlander — 5,000-lb Tow Capacity
The Toyota Highlander is one of the most popular of the mid-size, three-row crossover suvs. Towing isn't at the top of its lengthy resume, but when properly outfitted, it will tow as much as 5,000 lbs.
A key piece of that equipment is the optional 3.5-liter direct-injection V6 that was introduced for 2017. It features 295 horsepower and 263 lb-ft of torque that come in handy when pulling large loads. The engine is teamed with an eight-speed automatic transmission for smooth acceleration and improved fuel economy. Love it or not, the Highlander also has a fuel-saving start-stop system. At a complete stop, the engine shuts off only to restart almost instantly when the driver's foot lifts from the brake pedal.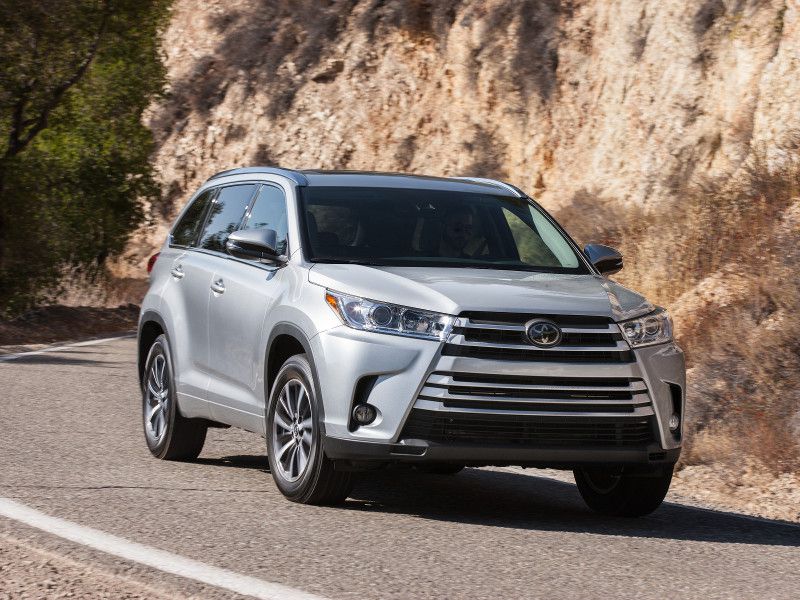 Photo by Toyota