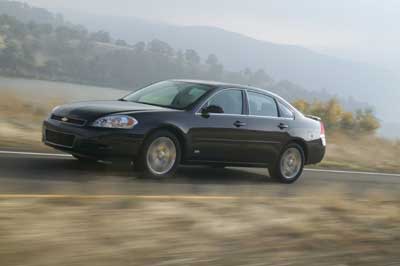 Somewhere between the glamour of new, exotic cars on the cover of glossy magazines and classified section ads that scream about untouchable deals, you will find the truth about buying a new car at a good price. It takes some time to get there. And lots of information. And chances are, it won't be the deal you thought you might get. Whether that's good news or bad is ultimately up to you. For while today's auto market is among the best in many years, it is also more complicated than ever before. Never have there been as many choices as there are today, and thanks to what some in the business call "discount marketing," rebates and incentives play a very large role. In the past, rebates were used during specific times as a way to reduce inventories of outgoing vehicles. It was, in essence, the automaker's version of a department store weekend sale. That's sure not the case anymore. By raising suggested retail prices and then applying a layer of "automatic" rebates – so that people they're getting a deal – some automakers have altered the auto buying landscape much like a wildfire forever changes a canyon. With rebates now used in this expanded fashion, automakers can control sales virtually month-to-month or quarter-to-quarter, simply by cranking up discounts until people can't resist what looks like a fire sale with once-in-a-lifetime prices. Like a spastic yo-yo, sales respond – first, records are broken and then precipitous drops occur as available vehicles decline and discounts are pulled back. And then the roller coaster begins again. For car buyers, all of this gimmickry means one thing:Jjust because you've got a big rebate doesn't mean you're getting a good price. And, just because you've got a good price – that doesn't mean you have a good deal, until you factor in four additional elements; record of dependability, competition, fuel efficiency and safety ratings. Once you're satisfied that the car you'd like to buy measures up, the most important buying criteria comes front and center – whether you like sitting behind the wheel. If so, you've got yourself a good buy – and if it's one of the vehicles listed here, we truly have put together a Top Ten list of best buys for the month.
How We Select Vehicles
Rebates are only part of the equation, which is why we bring you this monthly list of the "top deals." Of course, what you think is a good deal will often vary from our idea of the same – so be sure to check the rebate pages to scan for other discounts not included here. And keep in mind that while we use MSRP pricing as the comparative values, when the time comes to negotiate, be careful to use invoice pricing as your starting point. Listed on these pages are ten vehicles with notably good deals that expire no earlier than the end of September. While employee pricing continues through the end of the month, we don't count that as part of the equation. That's a temporary benefit not taken into consideration here, so be sure to factor in employee pricing on all qualifying GM, Ford and DaimlerChrysler vehicles. We do include dealer incentives, though regional differences may apply to the actual deal you get on a new car. These vehicles are generally considered to be quality cars by the automotive press. The list also factors crash-test scores from the National Highway Traffic Safety Administration (NHTSA) and the Institute of Highway Safety (IIHS), when they are available. The presumption is that a good deal means more than just cash back; it means a good price on a quality car that's safe – one that will provide you with years of dependable service.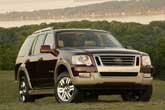 Chevrolet Impala
Chevrolet Impala 2006 Chevrolet Impala $21,330 (LS) – $27,130 (SS) MSRP $1,000 rebate 1.9 - 3.9 percent financing Expires 9/30 NHTSA: Not Tested IIHS: Not Tested General Motors is offering a virtually new 2006 Chevrolet Impala in order to compete with the hordes of midsize-to-large sedans currently offered on the market. Changes include new engines, a new interior, and new styling as well as standard side-curtain airbags, standard OnStar, and improved fuel economy. There's some nasty torque steer, and somehow GM didn't get the memo on stability control – at least when it comes to outfitting the Impala with this necessary piece of technology. Given the improvements and price – against similar vehicles such as the Mazda 6, Honda Accord V6, Mitsubishi Galant and others, the 2006 Chevy Impala's sticker price is generally about $1,500 less – a $1,000 rebate or the low interest rate sweetens the pot considerably, and makes the Impala a serious player.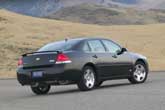 Chrysler PT Cruiser
Chrysler PT Cruiser 2006 Chrysler PT Cruiser Base $14,210 MSRP $750 rebate Expires 9/30 NHTSA: Frontal impact - four stars driver and passenger; Side impact - four stars front, five stars rear; Rollover (2WD) – four stars IIHS: Not tested They sit there, white elephants of another age, mocking themselves under the bright lights of otherwise empty dealer lots. The Chrysler PT Cruiser – no one wants it anymore, no one cares. But it's still a good buy. So maybe Chrysler sold too many, too quickly. Or maybe folks just got tired of the style. Either way, few people are interested in the PT's retro-coolie look anymore. Considering the functionality and fuel economy of this vehicle, it's a better-than-average car for someone searching out inexpensive – but cool – transportation. But then who would want the old when the new is, well, so much the same? Actually, probably quite a few people, considering that, based on price, style and horsepower, the Chrysler PT looks to be a better buy than the 2006 Chevy HHR. Especially with a $750 rebate, this puts the sticker price of a base PT at almost $2,000 less than a similar Chevy HHR model.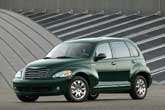 Ford Explorer
Ford Explorer 2006 Ford Explorer $26,530 to $35,940 MSRP $2,000 rebate 1.9 - 5.9 percent financing Expires 10/3 NHTSA: Not Tested IIHS: Not Tested The 2006 Ford Explorer is better than ever, thanks to a comprehensive upgrade that includes a quieter interior, an improved suspension and new safety technology. There's a powerful V8 engine, an improved payload capacity – plus the seats are more comfy. Given that this newest Ford Explorer is one of the best and most versatile mid-sized SUVs on the road, a $2,000 rebate or special financing makes it even more of a compelling buy. When compared to the competition, the Explorer gets a leg up in terms of ride and versatility, but suffers when it's time to stop at the gas station – especially with that 4.6-liter V8 engine. Price-wise, the new Explorer is competitive: when compared to the 2006 Chevy Trailblazer LT, an Explorer XLT is a better vehicle with a competitive MSRP. A $2,000 rebate on top of that makes it a good buy. If Ford really wanted to set the car buying world a'flame, they'd cut the two grand off the sticker and let people negotiate without the rebate.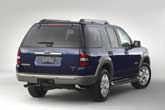 Hyundai Santa Fe
Hyundai Santa Fe 2005 Hyundai Santa Fe $21,649 - $26,099 MSRP $2,000 rebate 1.9 percent financing Expires 9/30 NHTSA: Frontal impact – four stars driver, five stars passenger; Side impact – five stars front and rear; Rollover – three stars 2wd and 4wd IIHS: Frontal impact – good; Side impact – acceptable The Santa Fe has been a good SUV for Hyundai, a dependable soldier that has marched forth on the company's drive to achieve a quality reputation. For an entry-level SUV, it offers a generous list of equipment at a fair price. Consider that it comes with a ten-year/100,000-mile powertrain warranty, side-impact airbags and a capable 200-horsepower, 3.5-liter V6 engine. Recently, however, it seems as though the 2005 Santa Fe has been loitering on rebate lists – perhaps they built too many of them, or it may well have lost some charm with buyers. Versus the competition, however, it remains a solid opponent, with more standard features than most and a sticker price that's only slightly higher.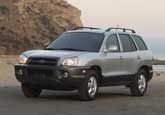 Infiniti G35
Infiniti G35 Sedan 2005 Infiniti G35 Sedan $30,450 - $32,500 MSRP 2 percent financing Expires 9/30 NHTSA: Not Tested IIHS: Best pick, frontal offset A favorite of the luxo-peroformance set, the Infiniti G35 has made a reputation as being a fun rear-wheel-driving sedan, barely a notch or so below the BMW 3 Series in terms of driving hoohah. Changes for the 2005 version include a restyled hood and trunk, new bumpers, and the addition of body-colored side sills. Infiniti also upgraded the interior materials – the better to soothe you with – and added 20 more horsepower for the automatic transmission variant. Manual tranny G35s have been boosted to a whopping 298 ponies. Against the competition, price really isn't as much of a factor, and the "G" holds its own against all, competing on pavement and at price with most – including the redesigned BMW 3 Series and Lexus IS. When priced against the 2006 BMW 325i, the Infiniti is right in the ballpark. A move up to the BMW 330i is a leap of around $6,000, so the G35 may just be a solid alternative to the higher-priced BMW. Fact is, however, the G35 will never sell on price, for its attractive looks and asphalt prowess are reasons enough to buy. Add to that an offer for a low financing rate, and that should be more than enough reason on its own.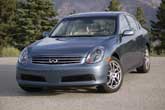 Kia Sedona
Kia Sedona 2004 - 05 Kia Sedona $20,650 to $23,250 MSRP $3,000 - $5,000 rebate 0.0 - 1.9 percent financing Expires 9/30 NHTSA: Frontal impact - five stars driver and passenger; Side impact - five stars; Rollover – not tested IIHS: Frontal impact – acceptable Those shopping for a minivan, and who don't want to pay for the Odyssey or the Sienna, would be wise to look into the Kia Sedona, with its five-star safety rating and competitive amenities. Granted, it's a heavy vehicle that lacks some of the features seen on the newer minivans, such as side curtain airbags, a navigation system, a fold-flat third-row seat, slide-together second-row seats, a conversation mirror, all-wheel-drive, stability control, and other features. But for doing what a minivan does – transport families and their stuff – the Sedona does a fine job. With rebates continuing to run from $3,000 to $5,000, those searching for an affordable minivan should take a long look. Add to the mix a ten-year/100,000-mile powertrain warranty, and the Sedona is a solid choice for the price conscious.
Land Rover Range Rover
Land Rover Range Rover 2005 Land Rover Range Rover $73,085 - $85,335 MSRP $6,000 dealer incentive Expires 10/3 NHTSA: Not Tested IIHS: Not Tested So the bad news about the Land Rover Range Rover is that it guzzles gas – a definite black mark in this age of fuel price escalation. On top of that, it has a cargo area that's surprisingly small for the vehicle's size. But let's dip our toe into the swirling pond of reality for a second: Those considering a luxury vehicle such as the 2005 Land Rover Range Rover aren't all that concerned, are they? Especially when you count the numerous amenities and qualities that the Range Rover possesses, such as world-class off-road capability, excellent interior finery and satisfying on pavement behavior. Yep, some would say that the Range Rover is in a class by itself, which makes a whopping $6,000 dealer incentive even more appealing. With a base sticker price of around $73,000, that type of a discount puts the Range Rover at a price advantage compared to other lux-SUVs like the BMW X5 4.8, thus making the argument to move up to your dream car that much easier to accept.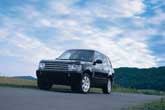 Mazda 6
Mazda Mazda 6 2005 Mazda 6 $18,995 to $26,995 MSRP $1,000 - $2,000 rebate Expires 10/3 NHTSA: Frontal impact – five star; Side impact - three star front, four star rear; Rollover - four stars IIHS: Best pick, frontal offset; Poor rating for side impact without optional side airbags If you're looking for a sedan, back away from the Accord-Camry mind meld and consider the Mazda 6. Here is a fun-to-drive and stylish challenger to the sedan crown, with sporty road manners, exciting styling and a great price. Granted, some think that the interior is a bit small, but all in all the Mazda 6 is an excellent choice. Through October 3, you can get a $1,000 to $2,000 rebate off the price of a 2005 model. Available as a four-door, five passenger family sedan, sports hatch, or station wagon, the Mazda 6 comes with two engine choices: A 2.3-liter four-cylinder engine that generates 160 horsepower and is rated at 23 mpg in the city and 31 mpg on the highway, or a 220-horsepower 3.0-liter V6 engine rated at 20 mpg in the city and 27 mpg on the highway. Indeed, just why this vehicle continues to be offered with a rebate is surprising. Chances are, if the nameplate read "Toyota" instead of "Mazda," there would be talk of boosting production and price – as opposed to cutting the MSRP.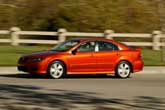 Mercedes-Benz M-Class
Mercedes-Benz M-Class 2005 Mercedes-Benz M-Class $37,950 - $46,400 MSRP $3,500 - $4,500 dealer incentive Expires 9/30 NHTSA: Not Tested IIHS: Best pick, frontal offset So what if it's really a 1998 model. It's still a 'Benz, and with dealer incentives running as high as $4,500, buying the outgoing 2005 M-Class actually makes sense – if you're satisfied with the way this vehicle performs. Over the years, many people have been quite content – and if, after a test drive, you see no reason to pay for the all-new 2006…happy trails! The 1998 Mercedes-Benz M-Class was one of the pioneers of the luxury suv movement, a vehicle that simultaneously offered the off-road capability of an SUV and the amenities befitting a Benz. Competitors include the Acura MDX, BMW X5, Infiniti FX, Lexus RX 330, Porsche Cayenne and Volkswagen Touareg, all of which will give you a better ride and more compelling features. Still – if you're stretching into the luxury market and want to drive a Mercedes-Benz, you can now get the good 'ol 2005 model for a price that will likely touch the low $30,000 range. That beats just about anything on the market today – though at this point, driving it home may not elicit the envious stares you may have hoped for.