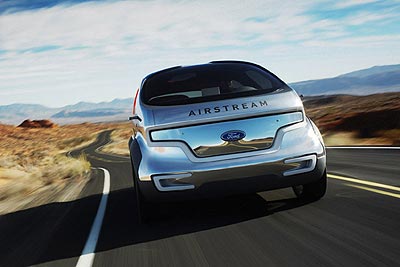 Detroit Auto Show: Top 10 Duds of Detroit – They can't all be winners, and so it is from the floor of the 2007 North American International Auto Show in Detroit. After three days of press conferences and more than 50 vehicle introductions, our staff sat around a big table over big frosty glasses of Sam Adams at the local Red Robin in Dearborn to decide which of the new cars landed on the stage in Detroit with a big thud. Yeah, Red Robin. We know how to live large.
Chengfeng Liebao CS6
Snide journalists snickered as Chinese representatives of Chengfeng struggled through their first North American press conference, importing their somewhat bewildering native culture to the proud lands of the Big Mac and Jerry Springer. While we've put the company's Liebao CS6 on our Duds from Detroit list, it's not with a smile on our face or malice in our hearts. It's just not good enough to sell here. Yet. The Chinese are coming, be sure of it. Remember, people were laughing at the Koreans 20 years ago.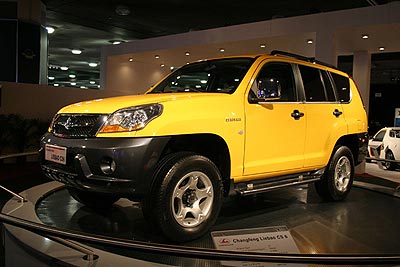 Chevrolet Equinox Sport
Chevy's Equinox is an adequate appliance that looks like an SUV but drives like a car. The Sport model gets a performance-tuned massage to produce greater acceleration and handling, yet Chevy passed on putting the revered "SS" badge on the result. Evidently, there's nothing "Super" about it.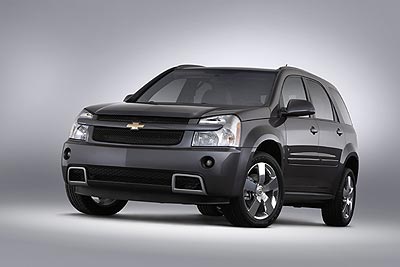 Chrysler Nassau
Yeah, yeah, yeah. Chrysler 300 platform, SRT 6.1-liter Hemi, retro-feel design cues, blah, diddy, blah, blah, blah. Not only does the Chrysler Nassau Concept utterly lack originality, it looks like a Subaru Impreza Wagon that's been through the Krispy Kreme drive-thru one too many times. Nassau's got a great face, but there's little chance it's gonna lose some weight.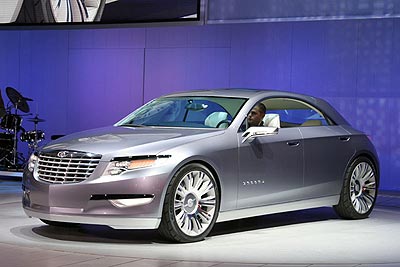 Dodge Avenger
Dodge's new Avenger is better looking than the Chrysler Sebring with which it shares its platform and powertrains, but that's kinda like saying Minneapolis isn't as cold as Calgary. Charger Jr. design cues rob the larger sedan of its unique look, while the upscale R/T badge is pimped out as though it's spending convention week in Vegas. Best attribute: The name, which replaces the wussy meteorological term Stratus with something appropriately aggressive for Dodge.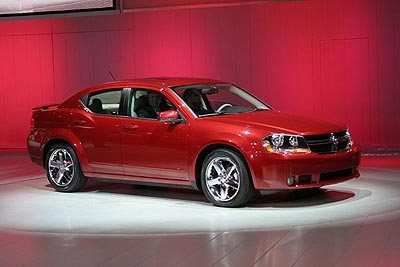 Ford Airstream
One of two 1970s throwbacks to the groovy age of the street van, the Ford Airstream Concept looks like it rolled right out of a B52's video for "Love Shack." We're hoping there are no plans to build it, though with the death of the Freestar minivan somebody in the Glass House might actually be thinking this is a good alternative to a Honda Odyssey or Toyota Sienna.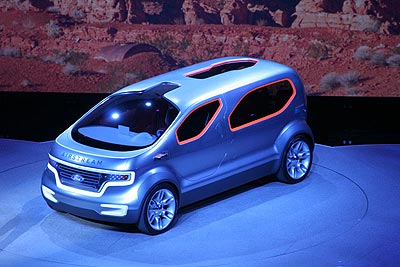 Ford Five Hundred
More power for the unloved Ford Five Hundred is a good thing, but the Fusion-inspired styling update for 2008 is about as appealing as a ski parka on Jessica Alba. The Ford Five Hundred is a fundamentally attractive and capable car hamstrung at its launch by an impotent engine. Now that Ford fixed the power problem, the Five Hundred wears a bunch of tacky chrome bling that should have been reserved for its Mercury Montego twin. Mr. Mullaly, get the Interceptor Concept into production, pronto.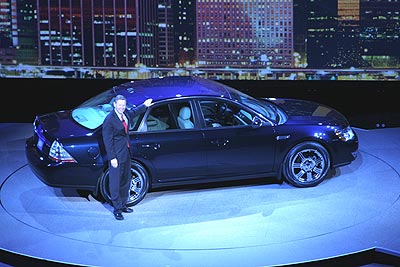 Ford Focus
Ten years ago, Ford replaced the Japanese-flavored range of Escort sedans, wagons and hatchbacks with the screwy oval-themed Escort sedan and ZX2 coupe. Sales tanked and the cars were punted into rental fleets until the Focus showed up. For 2008, Ford replaces the European-flavored range of Focus sedans, wagons, and hatchbacks with the screwy Fusion-themed Focus sedan and Focus coupe. Hmmm, wonder what might happen next?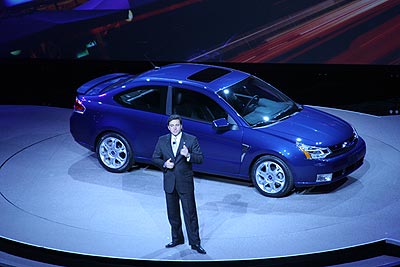 Nissan Bevel
Nissan enjoys the distinction of being the other manufacturer with a concept hearkening back to the 1970s street van craze. The Bevel Concept looks like it should have been packaged up as a Hot Wheels car, and was built with about the same level of care and precision. This is what happens when a company moves cross-country in the middle of the year and a big chunk of the staff quits.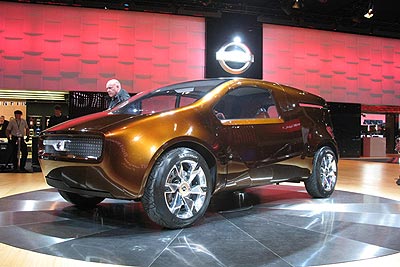 Nissan Rogue
Our photographer, who has 20 years in the business shooting a wide range of automobiles, said that this new Nissan crossover SUV should have been named the Vague. This, of course, resulted in much cackling and an order for another round of Red Robin brews. Regardless, aside from the funky Nissan grille (uh, can we choose a theme and stick to it?), the inoffensively rounded Rogue looks like it should be wearing a Hyundai badge. Nissan shoulda stuck with the bolder detailing found on the essentially identical Qashqai that was unveiled at last year's Paris Motor Show.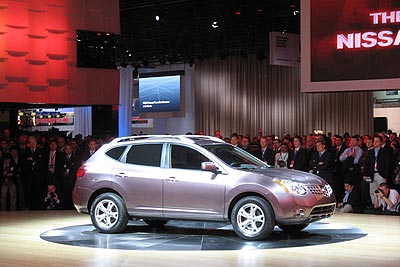 Pontiac Torrent GXP
Take the Chevrolet Equinox Sport, slap on a BMW-style grille, add a little bit of chrome here and some two-tone leather there, and you've got the Pontiac Torrent GXP. However, unlike at Chevy, the marketing gurus at Pontiac evidently feel the result of GM performance tweaks to these SUVs is worthy of its top performance moniker rather than the pedestrian GT badge.
Photos courtesy of The manufacturers and our staff