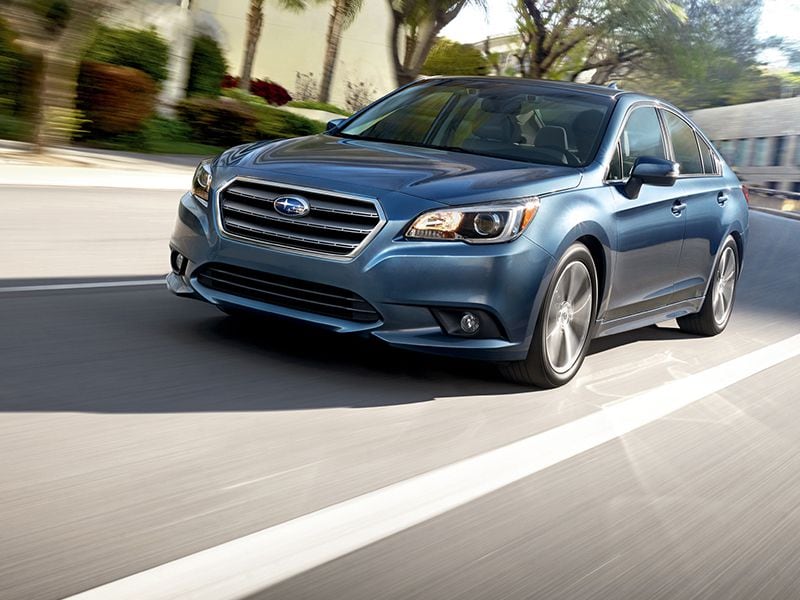 2016 Legacy 2.5i Limited ・ Photo by Subaru
Car insurance rates are like airline ticket prices, but with far less transparency  — they're based on a range of variables that include driving record, driver age, miles driven, location, coverage limits, and type of vehicle. In compiling this list of cheapest sedans to insure, we looked first at the most popular compact, midsize, and fullsize vehicles, selecting the top trim levels to maximize on standard safety equipment. Then we focused on vehicles awarded with the Insurance Institute for Highway Safety's (IIHS) coveted Top Safety Pick+ award.
We used esurance.com's online rate quote system to run the numbers on a 35-year old woman with an excellent record against dozens of vehicles in order to create a list of the 10 least expensive sedans to insure.
2016 Honda Accord 4-door sedan - $1100
The 2016 Honda Accord isn't just one of the best-selling cars in America, it's also one of the safest sedans and among the least expensive to insure. The IIHS gives the Accord a Good rating for front small and moderate overlap, side, and roof strength, along with head restraints and seats. Front crash prevention is rated Superior with optional equipment. Headlights are rated Acceptable in certain trims. Child seat anchor latches are rated Acceptable. Standard Safety Equipment: Vehicle Stability Assist, Anti-Lock Braking System, Electronic Brake Distribution, Tire Pressure Monitoring System, Brake Assist, Rearview Camera Available Safety Equipment: Forward Collision Warning, Lane Departure Warning, Collision Mitigation Braking System, Road Departure Mitigation System, Lane Keep Assist System, Adaptive Cruise Control, Honda Lane Watch Honda Accord Starting MSRP: $22,205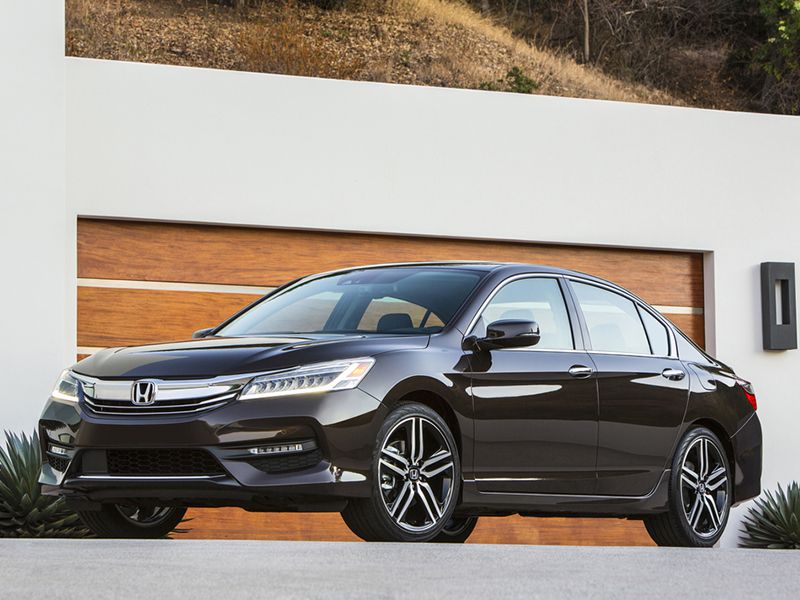 Photo by Honda
2016 Subaru Legacy 2.5 Limited - $1097
The Subaru Legacy is the only vehicle on the list of cheapest sedans to insure that features all-wheel drive as standard equipment. The IIHS gives the Legacy a Good rating for front small and moderate overlap, side, and roof strength, along with head restraints and seats. Front crash prevention is rated Superior with optional equipment. Headlights are rated Acceptable. Standard Safety Equipment: Vehicle Dynamics Control, Anti-Lock Braking System, Tire Pressure Monitoring System, Brake Assist, Rearview Camera, Blind Spot Detection, Rear Cross Traffic Alert Available Safety Equipment: Adaptive Cruise Control, PCB, Forward Collision Warning, Lane Departure Warning, Lane Keep Assist System Subaru Legacy Starting MSRP: $21,745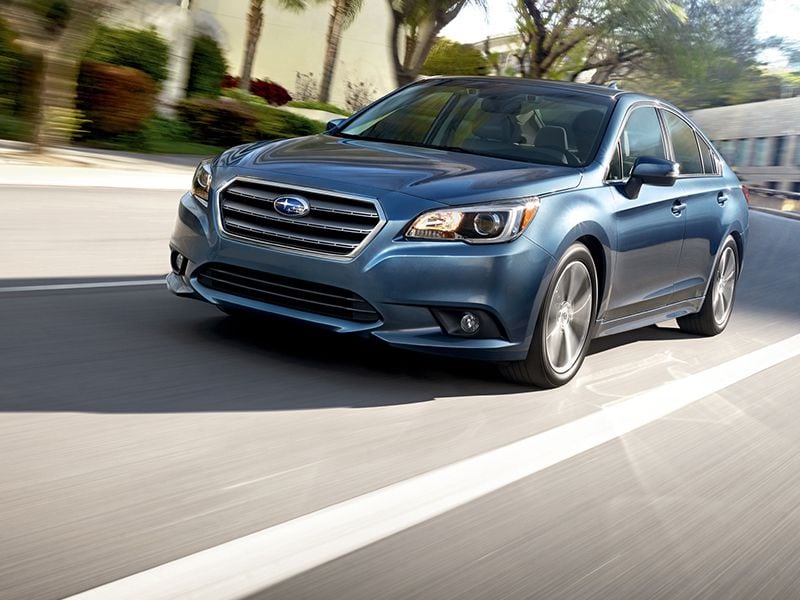 Photo by Subaru
2016 Chevrolet Impala 2LTZ - $1094
The full-size Chevy Impala has won acclaim for its roomy cabin, smooth ride, and solid handling. It's a thoroughly modern, yet quintessential Big American Sedan. Standard Safety Equipment: Anti-Lock Braking System, Lane Departure Warning, Forward Collision Warning, Rear Cross Traffic Alert, Electronic Stability Control, Blind Spot Mirrors, Rear Park Assist, Rearview Camera Optional Safety Equipment: Adaptive Cruise Control Chevrolet Impala Starting MSRP: $27,095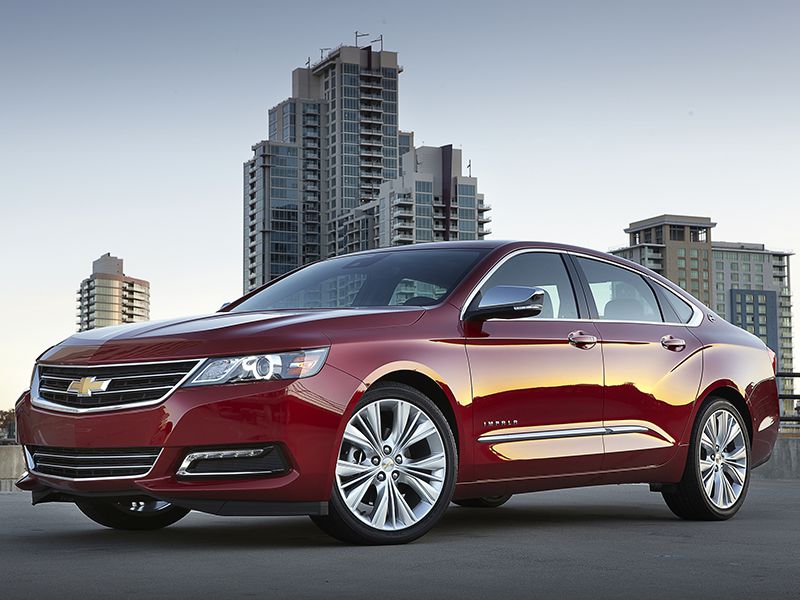 Photo by General Motors
2016 Volvo S80 Premier Plus - $1054
The luxurious Volvo S80 has the highest starting MSRP on the list of sedans that are least expensive to insure. The S80's ABS system features hydraulic brake assist, optimized hydraulic brakes, ready alert brakes, and fading brake support. Standard Safety Equipment: Anti-Lock Braking System, Tire Pressure Monitoring System, DSTC, Blind Spot Mirrors Available Safety Equipment: Adaptive Cruise Control, Lane Departure Warning, Driver Alert Control, Distance Alert, Pedestrian Detection with Full Auto Brake, Collision Warning with Full Auto Brake Volvo S80 Starting MSRP: $43,450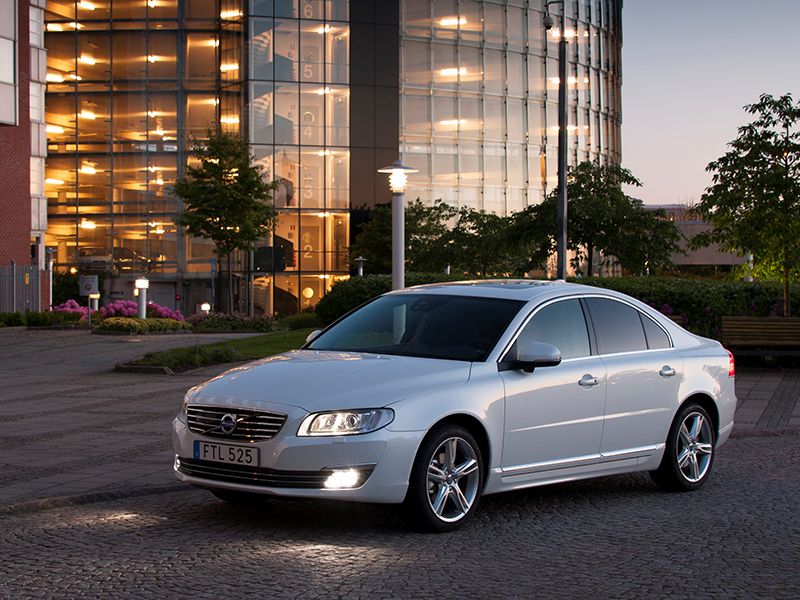 Photo by Volvo
2016 Chevrolet Cruze Limited LTZ - $1039
The Chevrolet Cruze has been thoroughly revised for 2016 and is the most affordably priced vehicle on the list of cheapest sedans to insure. A 5-door Cruze hatchback will debut in the 2017 model year. Standard Safety Equipment: Anti-Lock Braking System, Electronic Stability Control, Tire Pressure Monitoring System Available Safety Equipment: Rear Cross Traffic Alert, Lane Departure Warning, Lane Keep Assist System, Forward Collision Warning, Distance Alert, Blind Spot Mirrors with Lane Change Alert Chevrolet Cruze Starting MSRP: $16,620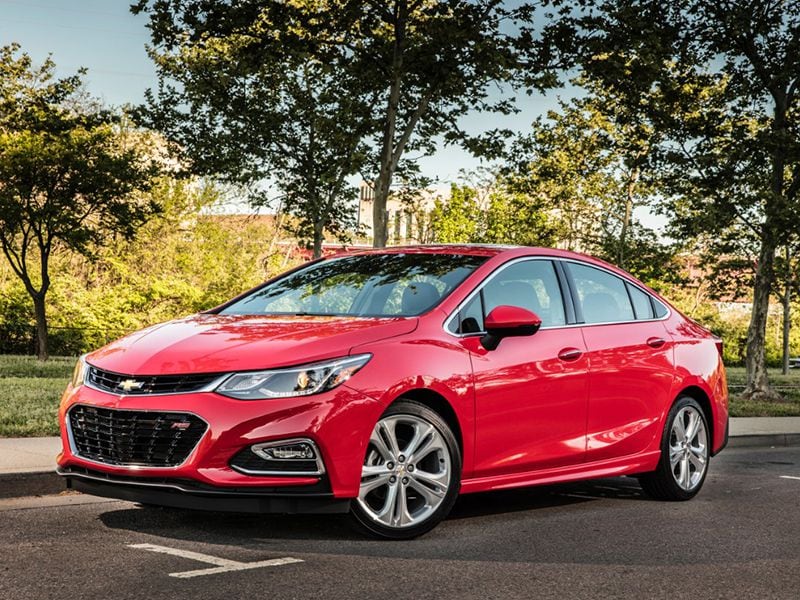 Photo by General Motors
2016 Volkswagen Passat - $1032
The 2016 Volkswagen Passat is one of the roomiest midsize sedans and is offered with a responsive turbocharged gasoline engine. The IIHS gives the Volkswagen Passat a Good rating for front small and moderate overlap, side, and roof strength, along with head restraints and seats. Front crash prevention is rated Advanced with optional equipment. Headlights are rated Poor. Child Seat Anchor Latches (ease of use) are rated Good. Standard Safety Equipment: Anti-Lock Braking System, Electronic Stability Control, Electronic Brake Distribution, Hydraulic Brake Assist, Automatic Post-Collision Braking, Rearview Camera Available Safety Equipment: Adaptive Cruise Control, Forward Collision Warning, Autonomous Emergency Braking, Lane Departure Warning, Lane Keep Assist System, Rear Cross Traffic Alert, Blind Spot Mirrors, Park Assist Volkswagen Passat Starting MSRP: $22,440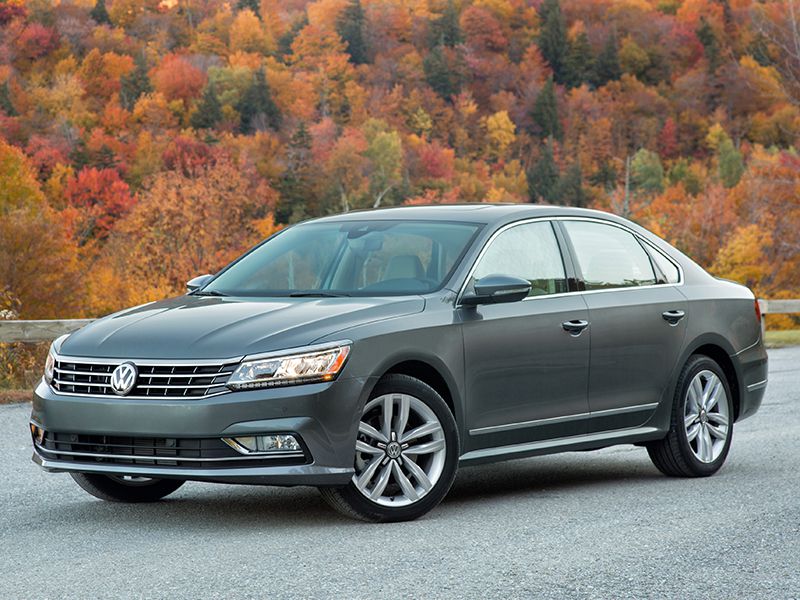 Photo by Volkswagen
2016 Chrysler 200 - $1029
Although Chrysler has announced plans to wind down production of the 200, it offers solid value and is one of the most affordable IIHS Top Safety Pick+ models. All-wheel drive is available in the 200S and 200C. The IIHS gives the Chrysler 200 a Good rating for front small and moderate overlap, side, and roof strength, along with head restraints and seats. Front crash prevention is rated Superior with optional equipment. Headlights and Child Seat Anchor Latches (ease of use) are rated Marginal. Standard Safety Equipment: Electronic Stability Control, Tire Pressure Monitoring System, Rearview Camera  Available Safety Equipment: Adaptive Cruise Control (with stop and go), Blind Spot Detection, Lane Departure Warning, Forward Collision Warning, Rear Cross Traffic Alert, Parallel and Perpendicular Park Assist Chrysler 200 Starting MSRP: $21,995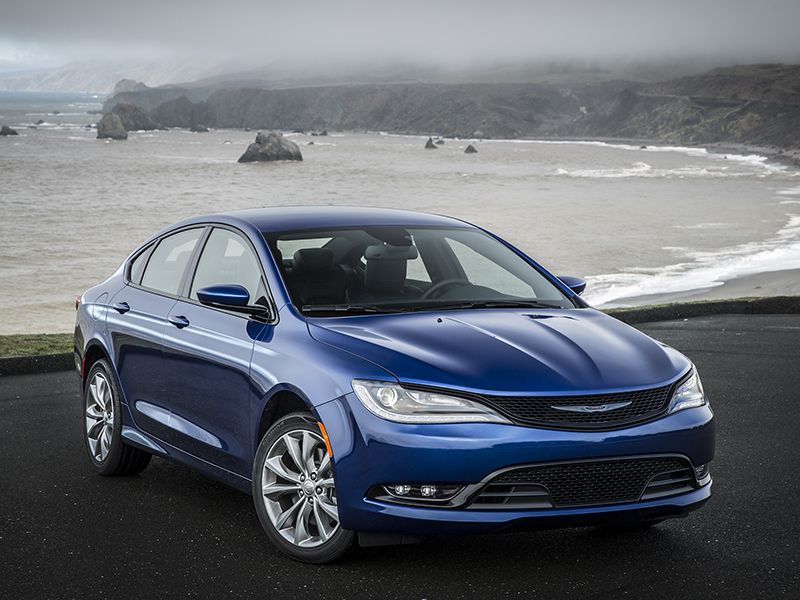 Photo by Chrysler
2016 Chevrolet Malibu Premier - $1025
The Chevrolet Malibu has been thoroughly revised for 2016 and is available with standard and hybrid drivetrains. It features attractive styling and can be equipped with Apple CarPlay and Android Auto infotaiment systems. Standard Safety Equipment: Anti-Lock Braking System, Electronic Stability Control, Forward Collision Warning, Rearview Camera, StabiliTrak Available Safety Equipment: Adaptive Cruise Control, Lane Keep Assist System, Rear Cross Traffic Alert, Pedestrian Detection, Semi-Automatic Parking, Low Speed Automatic Braking, Blind Spot Detection Chevrolet Malibu Starting MSRP: $21,625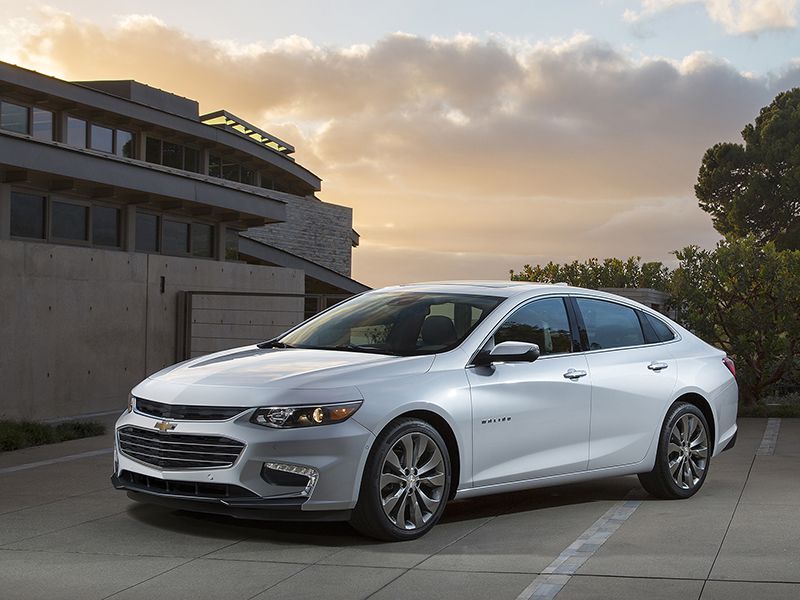 Photo by General Motors
2016 Volkswagen Jetta - $991
The Volkswagen Jetta is the second least expensive vehicle on the list of cheapest sedans to insure and the least expensive IIHS Top Safety Pick+. It's available with gasoline and hybrid drivetrains. The IIHS gives the Volkswagen Jetta a Good rating for front small and moderate overlap, side, and roof strength, along with head restraints and seats. Front crash prevention is rated Advanced with optional equipment. Headlights are rated Acceptable. Child Seat Anchor Latches (ease of use) are rated Marginal. Standard Safety Equipment: Anti-Lock Braking System, Electronic Stability Control, Electronic Brake Distribution, Hydraulic Brake Assist, Automatic Post-Collision Braking Available Safety Equipment: Adaptive Cruise Control, Forward Collision Warning, Autonomous Emergency Braking, Rear Cross Traffic Alert, Blind Spot Mirrors, Park Assist Volkswagen Jetta Starting MSRP: $17,680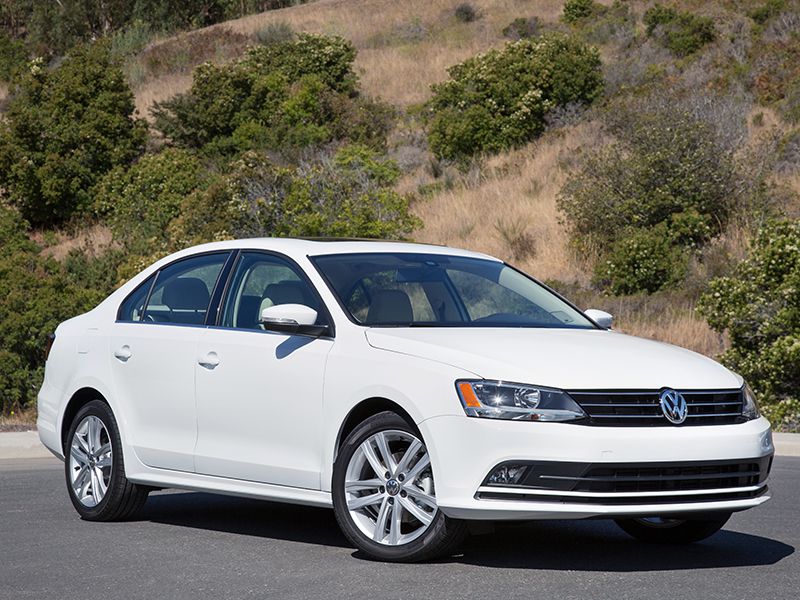 Photo by Volkswagen
2016 Mercedes-Benz CLA-Class Coupe - $854
The CLA-Class Coupe is the most affordable Mercedes-Benz offered in America and was a surprise on the list of least expensive sedans to insure. While referred to as a Coupe, the CLA-Class has 4 doors. Standard Safety Equipment: Anti-Lock Braking System, Lane Keep Assist System, Tire Pressure Monitoring System, Electronic Stability Control, Brake Assist Available Safety Equipment: Adaptive Cruise Control, Lane Keep Assist System, Blind Spot Mirrors, Active Parking Assist, Rearview Camera Mercedes-Benz CLA-Class Coupe Starting MSRP: $32,050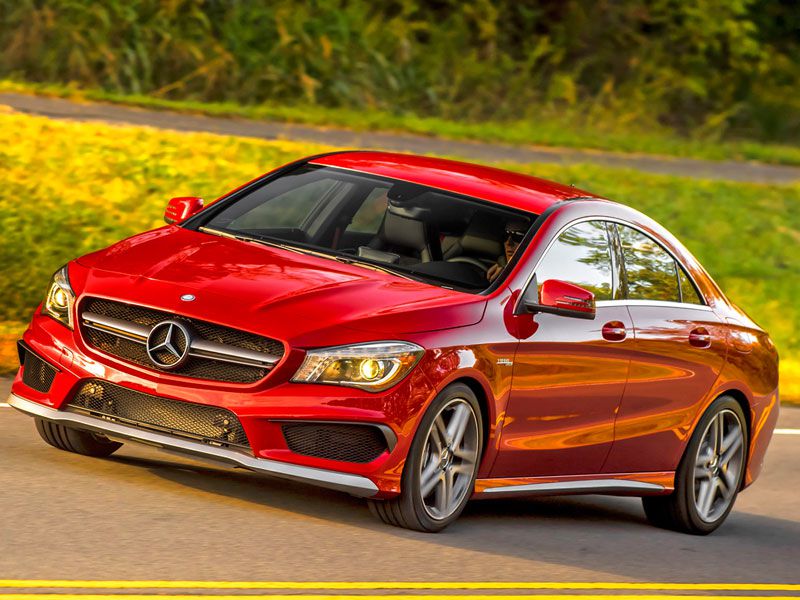 Photo by Mercedes-Benz