The brand lays claim to all-wheel-drive grip and excellent safety ratings.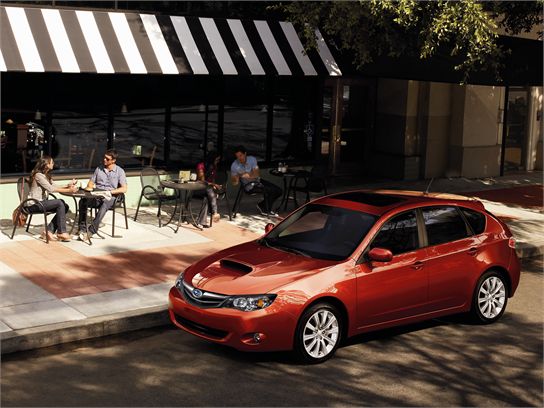 Subaru is a brand that marches to the beat of its own burbling boxer engines, eschewing mainstream popularity in favor of lifelong devotees. Nevertheless, with strong sales from the recently redesigned Forester, Outback and Impreza, Subaru has been winning converts with every sale. The brand continues its steadfast dedication to boxer (flat) engine configurations, all-wheel drive, uniquely quirky styling and industry-leading safety. Additionally, a recent injection of luxury, technology, roominess and utility makes for an impressively well-rounded model range with excellent resale value. Now is a great time to buy a Subaru, whether you want to join the devotee club or not.
Photos courtesy of Subaru.
Page 2
The Subaru Impreza line-up offers all-wheel drive, sporty handling and a plethora of safety features that make it arguably one of the safest cars in its class. This does come at a price; namely, a higher price than the competition. Its fuel economy is sub-par as well. The 2010 models include sedan and hatchback variations of the base 2.5i, 2.5i Premium, 224-hp turbo 2.5GT and the two-tone, raised-suspension Outback Sport. Altogether, there is a lot to like in the Impreza, especially when the weather turns bad.
$17,495 – $26,995 2.5-liter 4-cylinder with 170 hp 20 city/27 hwy/22 cmb Mazda Mazda3, Mitsubishi Lancer, Suzuki SX4
Sporty 2.5-liter engine and advanced all-wheel drive
Unique Outback Sport offers more ground clearance
Roomy interior and competitive convenient features
IIHS Top Safety Pick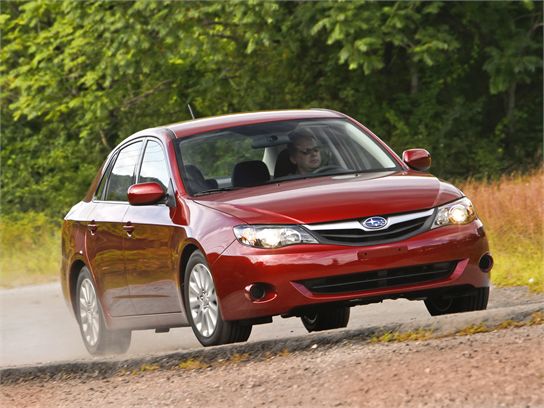 Page 2
The Impreza WRX continues in 2010 with performance mixed with a dash of real world drivability in its hatchback and sedan forms. The burbling, 265-hp boxer engine excites with swift acceleration while sporty seats hold the driver firmly in place. The extreme, hatchback-only STI version adds more power, more handling, more noise, more bodywork and the ability to tinker with the engine management and driver-controlled center differential by pressing buttons and twisting knobs. There is also the STI Special Edition that deletes non-essential features like the 6-CD changer and automatic climate control to lower lap times.
$24,995 – $34,995 2.5-liter turbocharged 4-cylinder with 265 hp 18 city/25 hwy/21 cmb Mitsubishi Lancer Ralliart, Volkswagen GTI, Mazda MAZDASPEED3
Questionable looks overshadowed by unquestionable performance
2.5-L turbo boxer engine is unique, sonorous and fast
Sport seats and interior details give cabin a special feel
STI Special Edition loses weight, increases performance to the max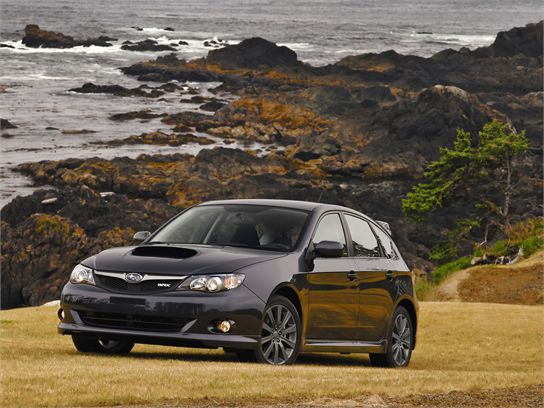 Page 2
The completely redesigned 2010 Subaru Legacy embraces all-wheel-drive performance, a roomier interior and a multitude of engine and transmission choices, all wrapped in a unique new exterior. Redesigned suspension makes for a smooth ride, but compromises some of the 2.5GT's sporty pretensions. The interior has a sleek ambiance where comfort, convenience and technology features abound. When fully equipped, the Legacy could make a budget-friendly substitute for an upscale European sedan.
$19.995 – $29,995 2.5-liter 4-cylinder with 170 hp 19 city/27 hwy/22 cmb Honda Accord, Ford Fusion, Nissan Altima
4- or 6-cylinder engines with manual, automatic or CVT transmission choices
More spacious interior and convenient technology features
Redesigned suspension and all-wheel drive for confident handling
IIHS Top Safety Pick
Page 2
The bigger, badder 2010 Subaru Outback is further blurring the lines between SUV and station wagon with upgraded size, practicality and ruggedness. Winning SUV comparisons, the Outback shames others with its 71.3 cu. ft. of cargo space, generous rear legroom, reclining rear seatbacks and storage options galore. While gone is the altitude-friendly turbo engine, the new 3.6-liter flat six adds torque and smoothness that will satisfy most. Despite losing some of its former nimbleness, the masses are increasingly embracing this segment-straddling multi-tool.
$22,995 – $30,995 2.5-liter 4-cylinder with 170 hp 19 city/27 hwy/22 cmb Toyota Venza, Volkswagen Passat Wagon, Chevrolet Traverse, Hyundai Santa Fe
New sleek exterior and spacious interior
SUV-like size and utility with car-like handling
Modern-day MacGyver of functionality
All-wheel drive and IIHS Top Safety Pick

Page 2
The 2010 model continues last year's redesign that won many converts to the Subaru brand. The extra room, more mainstream SUV sheet metal and excellent driving characteristics stole customers from rival Japanese compact SUVs. Good fuel economy and Subaru's reliability don't take anything away from the plucky 2.5-liter 4-cylinder boxer's fun spirit. Only the lackluster 4-speed automatic comes up short in this very appealing package.
$20,295 – $28,495 2.5-liter 4-cylinder with 170 hp 20 city/27 hwy/22 cmb Honda CR-V, Toyota RAV4, Chevrolet Equinox
2.5-liter 4-cylinder with 170 hp or turbo 224-hp versions
Smooth riding suspension that is best in class
High roofline creates ample cargo room and easy load-in
5-star crash ratings for front and side impacts

Page 2
In 2010, Tribeca adds a third row to grow to 7-passenger capacity. All-wheel drive, a stylish interior and excellent safety ratings come with every Tribeca. Many appealing features can be had within Tribeca's model line, including navigation, Bluetooth, backup cameras and premium audio. Unfortunately, heavy competition in the midsize SUV class makes the Tribeca just a good fish in a big pond of good to great fish.
$30,495 – $35,795 3.6-liter 6-cylinder with 256 hp 16 city/21 hwy/18 cmb Buick Enclave, Toyota Highlander, Mazda CX-9, Hyundai Veracruz
Good performance and smooth, comfortable ride
Stylish and futuristic interior design
Respectable list of standard equipment
5-star crash test ratings for front and side impacts