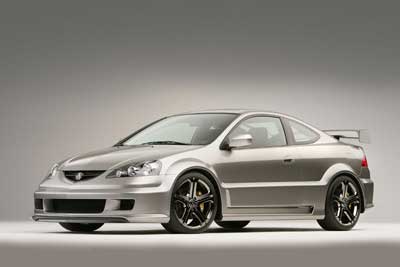 Acura brought the RSX A-Spec to be displayed under the lights at SEMA this year. The RSX A-Spec features nineteen-inch "Black Chrome" wheels; a race-tuned suspension; and carbon fiber front and rear spoilers, rear diffuser and underbody spoiler. Brembo brakes and a centered dual exhaust outlet round out the exterior features. Inside the RSX A-Spec gets carbon fiber seats, unique gauges and a custom instrument panel.
2006 Acura TSX A-Spec
The Acura TSX A-Spec Concept introduced at the 2005 SEMA show is a one-off masterpiece. It rides on 19-inch rims and Pirelli tires hiding a set of oversized Brembo brakes. New front and rear fascias and a center exhaust outlet at the rear spice up the design, while underbody diffusers increase grip and aerodynamics. A carbon-kevlar spoiler provides down force, while A-Spec springs and shocks are set at all four corners to keep the TSX glued to the road. Inside, front occupants are held tight by a set of Recaro seats.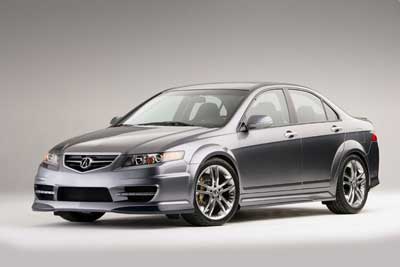 2006 Honda Civic Si Sport Concept
The Honda Civic Si Sport Concept features a track-tuned suspension, larger wheels, an aero body kit, a two-piece carbon fiber wing, Brembo brakes all-around, and a centered exhaust outlet.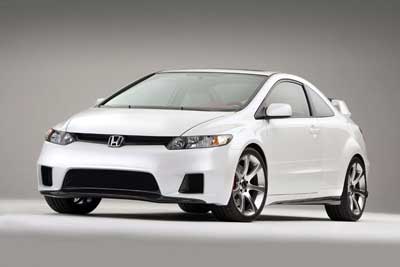 2006 Honda Ridgeline Street Sport Concept
Tweaked front and rear bumpers give the Honda Ridgeline a more aggressive appearance, as do the dark Asphalt Shock paint job and widened fenders. A prototype high-flow exhaust with side outlets has been bolted on, but the focus here is on audible and visual enhancement, not power. Large Brembo brakes are bolted onto all four corners, and 22-inch black-and-silver alloy wheels roll on massive 305/40 B.F. Goodrich T/A tires. Inside the Ridgeline Street Sport Concept are Recaro seats for four passengers, black leather with suede and aluminum trim, and LED accent lights.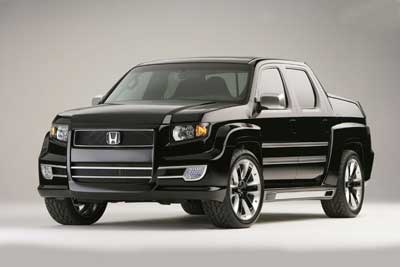 Hyundai kDaddyz Tiburon
This Hyundai Tiburon, customized by kDaddyz, features a full roll cage, performance exhaust, nitrous system, and turbo system upgrades. Custom paint and an Infinity sound system round out the trick details of the kDaddyz Tiburon.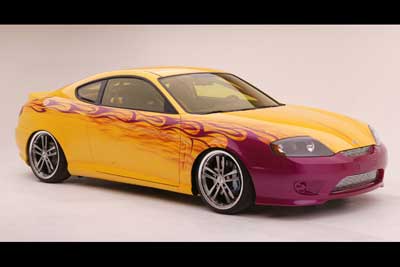 Hyundai kDaddyz Tucson
Tweaked by kDaddyz, this Hyundai Tucson features a custom airbrushed paint scheme in addition to shaved door handles and a custom rag-top.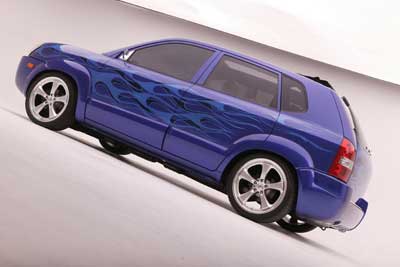 Hyundai Troy Lee Sonata
Hyundai's Troy Lee Sonata sports an Eibach suspension, custom wheels and paint, and an Infinity stereo system.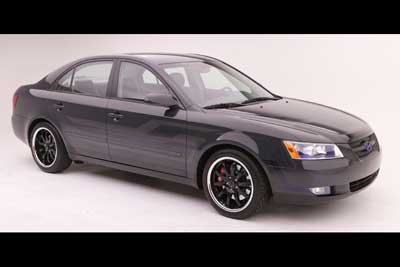 Hyundai Troy Lee Tucson
Tuned by Troy Lee Designs, headed by a guy who is better known for off-road vehicle customizing, this Hyundai Tucson is equipped with an Eibach suspension, Infinity stereo, custom paint, custom exhaust, and Momo interior accessories.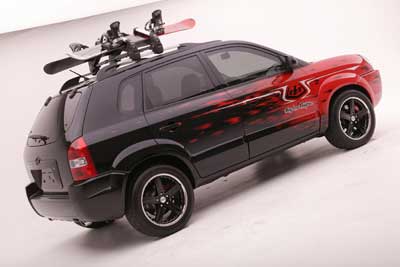 Kia Rio5 Orange Blur by Strauss Haus
The Orange Blur, by Strauss Haus, is a Kia Rio5 with a turbocharged engine, TSW wheels, House of Color paint, and an Eibach suspension.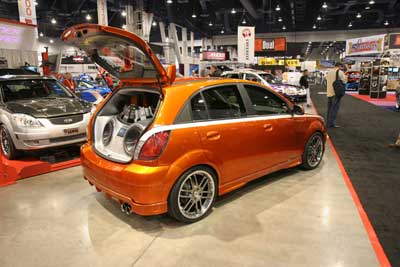 Kia Rio Blue Missile by Street Concepts
Street Concepts decked out this Kia Rio with an Eibach suspension, Greddy exhaust, BSA wheels, and Sparco seats.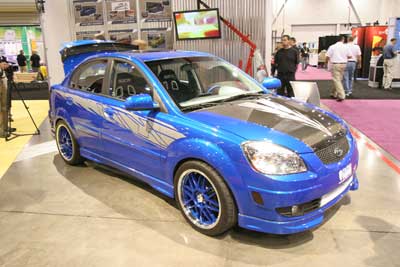 Kia Sportage Solid Gold by JaaaDesign
The "Solid Gold" Kia Sportage by JaaaDesign features scissor doors, a body kit, House of Color paint, a hydraulic suspension, and TSW wheels.