For every eight new vehicles sold in the U.S. in 2013, one of them was a full-size pickup truck. Of those pickup trucks sold, about 90% of them were built by Chrysler, Ford, and General Motors. At each of these companies, every full-size truck sold generates between $8,000 and $10,000 in gross profit, according to a report by financial services firm Morgan Stanley. That makes full-size pickup trucks critically important to the overall health of each automaker, and it helps to set the stage for what is proving to be a time of innovation and upheaval within the pickup truck segment.
2015 Ford F-150 photo courtesy of Ford Motor Company
Chrysler Kicked Off Truck Improvements in 2013
Renewed emphasis on pickup trucks started in 2013, with the debut of the revamped Ram 1500 light-duty full-size truck from Chrysler. Featuring a new V-6 engine, a new 8-speed automatic transmission, and an EPA-rated 25 mpg on the highway, the Ram 1500 offered a range of practical features in an expansive lineup designed to fit nearly any budget or lifestyle.
This year, Ram debuted the first diesel engine in a light-duty truck. The 3.0-liter diesel V-6 is B20 bio-diesel compatible, and is rated to make 240 horsepower and 420 lb.-ft. of torque, enough to tow up to 9,200 pounds of trailer. Thanks in part to its standard 8-speed automatic transmission, the new 2014 RAM 1500 EcoDiesel model will get 20 mpg in the city and 28 mpg on the highway, for a combined-driving rating of 23 mpg*, according to the EPA.
Additionally, Ram improved its lineup of heavy-duty trucks for 2014, adding a new 6.4-liter V-8 engine option. The 2014 RAM 2500 models are equipped with a new 5-link coil rear suspension, an optional load-leveling rear air suspension, and integrated gooseneck and fifth-wheel capability. The 2014 RAM 3500 is available with a supplemental air bag suspension option.
* Reduce all ratings by 1 mpg for 4-wheel-drive models
2014 Ram 1500 photo by Christian Wardlaw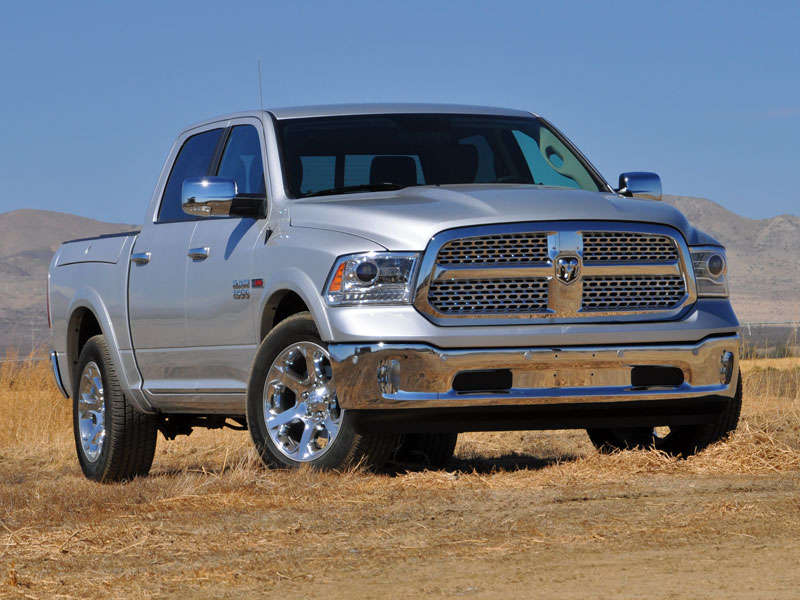 General Motors Trucks Redesigned for 2014
Among major manufacturers of pickup trucks, General Motors has been the busiest as of late, redesigning its complete lineup of light-duty and heavy-duty Chevrolet Silverado and GMC Sierra models while at the same time preparing a two-pronged assault on the stagnant midsize truck market.
The new 2014 Silverado and 2014 Sierra are more powerful, more fuel-efficient, more technologically advanced, and more capable than ever before, but disappointing sales since they launched in 2013 are leading to an erosion of market share. At the same time that GM's slice of the pie is getting a little smaller, Chrysler and Ford are enjoying year-over-year gains on the strength of older pickup truck designs.
Why is this happening, when the new Silverado and Sierra were expected to put GM on a path to pickup sales parity with Ford? Possible reasons range from a lukewarm reception to the styling and a staggered rollout first of the light-duty 1500-series models and then the heavy-duty 2500HD and 3500HD models, to the fact that GM has been reluctant to provide significant incentives and rebates to buyers, a customary practice in the segment. The result of this latter practice has served to improve GM's average transaction prices per sale, but overall sales are down significantly.
Regardless of how and why GM botched the Silverado and Sierra launch, Ford isn't helping its rival, having announced that its next-generation F-150 will be constructed of aluminum. Plus, in advance of the redesigned 2015 F-150 model's arrival, Ford will be clearing out the 2014 F-150 at big discounts.
In response to this continuing threat to its market share, GM is finally offering truck buyers thousands of dollars in rebates and incentives on its redesigned 2014 pickups, which should help convince loyalists that it is time to trade up. Additionally, GM has announced that its next-generation Silverado and Sierra will be made out of aluminum, just like the F-150. But that won't happen until the end of the decade, at the earliest.
2014 GMC Sierra 1500 photo by Christian Wardlaw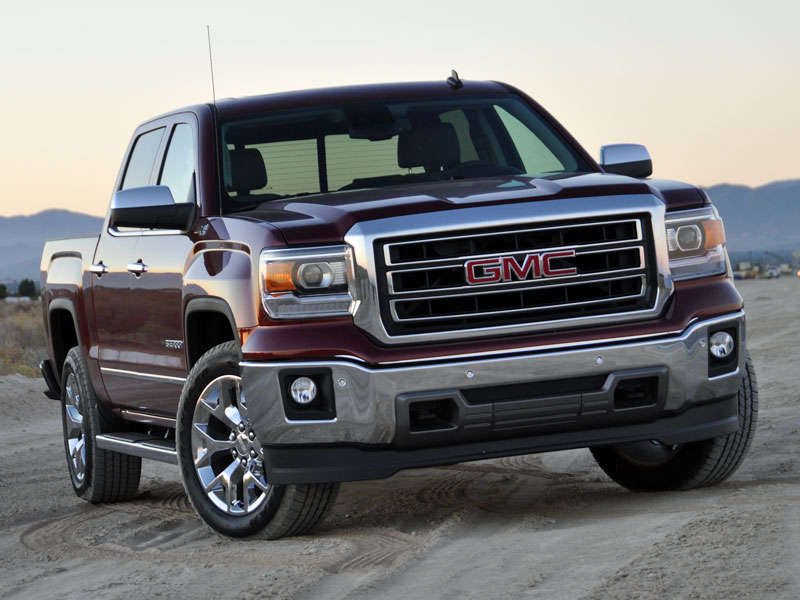 2015 Ford F-Series Lineup Upgraded Across the Board
Ford's ballsy move to aluminum construction for the redesigned 2015 F-150 pickup is the most significant change to the full-size truck market in years. By using aluminum, Ford will reduce weight and improve fuel economy while retaining what it plans to be class-leading towing and hauling capabilities. The shift to aluminum for the new F-150 represents a huge investment into the future of the pickup truck, and the auto industry in general. That the country's best-selling vehicle is going aluminum certainly signals how this material could go mainstream across all segments of the market.
In addition to the redesigned F-150, Ford has also announced a new 6.7-liter turbo-diesel V-8 engine for its 2015 F-Series Super Duty lineup. Equipped with 440 horsepower and a whopping 860 lb.-ft. of torque, this new engine can tow and haul more weight than the competition. That means the F-350 Super Duty can tow a trailer weighing 26,500 pounds and boasts a gross combined weight rating (GCWR) of 35,000 lbs.
In the meantime, Ford isn't about to let market share slip as it ramps up toward the launch of the 2015 F-150. Expect big discounts from now until the last 2014 model rolls off a dealer's lot.
2015 Ford F-Series Super Duty Photo courtesy of Ford Motor Company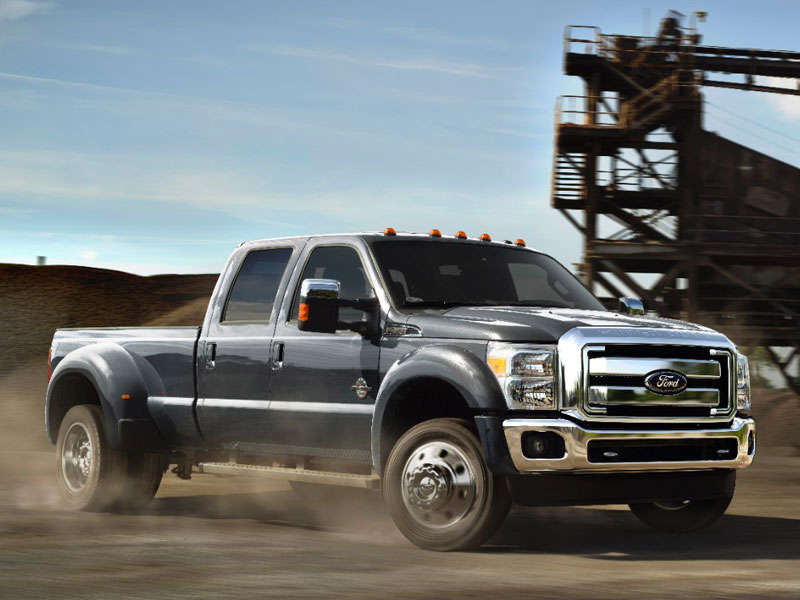 Don't Count Nissan and Toyota Out Just Yet
Collectively accounting for just over 10% of the full-size pickup truck market, the Nissan Titan and the Toyota Tundra might appear to be down, but don't count them out just yet.
Currently trailing the full-size truck pack, the Nissan Titan is going to be redesigned for the 2016 model year, and will feature an available Cummins diesel engine. No additional details about the new 2016 Titan are available at this time, but Nissan has been studying the market, and the mistakes it made with the original Titan, for years. As such, we're expecting a reasonably competitive alternative to the established players.
Toyota gave its Tundra pickup a major restyle for 2014, but it sits on the same frame and uses the same engines as before. Lots of people think of the Tundra as an also-ran, despite the latest upgrades that Toyota has made. However, when all truck manufacturers adopt SAE J2807 towing standards for the 2015 model year, a standard to which Toyota has adhered for years, the genuinely appealing Tundra could potentially win new fans.
2014 Nissan Titan photo by Christian Wardlaw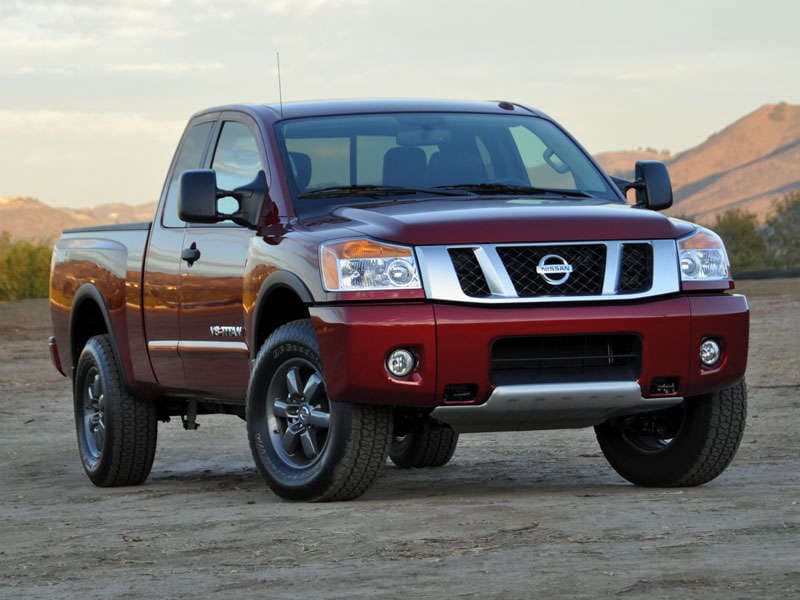 Midsize Trucks Poised for Resurgence
One segment in which GM might score a sizable win is midsize trucks, thanks to redesigned versions of the Chevrolet Colorado and GMC Canyon. In recent years, both Chrysler and Ford have abandoned this market, having discontinued the Dodge Dakota and Ford Ranger. The volume sellers from Nissan and Toyota are each nearly a decade old. That spells a big opportunity for the 2015 Colorado and 2015 Canyon when they go on sale at the end of 2014.
Honda isn't getting out of this game, either. The slow-selling Ridgeline pickup truck, a favorite of ours for its utilitarian interior, innovative in-bed trunk, and dual-action tailgate, is going on a brief hiatus but is slated to return in completely redesigned format as the 2016 Honda Ridgeline.
Additionally, rumors continue to swirl that Ford may find a way to bring the Ranger pickup that it sells in global markets to the U.S. Alternatively, the company may be considering a discounted F-100 model that could slot into the redesigned F-Series lineup beneath the existing F-150. The automaker has not confirmed either approach.
2015 Chevrolet Colorado photo courtesy of General Motors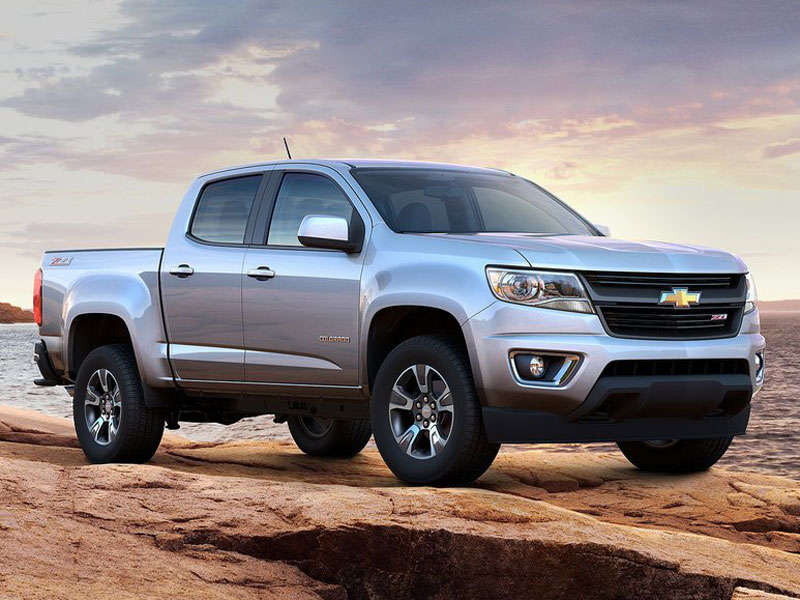 Trucks: They're Not Just for Work Anymore
While lots of trucks, in particular those destined for commercial use by a business or government entity, are sold in basic format, modern pickups are clearly not just for work anymore. Take a look at the number of luxury-oriented trim levels available today, such as the GMC Sierra Denali and the Toyota Tundra 1798 Edition, not to mention the price tags accompanying them, and its clear that truck buyers are looking for more than just utility and capability.
Another factor potentially impacting truck sales and buyer loyalty is technology. Younger customers are more likely to switch allegiance to a brand if a competing model offers more appealing levels of tech. That's why the latest pickup trucks can be optioned with Bluetooth connectivity and music streaming, smartphone application integration, mobile Wi-Fi access, reversing camera systems, blind-spot information systems, and more.
2014 Toyota Tundra photo courtesy of Toyota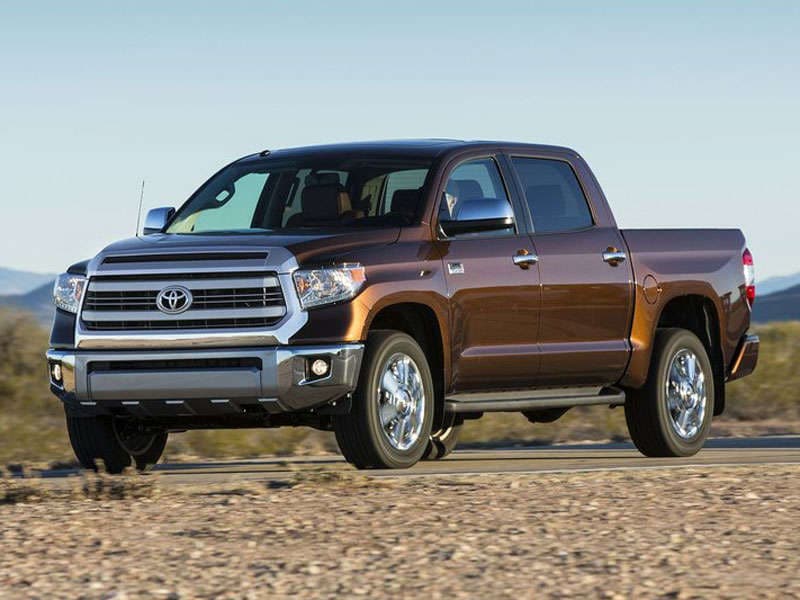 Fuel Economy Key Driver of Change
Perhaps more than anything, fuel economy is driving changes in the truck market. New Corporate Average Fuel Economy (CAFE) standards require trucks to improve their fuel economy by 23% between 2010 and 2016. This mandate is the main reason why diesel engines and turbocharging are getting more popular in pickups.
Ford took the first big step by adding a turbocharged 3.5-liter V-6 engine to the F-150 lineup for the 2011 model year. Proving every bit as capable as a V-8 engine but delivering the best fuel economy of any F-150 engine, the so-called EcoBoost V-6 was an instant hit. Next year, the redesigned 2015 Ford F-150 will be available with a new turbocharged, 2.7-liter EcoBoost V-6 engine, and the truck's aluminum construction will significantly reduce weight while improving fuel economy across the board.
In terms of expanded diesel powertrain offerings, Ram, Nissan, and GM are set to prove the value of diesel in light-duty pickups. According to Chrysler, the initial allocation of new EcoDiesel V-6 engines for the Ram 1500 sold out within days, a positive signal to the industry regarding consumer appetite for such engines. Nissan hopes to capitalize on shifting buyer attitudes about diesel with the next-generation 2016 Titan, and GM intends to offer a diesel engine option for the 2016 Chevy Colorado and GMC Canyon, a year after the debut of the redesigned midsize pickups.
Automatic stop/start technology is another way truck makers plan to boost gas mileage. These systems shut the engine off while the vehicle idles in traffic or at an intersection, automatically re-starting it when the driver lifts his or her foot off of the brake pedal. This type of system is offered today for the Ram 1500 HFE (High Fuel Economy) model, and is planned for the new 2.7-liter EcoBoost V-6 destined for the redesigned 2015 Ford F-150.
Meanwhile, General Motors is using direct fuel injection, variable valve timing, and Active Fuel Management technology to boost gas mileage. Active Fuel Management allows the engine to operate on fewer cylinders under low-load driving conditions, such as when coasting down a hill or cruising on a freeway, in order to help maximize fuel economy. The redesigned 2016 Honda Ridgeline will almost certainly offer a similar technology, as the outgoing model's V-6 engine already featured the company's Variable Cylinder Management system.
Ironically, Toyota isn't a player on the fuel-economy front, and its lineup of V-6 and V-8 engines is among the thirstiest on the market. Certainly, this situation must change prior to 2016, when the new CAFE standards kick in, lest Toyota be forced to buy credits from automakers that meet the new target.
2014 Ram 1500 EcoDiesel engine photo by Christian Wardlaw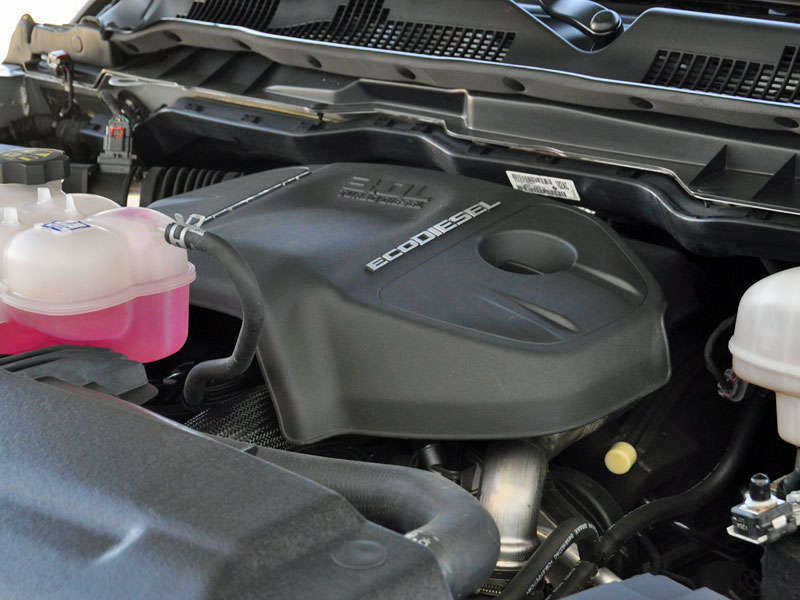 Where is the Truck Market Headed?
Clearly, the pickup truck market is in the midst of significant change. Tough new fuel economy standards are the driving force behind the transformation of the modern pickup truck, and we can expect to see a combination of alternative powertrains, new fuel-saving technologies, and efforts to reduce weight for years into the future. At the same time, trucks are continuing to prove more capable than ever before.
With that in mind, demographic trends are also influencing the market. Younger buyers demanding the latest smartphone connectivity technologies and infotainment systems in more affordable, even smaller, pickup truck packages represent the target for new midsize trucks like the 2015 Chevy Colorado and GMC Canyon. Older, more affluent trucks buyers are looking for more features, more luxury, and more exclusivity, leading to a proliferation of upscale trim levels with lots of glitz and glamour.
If you're sitting on the fence, waiting to see how this all shakes out, we understand. In the meantime, though, you're missing out on some terrific deals.
2015 Ford F-150 photo courtesy of Ford Motor Company
See Autobytel's infographic of our 2014 truck trends.