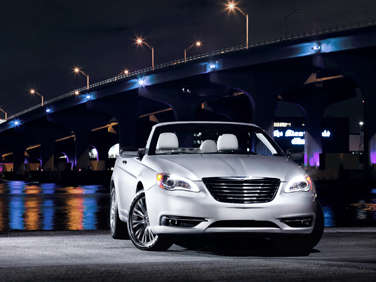 The auto industry has closed the books on another month's worth of sales, and while most of the players reported positive numbers, some—like those for the new Chrysler 200 and its parent company—were clearly more positive than others. In fact, the October sales performances for Chrysler, Hyundai, Kia, Nissan and Volkswagen were all so impressive that they deserve a little special attention. Which they get in the following story.
Chrysler Hitting on All Cylinders
The Chrysler Group led all of the mainstream automakers in terms of sales growth, with a nice jump of 27 percent, and while that kind of performance has been par for the course in recent months, the difference this time around is that the company enjoyed its best performance of the year from the car side of its business.
The Chrysler Group's October car sales outpaced its truck deliveries for just the third time in 2011, with sales of the former moving ahead by 60 percent and those of the latter getting a 17 percent nudge northward. To put this into perspective, Chrysler cars have gained sales at a 13 percent clip on a year-to-date basis, while its trucks have rung up a 27 percent boost during this period.
The oft-criticized 200 was a huge part of the October turnaround, scoring its best volume month of the year (11,205 units), its first month with five digits worth of sales, and a 404 percent year-over-year increase as compared to its predecessor, the Chrysler Sebring. With the Dodge Avenger adding another 7,136 units of October volume—a 145 percent gain—the Chrysler Group's mid-size sedans are becoming highly relevant player in what's still one of the industry's key segments.
Hyundai: Another Month, Another Record
Although Hyundai sales grew by a not-insignificant 22.85 percent in October, the bigger news had to do with the company's sales volume. Hyundai's 52,402 deliveries last month set a new record for October and pushed the automaker's YTD sales mark to 545,316—an all-time full-year record with two full months remaining. The highlight here was the Hyundai Veloster, which found its way to 3,724 new buyers in its first full month on the market.
The all-new Hyundai Elantra continued to find a fair number of new customers as well, with a healthy 37 percent jump that's no doubt also a reflection on the relatively weak months of rivals like the Toyota Corolla and Honda Civic, both of which were in the red in October. Yet even as the automaker continues to trumpet the fuel-efficiency of its 40-mpg Veloster and Elantra, and Hyundai Accent and Hyundai Sonata Hybrid, it's important to note that "truck" sales were a vital part of the automaker's October growth. It was the Hyundai Santa Fe crossover, with a 44 percent sales increase in October and a rather pedestrian EPA line of 20 mpg city/28 mpg highway/23 mpg combined, was the fastest-growing vehicle in the company's lineup.
Optimism Keeps Climbing at Kia
Much like its corporate sibling Hyundai, Kia turned in another record month—its 14th straight—and has already eclipsed its overall 2010 sales mark with two months left in 2010. The difference? While Hyundai showed fairly well-balanced growth, the year-over-year difference in Kia's volume was essentially the result of just one vehicle: The Kia Optima. The striking mid-size sedan struck sales gold in October, with a 428.5 percent leap forward, and although the Kia Rio, Kia Sportage and Kia Soul all featured at least modest growth last month, the company's overall volume gain was 6,491 units—the Optima alone raised its deliveries by 6,986 units during October.
Interestingly, the Optima also may have found a way to raise its profile—and sales—considerably higher in coming years. This is sheer speculation, but let's start with the fact that the Kia Forte Koup took home its first U.S. racing title this year in the Continental Tire Sports Car Challenge. Then, throw in the recent news that the Optima, in its hybrid configuration, will become the official safety car of the United States Touring Car Championship in 2012. Mix thoroughly, and it's not inconceivable that Kia's growing presence in U.S. motorsports could lead to a place on the NASCAR starting grid in 2013 or so. Remember, NASCAR already has floated the idea of adding another foreign auto brand to its stable beyond the Toyota Camry, and a model from an up-and-coming automaker like Kia could easily get the green flag.
Nissan's Older Entries Help Set New Sales Record
Honda and Toyota may be floundering, but one of the traditional Japanese Big Three has managed to turn things around since this spring. The Nissan division proper, Nissan Altima, Nissan Rogue and Nissan Versa—combining the previous-generation hatchback and all-new sedan—all set monthly volume records in October, while the Nissan Sentra, battling a wide range of newcomers in the compact segment, marked a 41.4 percent increase in deliveries for the month. And all of those vehicles save the Versa sedan are still awaiting their first post-meltdown redesign.
Further, as I've mentioned on occasion, Nissan owns perhaps the best-positioned truck lineup of any of the non-Detroit automakers, with a wide-ish mix of both body-on-frame trucks and unibody crossovers. It's true that Nissan hasn't been able to leverage that advantage too far as regards volume, trailing GM, Ford, Chrysler, Toyota and Honda in terms of absolute numbers of non-cars sold in 2011, but looking solely at the top six automakers, Nissan's non-car growth rate trails only that of Chrysler so far this year.
The automaker also happens to be the country's EV sales leader, thanks to the Nissan LEAF, and that still counts for something.
VW Passat Is Another Breakthrough
It looks like the Volkswagen strategy of "dumbing down" its core products for U.S. buyers was a smart move. VW, too, surpassed its entire 2010 sales volume by the end of October, and the success of the all-new Volkswagen Jetta has been the difference-maker. The Jetta has firmly established itself as a popular choice in the crowded compact-sedan segment, trailing just the Honda Civic, Toyota Corolla and Chevy Cruze in October and YTD sales. And with more than 150,000 units sold through the end of last month, the Jetta (and Jetta SportWagen) have been responsible for nearly 57 percent of VW's total sales this year.
That's no fluke, either. The freshly Americanized VW Passat had its first complete month on the market in October and produced its highest volume in nearly six years. The Passat's 5,040 sales last month trounced those of the Mazda6 and, for some context, also topped the total put up by the Kia Optima in its first full month on sale.
A next logical step for Volkswagen would be the introduction of an American-style crossover, and that could happen as soon as November 16, when VW will be launching two all-new models at the Los Angeles International Auto Show. One is expected to be a three-row CUV—the other, a convertible version of the recently redesigned VW Beetle—and both should keep Volkswagen sales moving in the right direction.