With the redesigned Jeep Grand Cherokee already a smash hit, the brand is now preparing to up the ante with the return of an SRT8 version for the 2012 model year. By all accounts, this should be one serious piece of machinery, too, boasting a new 6.4-liter HEMI that's good for 470 hp and 465 lb.-ft. of torque, along with the ability to haul itself from 0-60 in 4.8 seconds—and go in the other direction in just 116 feet. If you prefer to measure these sorts of things by the quarter mile, the Jeep Grand Cherokee SRT8 will be able to cover that distance in the mid-13's. The top speed will "only" be 160 mph, but these kinds of numbers would be quite impressive for most vehicles, let alone one that will weigh about 4,500 lbs.
I realize that, aside from some surface similarities—e.g., an affinity for four-wheel-drive and very long names—it doesn't seem like there's a lot in common between the new hi-po Jeep and something like the Subaru Impreza WRX STI. But that's actually my point here, and it's one that may end up pricking the Chrysler Group's momentum bubble in the very near future.
Keeping the SRT8 Family STR8
Let's start by noting that the Grand Cherokee SRT8 is just part of a fearsome foursome that is helping to reboot the Chrysler Group's Street and Racing Technology team as a standalone brand. Also in the mix are the Dodge Challenger SRT8, Dodge Charger SRT8 and Chrysler 300 SRT8, and all use the same basic recipe featuring the same key ingredient: That new HEMI engine.
At first glance, this is a typical monster V-8, the kind that inspired Dodge to drop the whole metric business on the Challenger, which is technically the Dodge Challenger 392 SRT8—as in "392 cubic inches." The engine also has some newfangled advances like an active intake manifold and high-lift camshaft with cam phasing, and, naturally, the latest Chrysler Group Fuel Saver Technology. In fact, thanks to this aggressive cylinder-deactivation system, the Challenger SRT8—the only new SRT vehicle currently rated by the EPA—is capable of 14 mpg city/23 mpg highway/17 mpg combined.
To put that into context, a Ford Shelby GT500 has a supercharged 550 hp and 510 lb.-ft. of torque to go with its EPA line of 15/23/17, while a Chevy Camaro SS, with 426 hp and 420 lb.-ft. of torque under the hood, reaches 16/24/19. If we finally start working the Subie into the discussion, we see that brand's pocket rocket turns up marks of 17/23/19 with its turbocharged 305 hp/290 lb.-ft. of torque.
This shows the Challenger SRT8 as doing a pretty fair job in terms of fuel efficiency—relatively speaking. But I've got a feeling it's going to get real ugly for the Charger and 300, and downright hideous for the Jeep.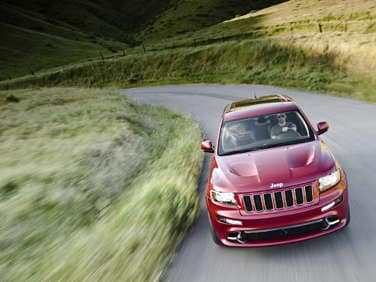 An Unlucky 13?
I mentioned that the Challenger SRT8 was the only new-gen SRT vehicle yet to have its EPA numbers published, but the Jeep press materials do provide some hints of what's to come, including a mention of a "13 percent improvement in highway fuel efficiency." This, as I've confirmed, refers to an improvement over the 2010 Jeep Grand Cherokee SRT8's 16 mpg figure, bringing the bottom line up to 18 mpg highway (again, as confirmed with Chrysler). Now, no one has been forthcoming with city/combined numbers on the 2012 model, but even giving Jeep the benefit of the doubt and an equal 13 percent or so improvement in the other facets of the EPA cycle—which isn't likely or it would have been touted by the automaker's marketing mavens—and rounding up the numbers as well, the bottom line works out to be roughly 14 mpg city/18 mpg highway/15 mpg combined.
Those numbers aren't the worst on a mainstream product—a Ford F-150 Raptor gets all of 11/14/12—but at least Ford can play the green card with three vehicles capable of at least 40 mpg—the Ford Fusion hybrid, Ford Fiesta and Ford Focus. And the Blue Oval will soon be rolling out its first electric and plug-in hybrid vehicles, too. The only Chrysler vehicle with any significant fuel-efficiency cred is the FIAT 500, which attains an EPA line of 30/38/33 with a manual transmission and a really-not-all-that-great-considering-its-size 27/34/30 with an automatic.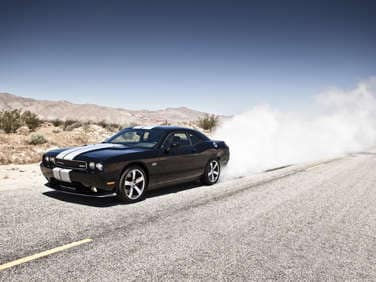 The Subaru Solution
So, on the one hand, you've got the Chrysler Group looking at today's industry environment and deciding it's a good time to use its limited resources to launch a performance brand that emphasizes traditional American-style power, right down to the use of big-time V-8 engines that deliver traditional American-style EPA numbers.
Then you've got Subaru facing the same environment, with the same concerns over balancing fuel-efficiency and performance in its own enthusiast brand (STI), and you know what that company is doing? According to a recent report in Motor Trend, the answer is extreme downsizing. The money quote: "The [new] car's body is rumored to be a little bigger than a Toyota Yaris."
I know the party line at Subaru is that this is all about pure performance, but I don't think it's a coincidence that a smaller, lighter WRX STI will no doubt also offer better fuel efficiency, in much the same way the smaller next-gen Mitsubishi Lancer Evolution will.
Hey, I like the sound and the fury of a HEMI V-8 as much as the next guy, but the problem is that both of us are paying nearly $4 per gallon of gas—and it doesn't seem as if the Chrysler Group realizes that.