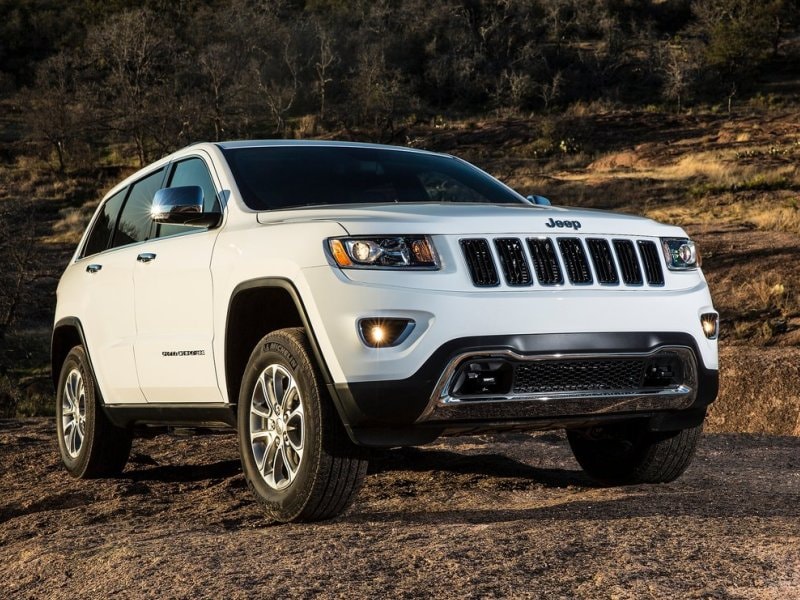 2015 Jeep Grand Cherokee ・ Photo by Jeep
If you know you want to be able to answer 'yes!' to the question 'that thing got a HEMI?' but you don't know which vehicle you want it in, we're here to help you with your decision. The current generation of HEMI engines is the third, ranges in displacement from 5.7 litres to 6.4 litres, and generates anywhere from 360 to 707 horsepower. Available in sedans, performance cars, SUVs, and trucks, the engines are adaptable to just about any market niche that requires an engine with good horsepower and torque characteristics.
Quickest Acceleration / 1/4 Mile
If you are looking for the HEMI powered vehicle with the best acceleration, the Dodge Challenger SRT Hellcat is your car. Powered by a supercharged 6.2 liter HEMI, it's capable of a 0-60 mph sprint in the low 3 second range (and we've even seen some claims of a 0-60 time of under 3 seconds). If running down the 1/4 mile is more your thing, it can complete the run in 10.8 seconds at 126 mph when riding on street legal drag radials (and 11.2 seconds at 125 mph with its stock tires). If acceleration is the name of the game, then the Challenger Hellcat is ready to take care of business.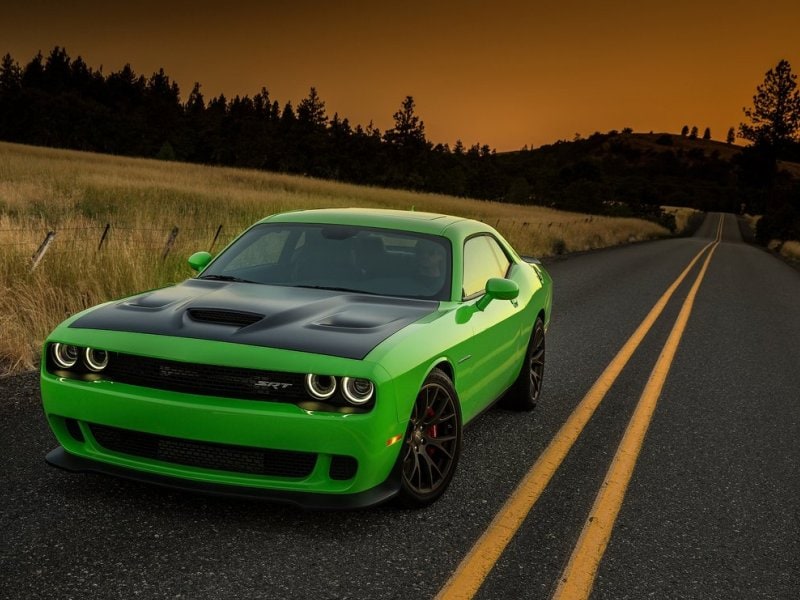 Highest Top Speed
While it might be a bit slower accelerating, the Dodge Charger SRT Hellcat is capable of higher top speeds than its Challenger brother, despite sharing the same 707 horsepower supercharged 6.2 liter HEMI. Topping out at 204 mph (versus the Challenger Hellcat's top speed of 'only' 199 mph), the Charger Hellcat is the fastest mass-production sedan ever built.xxx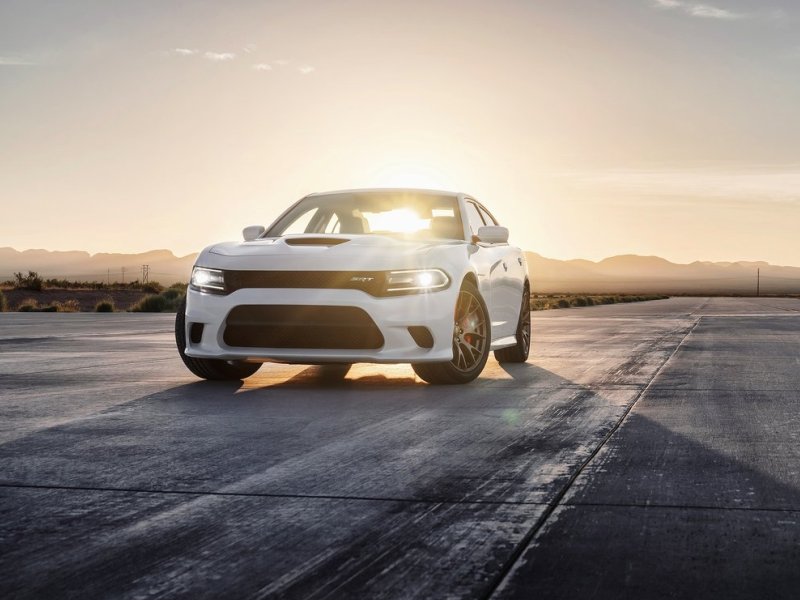 Best RWD Fuel Economy
If you're looking for the HEMI powered vehicle with the best fuel economy, you have a choice between the Chrysler 300, Dodge Challenger, and Dodge Charger siblings. Each of them share a 5.7 liter HEMI (though with differing power levels, 363 HP in the HEMI powered 300, 370 HP in the Charger, and 375 HP in the Challenger), and they are all rated at 16 miles per gallon in the city and 25 miles per gallon on the highway.
If you're looking for even better fuel economy, consider the 3.6 liter Pentastar V6. Depending on the vehicle, it makes between 292 and 305 horsepower, and is rated at 19 miles per gallon in the city and 31 miles per gallon on the highway in the 300 and Charger when paired with an automatic transmission.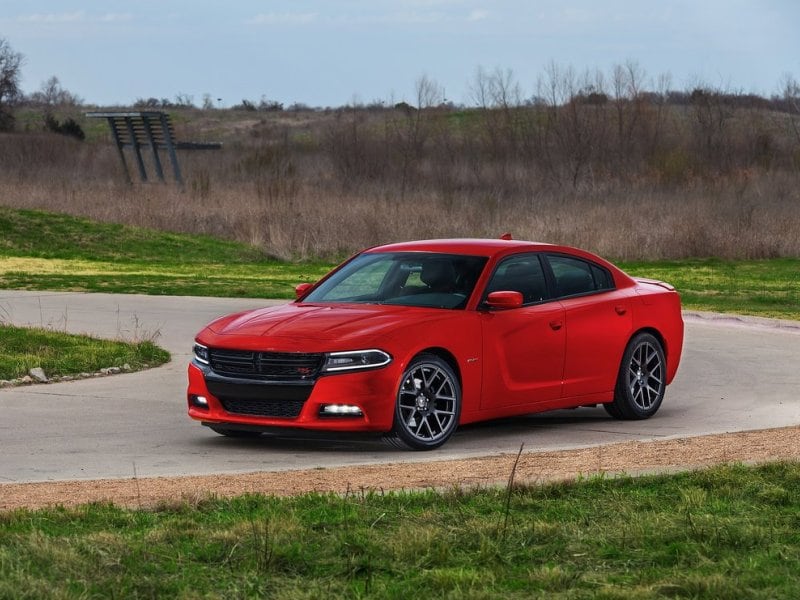 Photo by FCA Media
Best AWD/4WD Fuel Economy
If you're in the market for a HEMI powered vehicle that drives all four wheels, but are concerned with fuel economy, your best choices are the RAM 1500 4WD for city driving and the Durango AWD for highway driving. The RAM 1500 4WD is rated at an impressive (for a V8 powered 4x4 pickup) 15 miles per gallon in the city and 21 miles per gallon on the highway, while the Durango AWD is rated at 14 miles per gallon in the city and 22 miles per gallon on the highway.
If you're looking for even better fuel economy, or an AWD sedan, your only choice is to step down to the Pentastar V6. In the AWD 300 and Charger, the 3.6 liter V6 is rated at 18 miles per gallon city, and 27 miles per gallon on the highway. In the Durango the Pentastar is rated at 17 mpg city and 24 mpg highway, while in the RAM 1500 4WD it's rated at 16 mpg city and 23 mpg highway.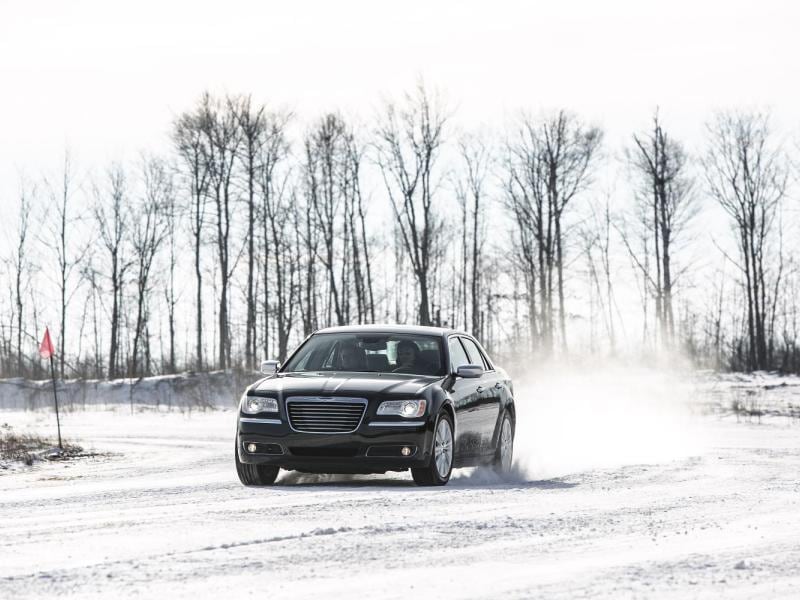 Least Expensive
The cheapest way to get into a HEMI powered vehicle is to buy a RAM 1500 Tradesman 4x2. When equipped with the Regular Cab and a 6'4" box, 3.21 gears, a 5.7 liter HEMI engine, downgrade to the 6-speed automatic transmission, and delete the spray-in bedliner, the MSRP is only $24,395 (or $61.76 per horsepower). Sure, you get a truck with a heavy duty vinyl 40/20/40 split bench seat and steel wheels, but you still get all 395 horsepower and 410 lb-ft of HEMI power.
If you're looking for a car, the cheapest way to get into a HEMI is the Dodge Challenger R/T, with its MSRP of $31,495.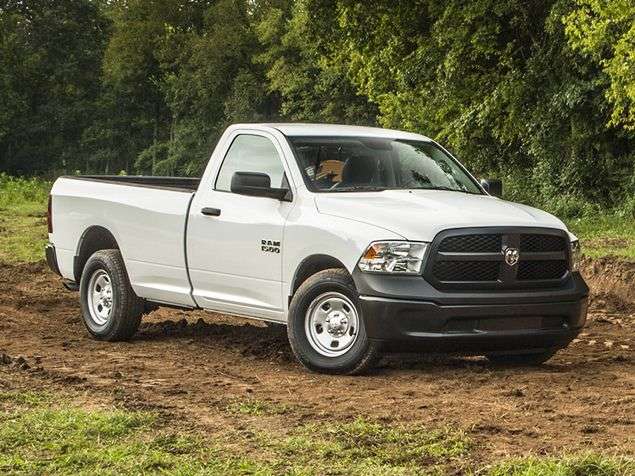 Most Capable Off Road
Is there any question? The only Jeep currently available with a HEMI, the Grand Cherokee is the off-road master of the bunch, and is most capable (and fully trail-rated) when ordered in Overland 4x4 trim with the Off-Road Adventure II package.
In this configuration you get an eight-speed automatic transmission and the Quadra-Drive II system with an Electronic Limited-Slip Differential (ELSD), allowing the transfer of up to 100% of torque to the wheel(s) where it is needed. The transmission and transfer case also combines to provide a crawl ratio of 44.1:1, while the Selec-Terrain traction control system provides five modes for different road conditions. The Quadra-Lift system allows you to raise and lower the vehicle, providing up to 10.8 inches of ground clearance, or lowering it by an inch to ease entry and exit. Selec-Speed Control completes the package by including both Hill Ascent Control and Hill Descent Control, as well as Hill Start Assist.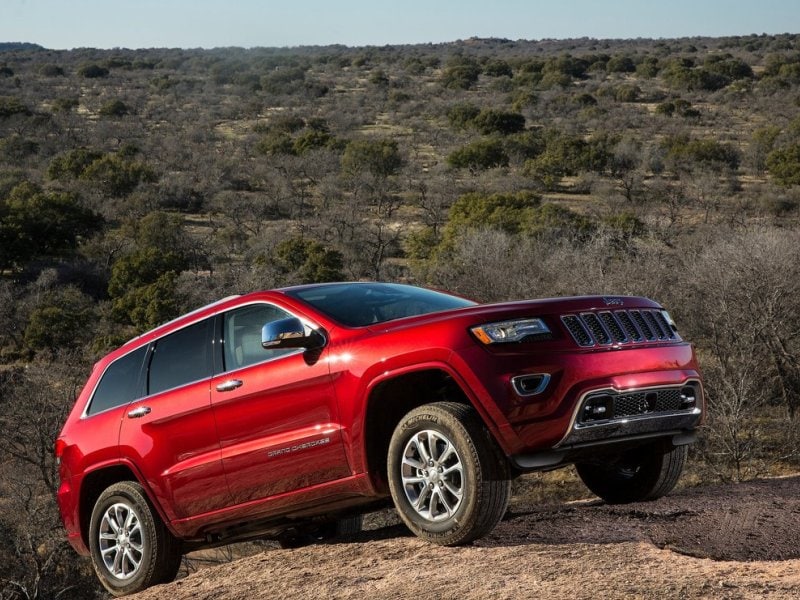 Most Luxurious
If you are looking for a fully loaded and luxurious HEMI powered vehicle, the 300C Platinum RWD is the ride for you. Standard features include remote proximity keyless entry, keyless go, an auto-dimming rearview mirror, dual zone climate control, a ParkView back-up camera, a heated steering wheel, heated and ventilated front seats, heated rear seats, heated and cooled front console cup holders, GPS navigation, and even a power rear sunshade.
Optional features include the Harman Kardon Audio Group, which includes 19 speakers (including a subwoofer), but which deletes the power rear sunshade. The Light Group includes adaptive bi-xenon HID headlamps and an automatic headlamp leveling system. SafetyTec 1 includes blind spot and cross path detection, turn signals and courtesy lamps mounted in the side mirrors, and the ParkSense Front / Rear Park Assist System. SafetyTec 2 comes with adaptive cruise control, advanced brake assist, lane departure warning, rain sensitive wipers, and more.
If you need a vehicle that is both luxurious and capable of hauling more, consider stepping up to a RAM truck with the Laramie Limited trim, or a Jeep Grand Cherokee Summit, both of which are surprisingly luxurious.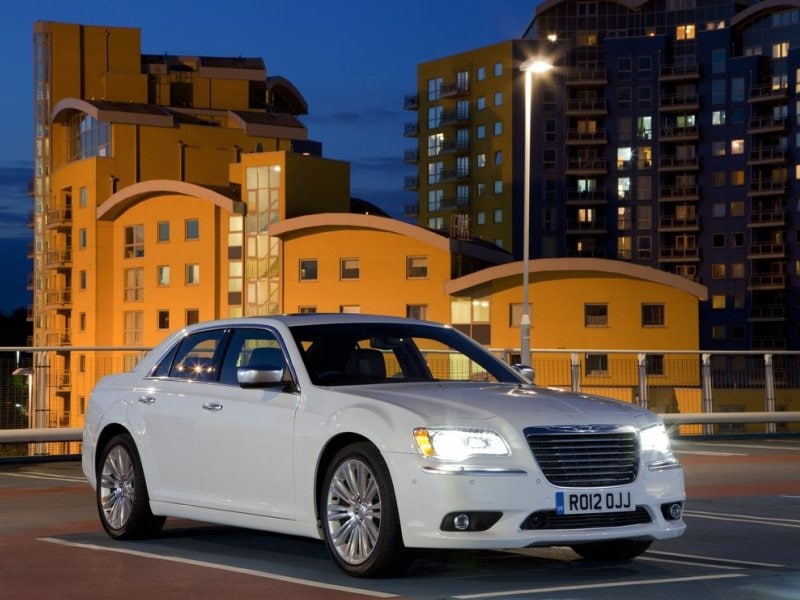 Best For Towing
If you want to tow, you are going to want a truck. For the most towing capacity, you want a Regular Cab RAM 4500 Chassis Cab Dually 4x2, with a 6.4 liter HEMI, 144.5" wheelbase, Aisin automatic transmission, and 4.88 gears. With this configuration you'll be able to tow up to 19,000 lbs. If you want to tow more than that, you'll need to upgrade to the Cummins diesel engine.
The Regular Cab RAM 2500 SLT 4x2 with an 8' box, 4.10 gears, and the 6.4 liter HEMI is capable of towing up to 17,750 lbs, while the Regular Cab RAM 1500 4x2 with the 8' box, 3.92 gears, and 5.7 liter HEMI is able to pull 10,700 lbs.
The two-wheel drive HEMI powered Jeep Grand Cherokee and Dodge Durango are capable of towing 7,400 lbs, while all-wheel and four-wheel drive models are capable of towing 7,200 lbs. If you only do occasional light towing, the 300, Challenger, and Charger are capable of towing 1,000 pounds when equipped with the 5.7 liter HEMI. Cars equipped with the 6.4 liter or supercharged 6.2 liter HEMIs are not recommended for towing.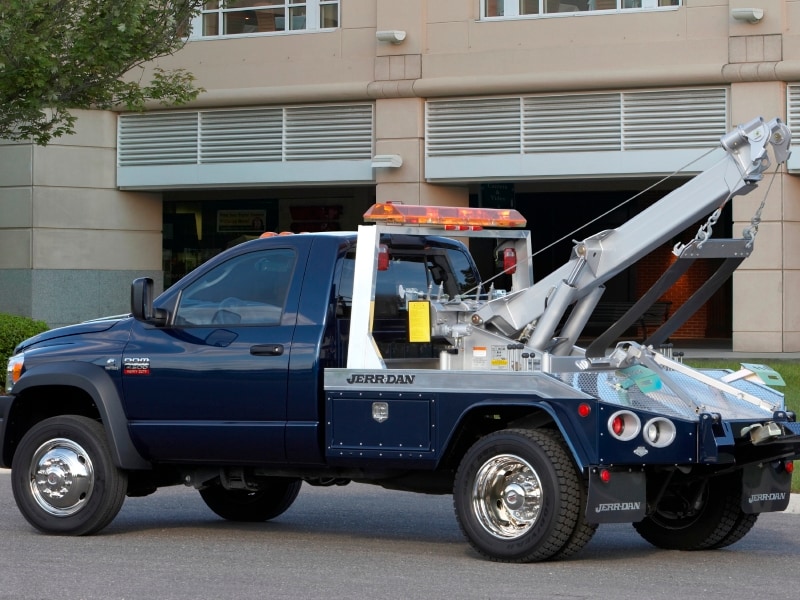 Max Payload
If hauling is more your bailiwick, the truck you want is the RAM 5500 Chassis Cab Dually. When the 4x2 Regular Cab model with a 168.5" wheelbase and 4.88 gears is equipped with the 6.4 liter HEMI, it can carry 12,482 lbs.
The 4x2 RAM 3500 Tradesman can haul 4,510 lbs in its 8' box when equipped with a Crew Cab, 3.73 gears, and 6.4 liter HEMI. The 4x2 RAM 1500 with a Quad Cab, and 6'4" box can carry 1,781 lbs when powered by the 5.7 liter version of the HEMI.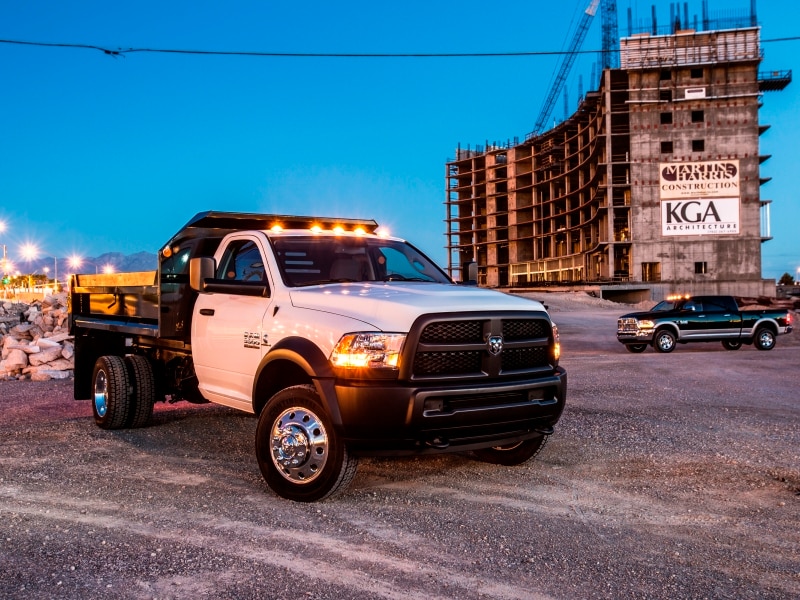 Most Cargo Space
If you need a vehicle that can hold 7 people, or you need as much enclosed space as possible to carry cargo, the Dodge Durango is the HEMI-powered vehicle for you. While it isn't the most spacious vehicle in its class, the truck offers 17.2 cubic feet of cargo space behind the third row of seats. If you only need to carry 5 passengers, you can fold the rear row for 47.7 cubic feet for cargo space. Need even more space? Fold down the second row of seats as well, and you'll be limited to 2 people, but cargo space increases to 84.5 cubic feet.
If you need even more cargo room, you'll need to upgrade to a pickup with a bed cap, or alternatively you could invest in a trailer.