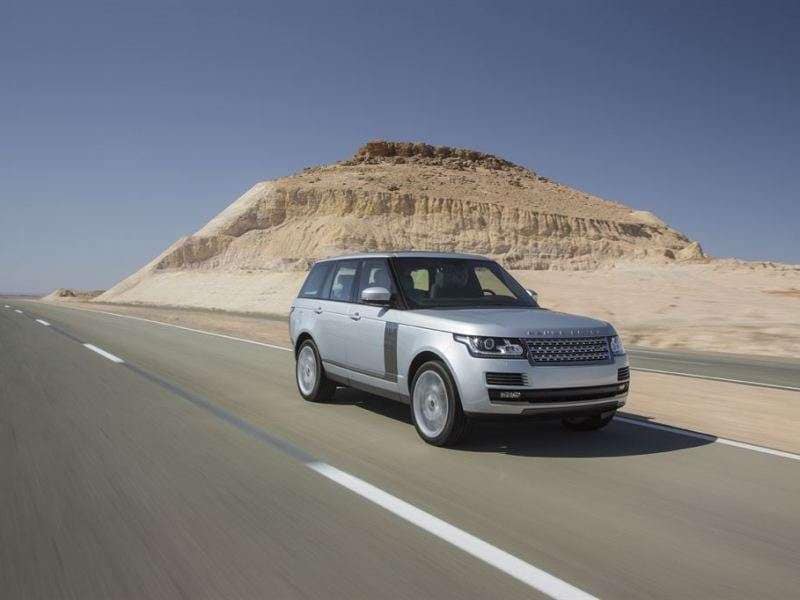 What's a Mother to do? Since there are only really five minivans available on the market now that Chrysler/Dodge is pulling out of the game, features and pricing options are more limited than ever.
So in honor of Mothers Day, we put together a list of family haulers that do not include minivans for her consideration. With minivans out of the mix, there is still a need for safety, cargo space and luxurious amenities when it comes to the family's main ride.
Budget plays a leading role in choosing the right car, so we included some affordable, but safe cars along with a few top-of-the-line luxury people movers. And just to give Mom a fighting chance, we added some less-mainstream outliers that just might be the perfect fit for the whole family.
Budget Minded, but Safe: 2014 Kia Soul
The Kia Soul is well ahead of its "boxy" competitors - the Nissan cube and the Scion xB - in sales and popularity. Although it's marketed to young hipsters, a budget-conscious Mom with no more than two kids and their gear may find it ample and easy to park with its compact footprint, but spacious interior. The Soul got a substantial redesign for the 2014 model year, making it even more family-friendly. The changes are most noticeable on the inside. Throughout the interior, you'll find softer surfaces, more refined electronics and nicely placed speakers on either end of the well-designed dash. The car comes standard with Bluetooth, satellite radio, USB, cruise control and auxiliary jacks for smartphones.
Fuel economy - 27/30 mpg city/highway - is understandably lower than some of the compact cars the Soul competes against and that has much to do with its lack of aerodynamics. But comparing it to large SUV, a family can save nearly 20% at the pump and the trade off is in its increased cargo space. With a five-star safety rating from the NHTSA, dual advanced front and front seat-mounted side airbags and full-length side curtain airbags, the 2014 Kia Soul, which starts at $15,495, is a both safe and affordable for families on a budget.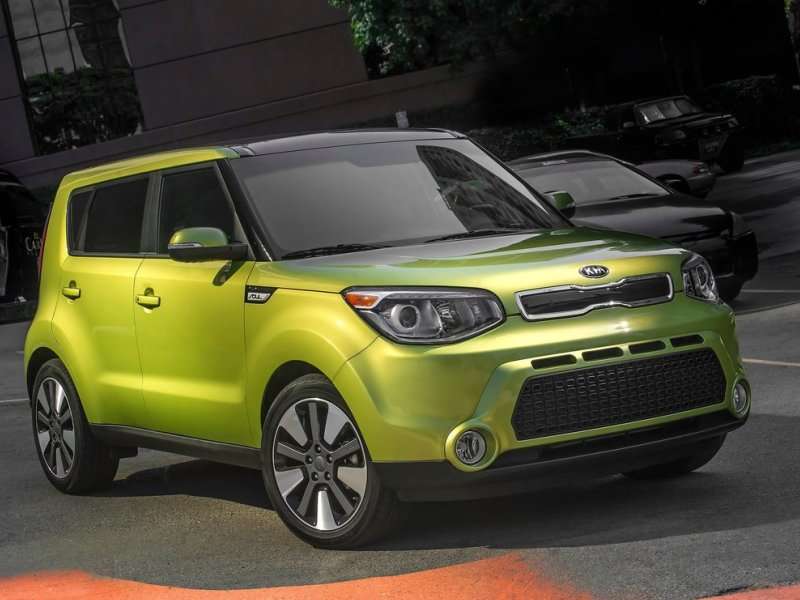 Budget Minded, but Safe: 2015 Subaru Forester
Subaru completely rebuilt the Forester in 2014, and with that model year came improved fuel economy of 24/32 mpg city/highway, structural and chassis enhancements and advanced safety features. As is the case for all Subaru models, all-wheel drive comes as a standard feature and Subi has sweetened the deal on its 2015 model by adding a standard rearview camera. Those features, along with its excellent resale value, make the base price of $23,045 both competitive and impressive.
True, this is a compact SUV with only two rows, but for a smaller family, the safety and excellent gas mileage (for its class) makes this Subaru one the family can easily learn to love. One stand-out safety feature is the Subaru Eyesight Drive Assist System which bundles adaptive cruise control, pre-collision braking and lane departure warning together to cover all bases.
Subaru engineered the interior to be family-friendly too. The rear seats are easy to get access to by busy Moms thanks to an expanded rear door opening and LATCH child seat anchors placed solidly in front. Back seat cup holders come down from the center at a medium-height level for kids to have that all-important access to their sippy cups.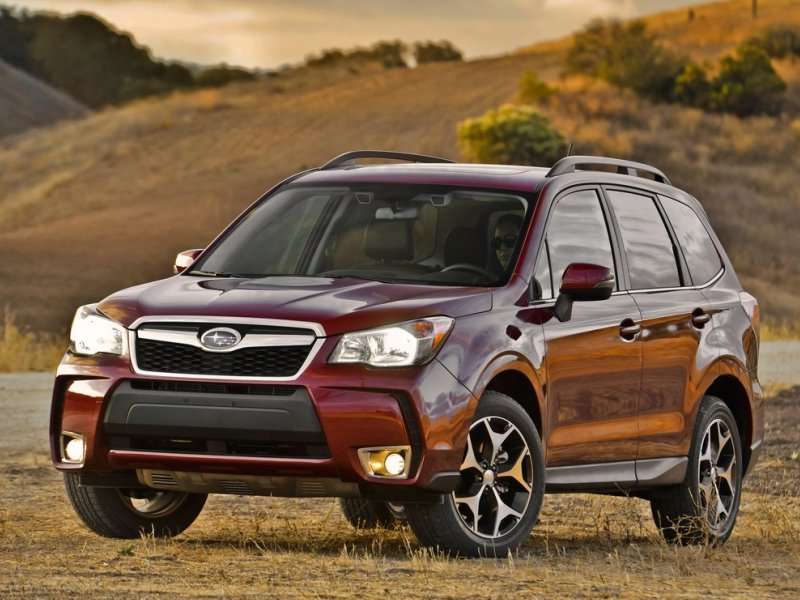 Budget Minded, but Safe: 2014 Hyundai Santa Fe
When you need room for seven humans and don't want to shop used, the Hyundai Santa Fe is an excellent value for the money and you are guaranteed 10 years of maintenance on the transmission (powertrain) to further seal the deal. If you look closely at the pricing against other mid-size crossovers, you'll find that, for a CUV with three rows, the Santa Fe competes by providing more standard features at the low end of the trim, including third row seating, heated front seats and a rearview camera.  
The Santa Fe has plenty of power to schlep the kids, their friends and all their gear around town, but not so much that you can tow a boat. A 3.3-liter V6 with 290 horsepower with 2525 lb-ft or torque gets the job done and that's helped by the fact that Hyundai made the vehicle lighter than most of its competition. 
Family friendly features include a Blue Link telematics system with a parent-centric app that sends a text to parents when the car is driven over a preset speed, past a curfew time or outside the set perimeter. Unfortunately, Santa Fe does not include back seat entertainment systems, so the kids will just have to bring their iPads along.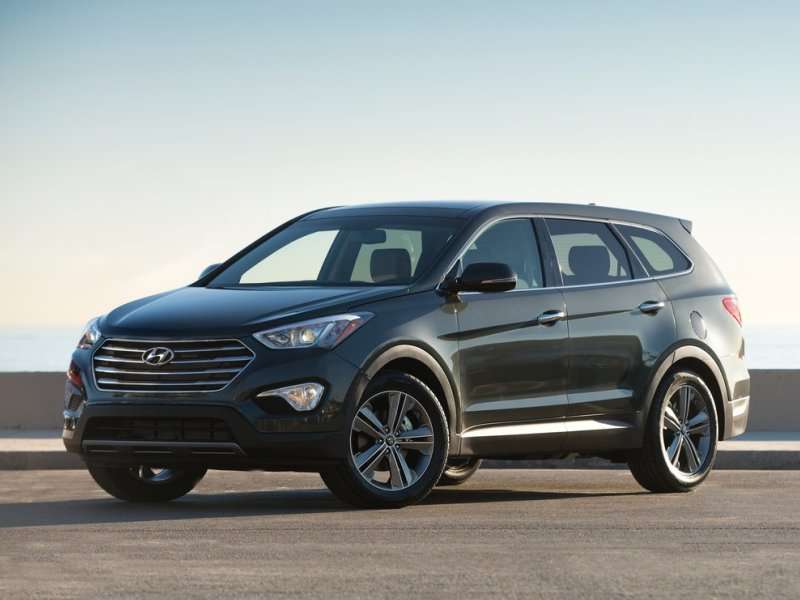 Thinking Outside the Box: 2014 Ford Flex
The 2014 Ford Flex makes thinking outside the box possible by thinking of a bigger box. The design of the Ford Flex is truly the anti-minivan, but it provides some of the desirable space and accessibility that tall SUVs just can't match. Many refer to the Flex as a reinterpretation of the classic family wagon and that's because this car is a large car, rather than a tall SUV. It's low to the ground and drives effortlessly, making it easy to maneuver in parking lots. 
Families will love the available built-in refrigerator that sits between two captain's chairs in the second row. It can hold seven 12-ounce cans and gets as low as 23 degrees Fahrenheit. You also get the SYNC communications system, complete with voice-activation for music and phone calls and it can even read text messages aloud as they come in. 
Flex is offered with two different engines. A 3.5-liter V6 that gets 287 horsepower and has an EPA city/highway fuel economy of 18/25 mpg on the FWD model and a 3.5-liter twin-turbocharged 46 with 365 horsepower and 16/23 city/highway mpg. The Flex starts at just under $32,000, so it's right up there with other large vehicles.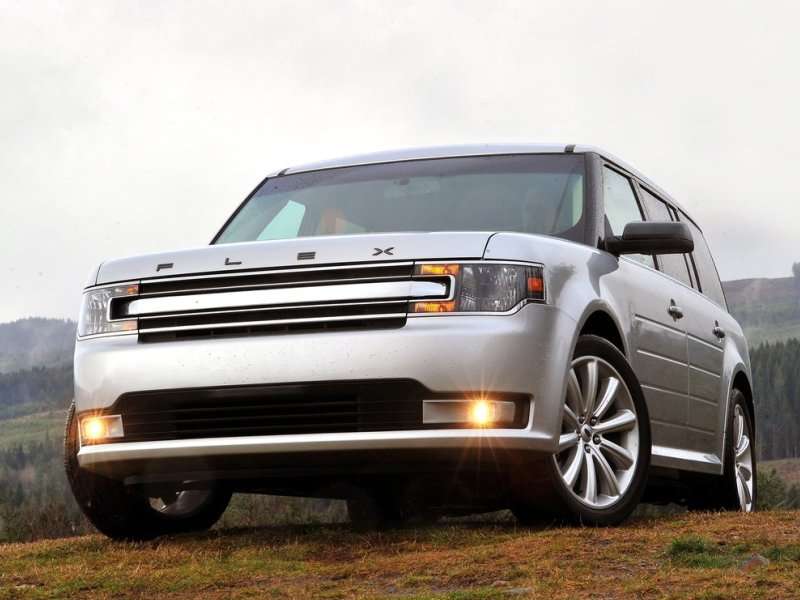 Thinking Outside the Box: 2014 Acura TSX Sport Wagon
When Mom isn't willing to give up on pure driving enjoyment, perhaps the cure is a bad ass looking wagon that's semi-reasonably priced. The 2014 Acura Sport Wagon. Why a wagon? Wagons combine the cargo of an SUV with the driving enjoyment and fuel economy of a sedan and they have a certain contrarian vibe that many automotive savvy fans love. Acura has slotted this wagon into a price range that is lower than its luxury rivals and not so high that it can't be compared to mass-market products as well.
Although Acura TSX Sport Wagon is offered only with the 2.4-liter 4 cylinder engine that generates 201 horsepower, it is surprisingly quick - thus the sporty moniker. And this wagon can rev up to 7,000 rpm at redline, but with smooth shifting, so the kids won't toss their Cheerios in the back seat.
As for cargo, there's plenty - 31'5 cubic ft. behind the second row and 66.2 cubic ft. with the rear seats folded. With its low and flat load floor, getting the family dog to jump into the back is effortless. And a clever shallow bin can be found under the floor to hide the picnic lunch from Fido.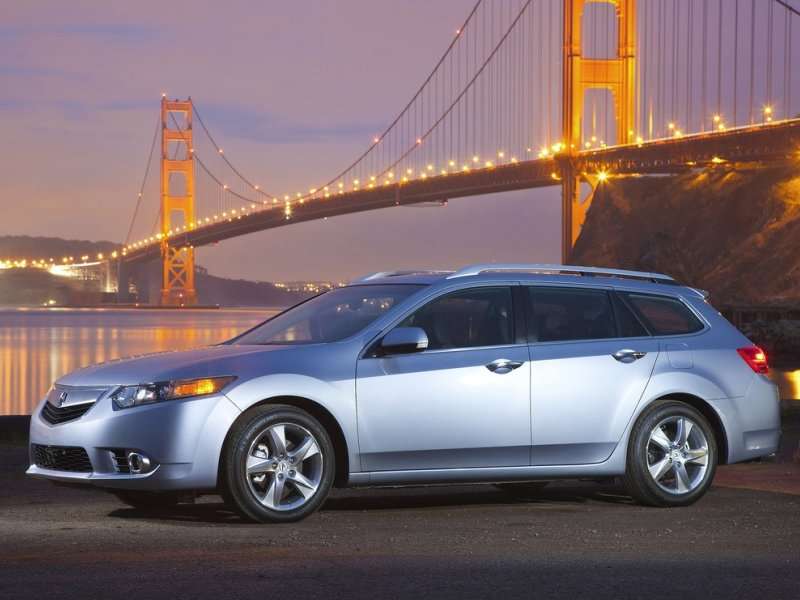 Thinking Outside the Box: 2015 Volvo XC70 Wagon
Safety first is Volvo's moniker and as far as a potential rollover is concerned, wagons are much safer than higher-profile vans and SUVs. With the available safety features found in the 2015 Volvo XC70, you and your family can highly-increase your odds of avoiding or surviving an accident. It will also keep the cyclists and pedestrians you encounter safer with advanced software detection and auto brake technology that scans the area ahead to stop the car if it is about to make contact with someone who steps or rides out in front of the car.
More safety features like Active High Beam Control automatically switches between high and low beams and a Road Sign reader tells you if you have exceeded the speed limit posted.
All this safety is packaged in a wagon that has quick and agile handling, a powerful yet efficient 4-cylinder engine matched with and 8-speed transmission, 240 horsepower (unless you choose the 300 horsepower turbocharged Inline-6) and standard all-wheel drive. And what self-respecting Mom doesn't want to be seen in a Volvo wagon?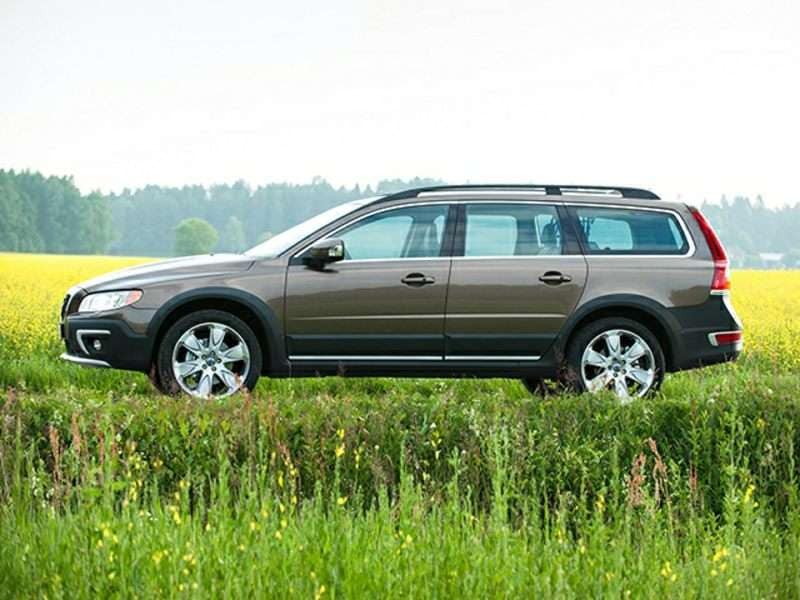 The Ultimate Family Ride: 2014 Acura MDX
If Acura hasn't gotten your attention in years past, it might be because that was before Acura made major improvements to its MDX midsize SUV which has finally come upscale to the level of other luxury brands like Audi, BMW and Mercedes-Benz. Unlike its competitors, the MDX offers more luxury bang for the buck, with the longest list of standard equipment in the segment.
Keyless access and start, backup camera, real leather and heated seats, 3-zone climate control and a power lift gate are included on this list along with a "One Touch Walk-in" button for easy third row access. The top trims takes luxury seriously with advanced tech and entertainment packages that include premium navigation and audio, rear 9-inch screen for DVD playing, 2 wireless headsets and even heated rear seats.
Safety and luxury go together and the MDX is a fortress of family safety. Improved body structure for crashes, seven airbags including a driver's side kneed bag, easy to reach LATCH anchors and tethers for child seats. The list of electronic safety alerts includes blind spot, forward collision, lane departure and real-time traffic warnings.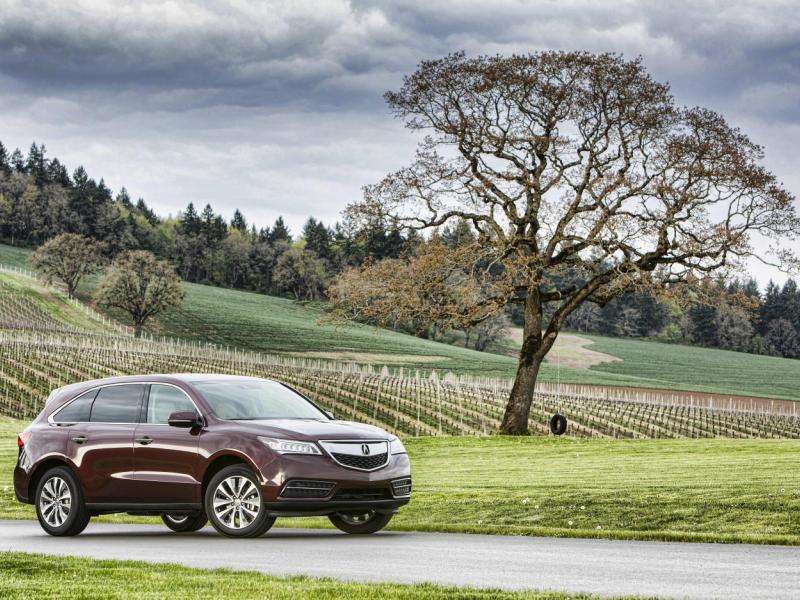 The Ultimate Family Ride: 2014 Land Rover Range Rover
Putting aside budgetary constraints, the ultimate family car dream can easily come true via the classic 2014 Land Rover Range Rover. Who knows? Perhaps your family likes to take a few vacations off the beaten road. If so, you will have paid for the best 4-wheel machine money can buy. On the other hand, if you want a vehicle that is tough as nails on the outside and ultra luxurious on the inside, nothing compares with the Range Rover. 
Ranger Rover has undergone a huge reduction in weight in recent years and added advanced terrain response system that makes driving on any road feel effortless from inside the cabin. And what a cabin! Nearly every surface is padded with leather or beautiful, bright trim. The list of technology, comfort and safety features is staggering, including an over-the-top audio system, four-zone climate control and sophisticated mood lighting. If you're going to spend time away from home much, a Range Rover is the place to spend it.
Spending is mandatory, as a base model starts at $84.225 and climbs to $199,530 for the Autobiography Black Long Wheelbase model. But, Mom can dream, can't she? Hey, she'll save on gas because the Range Rover is 700 lbs. lighter due to its all-aluminum body, the 3.0-liter supercharged V6 with Intelligent Stop/Start Technology gets an average of 23 mpg on the highway. But that's just a little too much reality when this is but a dream, right?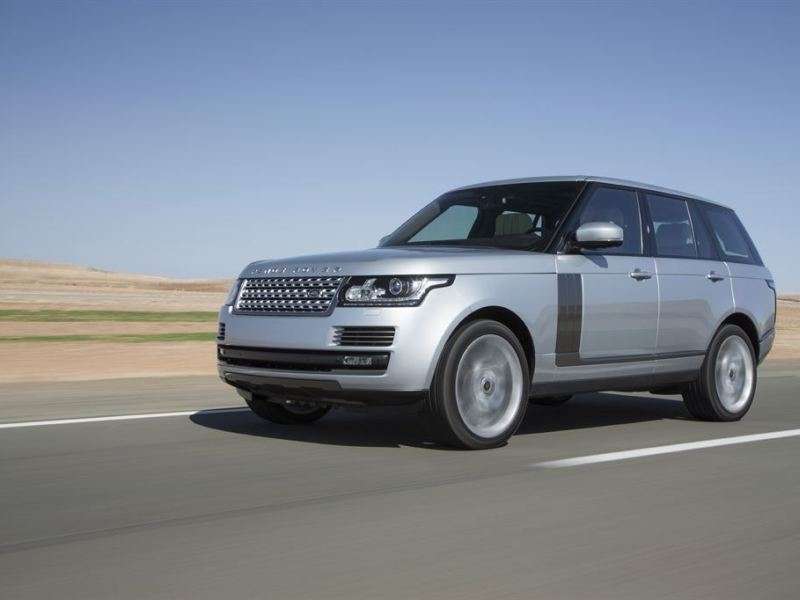 The Ultimate Family Ride: 2015 Cadillac Escalade ESV
Cadillac has abandoned its plan to attract a "gangsta" image for the new Escalade and moved its flagship vehicle more toward young, wealthy families - specifically Moms who "want it all." And Cadillac says the Moms traditionally go for the long wheelbase version -- the Cadillac Escalade ESV -- which adds 20 inches to the wheelbase and 10 inches to the third row seats. The family will be the talk of the town when the neighbors get a load of the stack of LED headlights and taillights that resemble a runway at LAX. Not to mention the big grille that makes a dramatic entrance with Hummer-like dominance.
Big is the prevailing word when describing the Cadillac Escalade and any size family large family would be in pure luxury in this mean machine. It's finally caught up with the many changes Cadillac is making across its product line, but the most important change is that it's a big truck that drives like a regular car. This is courtesy of what Cadillac calls Magnetic Ride control and a newly engineered rear track which widens the SUV's stance by nearly two inches. With its active fuel management system that allows the vehicle to run on just four of its eight cylinders, fuel economy is not so bad for such a huge SUV - 14 mpg in the city and 21 on the highway.
Every Escalade comes equipped with heated and cooled seats, heated steering wheel, a 16-speaker Bose Centerpoint surround sound system and a 12.3-inch instrument cluster screen. Options abound with heads-up display, adaptive cruise control and a rear-seat entertainment system with a nine-inch screen that uses a Blu-Ray player. And with the highly upgraded leathers and woods inside, this Cadillac is something a new generation of families will once again equate with success.