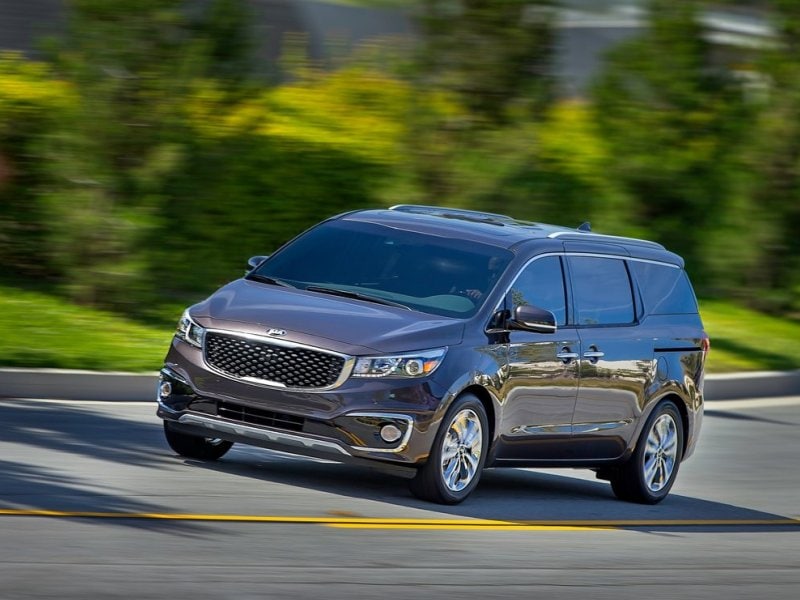 2015 kia sedona
You need a minivan, but you want to sample the finer things in life at the same time.  Seem like Mission: Impossible?  Fortunately it's not anymore thanks to remarkable strides that have been made in producing comfortable minivans that are more than just the traditional 'box on wheels' of days gone by.  In fact, you can spend a startling amount of cash on a well-equipped minivan that features luxury equipment and an interior finish that wouldn't look out of place on a premium sedan, and don't worry - these minivans don't scrimp on any of the practicality that make them such popular family rides.
Let's take a quick look a six of the most comfortable minivans on the market and see what they have to offer the discerning shopper.
01. 2015 Toyota Sienna Limited
The 2015 Toyota Sienna Limited comes with a host of high-tech goodies and comfort features intended to make the daily commute as painless as possible.  Starting on the outside the Toyota Sienna features fog lights, LED running lights, a 'SuperChrome' grille surround, heated mirrors, a moonroof, and dual power sliding doors.  The passenger compartment provides three zones of automatic climate control, the Entune infotainment interface which also offers a touchscreen navigation system and Bluetooth connectivity (including a suite of Internet-enabled apps), a unique microphone system that makes it easier for the driver to address those sitting in the second and third rows, and seven passenger seating with special leather-trimmed loungers sitting just behind the driver's buckets and leather hides for the final row as well.  Keyless entry and ignition as well as full power equipment are also along for the ride. 
On the safety side, the Sienna Limited boasts the Safety Connect telematics system, along with standard parking assistance, and a blind spot monitoring system.  Under the hood, the Toyota minivan comes equipped with a 3.5-liter V-6 that produces 266 horsepower and 245 lb-ft of torque.  All-wheel drive is optional with the vehicle, while a six-speed automatic transmission is standard.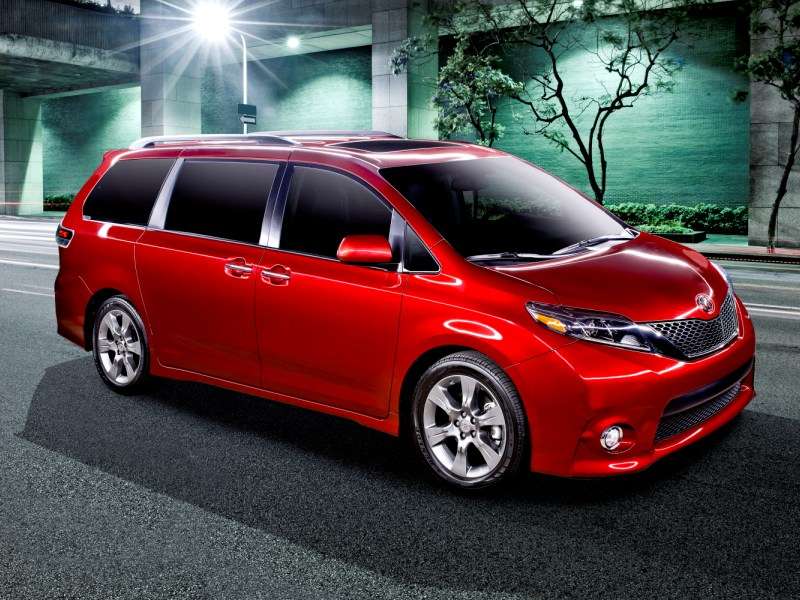 02. 2015 Honda Odyssey Touring Elite
The 2015 Honda Odyssey Touring Elite is one of the priciest minivans on the market, but at least it packs a considerable comfort punch in the features department to justify its premium window sticker.  You get all of the necessities at the luxury level with the Honda Odyssey Touring Elite, such as three zones of automatic climate control, power sliding doors on either side of the vehicle, heated power adjustable seats up front, leather across all three rows (for a total capacity of eight passengers), a sunroof, a power tailgate, power windows and door locks, keyless entry, Bluetooth connectivity, and a touchscreen infotainment system. 
The Touring Elite edition also pours on goodies like a navigation system, HID headlights, a rear seat entertainment system, a surround sound audio feature, 18-inch rims, parking assistance front and back, and safety equipment such as a blind spot warning system.  There's even a vacuum cleaner integrated into the rear of the minivan to help clean up nasty spills.  The Odyssey further benefits from the installation of a 3.5-liter V-6 that's good for 248 horsepower and 250 lb-ft of torque, managed by a six-speed automatic transmission.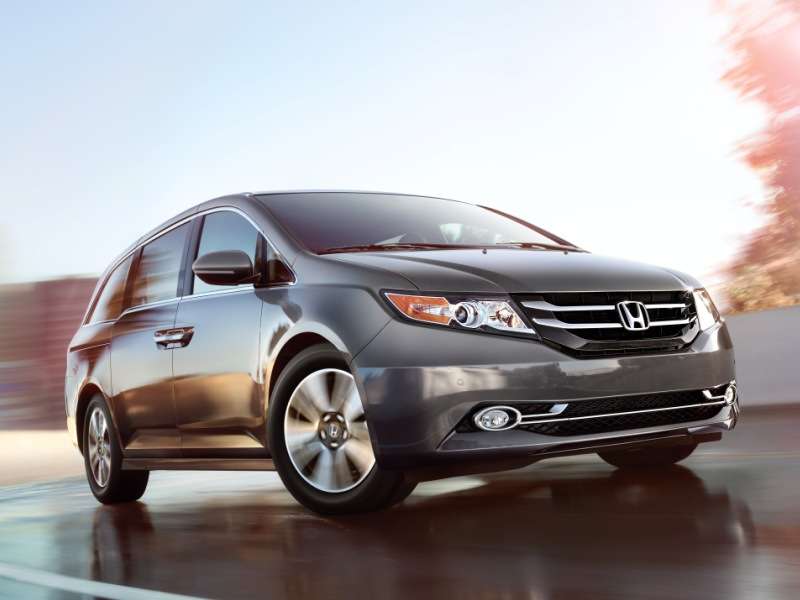 03. 2015 Dodge Caravan R/T
The 2015 Dodge Caravan R/T is positioned as a 'sporty' minivan, but don't let its snazzy mono-color paint scheme and buff 17-inch rims and tires fool you: this is also the best-equipped version of the vehicle in the Dodge line-up.  The Dodge Grand Caravan R/T provides a flat load floor via the Stow 'n Go feature which sinks five of its seven seating spots into the floor, and it also comes with a remote starter, a stiffer than normal suspension system, three zones of automatic climate control, leather upholstery for the first two rows of seating (which are also heated, along with the steering wheel), Bluetooth connectivity, power windows and door locks, a power tailgate to match its power sliding side doors, a trip computer, and fog lights. 
To really revel in splendor, you're going to have to order optional gear such as the Uconnect touchscreen and voice infotainment system (one of the best in the industry), a Blu-ray DVD player for rear passengers, and a navigation system.  You can also add a blind spot monitoring system to the Grand Caravan R/T.  A 3.6-liter V-6 is included with all editions of the Dodge, and it sends 283 horsepower and 260 lb-ft of torque to the minivan's front wheels via a six-speed automatic transmission.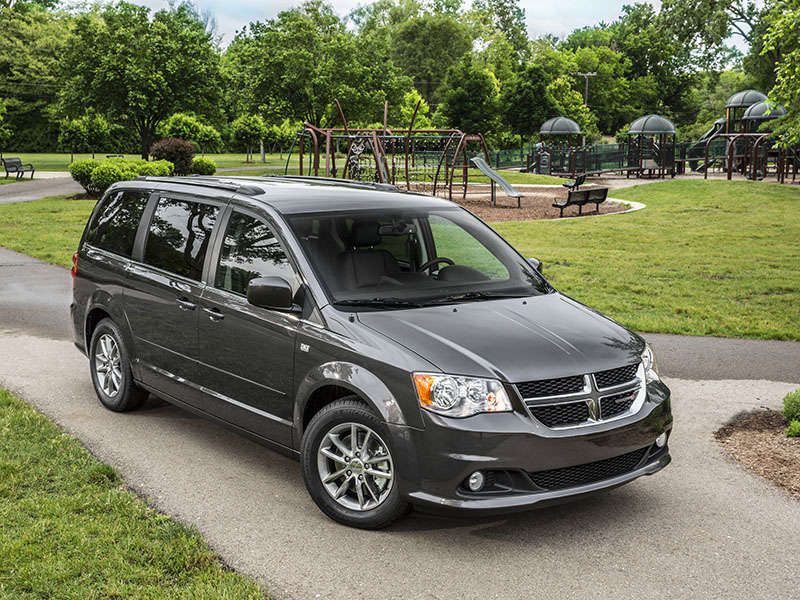 04. 2015 Kia Sedona Limited
The 2015 Kia Sedona Limited is all new for the current model year and the Korean automaker has made a point of enhancing the comfort is this particular minivan, especially as compared to the preceding model.  What this means for buyers is the availability of unusual equipment with the Kia Sedona Limited, such as upscale Nappa leather and a special pair of reclining captain's chairs in the second row of the seven seater (which also come with the own ottoman footrests).  There's a lot of other features to like the in the Sedona Limited, including three zones of automatic climate control, power adjustments for the two front seats (which are heated and ventilated), a heated steering wheel, genuine wood trim throughout the interior, Bluetooth connectivity, a rearview camera, a push button starter, two sunroofs, and the Uvo infotainment interface (which also offers geofencing, speed controls, and a curfew system that can alert parents when the vehicle breaks a pre-set boundary).
Safety-wise, the Kia Sedona Limited can be equipped with a lane departure warning system, a forward collision warning system, and a blind spot monitoring system.  Those first two features are part of the Limited Technology package, which also installs adaptive cruise control, automatic high beam HID headlights, and a surround view camera.  The Kia's drivetrain consists of a 3.3-liter V-6 that has been tuned to provides 276 horsepower and 248 lb-ft of torque, managed by a six-speed automatic transmission.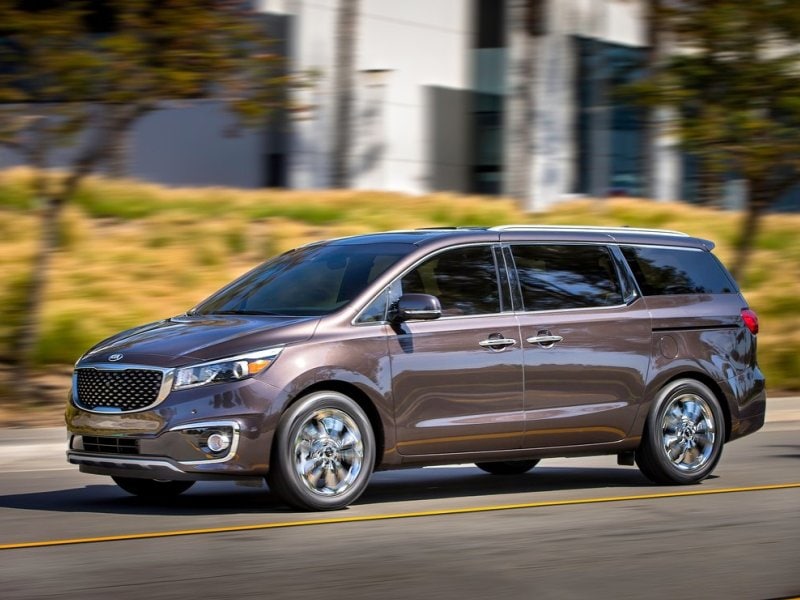 05. 2014 Mazda Mazda5 Grand Touring
We know that this is a discussion about the most comfortable minivans available for 2015, but since the Mazda MAZDA5 Grand Touring has been dropped from the Japanese brand's stable for the upcoming model year you're going to have to snag a 2014 example if you want to sample the cushiest version of the best-handling people mover on this list.  The Mazda Mazda5 Grand Touring offers a more nimble ride thanks to its smaller size and lighter curb weight, and this six-passenger minivan also comes with features such as HID headlights, a leather-wrapped steering wheel, a moonroof, leather seats (that are heated up front), fog lights, Bluetooth connectivity, 17-inch rims, automatic wipers, and heated mirrors.  You also get keyless entry, power windows and door locks, and automatic climate control with the minivan, and optional gear includes a DVD entertainment system for rear seat passengers. 
The Mazda Mazda5 is motivated by a 157 horsepower, 2.5-liter four-cylinder engine, which additionally produces 163 lb-ft of torque.  A six-speed automatic transmission is standard with the vehicle.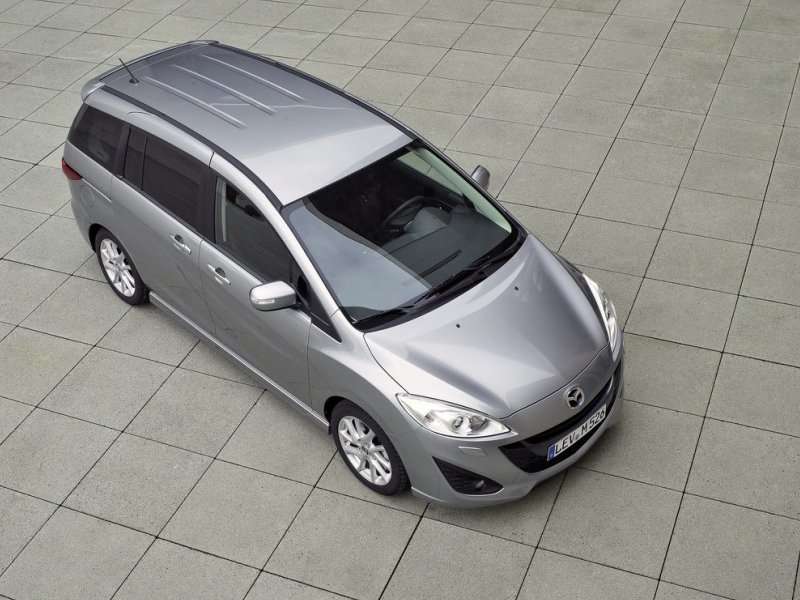 06. 2015 Chrysler Town & Country Limited Platinum
The 2015 Chrysler Town & Country Limited Platinum is the platform twin of the previously-mentioned Dodge Grand Caravan.  This means that the Chrysler Town & Country Limited Platinum shares the Grand Caravan's 283 horsepower, 3.6-liter V-6, along with its Stow 'n Go seating system (and seven passenger capacity).  As its Limited Platinum appellation might suggest, however, the Chrysler veers towards luxury instead of sport, making this a very comfortable minivan.  Absent of the Grand Caravan's suspension and styling cues, the Town & Country Limited Platinum snags all the rest of its gear while added even nicer leather and suede on its seats and interior panels, as well as power adjustable pedals, power folding mirrors, a standard navigation system and a standard Blu-ray DVD entertainment system, and of course a louder, crisper audio system.  You also get a more dignified exterior appearance package with the Chrysler which is heavier on chrome as compared to the Grand Caravan R/T.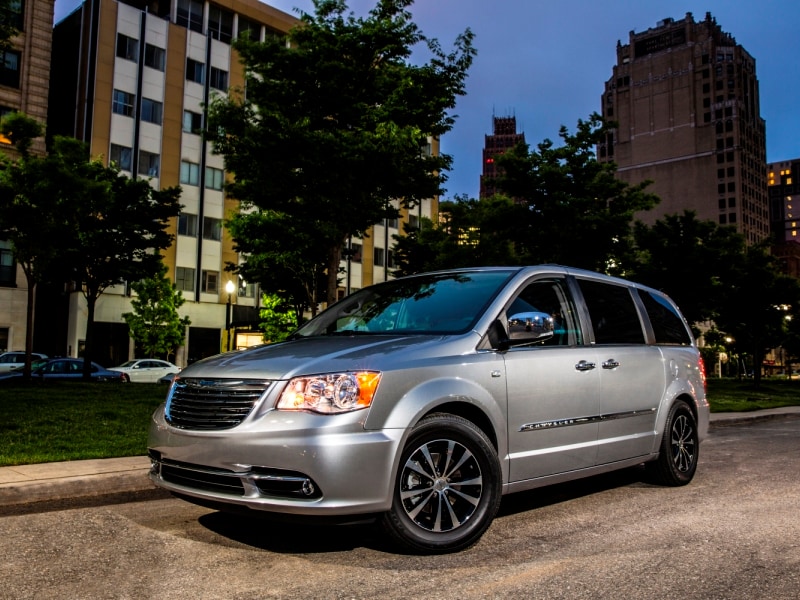 Photo by Chrysler