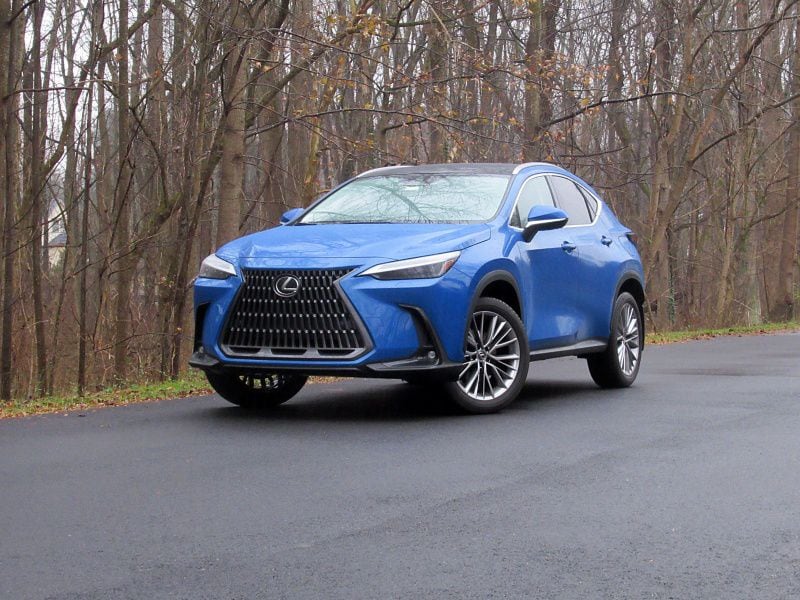 2022 Lexus NX 350h ・ Photo by Brady Holt
A number of compact luxury SUVs are now available as plug-in hybrids, known as PHEVs. If you charge up these models using electricity from the grid, you get a certain amount of all-electric range. But you also have a gasoline engine on board for longer trips. It's almost like the best of both worlds between a gasoline car and an electric vehicle. 
The 2023 Lexus NX is available in PHEV form, called the NX 450h+. But unlike all its rivals, you can also buy the NX as a traditional hybrid, called the NX 350h. This is a gas-electric vehicle that recharges itself with no plug. It's less economical than a PHEV running on electricity, but it's less expensive and it delivers standout mileage for folks who can't easily plug in. We've tested both the NX 350h and the NX 450h+. Keep reading to learn about their pros and cons and whether one of the gas-electric Lexus NX models is the right compact luxury crossover for you. 
Fuel Savings Without Massive Expense
As we mentioned, plug-in hybrids can be expensive. That's mainly because they have larger batteries than standard hybrids. That's why we're glad for the chance to buy the 2023 Lexus NX 350h for as little as $43,105 while all the plug-in hybrids cost upwards of $50,000. It's even less money than the gas-only Lexus NX 350 ($43,515), making the hybrid the cheapest way to get any NX except the base NX 250 with a sluggish gas engine ($39,755). 
What's more, Lexus doesn't only give you the option for a lower-cost hybrid. When you're willing to spend more to use less gasoline, it also offers the NX 450h+ plug-in hybrid, which competes directly with the Audi Q5 PHEV, Lincoln Corsair Grand Touring, and Volvo XC60 Recharge. The 2023 Lexus NX 450h+ starts at $57,705, which is slightly higher than those rivals.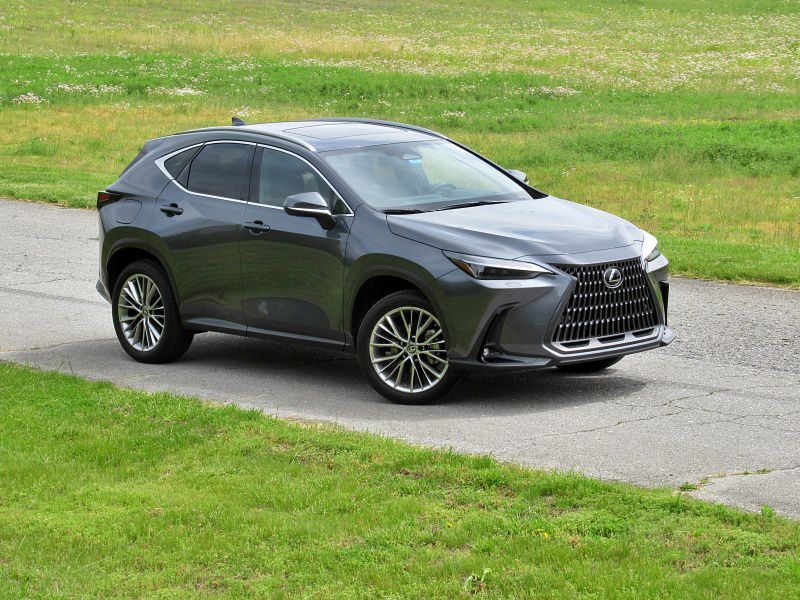 Photo by Brady Holt
Easy Efficiency From the NX 350h
The 2023 Lexus NX 350h has a 239-horsepower combination of electric motors with a four-cylinder gasoline engine. It's derived from the NX's corporate cousin, the Toyota RAV4 Hybrid, but it picks up an extra 20 horsepower. 
This powertrain achieves EPA ratings of 41 mpg in the city, 37 mpg on the highway, and 39 mpg combined. Except for the much smaller Lexus UX hybrid, it's better than any other luxury suv that you don't have to plug in. Especially if you drive in stop-and-go traffic, you'll get incredible gas mileage. We came up just a bit shy of these EPA estimates, averaging 37 mpg in a week of mixed driving.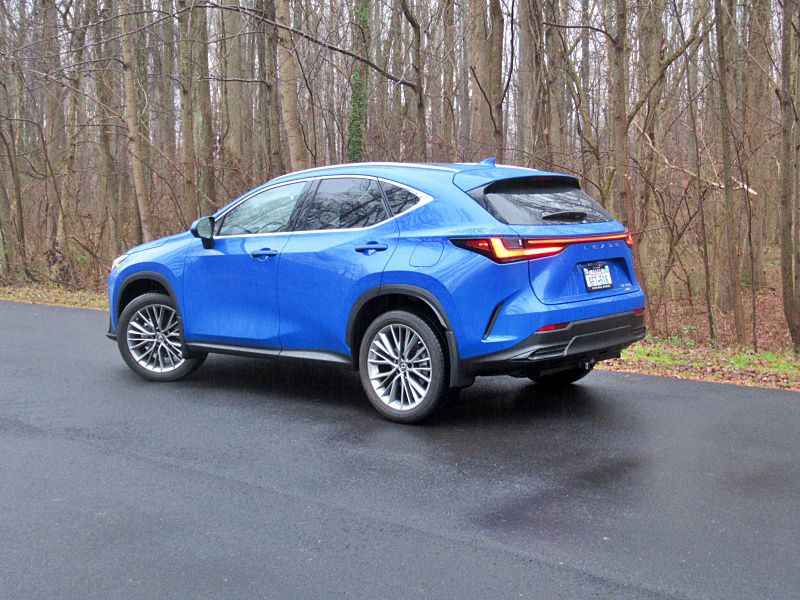 Photo by Brady Holt
Go Gas-Free With the NX 450h+
Sipping gasoline is great. Using none at all is even better. That's where the NX 450h+ plug-in hybrid comes in. It goes an EPA-estimated 37 miles on electricity every time you charge it up, which is enough for many people's entire day of driving. Our NX 450h+ test vehicle did even better: 41 miles, 43 miles, and 45 miles on three respective charges. 
This all means you get the whisper-quiet, zero-tailpipe-emissions experience of an electric car most of the time — but when your range runs out, you get an economical conventional hybrid system that you can refuel in a couple minutes at any gas station. We averaged about 41 mpg in mixed driving while operating the NX 450h+ as a standard hybrid. Recharging the electric battery takes about 2.5 hours to 4.5 hours on a 240-volt car charger, depending on whether you bought an optional Expedited Onboard Charger. It can also recharge in about 12 hours on a regular 120-volt household outlet, so even if you don't have a car charger, you can plug it in overnight and have it ready in the morning.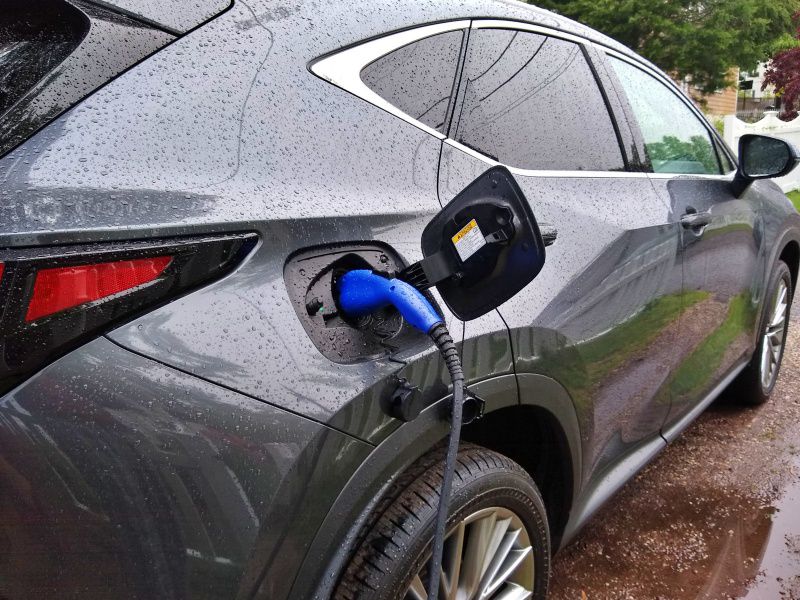 Photo by Brady Holt
Speedier Than You Might Expect
Hybrids aren't known for their speed, but we had no complaints with either NX hybrid. Lexus says the NX 350h hybrid reaches 60 mph in 7.2 seconds, in line with some gas-only small luxury crossovers and a second quicker than the Lexus NX 250. And the 304-horsepower NX 450h+ can zip to 60 mph in 6 seconds flat. 
The NX 350h switched seamlessly between electric-only operation and assistance from the gas engine. It wasn't a beautiful melody under full throttle, but it stayed smooth and muffled enough that it wasn't jarring. Meanwhile, the NX 450h+ proved more willing than most plug-in hybrids to accelerate using only its electric motors for silent, gas-free acceleration. Many of those models wake up their gas engines if you seek any burst of speed. We try to keep a hybrid's gas engine off as much as possible, both for the fuel savings and the serenity of a quieter ride.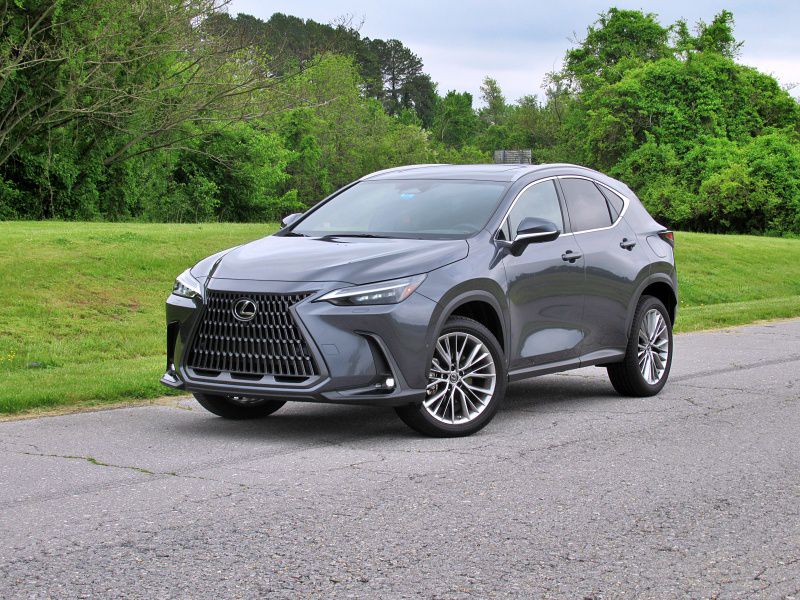 Sporty Design With Handling to Match It
Lexus fully redesigned the NX lineup last year. That's when it introduced a plug-in hybrid for the first time while also greatly improving the power and fuel efficiency of the conventional hybrid. But the changes go further than that. Every 2023 NX (the hybrids are visually identical to the gas models) has sharp headlights that pierce toward the tall Lexus hourglass-shaped grille. Small windows above a high windowline also keep the design aggressive. But Lexus rounds off the details and keeps the NX looking smaller than it is, so it's gracefully sporty rather than just angry-looking. 
That vibe matches the NX's driving manners. This isn't a racetrack-dominating performance star, even compared with fellow small suvs, but nor is it clumsy or dull. Firm steering and steady handling inspire confidence, even as the ride is smooth and comfortable. It doesn't feel like a vault-solid luxury car when you hit a bump, but it also doesn't feel so brittle that the car is about to break. The NX 450h+ (but not the NX 350h) is available as an F Sport model with performance-focused styling and a sport-tuned adaptive suspension, but both our test vehicles were the NX's "Luxury" version.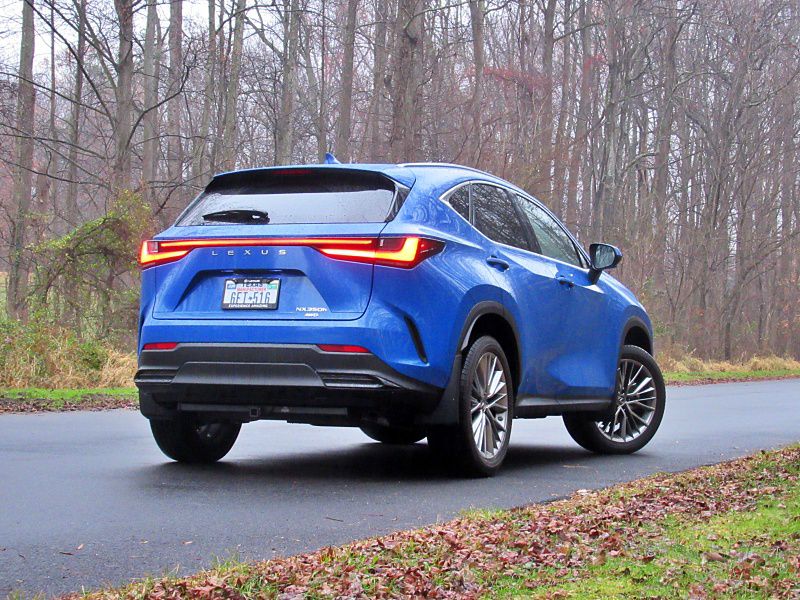 Photo by Brady Holt
Contemporary Interior With a Big Screen
Lexus spent years avoiding touchscreens for its infotainment systems. But the latest NX wisely accepts that it's simpler to tap a screen icon than to navigate the screen using a remote controller. A big 9.8-inch screen is standard, and our test vehicles included the huge 14-inch unit that's available as an optional upgrade. 
While this is an upgrade, we still don't love the ergonomics. Part of the big screens is given over to climate controls that always occupy the same spot, but which are more distracting and less responsive than a physical button. And the screen otherwise only lets you see one view at a time in jumbo size: one big GPS navigation map or one big view of your selected radio station, but not both at once. The steering wheel controls are also fussy because you can reconfigure the same buttons to serve multiple functions. And the electronic doors are fussy and secretive about unlocking before you've parked for good, which proved frustrating in the school pickup line. These aren't the worst controls in any luxury car, but there was no reason for any of these missteps.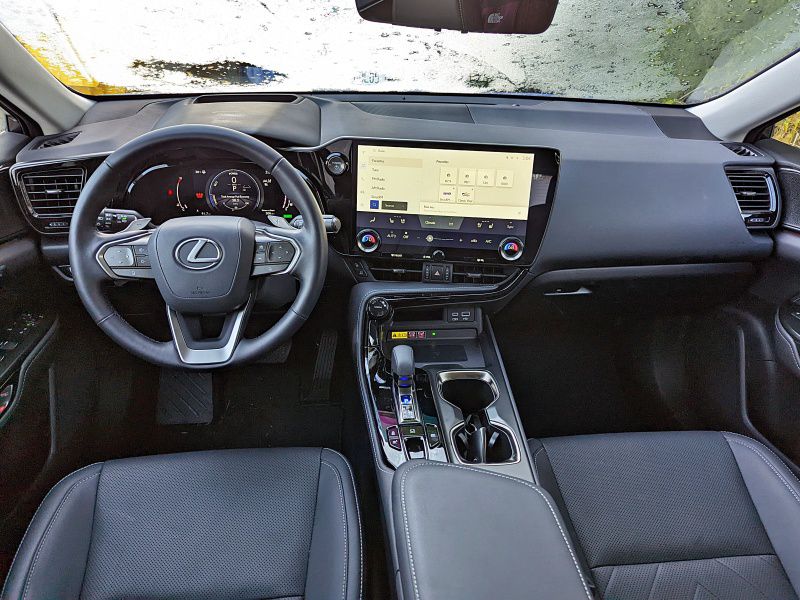 Photo by Brady Holt
Comfortable Cabin
Moving beyond the NX's dashboard ergonomics, the interior is a pleasant and comfortable place to spend time. Poking around reveals more economy-grade plastics than we'd like, but the overall ambiance is pleasant anyway. 
And although the NX looks small from the outside, it avoids feeling cramped. The front seats are well-shaped and comfortable. The F Sport has better-bolstered sport seats, but the "Luxury" models are pleasant as well. The backseat has enough room for adults, too, and it's high enough to be supportive. Cargo capacity is unusually skimpy at 22.7 cubic feet behind the rear seat and 46.9 cubic feet with the rear seat folded, but the NX feels more capacious than the numbers suggest. Unlike some hybrids, the NXs have just as much cargo room as their gas-only counterparts.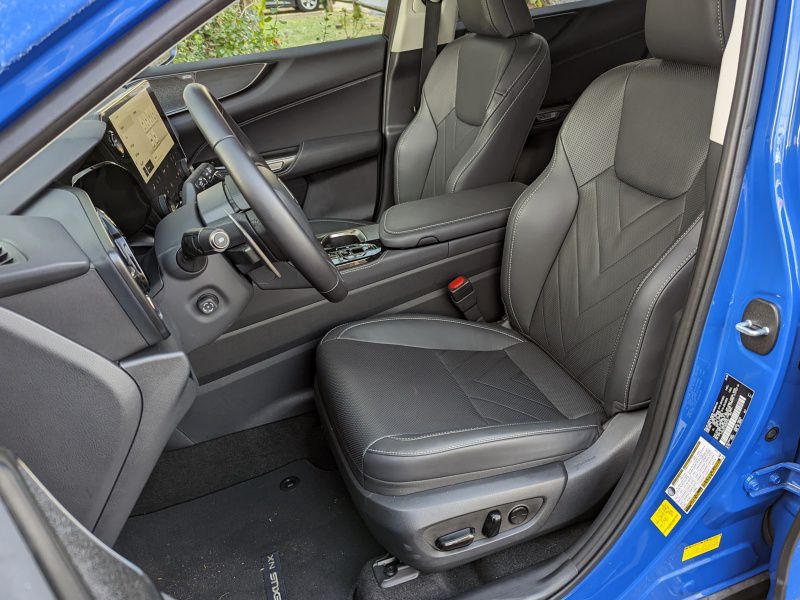 Photo by Brady Holt
Competitors to Consider
As we mentioned, the NX 450h+ competes directly with the Audi Q5 PHEV, Lincoln Corsair Grand Touring, and Volvo XC60 Recharge. Of the four, the Lexus has both the longest all-electric range and the best gas mileage. The Volvo's range comes closest at 35 miles versus the Lexus's 37 miles, while the Corsair's post-electric mileage is closest at 33 mpg versus the NX's 36 mpg. The Volvo and Audi are quicker than the NX, while the Corsair is less speedy. All three competitors cost less than the NX 450h+, have richer interiors, and have simpler controls. But the NX 450h+ has a compelling blend of power and efficiency, and its longer range means you're even less likely to ever need gasoline. 
Meanwhile, the NX 350h's only rivals come from mainstream brands. It's significantly more upscale than its Toyota RAV4 Hybrid sibling or even the fancier Toyota Venza, which are slower, noisier, and less agile than the NX. Other solid hybrids are the Ford Escape, Honda CR-V, Hyundai Tucson, and Kia Sportage, all of which look upscale and have lots of features in their top trim levels. And they're roomier than the NX. But the Lexus is quicker and quieter.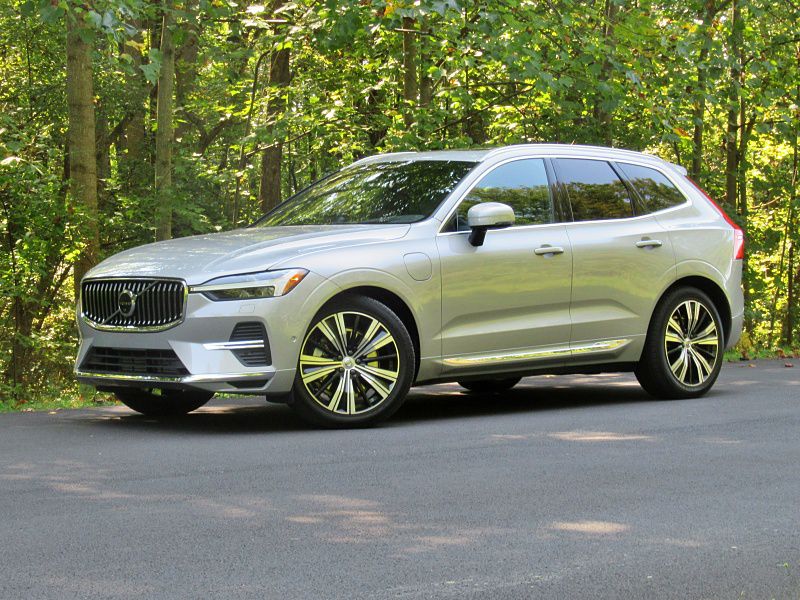 Photo by Brady Holt
To Plug or Not to Plug
When the NX debuted, the NX 450h+ qualified for a $7,500 federal tax credit that took the sting out of its higher price. Factoring in extra standard features, it cost no more than a comparably equipped NX 350h for a much more economical experience. 
These days the choice is harder, given the price difference. But both 2023 Lexus NX hybrids are excellent ways to blend luxury and efficiency without compromising the overall driving experience. The cars' clunky controls could be a dealbreaker for some buyers, and other SUV hybrids also have a lot to recommend. But we'd be happy in either NX version.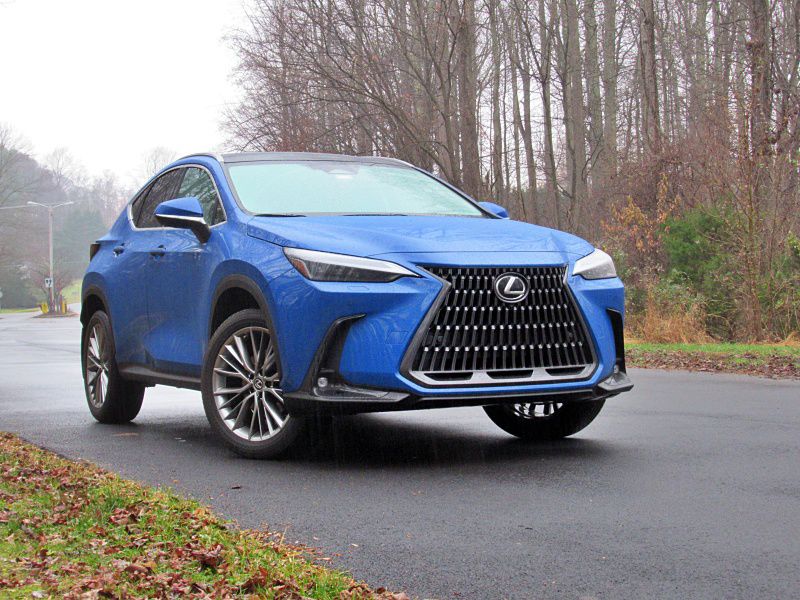 Photo by Brady Holt