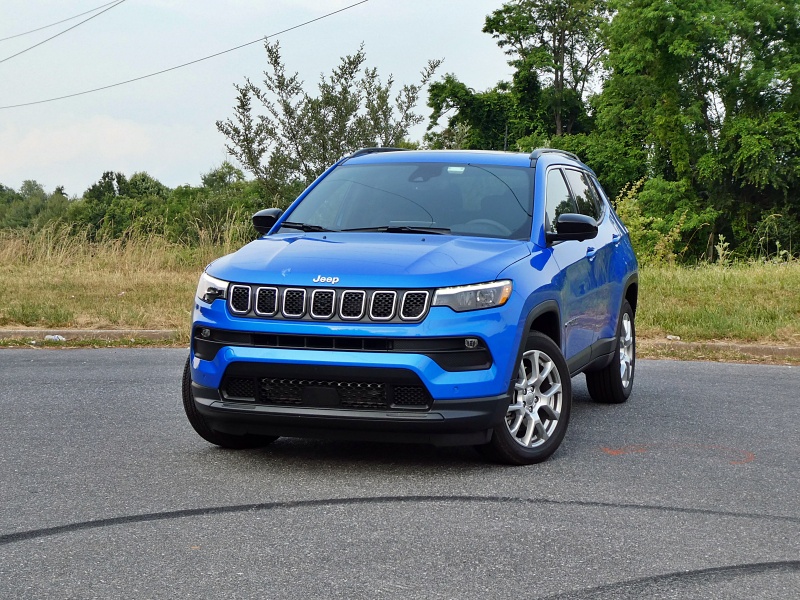 Photo by Brady Holt
Picture a Jeep and you're likely conjuring the Wrangler, the four-wheel-drive icon with its incredible capability, bouncy ride, and high prices. Or perhaps you think about the brand's best-selling Grand Cherokee, which lets you relax in luxury when you go off-roading. 
Then there's the Jeep Compass compact crossover. It started its life back in 2007 as an oddly styled, cheap-feeling, and underpowered way to get a budget-priced hatchback with a Jeep face. The Compass evolved into a more handsome and better-finished crossover over the years, most notably at its last full redesign back in 2017. But only now, for 2023, did Jeep finally give this little SUV some power: a 200-horsepower turbocharged engine. We just spent a week testing the updated Compass, priced from $28,400, to see how it stacks up with other small SUVs in the hottest part of the automotive marketplace. Keep reading to learn about its pros and cons and whether it's the right fit for you. 
Handsome Design
The 2023 Jeep Compass looks just about the same as the 2017 model. We don't mind that at all. It's still one of our favorite designs in the small crossover class. Its handsome face, inspired by the previous-generation Jeep Grand Cherokee near-luxury suv, has Jeep's classic seven-slot grille. But unlike many cars, where rear-end styling can feel like an afterthought, the Compass is even classier around the back with smartly styled taillights and a chrome strip that wraps smartly from the base of the rear windshield to the tops of the side windows. It looks purposeful without looking angry, goofy, or busy. What's more, like other Jeeps, it features whimsical "Easter eggs." These include a gecko hiding under the windshield wipers and the Loch Ness monster on the rear windshield. 
A final notable point about the Compass is its size. At 173 inches long, it's as much as a foot shorter than some of its rivals; that length puts it closer to some subcompact models. However, at 74 inches wide and 65 inches tall, the Compass is otherwise sized like a compact SUV.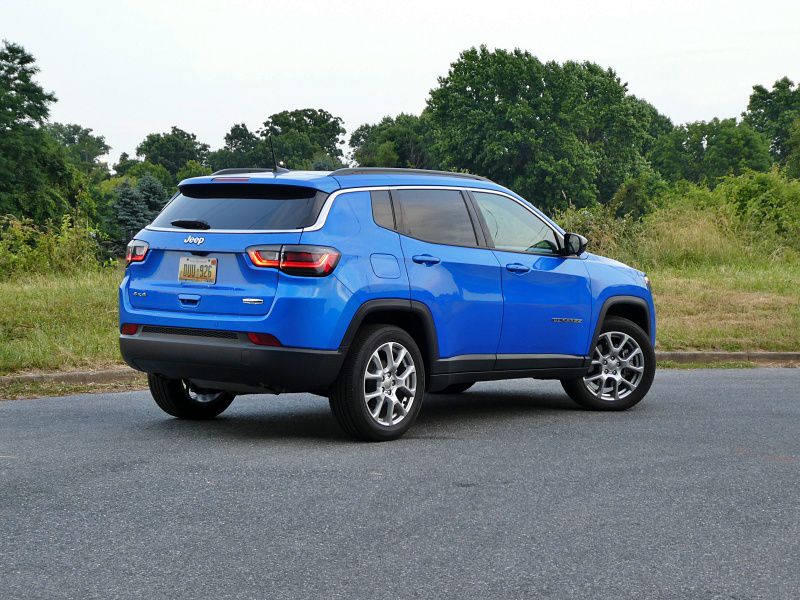 Upscale Dashboard
The 2017 Compass had a serviceable interior that would have even been adequate, if unremarkable, in a brand-new 2023 model. But Jeep had other ideas. Last year, it rolled out an entirely new dashboard for the Compass that's more modern and luxurious. Clean and fresh, it features a big, crisp 10.1-inch touchscreen that emerges from an upholstered swath of dash. Physical buttons and knobs for the audio and climate controls are tucked away below. Some of the controls required a learning curve (we had to dig into multiple sections of the owner's manual to turn on the infotainment screen), but we had no complaints once we learned it. 
While the Compass's dashboard itself is swanky, you will find some lower-grade plastics on the center console and door panels. And as on even some higher-end Jeeps, we wished for a smoother turn-signal stalk. But overall, this is one of the most luxurious interiors you'll find in a small, affordable crossover.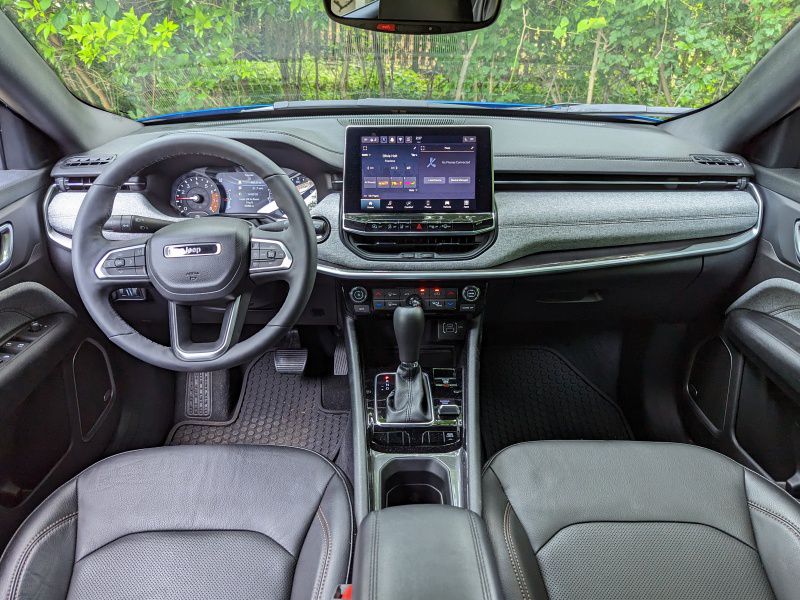 Decent Space for Five
Like nearly all compact crossovers, the Jeep Compass seats five passengers: two up front and three in the back. You might expect it to feel cramped given its smaller size, but adults can fit fine in both the front and rear seats. A few rivals have more stretch-out legroom in the back if that's a priority, though. 
The base Compass Sport comes with cloth upholstery, the next-up Latitude brings a mix of leatherette and fabric, while the rest of the lineup has genuine leather. Our Latitude Lux test vehicle's leather upholstery felt more sturdy than swish, but higher trim levels are available with a fancier grade of cowhide. Heated, power-adjustable front seats and a heated steering wheel are either standard or optional on all but the base Sport. But unlike in some rivals, ventilated front seats and heated rear seats aren't available at any price.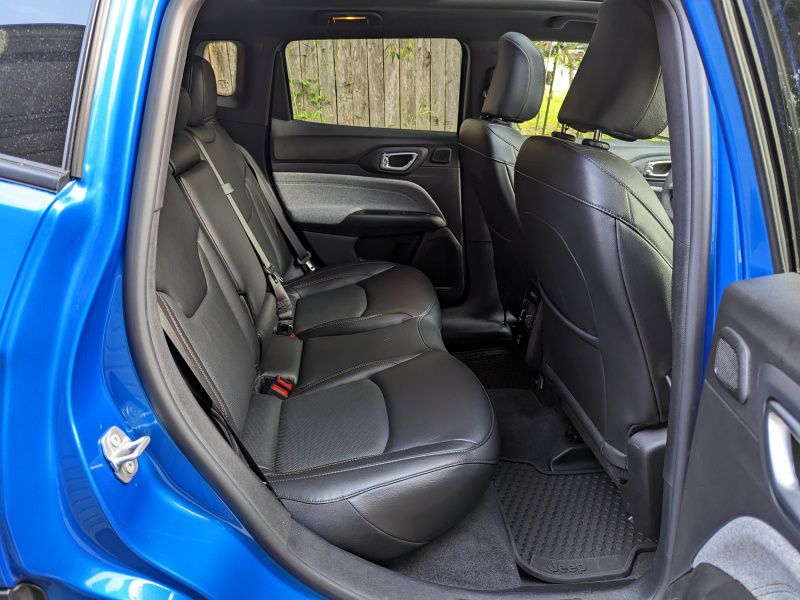 Flexible Cargo Hold
While the Compass's interior doesn't feel cramped for passengers, you might feel the pinch of its smaller body when you're carrying cargo. Some compact crossovers have more than 25 percent more maximum cargo room and more than 40 percent more space behind the backseat. 
Still, with 27 cubic feet of space behind the rear seat and 60 cubic feet with the rear seat folded down, it's not cramped. We fit a push lawn mower behind the rear seat at one point during our test, then later folded down the backseat to load it up with six plastic storage bins. We also made use of the Compass's cargo flexibility. The front passenger seat can fold down (though not all the way flat) to help you fit longer items. You can raise the cargo floor to create a flush surface with the folded rear seatbacks, or drop it down to squeeze out some extra cubic feet of space. And we liked the reversible mats for the cargo area as well as the passenger cabin, which provide plush fabric on one side and hardy, washable rubber on the other.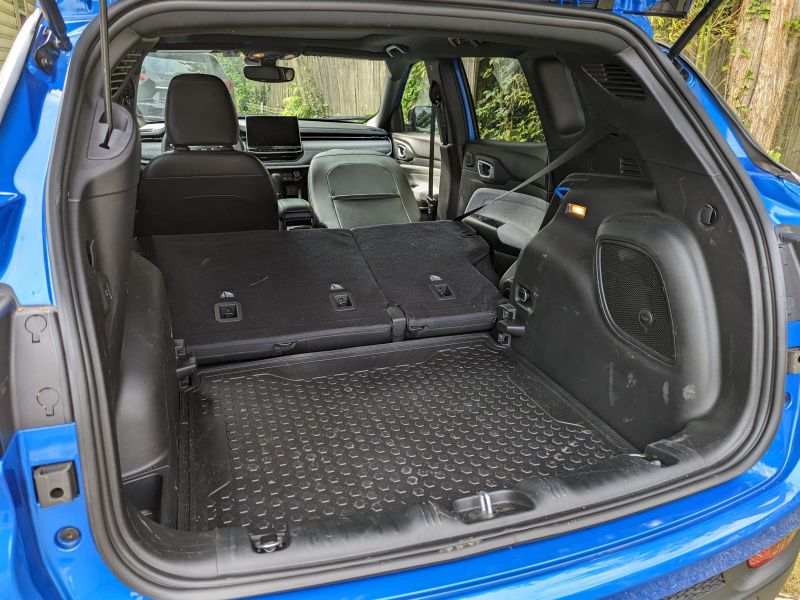 Zesty New Engine
For most of its life, the current Compass's weakest point has been its engine. Last year's 2.4-liter four-cylinder engine made a passable 177 horsepower and 172 lb-ft of torque, but the engine was thrashy and sluggish while averaging a mere 25 mpg in EPA testing. 
This year's new engine is a transformation. With 200 hp and 221 lb-ft of torque, this turbocharged 2.0-liter four outguns most rivals' base powertrains. You won't take your Compass to the drag strip, but it now accelerates with confidence. It sounds better and pulls harder than before, no longer feeling overtaxed by everyday conditions. Yet gas mileage has actually improved to EPA ratings of 24 mpg in the city, 32 mpg on the highway, and 27 mpg combined with the Compass's now-standard all-wheel-drive system and its new eight-speed automatic transmission. And our test vehicle averaged a terrific 31 mpg during our weeklong test. This powertrain isn't perfect; it's curiously rough and noisy when you first fire it up, and it sometimes shuddered when we gave it some gas after coasting along. And some competitors are even more economical. But overall, we came away impressed with the new Compass's balance of speed and efficiency.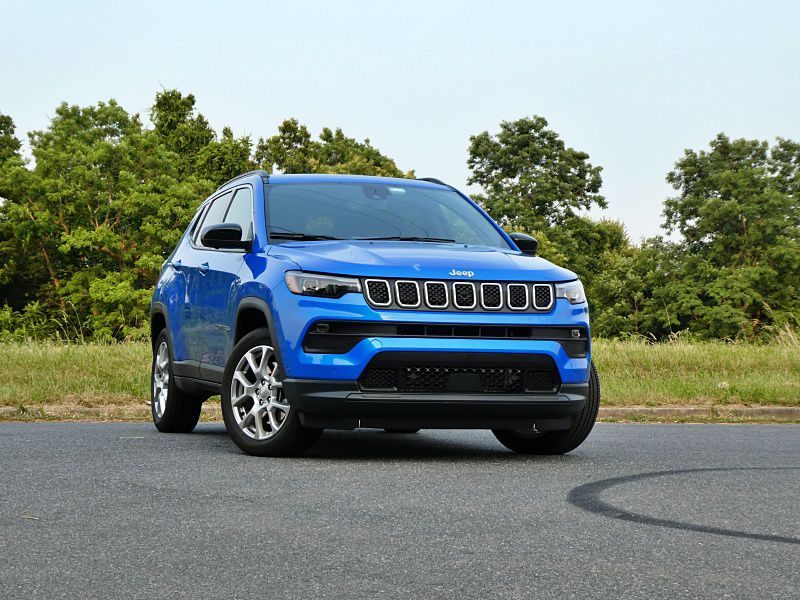 Ready to Tackle Both Roads and Trails
In everyday conditions, the Compass delivers an ordinary driving experience for a compact crossover. That means it has a comfortable ride and easy handling, but you won't find the crisp, sporty steering responses of a Mazda CX-50 or even a Honda CR-V or Ford Bronco Sport. 
The difference is that the Compass is also built for off-roading, at least by crossover standards. As we mentioned, all-wheel drive is now standard; Jeep calls it Active Drive 4x4. Ground clearance measures an above-average 8.1 inches. A choice of driving modes includes settings tailored for either snow or sand and mud. And the Trailhawk model comes with an extra half-inch of ground clearance, hill-descent control, a low range for the Active Drive system, all-terrain tires, protective skid plates, and a "rock" driving mode. So equipped, it meets Jeep's challenging "Trail Rated" criteria. Not bad for an "ordinary"-feeling small crossover.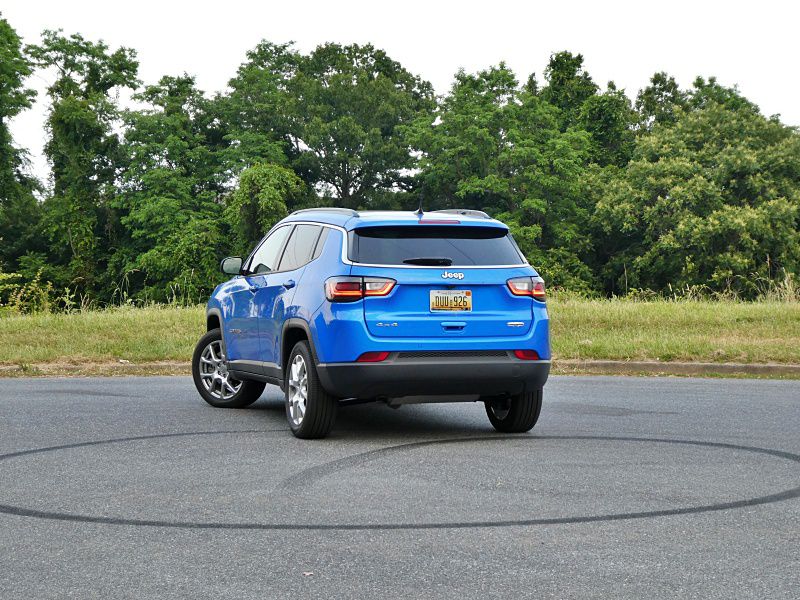 Well-Equipped Below $30,000
The 2023 Jeep Compass starts at $28,400 (plus a steep $1,595 destination charge), and the base Sport model is well-equipped for less than $30,000. It includes the big 10.1-inch touchscreen with wireless Android Auto and Apple CarPlay integration, 17-inch alloy wheels, all-wheel drive, automatic emergency braking, lane-keeping steering assistance, and blind-spot monitoring. 
The next-up Latitude costs $32,395 with the partial-leatherette upholstery along with fog lights and push-button starting. But most of what you get for the higher price is the chance to add even more options, which can push that price past $40,000. The Latitude Lux like our test vehicle starts at $33,895, but our test vehicle included $2,580 for a panoramic sunroof and a nine-speaker Alpine stereo; $2,370 for adaptive cruise control, parking sensors, a surround-view parking camera, a power liftgate, and rain-sensitive windshield wipers; $895 for LED lights; $495 for Laser Blue Pearl paint; and $1,595 for destination for a total of $41,630. Other trim levels (Altitude: $34,290; Limited: $35,745; Trailhawk, $35,995; and High Altitude, $38,740) also have expensive options. If you choose your extras carefully, though, you can get a pretty solid deal.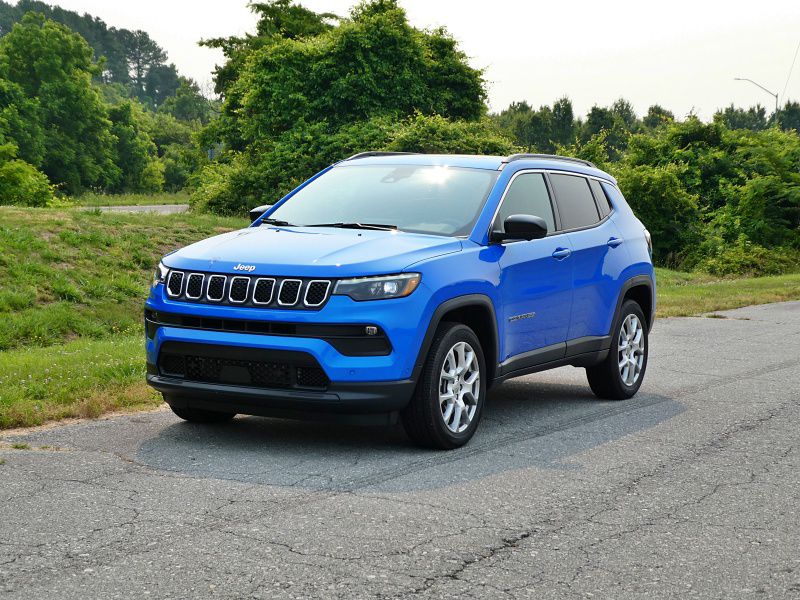 Competitors to Consider
As a compact crossover with an off-road focus, the Compass's top competitors are the Subaru Forester and the Ford Bronco Sport. The Subaru focuses on value, spacious comfort and utility, and efficiency, while the retro-styled Ford has superior on-road ride, handling, and (with an optional engine upgrade), acceleration. You might also be interested in the best-selling Toyota RAV4, which also has more capability than the average compact crossover but is slower and noisier than the powerful new Compass. 
Other well-rounded small crossovers include the Nissan Rogue, Hyundai Tucson, Kia Sportage, and Honda CR-V. They all have more cargo room than the Compass at similar prices, and the Nissan and Honda have sportier on-road driving manners, but they have less off-road capability. For a mix of luxury and off-road flavor without the need for trail-crawling capability, we also like the Mazda CX-50. We'd also shop the Compass against some similarly spacious subcompact models: the Kia Seltos and Volkswagen Taos. Like most other crossovers, though, these are built for adventures that stay mostly on the pavement.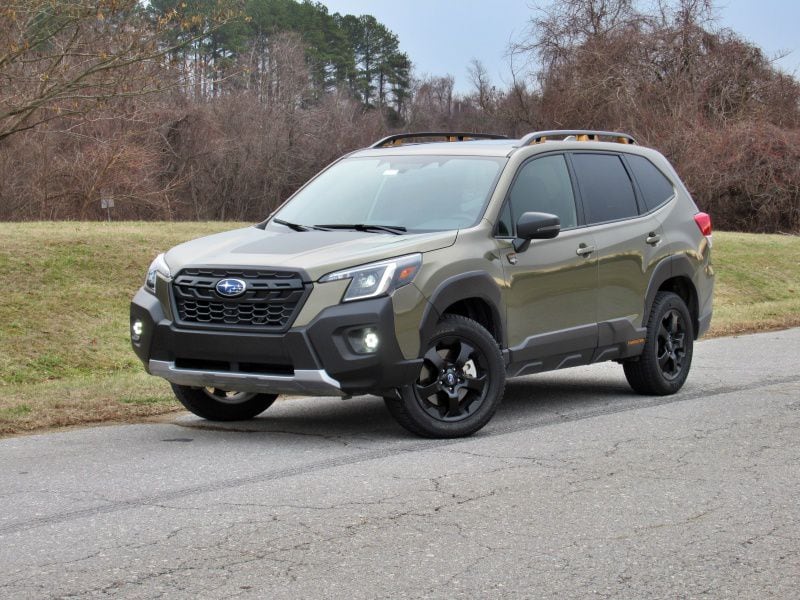 Photo by Brady Holt
Continuous Improvement
The Jeep Compass has improved tremendously over its lifetime. It has become handsome, attractively finished, powerful yet decently economical, and more capable than most crossovers. And yet its starting price remains reasonable, especially when you consider its standard AWD. 
Still, most folks will need to love something about this Jeep to accept its modest cargo space for the money and the roughness of its engine at idle. The compact crossover segment is so packed with excellent choices, it just takes a couple of weak points to slip toward the back of the class. The Compass responds with its standout off-road behavior, classy interior and exterior design, whimsical Easter eggs, and improved power and fuel efficiency. If anything about the Compass catches your eye, it's increasingly worth letting your gaze linger.