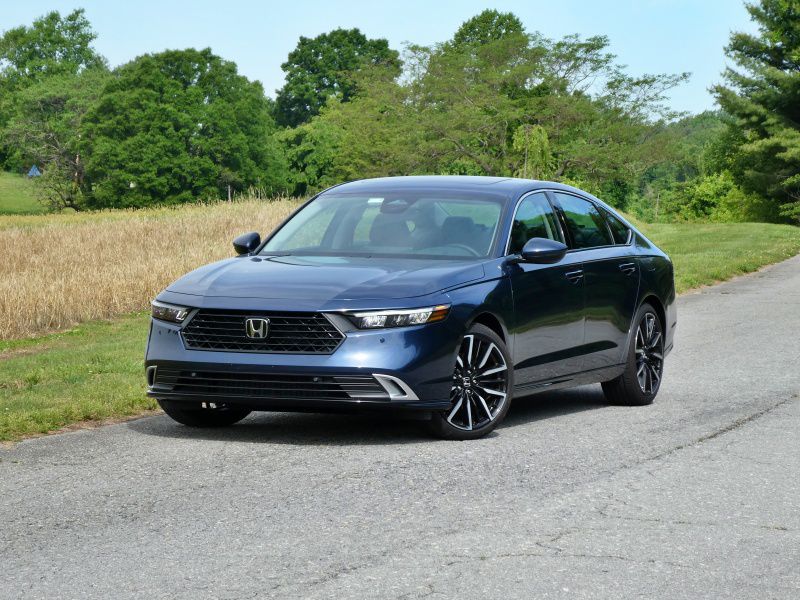 2023 Honda Accord Hybrid 01
Honda redesigns often follow a pendulum. Time after time, the company makes a controversial new version of a popular model, then follows it up with a conservative evolution of that design. 
That's the case with the all-new 2023 Honda Accord mid-size sedan. After a more groundbreaking overhaul back in 2018, this latest generation looks tame and familiar. Some critics go so far as to say that it's downright boring. But after spending a week with a top-of-the-line Accord with its new flagship gas-electric hybrid powertrain, we disagree. While it's far from the most radical sedan in the world, the Accord largely retains and improves upon a sporty, upscale demeanor that you won't find in the competition. Keep reading to learn more about the newly redesigned Accord and see if it's the right mid-size sedan for you.
Prices Move Upscale
If you haven't bought a mid-size sedan in a while, the 2023 Honda Accord could give you sticker shock. The base price is now $27,295 for an LX model with a 190-horsepower turbocharged gasoline engine. That's about $1,000 to $2,000 more than every competitor. A better-equipped EX with the same engine costs $29,610.
Most Accords now use the hybrid powertrain, which replaces last year's 252-horsepower turbo as the top powertrain. An Accord Hybrid Sport, the cheapest trim level, starts at $31,895 as approximately a flashier version of the EX. The EX-L and Sport-L add leather seats to luxury- or sport-themed models for $33,540 or $33,875, respectively. And the top Touring, like our test car, comes to $37,890. The Touring is a luxuriously equipped sedan, but some people will wish for a panoramic sunroof instead of a standard-sized unit. Also, note that you can't get leather upholstery, a plus-sized infotainment screen, or sport-themed styling with the base engine. Last year's Accord had a broader range of trim levels. It's still a decent deal for what you get, but Honda is nudging its customers into pricier versions.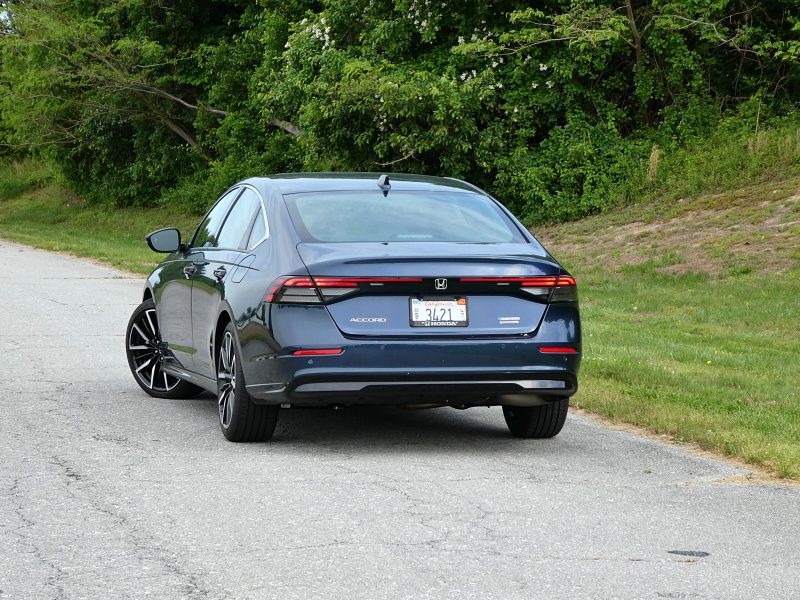 Simplified Style
As we mentioned, the 2023 Accord falls into the "conservative" stage of the Honda design cycle. The new Accord takes last year's now-familiar shape — a low, wide, sleek, ground-hugging sedan — and simplifies its details. That means a smaller grille, smaller headlights, fewer shapes in the bumpers, and fewer decorative creases on the doors and fenders. Around back, a new lightbar connects the slimmer taillamps, giving the effect of an Audi A7 (though the Accord remains a standard four-door sedan, unlike the liftback Audi). LX, EX, and EX-L models get classy and simple 17-inch wheels, while other trim levels get the dressier 19-inch wheels you see on our test vehicle. 
To some eyes, the new Accord shows welcome restraint from unnecessary flourishes. And its long, low body looks rakish as a sports coupe next to a stumpy crossover suv. But to other tastes, it's just too bland, especially in a light color and with the smaller wheels. Had Honda introduced this same design in 2018 rather than waiting for 2023, it would have gotten the best of both worlds: new and fresh yet also clean and attractive. And it wouldn't have looked out of place back then, either.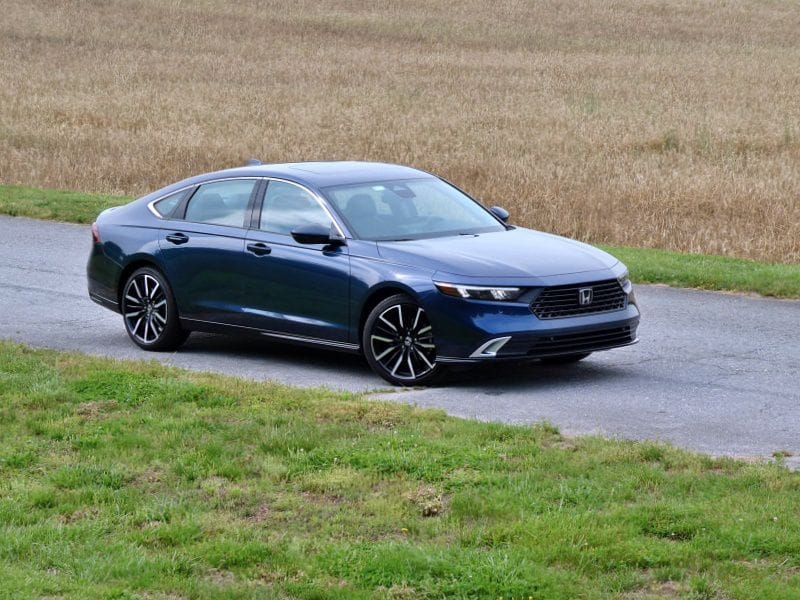 Photo by Brady Holt
Familiar New Interior
Honda debuted a new interior design scheme with the 2022 Civic compact car, and it has quickly spread to most of the brand's models. The Accord follows suit. An infotainment touchscreen perches at the top-center of the Accord's dash, while a honeycomb strip runs from the steering wheel to the passenger door below it — a decorative design element that also includes the Accord's climate vents. 
Like on other new Hondas (and last year's Accord), the interior is almost luxury-grade in its finishes. Materials look and feel upscale, and buttons and other moving parts move with uncommon precision. The gas-only LX and EX trim levels get a tiny 7-inch touchscreen, while the hybrids get the big 12.3-incher you see on this page. Last year, every Accord had an 8-inch unit. Controls are generally simple and the screen works well, but we missed last year's tuning knob and larger, easier-to-grip volume knob. Some buyers might also wish the cabin looked less like the smaller Civic's, and LX and EX buyers face a smaller screen than last year's Accord or most competitors.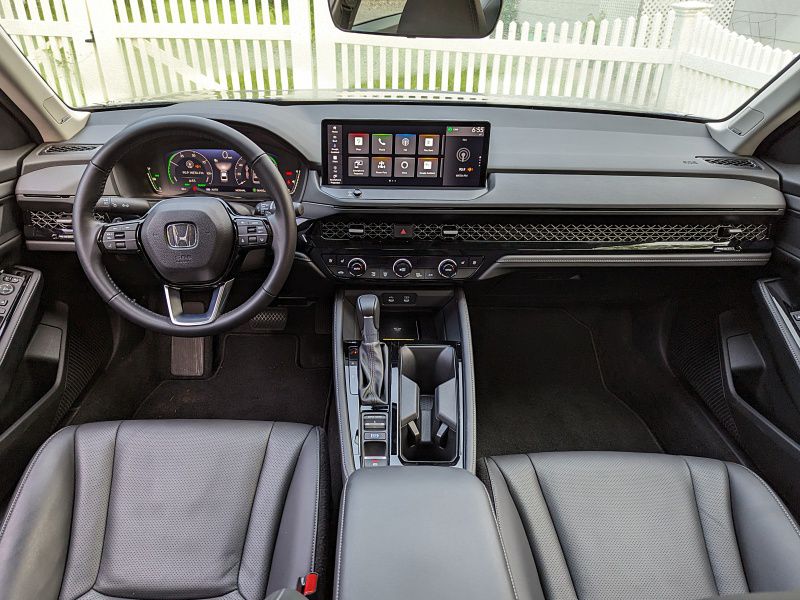 Low, Sporty, and Spacious
When SUVs first became popular, carmakers responded by elevating sedans' seating positions. With the Accord, Honda takes the opposite approach: It assumes that if you want to sit high, you'll be happy to buy one of its crossovers. So when you buy the Accord, you get the low, sporty seating position of a sports car, along with beautifully bolstered seating that holds you in place nicely when you go around a fast corner. Some sedan loyalists will grumble at needing to clamber in and out of low seats, though. 
Even though the Accord sits low, it still has plenty of room. At 195.7 inches long, this is a big sedan. There's tons of legroom in both the front and rear seats, and the car is wide enough to spread out. The tallest backseat passengers would wish for more rear headroom, but it's nothing disastrous. This remains a useful family car. The trunk is among the best in its class, too, at 16.7 cubic feet with both the gas engine and the hybrid.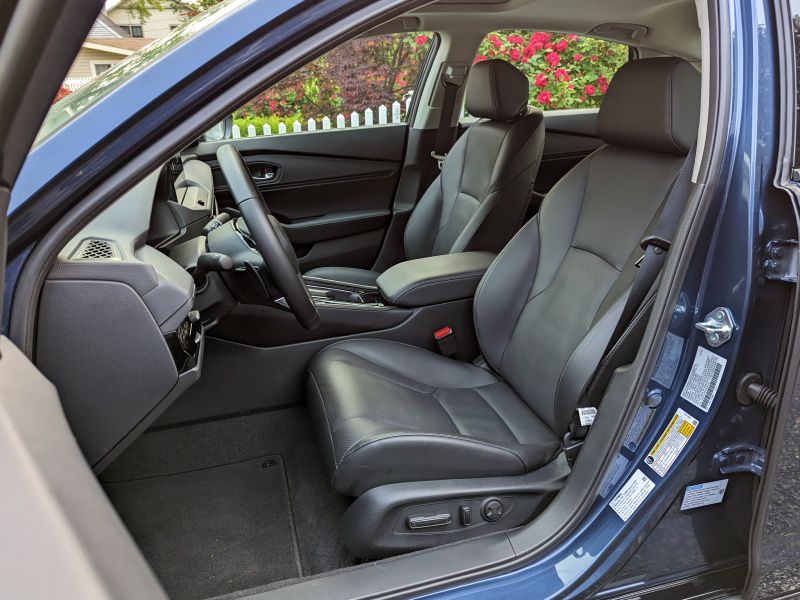 Lively Driving Manners
Even in a market segment where all the contenders (even the historically staid Toyota Camry) have upped their performance game, Honda leads the class with a tautly tuned suspension and responsive steering. Even the selectable Sport mode doesn't make the steering ultra-crisp, but the Accord's ride and handling are closer to a luxury sports sedan than a Hyundai Sonata. On the other hand, if you prefer an ultra-cushy ride or available all-wheel drive, you might be happier in Toyota Camry, Nissan Altima, or Subaru Legacy. 
One of the Accord's most controversial changes for 2023 comes under the hood. The base engine is unchanged: a peppy 1.5-liter turbocharged four-cylinder engine that makes 192 hp and 192 lb-ft of torque, paired to a continuously variable automatic transmission. But Honda discontinued the old 2.0-liter four-cylinder turbo, which sent an invigorating 252 hp and 273 lb-ft of torque through a crisp-shifting 10-speed automatic (and, for a few years, even a six-speed manual). This was the enthusiast favorite, and we think the folks who bought it are the least likely to return to the new Accord. Still, Honda hopes you'll be tempted by its upgrades to the Accord Hybrid, which we'll discuss on the next page.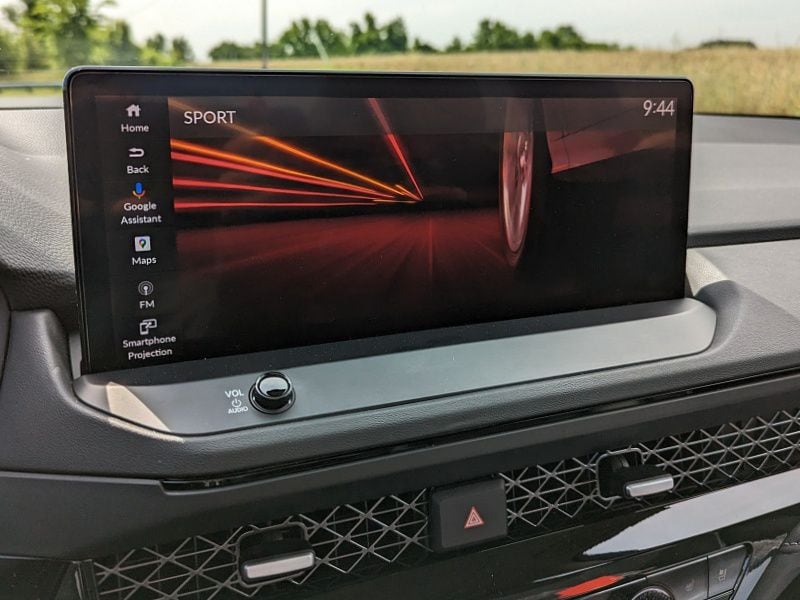 Overhauled Hybrid
More than half of Accord buyers chose a hybrid in April 2023, and not just because it's the only way to get certain options. The redesigned powertrain makes 204 hp and 247 lb-ft of torque, up from 202 hp and 232 lb-ft in last year's model. It doesn't explode off the line with a hearty growl like the old 2.0-liter turbo, but it's quicker than hybrid rivals from Toyota and Hyundai. 
In EPA testing, most 2023 Accord Hybrids achieve 46 mpg in the city, 41 mpg on the highway, and 44 mpg combined, while the EX-L with smaller wheels improves to 51 mpg city, 44 mpg highway, and 48 mpg combined. Those are modest improvements over last year's Accord, but in our non-scientific real-world testing, our Touring test vehicle averaged 47 mpg versus the 41 mpg we saw in the previous-generation model. (We also saw 44 mpg in a Toyota Camry Hybrid and 47 mpg in a Hyundai Sonata Hybrid.) The 1.5-liter Accord scores 29 mpg city, 37 mpg highway, and 32 mpg combined; as is often the case with hybrids, your best savings are in stop-and-go conditions rather than the open freeway.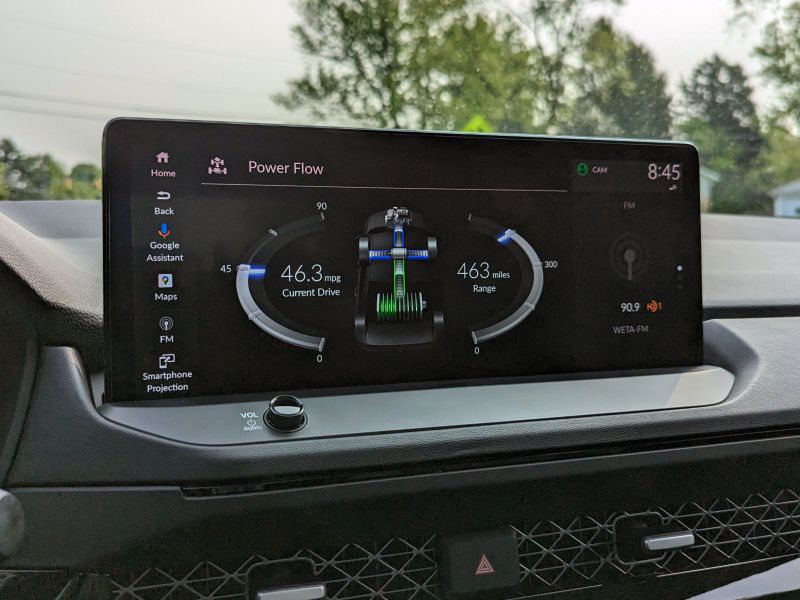 Top Safety Pick Plus
The redesigned Accord earned the highest grade of Top Safety Pick+ from the Insurance Institute for Highway Safety, reflecting exceptional crash safety and collision-avoidance technology. It improves over last year's mediocre Marginal score in a challenging new side-impact crash test. The National Highway Traffic Safety Administration hasn't yet tested the 2023 Accord, but last year's model earned the maximum five stars in every evaluation. 
Lots of valuable safety features and driver-assistance features are standard on even the base Accord LX. These include forward automatic emergency braking, adaptive cruise control, and a lane-departure warning with lane-keeping steering assistance. However, you need to upgrade to the EX or the hybrid to get blind-spot monitoring, which is standard equipment on the Nissan Altima and Kia K5.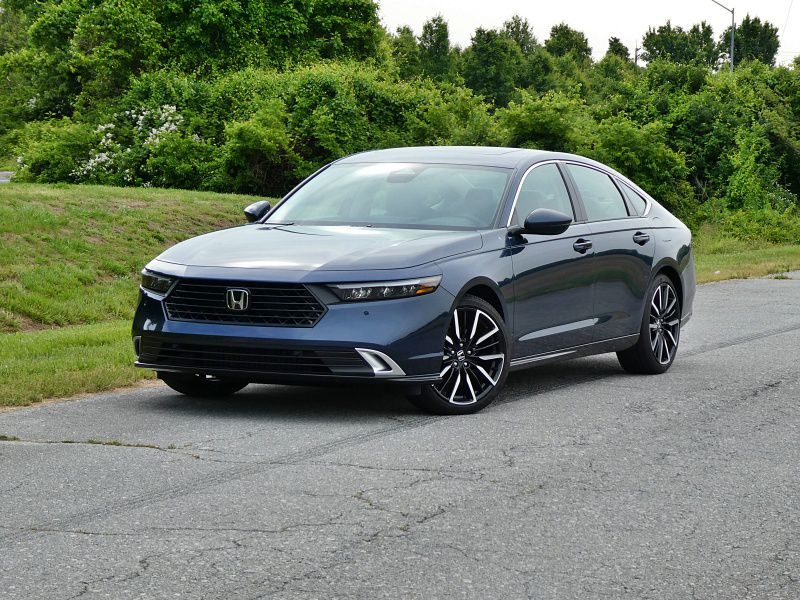 Competitors to Consider
We mentioned that the Accord has the sportiest ride and handling in the mid-size family sedan segment, along with the best-finished interior — and the highest price. That should already give you a clue about whether it's the sort of car you're interested in. But even if you like the Accord, its rivals also have a lot to offer. 
First of all, every competitor except for the aging Chevrolet Malibu still has a bigger optional engine. Horsepower junkies can still snap up a Hyundai Sonata, Kia K5, Nissan Altima, Subaru Legacy, or Toyota Camry, though none of them matches the Accord's steady, composed suspension. Secondly, the Accord Hybrid trails competing hybrids in EPA fuel economy ratings, though it does well in the real world. Lastly, none of the other mid-size sedans is embarrassingly behind the Accord's ride, handling, or spaciousness, and most come close to its interior quality. When safety is a top priority, the new Accord does comfortably trump the K5, Malibu, and Altima in the new IIHS crash test we mentioned.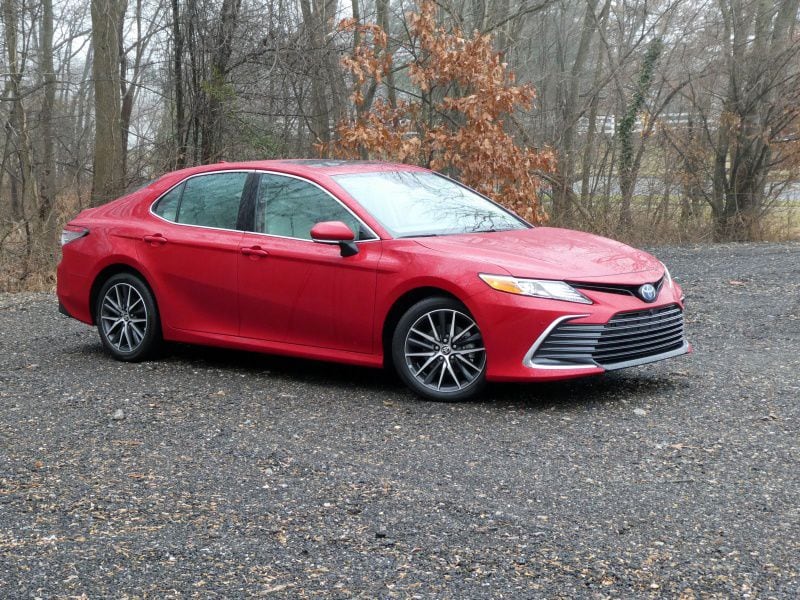 Photo by Brady Holt
The Family-Friendly Sports Sedan
The previous-generation Accord became a family-friendly sports sedan. It had the driving manners and interior quality of a higher-end car, even as it provided tons of passenger and cargo space for everyday family use. The new generation improves on that familiar package with upgraded infotainment (on upper trim levels) and better crash-test scores. 
It still isn't for everyone. There are cushier, less expensive, more powerful, and flashier-looking rivals. But there's still a lot to love about the redesigned Accord. We'd pick the hybrid over the base engine since it provides far superior gas mileage (at least around town) for a fairly modest price premium. You can also drive it like any other Accord without any weird hybrid noises or sensations, while fuel-savers can tinker with the newly adjustable regenerative braking system and lead-footed drivers can appreciate its livelier acceleration. But whichever Accord you choose, you're paying a price premium for a premium-feeling package.