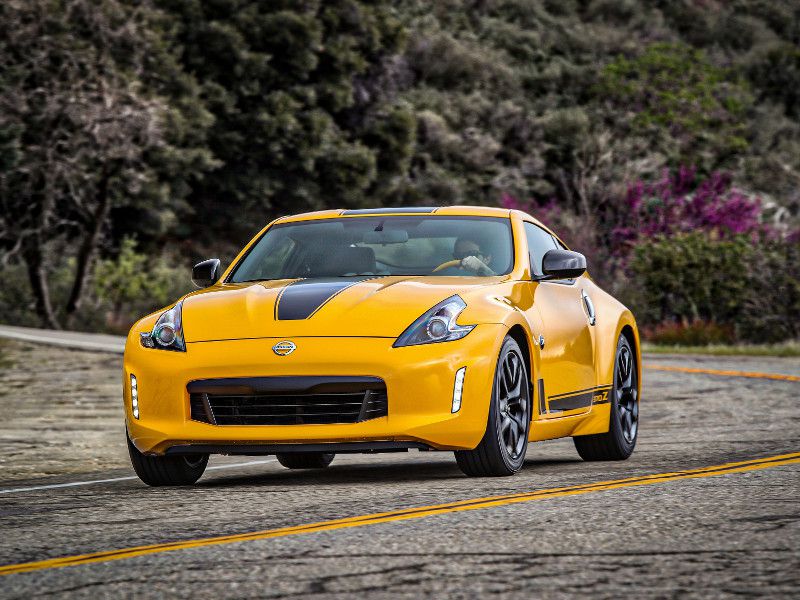 2018 Nissan 370Z Heritage Edition driving ・ Photo by Nissan
With all the talk about electrification and self-driving vehicles, it is easy to lose the fact that for enthusiast drivers, this is the golden age. From the lowliest vehicle available in the United States to the most expensive, the cars being offered now have the best handling and best acceleration of any cars ever offered to the public.
The number of current cars that feature more than 500 horsepower is truly amazing, as are the prices they command. But for those of us on more modest budgets, the fast cars we can choose from are truly astounding. To prove that to you, we have gathered a list of 10 fast and affordable cars. We chose a list price of $40,000 as our outer boundary, and the good news is there are many worthy vehicles whose MSRPs are much lower than that. So here they are: 10 fast affordable cars.
1. 2020 Dodge Challenger R/T Scat Pack
The Dodge Challenger R/T Scat Pack is one of the most incredible performance car values ever. This sweet-looking coupe is at the same time retro and totally contemporary, and its performance humbles most of the highly touted "muscle cars" of yesteryear.
At the heart of the car is a 485-horsepower 6.4-liter Hemi V8 engine that drives the rear wheels through a six-speed manual transmission or an eight-speed automatic. That amount of power under the hood leaves no doubt that the Challenger R/T Scat Pack is an intimidating straight-line performer, but what is less obvious is the car also delivers laudable handling, too. That is aided by standard SRT drive modes that allow drivers to tailor their driving experience by controlling transmission shift schedules, steering, paddle shifters (automatic transmission), traction, and suspension. Drive modes are pre-configured in "Sport," "Track," and "Default" modes, while "Custom" mode lets drivers tailor the driving experience to their favorite settings.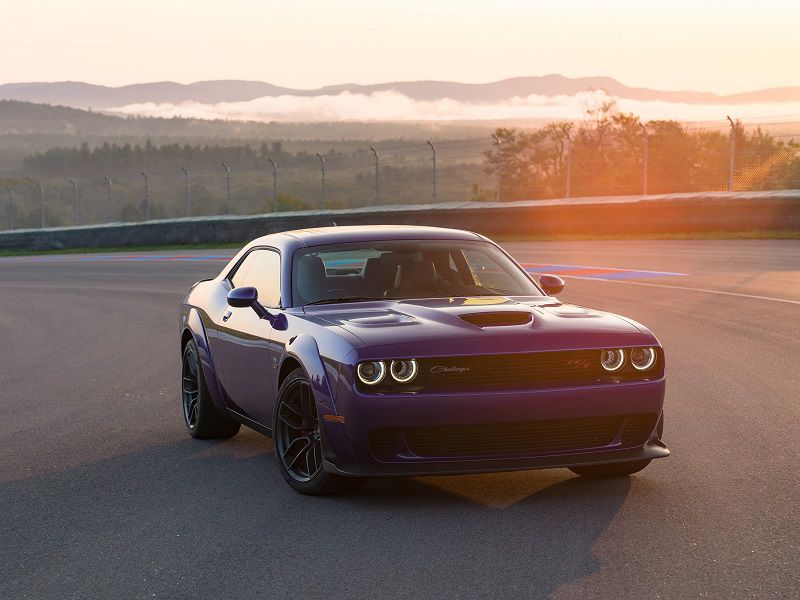 Photo by Dodge
2. 2020 Dodge Charger R/T Scat Pack
The Dodge Charger R/T Scat Pack is the four-door sedan sibling of the Challenger R/T Scat Pack, and it might be characterized as a tad more civilized — but just barely.
Like the Challenger R/T Scat Pack, it features the 485-horsepower 6.4-liter Hemi V8 engine, which produces 475 lb-ft of torque to make every green light an interesting experience. In the Charger, that torque is channeled through an eight-speed automatic transmission that provides an interesting combination of fuel economy and 160-millisecond shifts with rev-matching. You won't get that in your grandmother's Prius. Brembo brakes and 20-inch aluminum wheels are also part of the program. All this performance comes in a good-looking four-door sedan that has room for five and more than reasonable trunk space.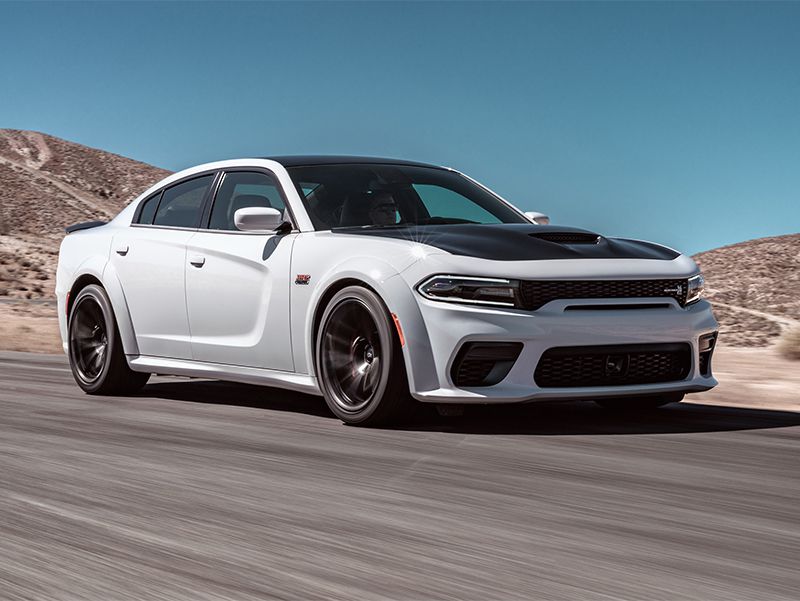 Photo by Dodge
3. 2020 Ford Mustang GT
First off, we should point out that there is a lot of performance fun to be had from the Ford Mustang Ecoboost Premium with its 310-horsepower 2.3-liter turbocharged four-cylinder engine and choice of 10-speed automatic or 6-speed manual. It is a nicely balanced package and a bargain at just over $31,000.
But those seeking classic Mustang performance will find it in the Mustang GT that features a 460-horsepower 5.0-liter V8 engine. It, too, offers the choice of the sophisticated 10-speed automatic transmission or the classic six-speed manual. What drivers will find in the Mustang GT is straight-line acceleration that is truly breathtaking plus a ride-and-handling sophistication that puts earlier Mustangs to shame. The Mustang GT is a truly handsome vehicle as well, giving appropriate nods to iconic Mustang proportions while making the car contemporary.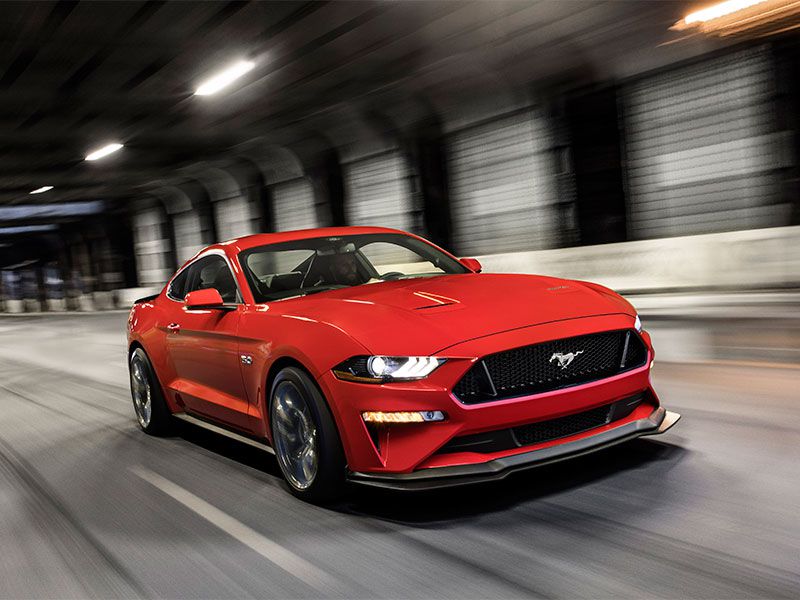 Photo by Ford
4. 2020 Chevrolet Camaro SS
The Chevrolet Camaro, the brand's answer to the Mustang for decades, currently offers a four-cylinder turbocharged engine and a 3.6-liter V6 in addition to various iterations of the "small-block" V8 that has powered performance Camaros since the beginning.
The lowest-priced Camaro SS is equipped with a 455-horsepower version of the 6.2-liter V8. It is backed by your choice of a six-speed manual transmission or a 10-speed automatic that enables manual shifting if desired. The Camaro and Mustang are both 188.3 inches in overall length, significantly shorter than the Challenger or Charger. That means less interior room (felt most prominently in the rear seat) but better maneuverability. The Mustang has a much larger (13.5 cubic foot) trunk compared to the Camaro's 9.1 cubic feet.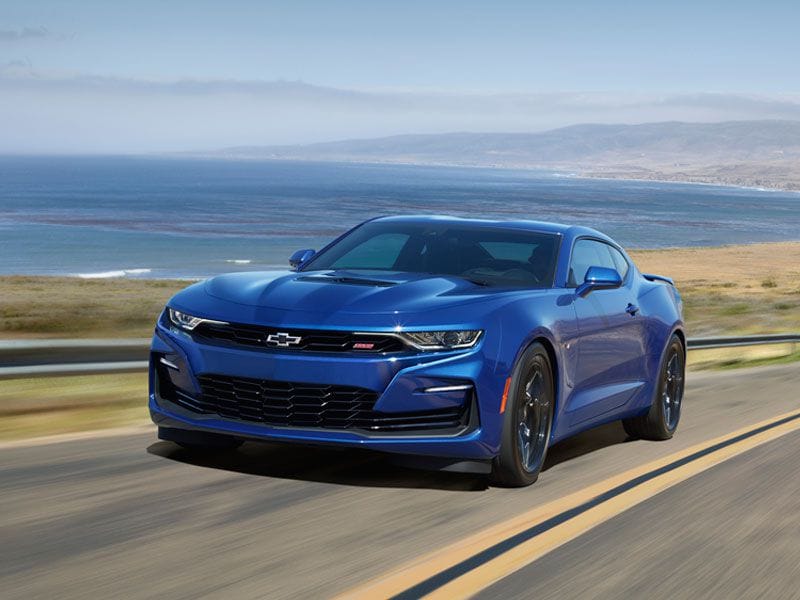 Photo by Chevrolet
5. 2020 Genesis G70
The Genesis G70 gives you the opportunity to slip behind the wheel of a luxury-brand sports sedan whose prowess won it the North American Car of the Year honors in 2019. If we stick to our under-$40K price bogey, we can't offer you the 3.3-liter twin-turbo-powered version of the car, but there is a lot to like about the 2.0-liter turbocharged four-cylinder model that gives you 252 horsepower to play with.
The sportiest of the 2.0-liters has a six-speed manual transmission, while the standard eight-speed automatic transmission offers rev-matching and gear-holding technology. Manual transmission-equipped G70s are offered in a Sport version with a performance package that includes a more powerful engine with unique sport exhaust, Brembo brakes with enhanced pads, and weight reduction measures. Inside, the G70 is finished as a luxury sedan should be.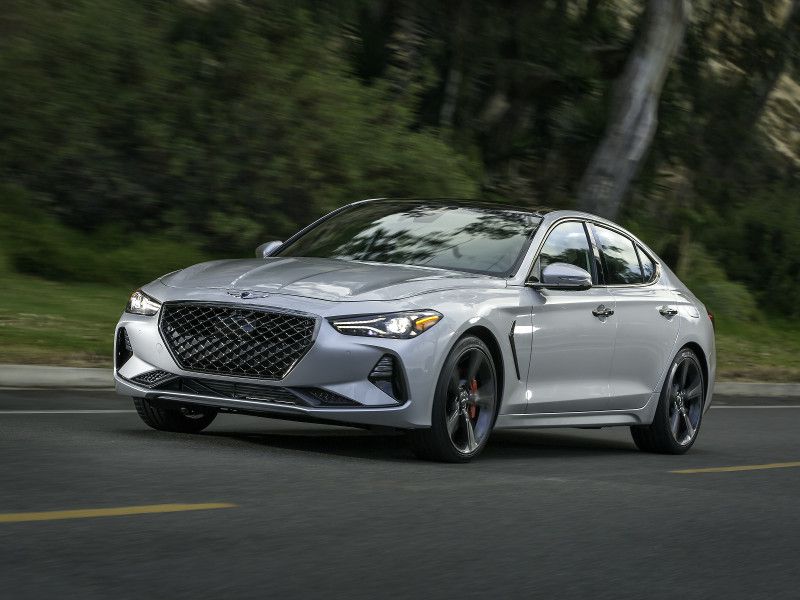 Photo by Genesis
6. 2020 Volkswagen Golf GTI
The Volkswagen Golf R and its 288 horsepower drift just over our self-imposed under $40K affordability limit, but that still leaves us with the original hot hatchback, the Golf GTI.
The GTI offers very satisfying overall performance, but one thing that separates it from other vehicles on this list is its supreme versatility. There is 93.5 cubic feet of interior room, along with 16.5 cubic feet of luggage space up to the parcel shelf and 22.8 cubic feet to the roof. And with the rear seats folded, the Golf GTI has 52.7 cubic feet of cargo capacity. But performance isn't lacking. The four-cylinder engine produces 228 horsepower at 4,700 rpm, and torque peaks at 258 lb-ft, beginning at just 1,500 rpm up to 4,500 rpm. A six-speed manual or an optional seven-speed DSG automatic are the two transmission offerings.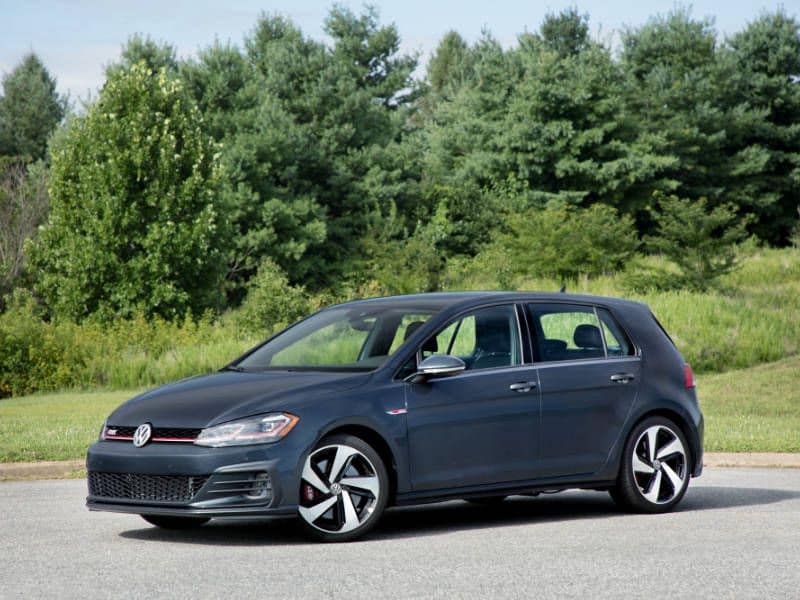 Photo by Volkswagen
7. 2020 Subaru WRX STI
The rally-proven Subaru WRX STI is at the edge of our affordability limit (some versions go past the limit), but we're happy to report that it remains in play for 2020. The WRX STI offers one of the most sophisticated all-wheel-drive systems available anywhere in its Multi-Mode Driver Controlled Center Differential (DCCD) Symmetrical All-Wheel Drive, which is quite a mouthful.
Motive force (and plenty of it) comes from a 310-horsepower 2.5-liter turbocharged four-cylinder "Boxer" engine. Standard electronic technologies to improve handling include Active Torque Vectoring and Multi-Mode Vehicle Dynamics Control. For the 2020 model year, the purposeful four-door WRX STI adds keyless entry with push-button start, dark gray 19-inch aluminum-alloy wheels, and redesigned engine bay cooling ducts in the front bumper. It also is equipped with the all-weather package, Subaru Starlink 7-inch multimedia system, steering-responsive LED headlights with height-adjustment controls, dual-zone automatic climate control, dual USB ports, and "welcome lighting."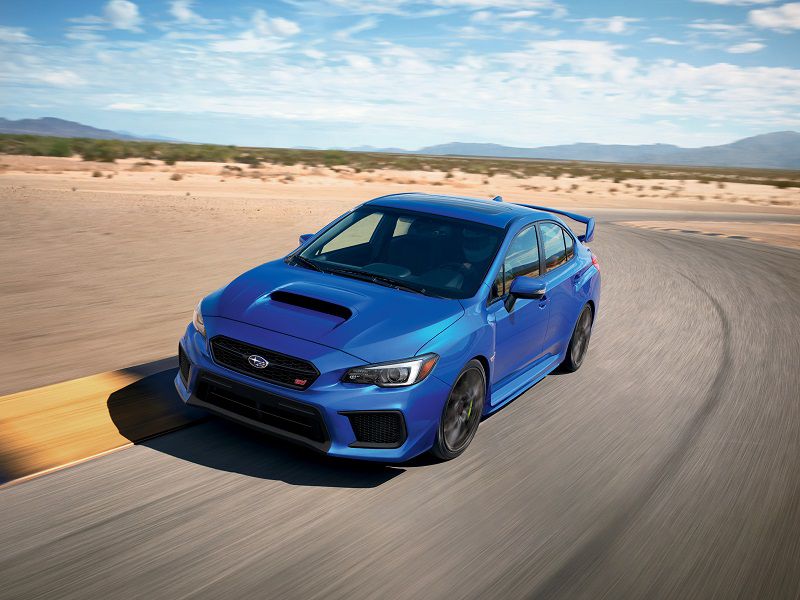 Photo by Subaru
8.  2020 Nissan 370Z
The Datsun 240Z took Japanese sports coupes to a whole new level when it was introduced in 1970. Now, 50 years later, the sixth-generation Z-car, now known as the 370Z, takes all of the virtues of the original and adds more.
Like the original, it uses front-midship architecture to give advantageous weight distribution, and it features a powerful six-cylinder engine. In the 370Z's case, the engine is a 332-horsepower 3.7-liter dual overhead cam V6 engine with variable valve event and lift. It drives the rear wheels via either a six-speed manual transmission with SynchroRev Match or a seven-speed automatic with Adaptive Shift Control. In the newest Z-car, even the clutch is enhanced. The EXEDY high-performance clutch, developed in part through EXEDY's longstanding relationship with Nissan Motorsports, is designed to feature better launch, acceleration, and deceleration by offering a large reduction in pedal force.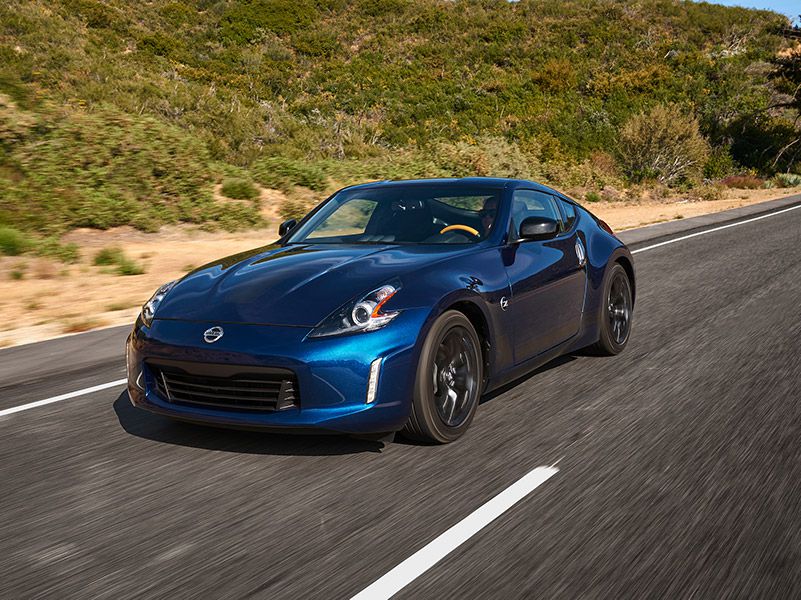 Photo by Nissan
9. 2020 Honda Civic Si
Honda has introduced a new version of its high-performance Civic Type R complete with more than 300-horsepower and a chassis tuned to use it to best advantage. That said, we believe the Civic S is one of the performance bargains of the decade.
The Si variants (coupe and sedan) of the 10th generation Civic lineup feature a 205-horsepower 1.5-liter turbocharged direct-injected four-cylinder engine plus a slick-shifting six-speed manual transmission. For more accelerative fun, this year's final-drive ratio is 6 percent shorter. Also new for the 2020 model year, Civic Si sedan and coupe models include the Honda Sensing suite of safety and driver-assistive systems, including new automatic high beams, and Active Sound Control, which uses the audio system to enhance the engine sound during aggressive driving.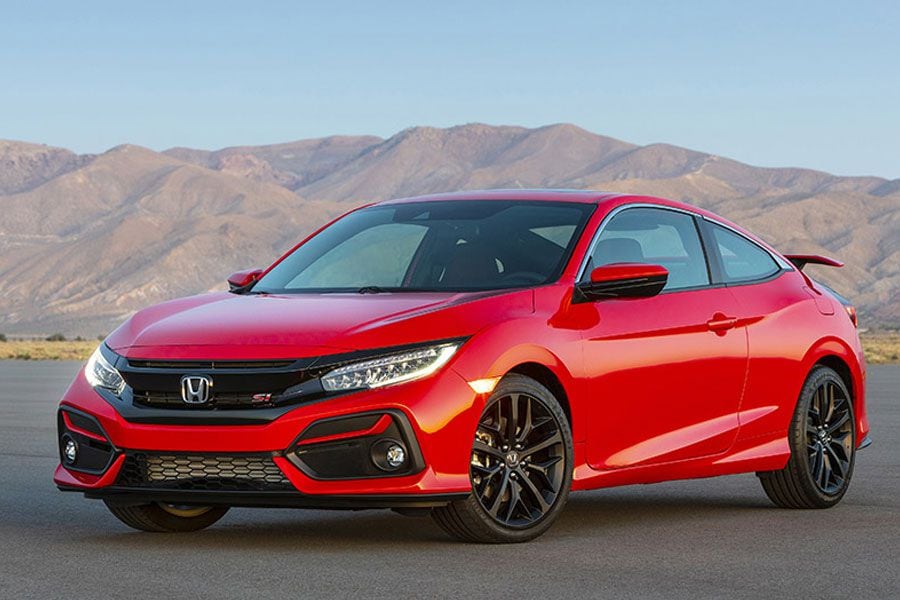 Photo by Honda
10. 2020 Hyundai Veloster N
The Hyundai Veloster N is the highest performance version of the brand's innovative sports coupe. Among its many design advantages is a third door on the passenger side to facilitate the entry and egress of rear-seat passengers. Fact is, many rear-seat passengers will seek egress if the Veloster N's driver puts it through its paces on the track.
The perky Veloster is available with a dizzying array of engines and transmissions, with the Veloster N sporting the highest-output variants. It can be had with either a 250-horsepower or 275-horsepower version of Hyundai's 2.0-liter turbocharged four-cylinder engine accompanied by a six-speed manual transmission. Special suspension handling tweaks are also part of the package. At under $30,000, the Veloster N is a fast, affordable bargain buy.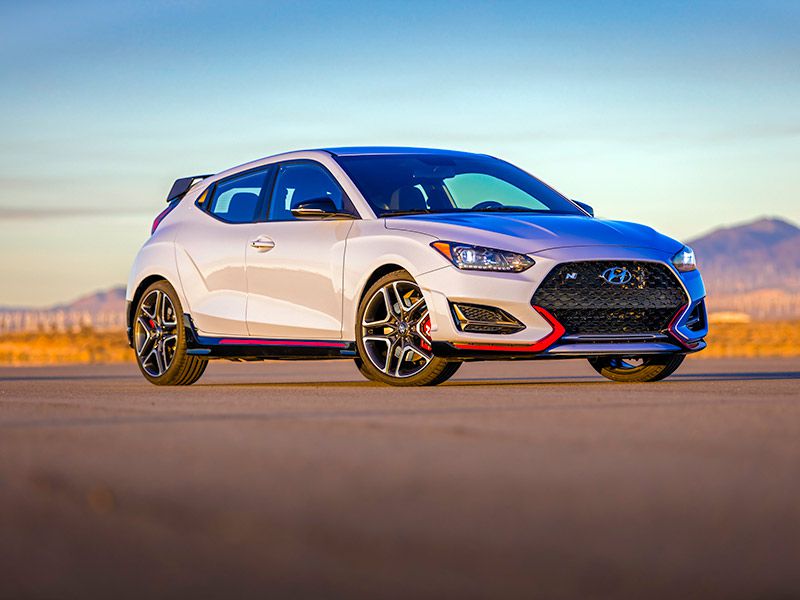 Photo by Hyundai