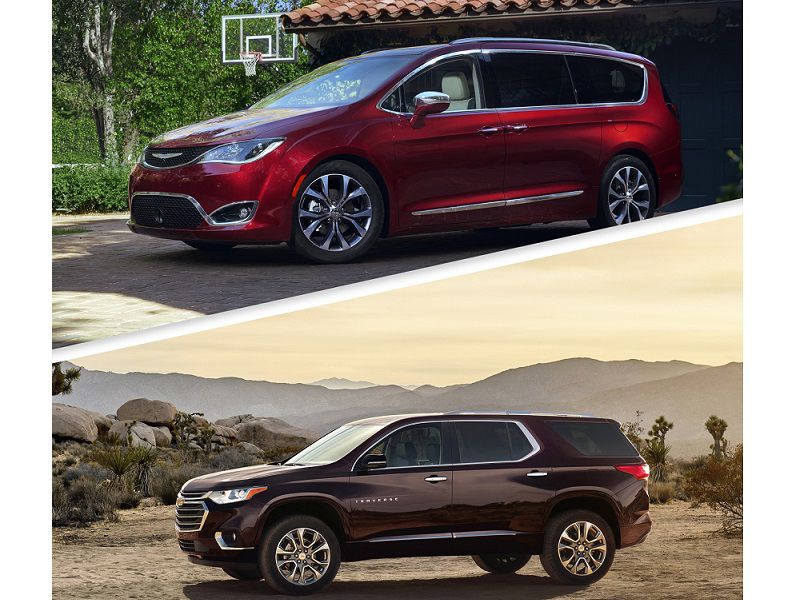 2018 Chrysler Pacifica Chevrolet Traverse ・ Photo by Chrysler / Chevrolet
Minivan or SUV? They have similar missions in life, yet they are as different as a red state and a blue state. Both are designed to tote prodigious quantities of people and stuff. Yet the way they look and the way they go about their business means that some folks love one of them while looking at the other with condescension at best, and at worst, total disdain.
These days the sales pendulum has swung heavily toward SUVs — particularly the car-based crossovers — leaving the various surviving minivans to scramble after the remaining minivan buyers. They are doing so with madcap innovation, including seats that disappear and optional vacuum cleaners. Meanwhile, the smug SUVs continue to add to their ranks in remarkable fashion.
So, what are the 10 biggest differences between SUVs and minivans? Don't go away. We're about to tell you.
1. Sliding Doors Versus Swing-Out Doors
It might not seem like door configuration is an important distinction, but among the differences between minivans and SUVs, the doors are not just an important distinction; they are the defining distinction. Minivans have rear doors that slide open. SUVs have rear doors that swing open.
Yes, in the deep dark recesses of time there were a few minivan wannabes (like the original Honda Odyssey) that had swing-out rear doors. But they never caught on. Honda didn't get its minivan mojo really going until it decided that tracing around a Dodge Caravan would be a good start in its vehicle development process. The first minivans had a single sliding door on the curb (right) side of the vehicle, but then somebody at Chrysler had an epiphany. Why not put a sliding door on the left side, too? Brilliant!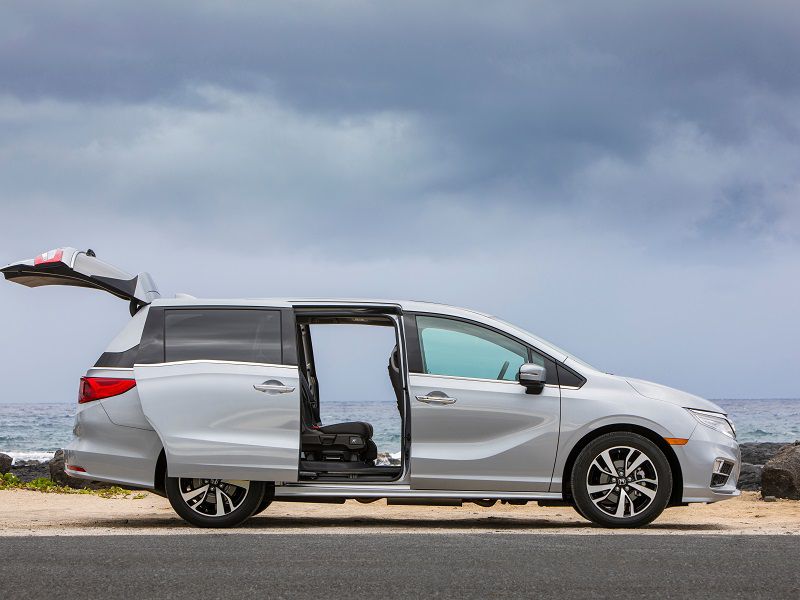 Photo by Honda
2. Exterior Design
A minivan is just what its name implies — a small (mini=small, except among mice) van. And of course, a van is shaped, more or less, like a loaf of bread. An SUV, in contrast, is shaped like a small loaf of bread sitting on top of a larger loaf of bread. Neither is particularly voluptuous, sensuous or even organic. But the minivan (single loaf) is generally regarded as being less attractive — and perhaps less dynamic — than the SUV (two-loaf) profile.
Why? For a hundred years or so, the long hood that leads an SUV has implied power and potency. Some designers have tried to graft a longer hood onto their minivans, but the attempt always has been half-hearted. The short hoods (and, of course, the sliding doors) always signaled to buyers, "Like it or not, this is a minivan."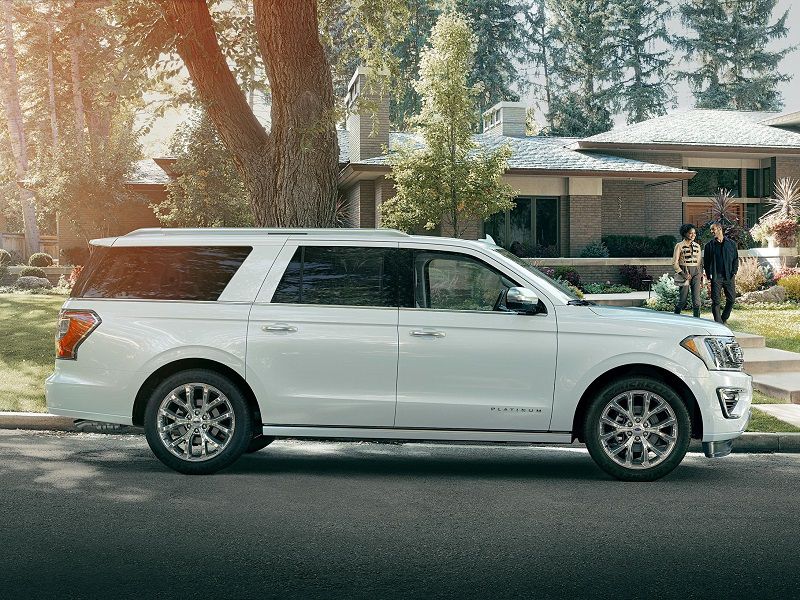 Photo by Ford
3. Front Seating Position/Visibility
Compared to the typical passenger sedan, both minivans and SUVs offer a higher driving position and more chair-like seating. From the driver's seat, the driver typically can see the front corners of her/his SUV. That might be a bit harder in a minivan, since the hood "falls away." But that issue is muted by the fact that the hood (see above) is so doggone short.
A big plus for the minivan is its "step-in height." Despite the fact that a minivan is taller than a sedan, it doesn't require driver or passengers to climb up to get into it. In contrast, SUVs often require running boards (what is this, 1926?) so that folks can clamber into them. Running boards, in turn, prompt the awkward dance of "what-foot-goes-first?"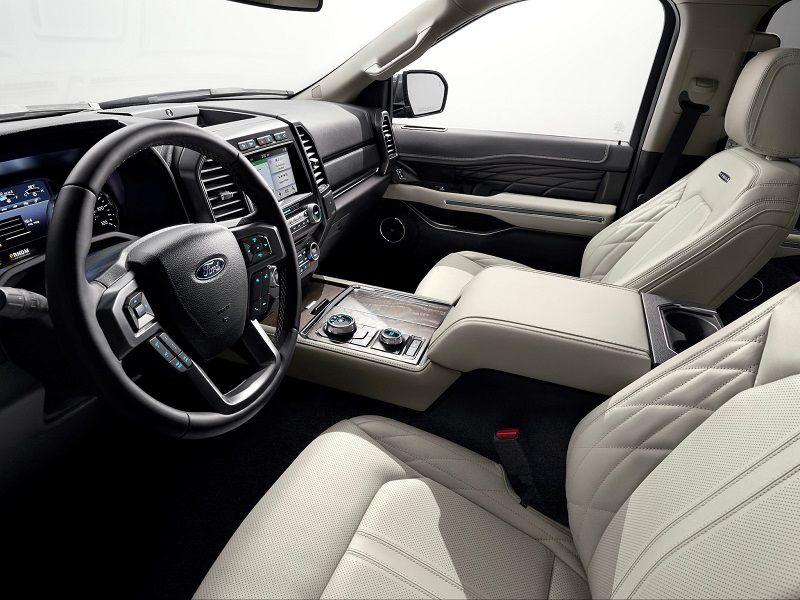 Photo by Ford
4. Vehicle Controls
The vast majority of SUVs have very conventional controls. Some of this stems from the fact that the original SUVs were based on truck chassis, so the use of straightforward truck-like interiors was natural. But even now, when the majority of SUVs are car-based "crossovers," they still have traditional instruments and switchgear.
Minivan designers, on the other hand, do not feel nearly as restrained. Further, the short hood of the minivan means intrusion of the engine and ancillaries into the passenger space, and that requires some creative interior designs. Because of this, we see things like shift levers protruding from the dash and oddly inaccessible cubbies near the floor.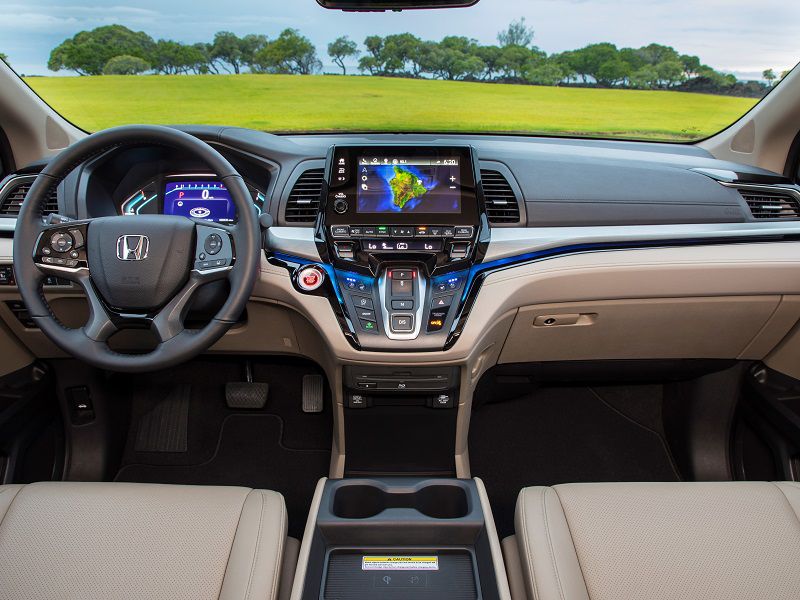 Photo by Honda
5. Seating/Cargo Versatility
Both SUVs and minivans are created to haul people and things, and both do a good job of it. How good is simply a matter of degrees, and a lot of it revolves around the flexibility of the seating. In many minivans, the rear seats "disappear" completely into the floor, and the second-row seats in the Chrysler Pacifica do the same thing. That opens up a giant amount of unobstructed floorspace for bulky cargo.
Rear seats in SUVs typically fold away, but even when folded they don't offer the clear floorspace that is obtainable in a minivan. Third-row accessibility also is at least slightly easier in a minivan than in an SUV, if for no other reason than the step-in height usually is lower.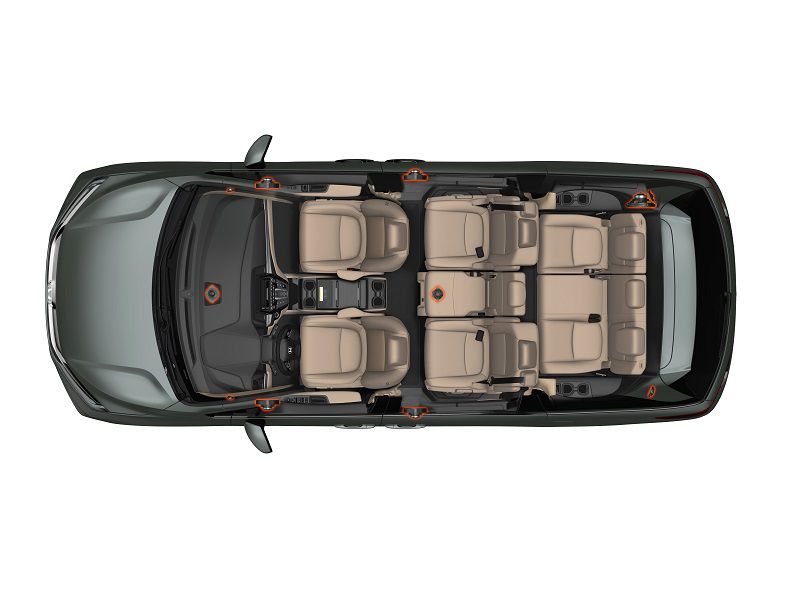 Photo by Honda
6. Interior Space/Cargo Space
Interior space is the place where minivans really shine. For their length, they will tote an amazing amount of cargo, at least in terms of cubic feet. For example, the Chrysler Pacifica minivan offers 140.5 cubic feet of cargo volume. Total interior volume is a staggering 197.3 cubic feet.
In comparison, the Ford Expedition MAX, one of the largest SUVs on the road, offers 121.5 cubic feet of cargo space with both rows of seating folded. The Honda Pilot, one of the most commodious midsize suvs and a vehicle often compared to a minivan, has 109.0 cubic feet of cargo space with second and third rows folded.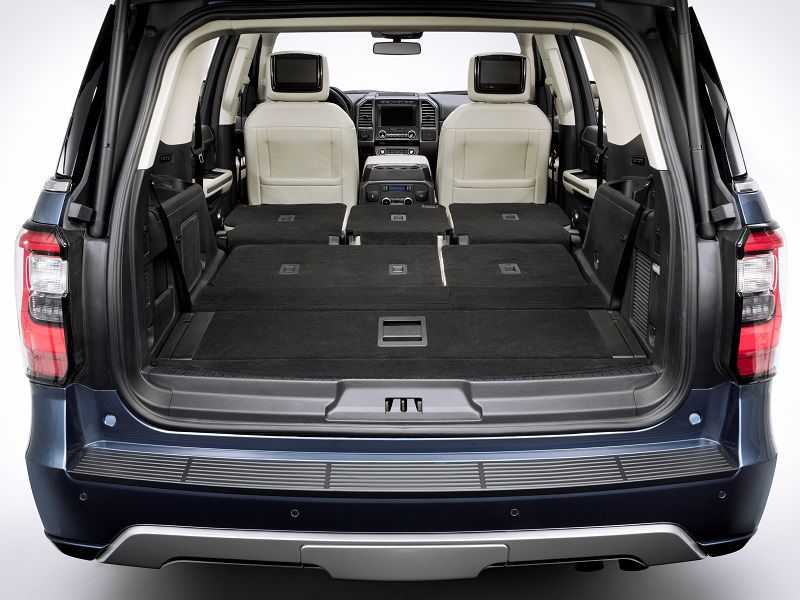 Photo by Ford
7. Powertrain
When it comes to minivan powertrains, your choices are extremely limited. Do you want a V6 or do you want a V6? Global automakers have decided that V6 engines are right-sized for minivan use, and so that's what they offer. The Chrysler Pacifica, Honda Odyssey and Toyota Sienna are equipped with V6 engines that offer between 280 and 296 horsepower.
In stark contrast, powertrain offerings in the scores of SUVs currently on the market run the gamut from four-cylinders to beefy V8s. A large number of turbocharged engines are available, and a variety of hybrid powertrains are offered, too. The Chrysler Pacifica is the only minivan that gives a hybrid powertrain option.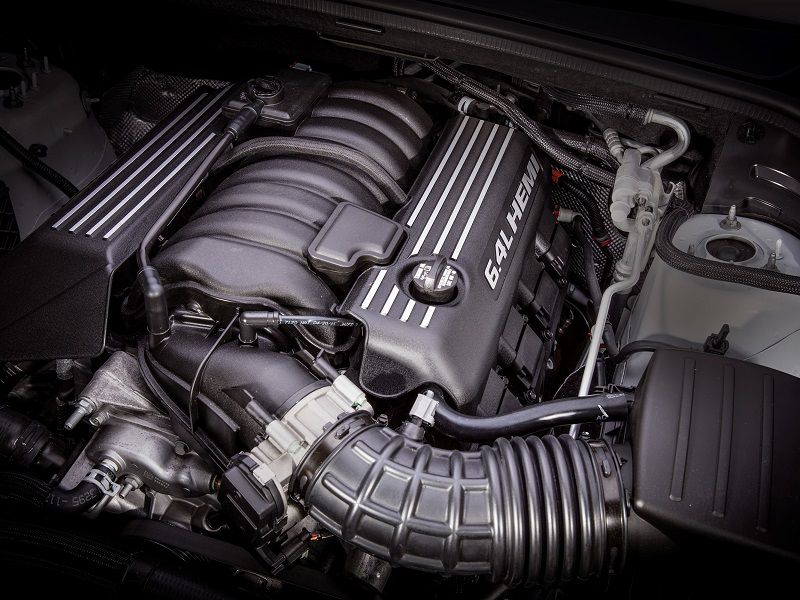 Photo by Dodge
8. Fuel Economy
As you might guess, fuel economy also is a major differentiator between SUVs and minivans. Because powertrain availability in minivans is limited, their fuel economy is clustered. For instance, Chrysler Pacifica, Honda Odyssey and Toyota Sienna each offer an EPA-certified 22 mpg combined. (Of course, the Pacifica Hybrid outdoes that with an 84 MPGe EPA rating, which takes into account its plug-in status.)
SUVs have fuel economy figures that are all over the ballpark — some significantly better than 22 mpg overall, and many significantly worse. A Ford EcoSport small SUV has a 27 mpg EPA combined rating, while the 6.2-liter V8-powered GMC Yukon XL has a combined rating of 17 mpg.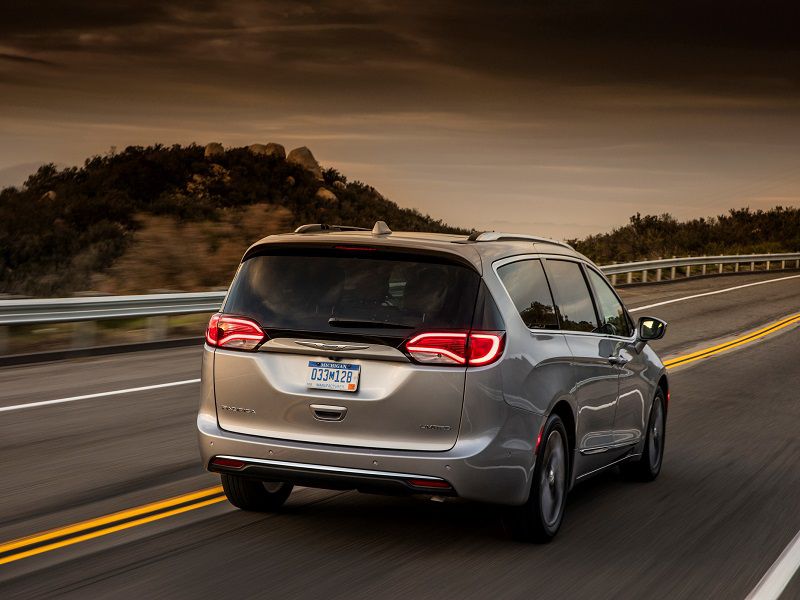 Photo by Chrysler
9. Off-Road Ability
SUVs made their reputation with their ability to go where no roads existed. Heavy-duty four-wheel-drive systems were the norm in early SUVs, and even today, when most SUVs are based on car platforms, four-wheel or all-wheel drive is a key portion of their persona. If it doesn't offer an all-wheel-drive option at the very least, it probably isn't an SUV.
Again, with the variety available in SUVs now, some of the vehicles have very robust off-road credentials, while others don't. That said, SUVs' all-wheel or four-wheel drive and higher ground clearance make them much more suitable for off-road use than a minivan.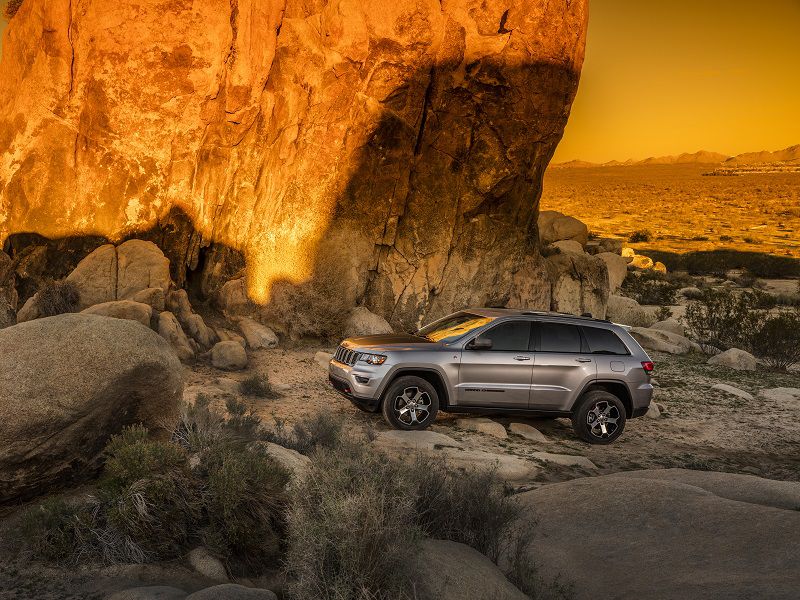 Photo by Jeep
10. Driving Fun and Cool Factor
The variety of powertrains SUVs offer and their ability to journey off the beaten track means SUVs are more fun to drive than minivans. Don't get us wrong; minivans are excellent transportation appliances, and they handle and accelerate better than ever. But fun? Not really.
On the other hand, you can buy an SUV that will outperform a purpose-built sports car of a decade ago. Power, braking, roadholding, wet and dry traction — today's SUVs can deliver. Further, even the largest of today's SUVs, like the Lincoln Navigator and Chevrolet Suburban, are livelier performers than you might guess.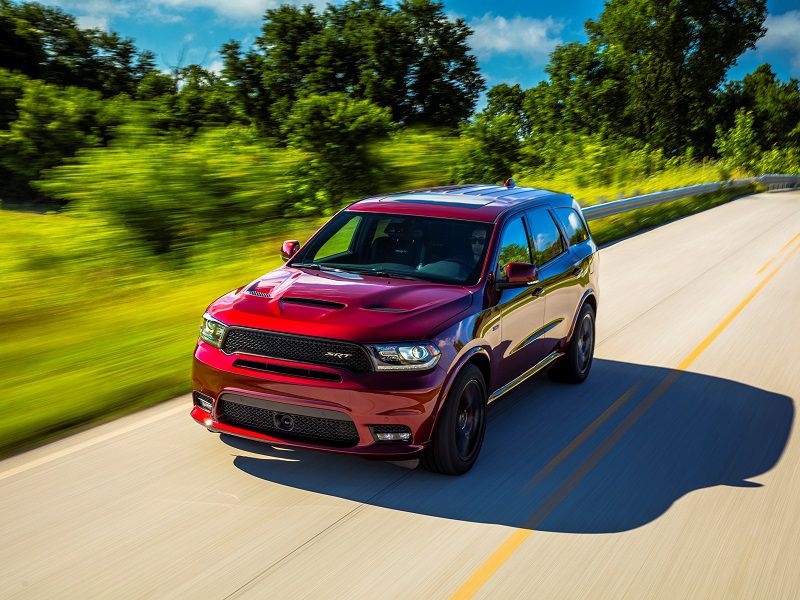 Photo by Fiat Chrysler Automobiles