Slide your jeans onto some affordable German seats.
Volkswagen is one of those brands that enjoys a cult following. Everybody knows the Beetle – it was the best-selling vehicle of all-time, after all. VW has come a long way since those simple days of the Beetle and the Microbus, having developed a wide range of vehicles that appeal to a broad group of consumers. You've got the more basic, economical people-movers like the Golf and Jetta. There are more indulgent choices like the convertible Eos and CC. And don't forget the family haulers, from the Passat sedan to the Touareg SUV. Volkswagen's affordable German engineering, refined interiors and direct handling keep customers coming back for more.
MSRP is Manufacturer's Suggested Retail Price and is subject to change. See each vehicle's research page for the latest information.
Photos courtesy of Volkswagen
Page 2
Is it a furry animal that hops, or is it a leisurely game played on manicured lawns? After flip-flopping between the Rabbit and Golf names a few times, Volkswagen's entry-level compact returns as the Golf with sleek new styling in two- and four-door hatchback forms. The 5-cylinder engine is more powerful than those of its typical competitors, and a torquey turbodiesel engine is available once again in the TDI models.
$17,490 – $22,789 2.0-liter 5-cylinder with 170 hp 22 city/30 hwy/25 cmb Scion xD, Mazda Mazda3, MINI Cooper
Comfortable, roomy interior Composed handling and quiet cruising Top crash safety ratings from IIHS Available 2.0-liter turbodiesel 4-cylinder with EPA est. 42 mpg hwy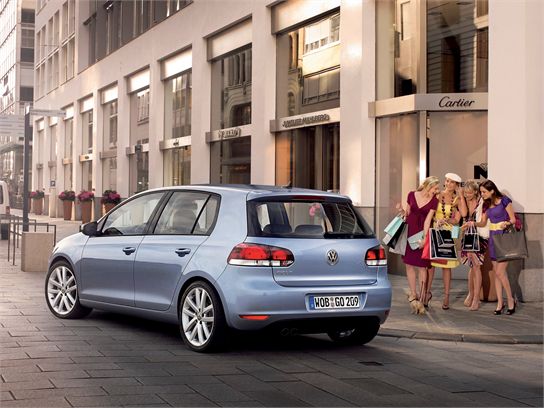 Page 2
The Golf-based GTI is the most popular ride in VW's performance stable and is also newly redesigned for 2010. It has a cult-like following of its own thanks to a refined interior, hatchback versatility, autobahn-tuned suspension and Direct Shift Gearbox (DSG) transmission. And unlike many of its competitors, the GTI is offered in both two-door and four-door models.
$23,290 – $24,990 2.0-liter turbocharged 4-cylinder with 200 hp 21 city/31 hwy/25 cmb Mazda MAZDASPEED3, MINI Cooper S, Honda Civic Si
Red brake calipers and larger brake rotors 6-speed manual or DSG transmission HID headlights Unique plaid upholstery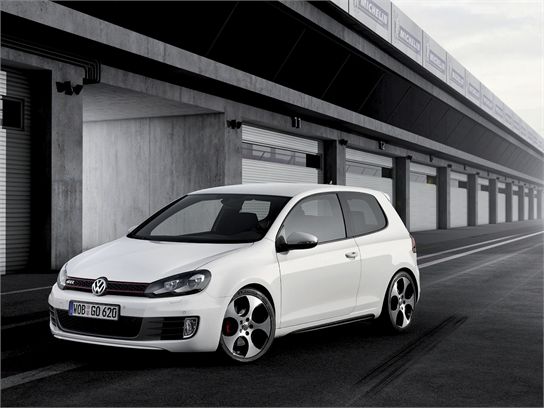 Page 2
Volkswagen's most iconic model weathers another year in basically the same reincarnated form it returned with in 1998. Though not very spacious inside, the quirky New Beetle drives smoothly and quietly and comes in a choice of convertible and coupe body styles.
$18,540 – $26,170 2.5-liter 5-cylinder with 150 hp 20 city/28 hwy/23 cmb Mini Cooper, Chrysler PT Cruiser, Kia Soul
Nostalgic exterior styling 16-inch alloy wheels Premium audio system with satellite radio Electronic stability control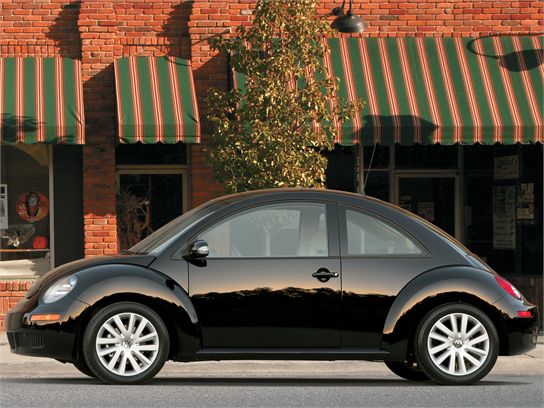 Page 2
This two-door, four-passenger convertible gives you the sun in more ways than one: Through a unique integrated glass sunroof, or by dropping the power hardtop. The wind in your hair comes at a relatively high price, though, and you won't be able to haul more than a few groceries with the top down.
$31,615 – $35,200 2.0-liter turbocharged 4-cylinder with 200 hp 21 city/31 hwy/25 cmb Chrysler Sebring Convertible, Mitsubishi Eclipse Spyder GT, BMW 128i Convertible
Power retractable hardtop with glass sunroof
Optional DSG 6-speed automatic transmission with paddle shifters
Heated front seats
Highest scores from IIHS for front and side-impact crash tests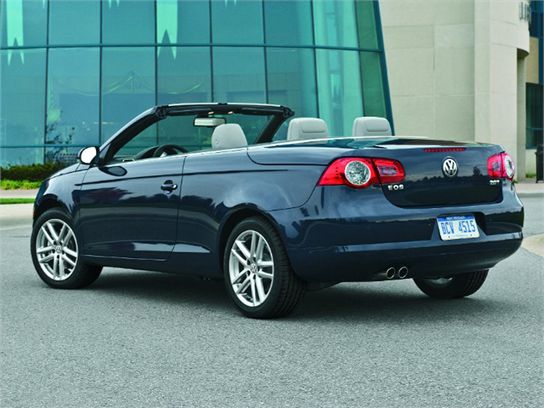 Page 2
As affordable European sedans go, the midsize Jetta stands alone. Also available in a wagon, it flaunts plenty of standard equipment and the refinement expected from German automakers. An available clean diesel returns an EPA-estimated 41 mpg on the highway, giving buyers a fuel-efficient non-hybrid option.
$17,605 – $25,410 2.5-liter 5-cylinder with 170 hp 22 city/30 hwy/25 cmb Nissan Altima, Honda Accord, Mazda Mazda3
High-quality materials throughout the cabin IIHS highest safety ratings for front and side impacts Heated front seats, mirrors and windshield washer nozzles Expansive cargo capacity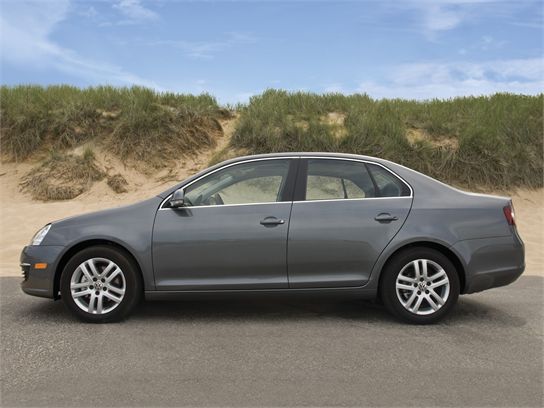 Page 2
A Jetta dressed in performance gear, the GLI offers sportier handling, an impressive interior, and a quiet ride to top it all off. Five-passenger hauling capacity, the huge 16 cu. ft. trunk and good crash safety ratings mean it's practical, too.
$24,770 – $25,870 2.0-liter turbocharged 4-cylinder with 200 hp 21 city/31 hwy/25 cmb Volvo S40, Honda Civic Si Sedan, Acura TSX
Standard low- and high-beam HID headlights Optional Direct Shift Gearbox (DSG) 6-speed automatic transmission with paddle shifters Passenger-hugging heated front seats Optional hard-drive navigation system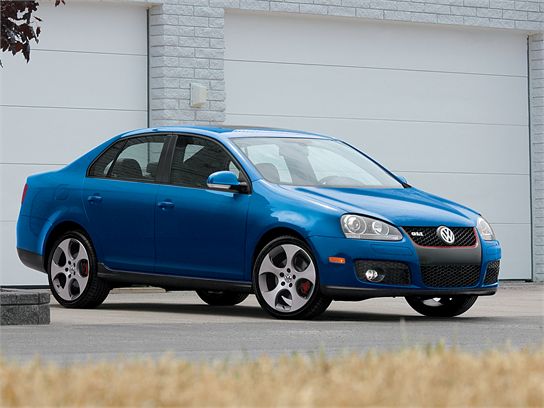 Page 2
No longer available with a V6, the midsize Passat sedan and wagon models are still quite vigorous with a turbo inline-4. The extremely well-made interior is spacious, comfortable, and stocked with standard equipment like a sunroof and 8-speaker stereo.
$28,300 – $29,690 2.0-liter turbocharged 4-cylinder with 200 hp 19 city/29 hwy/23 cmb Nissan Maxima, Toyota Camry, Honda Accord
6-speed automatic transmission with manual mode 17-inch alloy wheels Top crash safety ratings from IIHS 12-way power adjustable driver's seat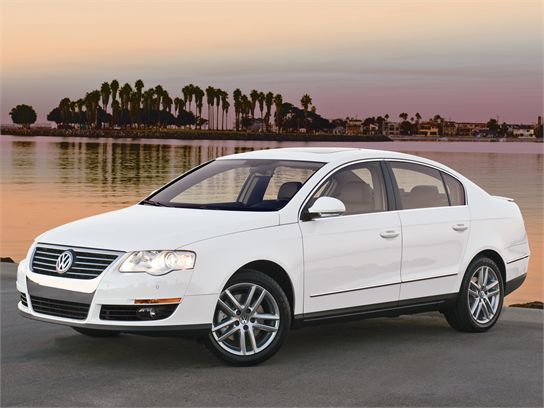 Page 2
Surprisingly sleek styling makes the CC the most striking new Volkswagen. Basically a restyled Passat, its similarly upscale interior gets a little extra flair and its rakish roof only leaves room for two in the back, both of whom will be cradled in cushy bucket seats.
$27,550 – $40,115 2.0-liter turbocharged 4-cylinder with 200 hp 21 city/31 hwy/25 cmb Honda Accord, Volvo S60, Nissan Maxima
Available V6 and all-wheel drive 6-speed manual transmission or optional 6-speed automatic Standard heated front seats Four-passenger capacity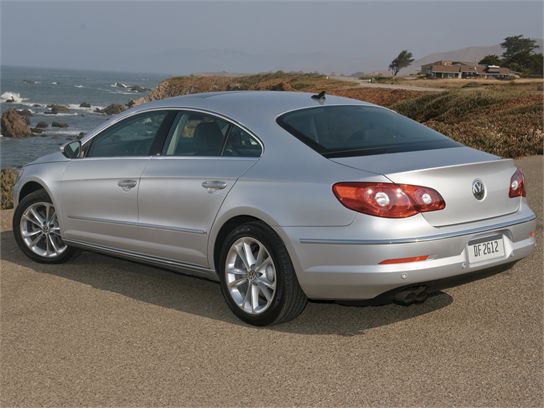 Page 2
The Routan is VW's latest player in the minivan game after sitting on the sidelines for six years. However, it's a Dodge Grand Caravan/Chrysler Town & Country underneath its Vee Dub uniform. Drive them all to see if VW's revisions to the suspension, dashboard and seats are worth the price difference you'll pay for the German badge.
$25,900 – $42,400 3.8-liter V6 with 197 hp 16 city/23 hwy/18 cmb Honda Odyssey, Toyota Sienna, Kia Sedona
Superior crash safety ratings Power sliding rear doors with power windows Optional rear-seat multimedia entertainment system Available 4.0-liter V6 with 251 hp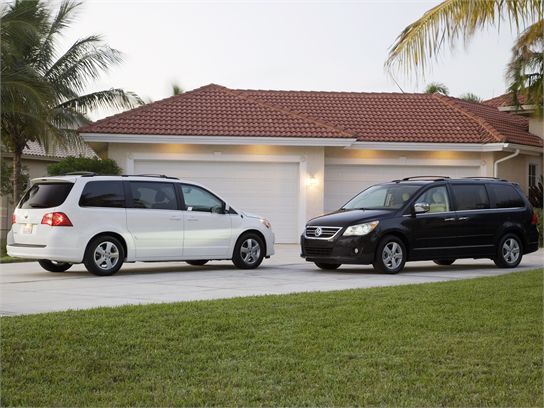 Page 2
The Tiguan is VW's first compact crossover. Though smaller than most of its rivals, it's among the quickest, drives more confidently and its exterior styling exudes much more personality. Inside you'll find a typical VW high-grade interior, and outside you can get available all-wheel drive.
$23,200 – $33,215 2.0-liter turbocharged 4-cylinder with 200 hp 19 city/26 hwy/21 cmb Toyota RAV4, Honda CR-V, Nissan Rogue
Adjustable rear seats Available huge panoramic sunroof 2,200-lb. towing capacity 6-speed manual or 6-speed automatic transmission