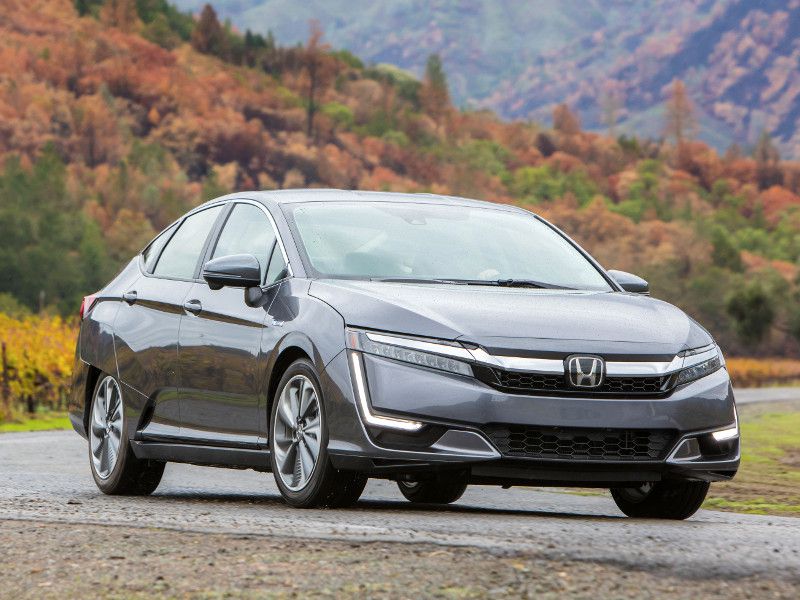 2020 Honda Clarity Plug In Hybrid ・ Photo by Honda
When you mention the Honda brand many naturally think of high-quality, fun-to-drive vehicles like the Accord, Civic, and CR-V. But while those models account for a lot of Honda's sales volume, the brand offers several other vehicles that combine its vaunted quality and reliability with very innovative engineering.
Yes, the Accord, Civic, and CR-V are as mainstream as mainstream can be, but other Honda models, like the Insight, Clarity, and Ridgeline, show a penchant for out-of-the-box thinking that results in even more satisfying vehicles. Honda also offers versions of its Honda Sensing safety and driver-assist array across its entire lineup. Without further ado, here are the top 10 Honda vehicles you need to know about.
1. 2021 Honda CR-V
The Honda CR-V has been a market leader among small SUVs on the market for well over two decades now. With the rise of crossover SUVs, it has become the most popular of the many Honda models. The fairly recent addition of a hybrid model has only added to its popularity.
The conventional Honda CR-V has a 190-horsepower turbocharged 1.5-liter engine teamed with a continuously variable automatic transmission. The hybrid offers a 2.0-liter naturally aspirated four-cylinder engine combined with an electric motor for a combined 212 horsepower. Front-wheel drive is standard with the non-hybrid CR-V trims with all-wheel-drive optional. All CR-V Hybrid trims have all-wheel drive. The CR-V offers an attractive and very recognizable exterior. Its pleasant interior provides ample room for five and their gear because the CR-V is one of the roomiest vehicles in the segment. We like the standard Honda Sensing array of electronic safety and driver's aids that includes forward-collision warning, adaptive cruise control, and lane departure warning. The CR-V is available in LX, EX, EX-L, Touring, Hybrid EX, Hybrid EX-L, and Hybrid Touring trim levels.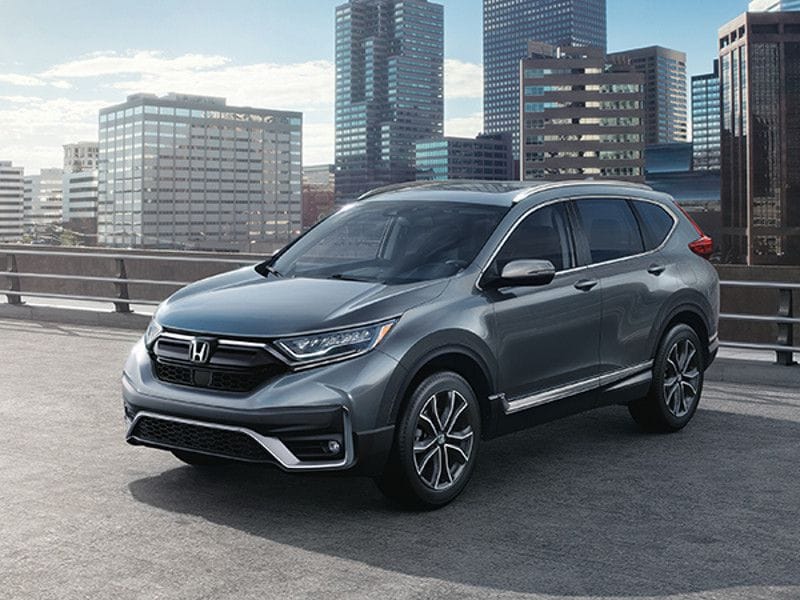 Photo by Honda
2. 2021 Honda Civic
The 2021 Honda Civic is one of the most solid and reliable compact cars on the planet. The Civic sedan's standard 2.0-liter four-cylinder engine produces 158 horsepower and 138 lb-ft of torque. The uplevel engine, standard on the five-door hatchback, is a turbocharged 1.5-liter four-cylinder that delivers 174 horsepower and 162 lb-ft of torque. Both engines are teamed with continuously variable transmissions, some with paddle shifters, with an available manual transmission on the hatchback. The high-performance Type R hatchback, meanwhile, has more than 300 horsepower. 
The Civic has an expressive exterior shape, and it is exceptionally roomy inside with plenty of space for five passengers. Like most vehicles in the Honda lineup, it is equipped with an impressive number of electronic safety aids under the Honda Sensing name.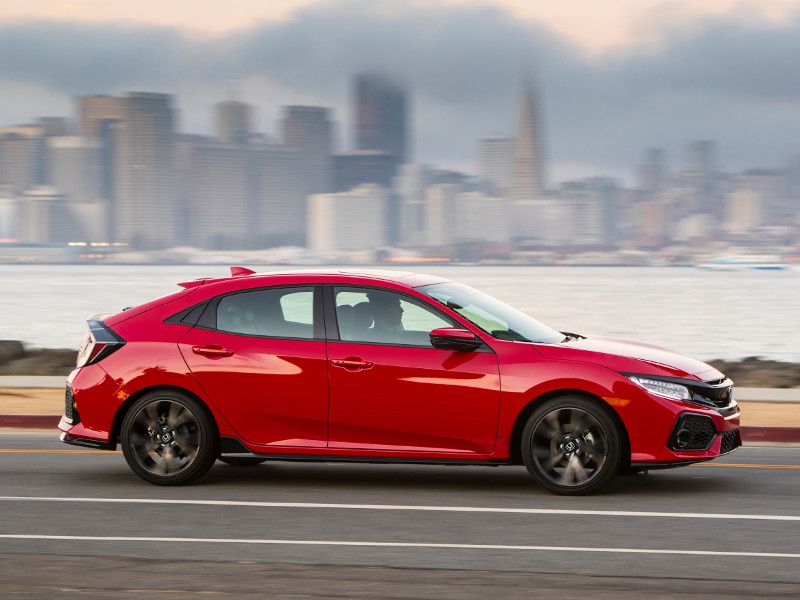 Photo by Honda
3. 2021 Honda Accord
The 2021 Honda Accord is one of the best-selling sedans in the United States, and it has proven its dependability and reliability during its multi-decade-long run. Filled with comfort and convenience equipment features, the mid-size Accord is also one of the most responsive and fun-to-drive of the midsize sedans.
The Accord features three available drivetrains — a 192-horsepower 1.5-liter turbocharged four-cylinder, a 252-horsepower 2.0-liter turbocharged four-cylinder engine, and a hybrid powertrain. The Accord Hybrid has a 2.0-liter four-cylinder engine teamed with an electric motor drive system that produces a combined 212 horsepower. With a very comfortable five-passenger interior, the Accord is filled with interesting features like active noise cancellation and hill-start assist. The 2021 Honda Accord is available in LX, Sport, Sport Special Edition, EX-L Sport 2.0T, and Touring 2.0T trims, plus Hybrid, Hybrid EX, Hybrid EX-L, and Hybrid Touring.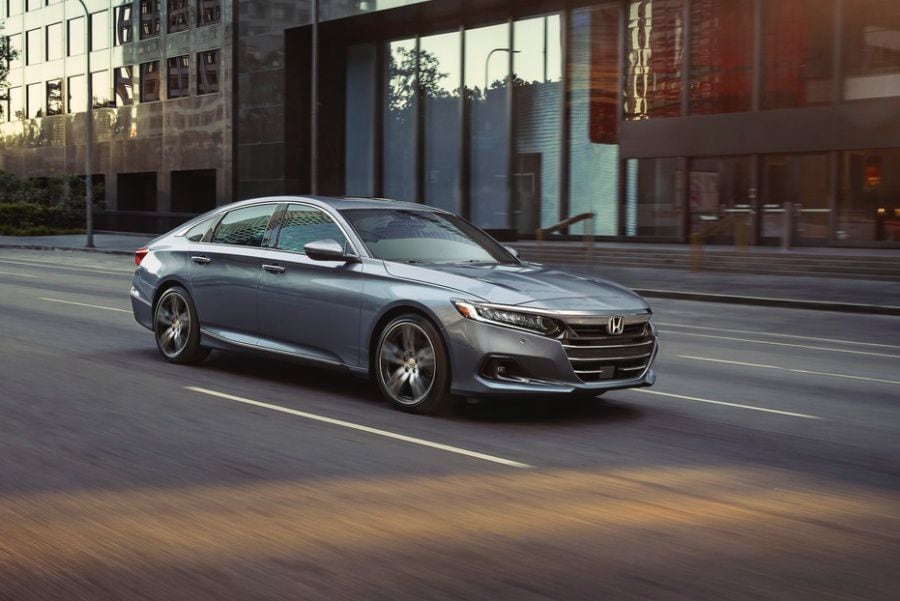 Photo by Honda
4. 2021 Honda Pilot
The 2021 Honda Pilot mid-size SUV is one of the roomiest and most accommodating vehicles in its class. In some ways, its interior space and versatility are akin to the Honda Odyssey minivan. With three rows of seating, the Pilot can transport up to eight in excellent comfort and security. The top-level Elite and Black Edition models include added touches like a heated leather-wrapped steering wheel and a 590-watt premium audio system with 10 speakers.
The Honda Pilot uses a front-drive platform, and all-wheel-drive is available on all trims and standard on the Elite and Black Edition. The Pilot is powered by a 3.5-liter V6 delivering 280 horsepower and 262 lb-ft of torque. The stalwart V6 is teamed with a nine-speed automatic transmission. A slew of electronic safety features are combined in the Honda Sensing group. The 2021 Honda Pilot is offered in LX, EX, EX-L, Special Edition, Touring, Elite, and Black Edition trims.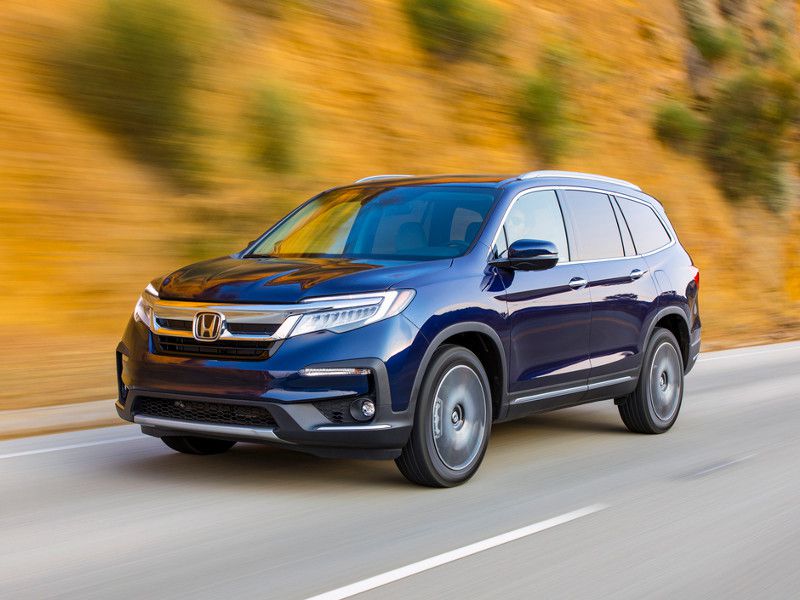 Photo by Honda
5. 2021 Honda HR-V
The Honda HR-V subcompact SUV continues to rack up sales for the 2021 model year while its hatchback sister ship, the Honda Fit, was dropped from Honda's U.S. lineup. Known for its excellent use of space and sporty driving demeanor, the five-passenger HR-V delivers excellent reliability as well.
The 2021 Honda HR-V offers a single powertrain — a 141-horsepower 1.8-liter naturally aspirated four-cylinder engine backed by a continuously variable (CVT) transmission with sport mode. In most trims, the automatic transmission is fitted with paddle shifters. In basic form, the HR-V is a front-drive vehicle but Honda's Real Time AWD all-wheel-drive system is available on every trim. For its length, the HR-V's interior space and cargo-carrying abilities are truly impressive. The 2021 Honda HR-V is offered in LX, Sport, EX, and EX-L trims.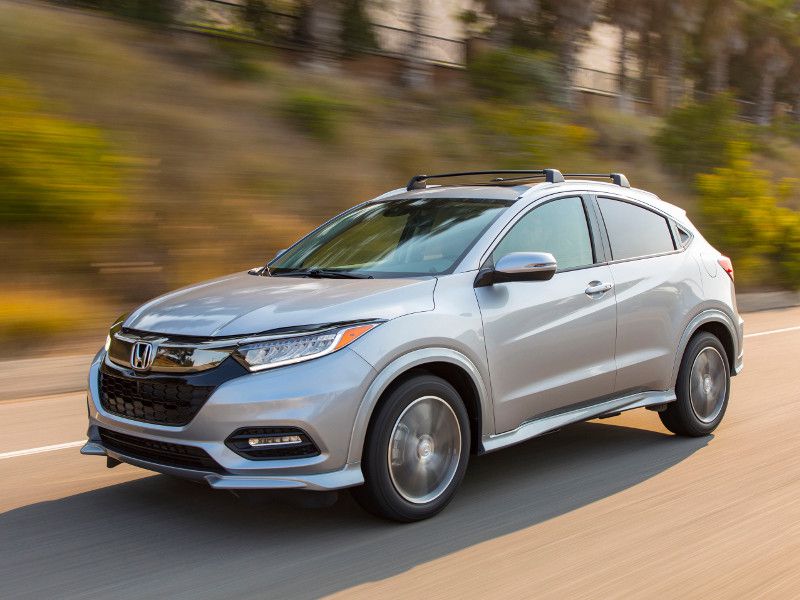 Photo by Honda
6. 2021 Honda Odyssey
Soon to be available in 2022 model-year form, the Honda Odyssey is one of the best minivans on the market. While other manufacturers dropped their minivans, Honda stayed the course, making improvement after improvement. The result is one of the most versatile family vehicles on the market.
The Odyssey uses Honda's familiar 3.5-liter normally aspirated V6 engine that produces 280 horsepower and 262 lb-ft of torque. With the sophisticated 10-speed automatic transmission, acceleration and all-around fun-to-drive are better than any minivan driver has a right to expect. Exceptionally roomy inside, the Odyssey is an eight-passenger vehicle in all but its lowest trim level, where it seats seven. The seats fold and the third row can disappear into the floor for extra versatility. The Odyssey offers a cavernous 32.8 cubic feet of space behind the rear seat and 88.8 cubic feet with the third row folded. Total cargo space is 144.9 cubic feet. In the Odyssey, the Honda Sensing array includes standard niceties like adaptive cruise control and traffic sign recognition. The Honda Odyssey is offered in LX, EX, EX-L, Touring, and Elite trim levels.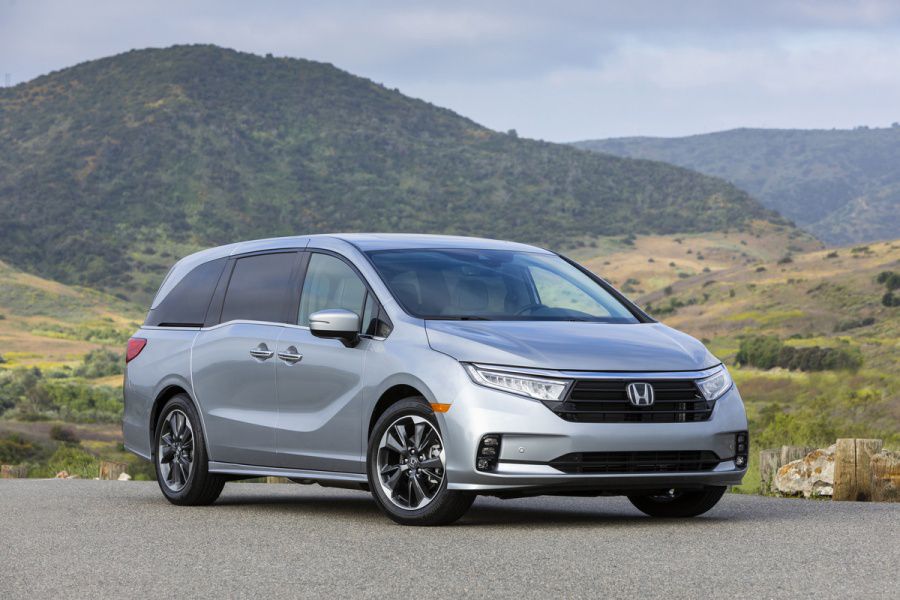 Photo by Honda
7. 2021 Honda Passport
The Honda Passport is the most off-road-oriented of the Honda crossover suvs. The Passport's powertrain features a 3.5-liter naturally aspirated V6 engine that delivers 280 horsepower and 262 lb-ft of peak torque. The engine is teamed with a nine-speed automatic transmission that has paddle shifters and shift-by-wire tech.
Front-drive and all-wheel-drive configurations are offered in three of the four trim levels, while the Elite trim is all-wheel-drive only. The Passport is not quite as rugged as some off-road-oriented SUVs, but it does have surprisingly good off-pavement abilities. The Passport has good accommodations for five and 77.9 cubic feet of cargo space behind the first row of seats with the second row folded. It is offered in Sport, EX-L Touring, and Elite trim levels.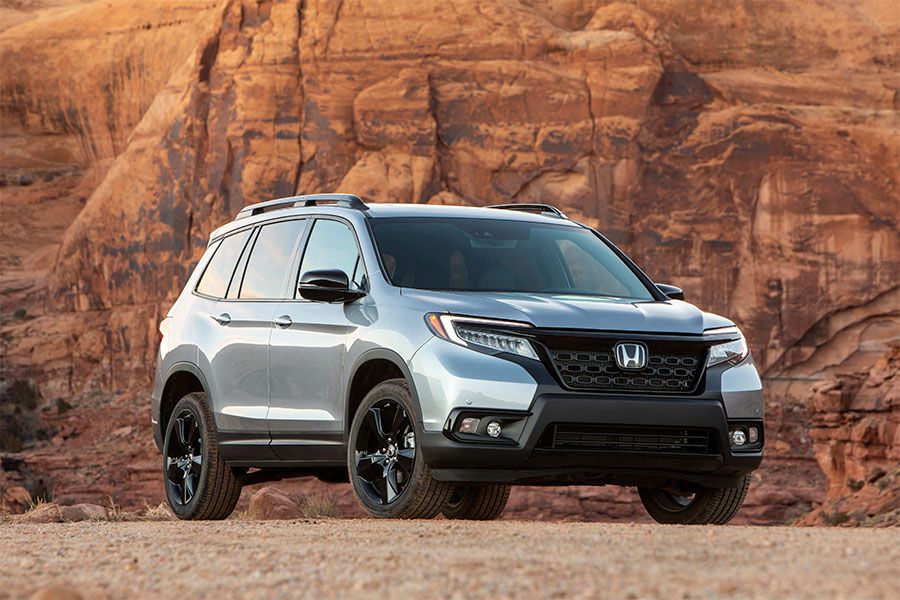 Photo by Honda
8. 2021 Honda Ridgeline
The Honda Ridgeline is one of the most unusual pickup trucks on the road today, and for 2021, it is getting serious body makeover. It features all-new sheet metal from the front roof pillars forward. The new hood has a pronounced power bulge, and the squared-off nose, upright grille, and new front fenders give the Ridgeline a bolder and more conventional pickup truck look.
While other midsize trucks are typically rear-drive, the Honda Ridgeline has standard torque-vectoring i-VTM4 all-wheel drive. And it has standard V6 power and independent suspension all-around that emphasize its different nature. Another idiosyncratic feature is the lockable in-bed trunk. The Ridgeline's 280-horsepower, 3.5-liter V6 engine is backed by a nine-speed automatic transmission. All 2021 Honda Ridgelines come with the Honda Sensing suite of technologies, featuring automatic emergency braking with a forward-collision warning and lane-keeping assist, among others.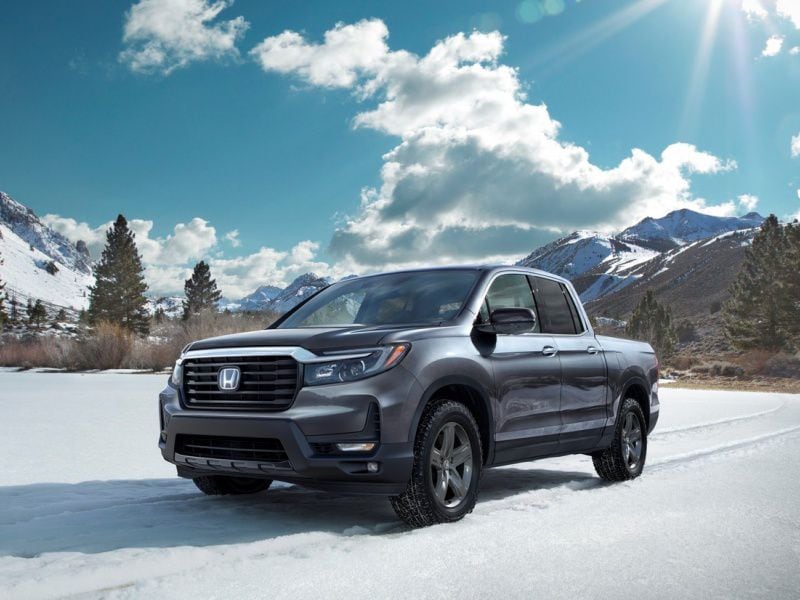 Photo by Honda
9. 2021 Honda Insight
The Honda Insight compact hybrid sedan is the brand's answer to the Toyota Prius. But the Insight is designed to provide driving enjoyment in addition to high fuel economy. The Insight's 1.5-liter 4-cylinder engine produces 107 horsepower and 99 lb-ft of torque. It is teamed with a 129-horsepower electric motor that delivers 197 lb-ft of torque.
With a McPherson strut front suspension paired with a multi-link rear suspension, the Insight handles well and acceleration is better than expected. About the size of a Honda Civic sedan, the Insight shares many of that car's very positive attributes. The Insight's Honda Sensing safety array includes upscale features like traffic sign recognition, adaptive cruise control, and blindspot and rear traffic monitor. Heated, leather-trimmed front seats are standard in the uplevel Touring version. The 2021 Honda Insight is offered in LX, EX, and Touring trim levels.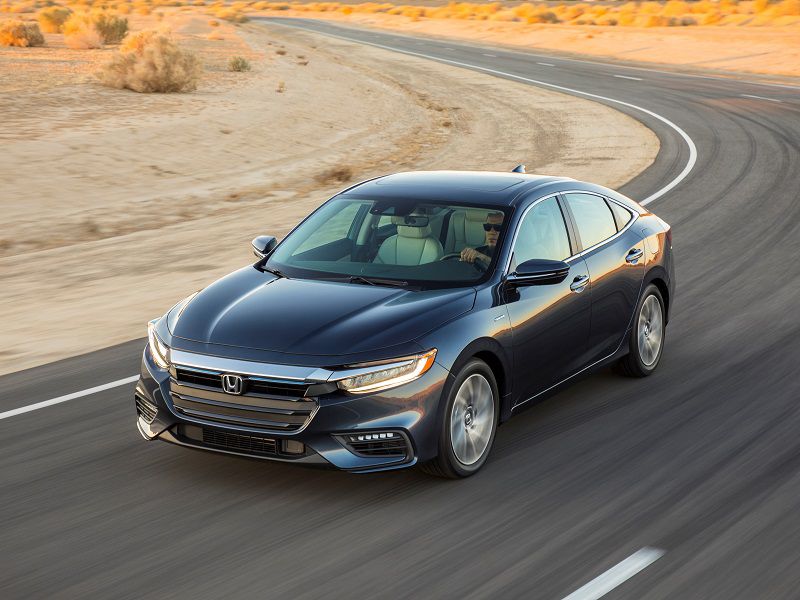 Photo by Honda
10. 2021 Honda Clarity
The Honda Clarity sedan is a rare car in that it is offered in fuel-cell and plug-in hybrid configurations. About the size of a mid-size Accord, the Clarity doesn't have a conventional hybrid version, but the Accord Hybrid essentially fills that slot. From behind the wheel and in the passenger seats, the Clarity feels a lot like the Accord sedan.
The Clarity Plug-In Hybrid is powered by a 1.5-liter normally aspirated four-cylinder engine co-joined with an electric motor drive. The system's combined peak horsepower is a solid 212 horsepower, giving the Clarity good road manners and satisfying acceleration. The Clarity has interior space for five, and it can travel up to 47 miles on electric power alone. All Clarity models have the Honda Sensing technology package that includes lane watch, lane-keeping assist, and adaptive cruise control. The Clarity plug-in hybrid is offered in base and Touring trims levels. The Clarity fuel cell model has a 174-horsepower electric motor that provides 221 lb-ft of peak torque.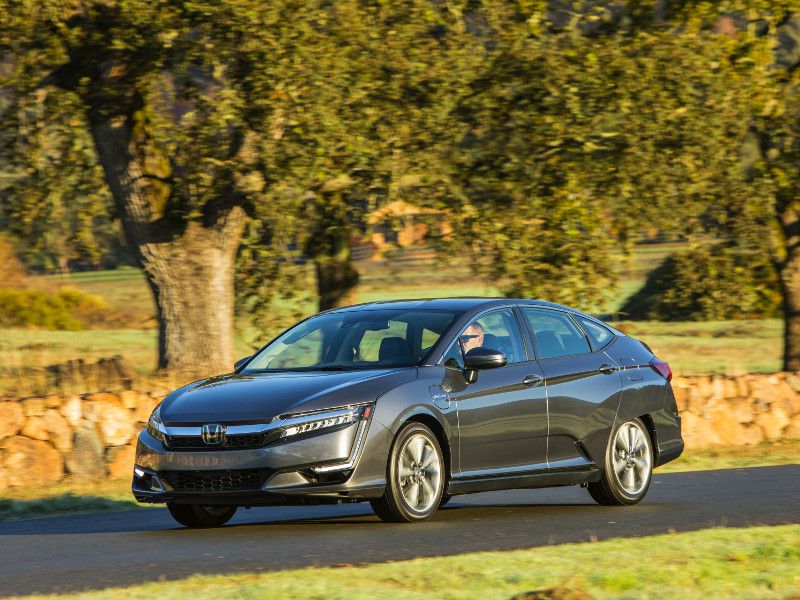 Photo by Honda