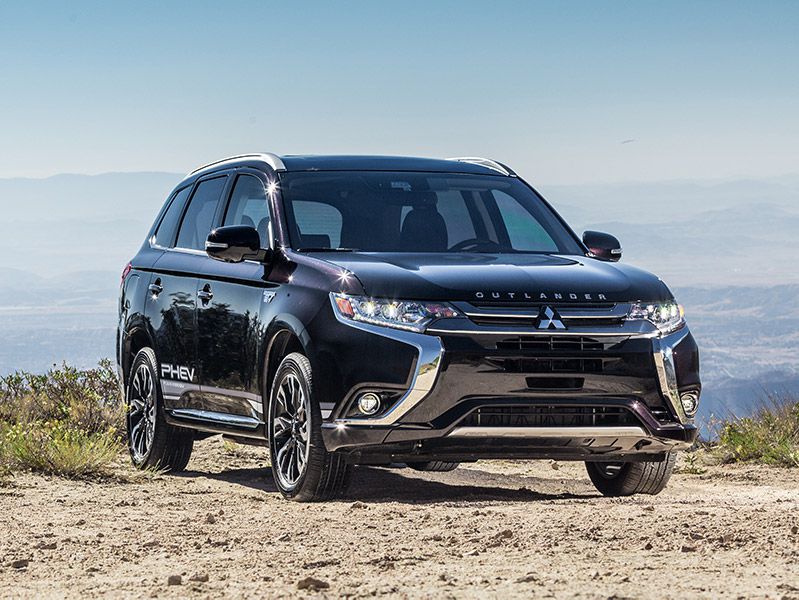 2019 Mitsubishi Outlander PHEV ・ Photo by Mitsubishi
The U.S. auto market makes it crystal-clear that Americans love SUVs. They love their looks, their versatility, their ruggedness, and their high seating position. Once a driver has owned an SUV, he or she typically finds it hard to return to a sedan. So there is no doubt that SUVs are on-trend.
But to obtain a new SUV often takes a considerable amount of cash and credit. That is why so many car buyers are turning to the used market. The sturdiness and exceptional build quality of many SUV models make them good candidates for being purchased used. Given the nature of SUV owners, used SUVs are unlikely to have been abused, so purchasing an SUV that is less than five years old has the potential to be a special bargain. As we put together this list, we concentrated on 2017 and 2018 model year vehicles as a sweet spot of high value. Buying an SUV of this vintage will get you a vehicle with a lot of useful life in front of it for a price that will be thousands less than the comparable new version. Here's a look at the best options.
1. 2018 Toyota RAV4
If you combine robust design, excellent engineering, and an emphasis on quality, you will assemble a vehicle that will be an excellent used-car value. That describes the Toyota RAV4 to a "T."
Americans love RAV4s, as demonstrated by its perennial place on the bestseller list, and that popularity guarantees that there are plenty of well-kept examples on the market. A compact crossover suv with ample room for five, the RAV4 is robustly built and has a reputation for longevity. It is powered by a solid, reliable 176-horsepower 2.5-liter four-cylinder engine, and even in base trim, the 2018 RAV4 LE offers an impressive array of standard equipment, including roof rails, Bluetooth/USB integration, and 6-inch touchscreen audio. Even more comfort, convenience, and safety features are added to the higher trim levels.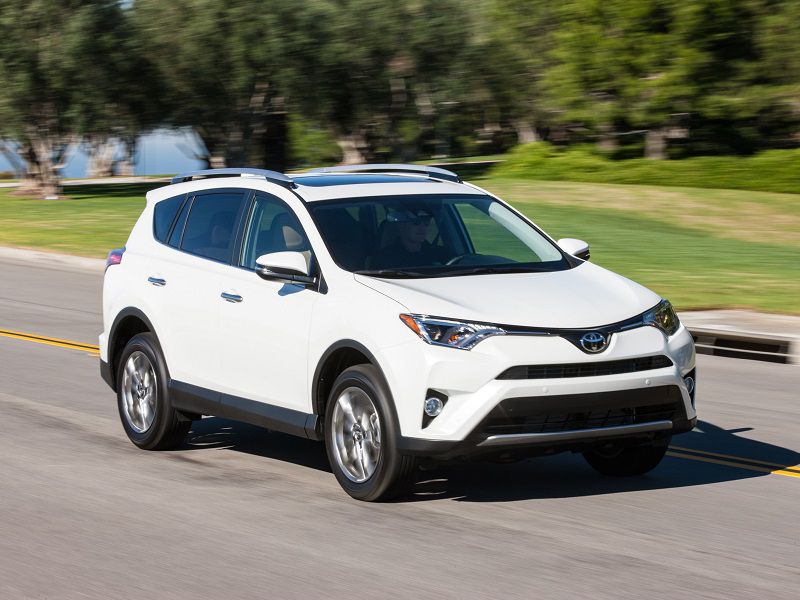 Photo by Toyota
2. 2018 Chevrolet Equinox
The Chevrolet Equinox was newly redesigned in the 2018 model year, and that means it was equipped with the latest comfort, convenience, and safety features. Engine choices include the 170-horsepower 1.5-liter turbocharged four-cylinder, 252-horsepower 2.0-liter turbocharged four-cylinder, and 137-horsepower 1.6-liter turbodiesel four-cylinder. If we had to pick, we'd probably choose the 2.0-liter for its added pep. An added plus is the nine-speed automatic transmission.
The Equinox is available with front-drive or all-wheel-drive. For the 2018 model year, the standard equipment list included alloy wheels, LED running lights, automatic xenon headlamps, a stop-start system, heated/power-operated side mirrors, remote entry/start, and a six-speaker audio system. Low-speed forward automatic braking, blind-spot monitoring, a rear cross-traffic alert, and rear parking sensors are on the list of available safety equipment.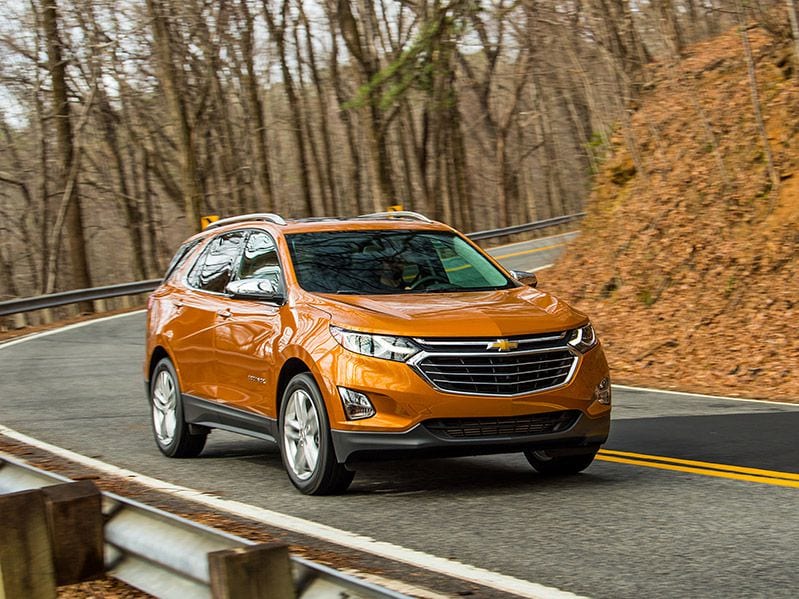 Photo by General Motors
3. 2018 Honda CR-V
The Honda CR-V is among the most popular vehicles in the country because it has nailed what thousands of consumers want in a compact SUV. It's not a full-on off-roader. Quite the contrary, it seems most comfortable on city and suburban roads — although a multi-state road trip is not out of the question.
Completely redesigned for the 2017 model year, this generation of the compact five-passenger crossover features a handy, easy-to-use interior, an available turbocharged engine, and a long list of safety features. Most models us a 190-horsepower 1.5-liter turbocharged four-cylinder, while the base LX is powered by a 184-horsepower 2.4-liter direct-injected i-VTEC four-cylinder. A big added plus is the Honda Sensing suite of advanced driver-assist technologies that includes sophisticated systems like adaptive cruise control, lane-keep assist, a lane-departure warning, blind-spot monitoring, and a rear cross-traffic alert.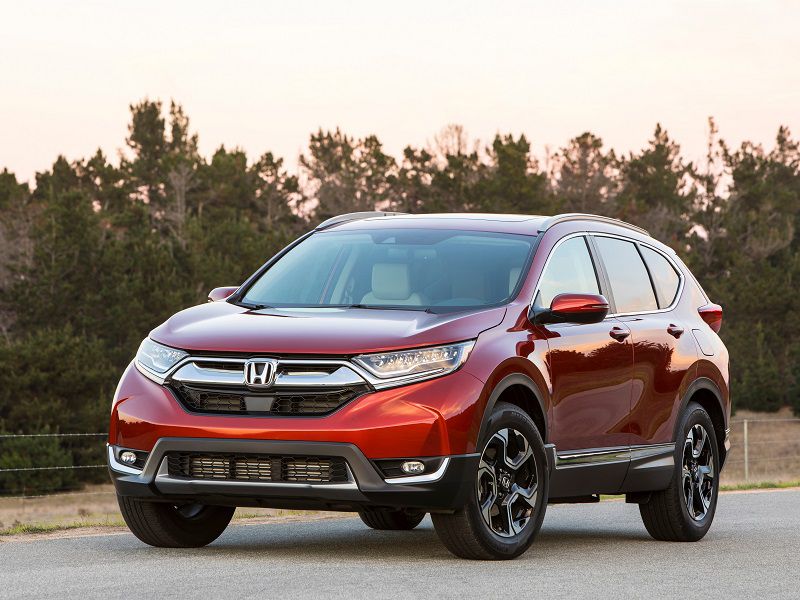 Photo by Honda
4. 2017 Toyota Highlander
The 2017 Toyota Highlander is an eight-passenger mid-size crossover suv that puts its emphasis on comfort, versatility, and safety. All that, combined with Toyota's well-earned reputation for reliability and resale value, makes a used Highlander of this vintage an excellent value.
The base version of the conservatively attractive SUV is powered by a ruggedly built 185-horsepower 2.7-liter four-cylinder engine, but we recommend the 295-horsepower 3.5-liter V6. The Highlander is available with either front-drive or all-wheel-drive. The eight-speed automatic contributes to good fuel economy for a vehicle of its size, and if you want enhanced mileage, a well-regarded hybrid version is available. Hill-descent control, hill-start assist, and stability control are standard. If you are looking for a reliable three-row SUV to transport your family, the Toyota Highlander will certainly fill the bill.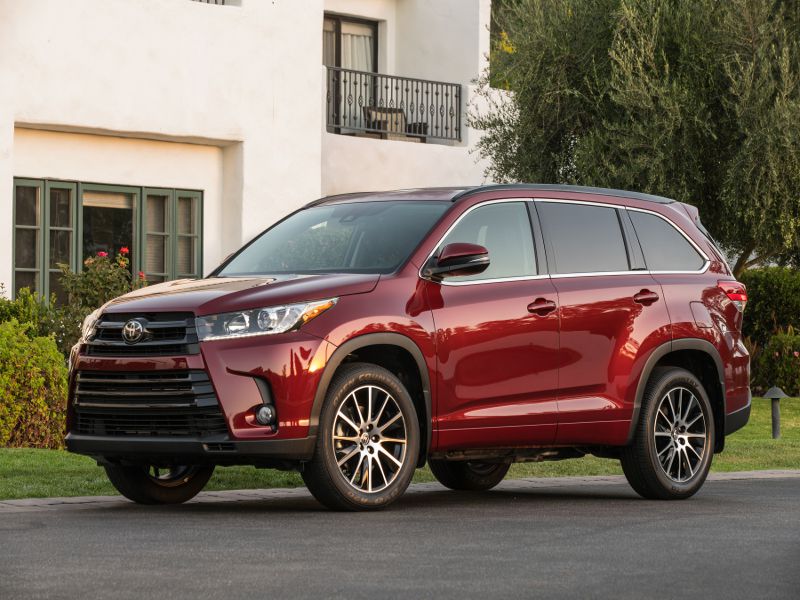 Photo by Toyota
5. 2017 Buick Enclave
The Buick Enclave has been filling upscale suburban driveways for a long time now, and the reason for its popularity is its combination of quiet, comfort, and value. If you're seeking a large, luxurious SUV with a proven record of reliability, a 2017-vintage Buick Enclave should be on your list.
The standard engine is a 288-horsepower 3.6-liter V6, and it is backed by a six-speed automatic transmission. The base model is front-drive, but all-wheel-drive versions are also available. On uplevel trims, the standard safety equipment includes blind-spot monitoring, a lane-departure warning, and a forward-collision warning. A three-row vehicle, the Enclave will transport as many as eight passengers, although seven is a more comfortable number. Well-equipped, nicely maintained examples of the Buick Enclave are available for less than $30,000.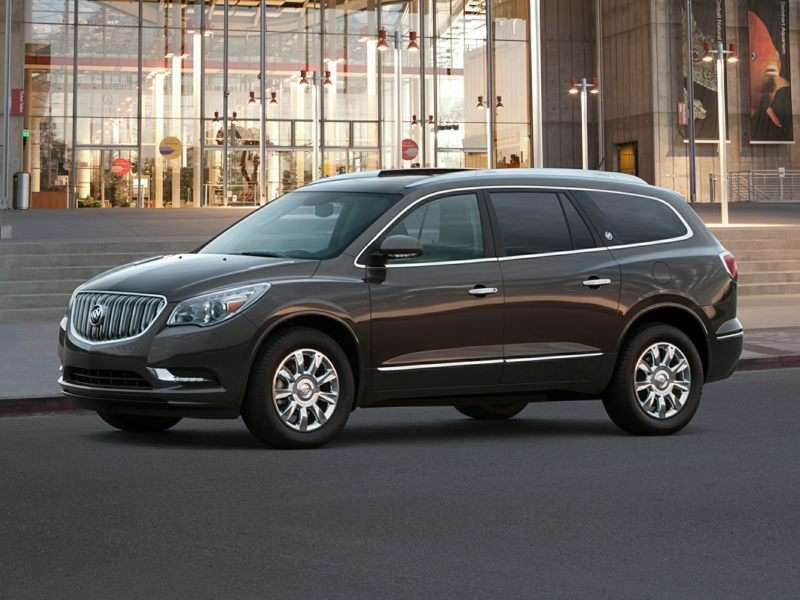 Photo by General Motors
6. 2018 Mazda CX-5
If an involving driving experience is important to you, the Mazda CX-5 should be on your shopping list. Far more than most SUVs, the CX-5 is fun to drive, with handling and responsiveness that are alien to other vehicles in the compact crossover class. For buyers with that mindset, its fun-to-drive characteristics make the CX-5 a great value.
This five-passenger compact SUV is powered by a 187-horsepower 2.5-liter four-cylinder backed up by a six-speed automatic transmission, and all-wheel-drive is available. In addition to sharp handling that outclasses its competitors, the CX-5 also gets high marks for its interior, which uses themes that we see in contemporary European crossovers. The CX-5 has a standard 7-inch infotainment screen, but Apple CarPlay and Android Auto are not supported in the 2018 CX-5.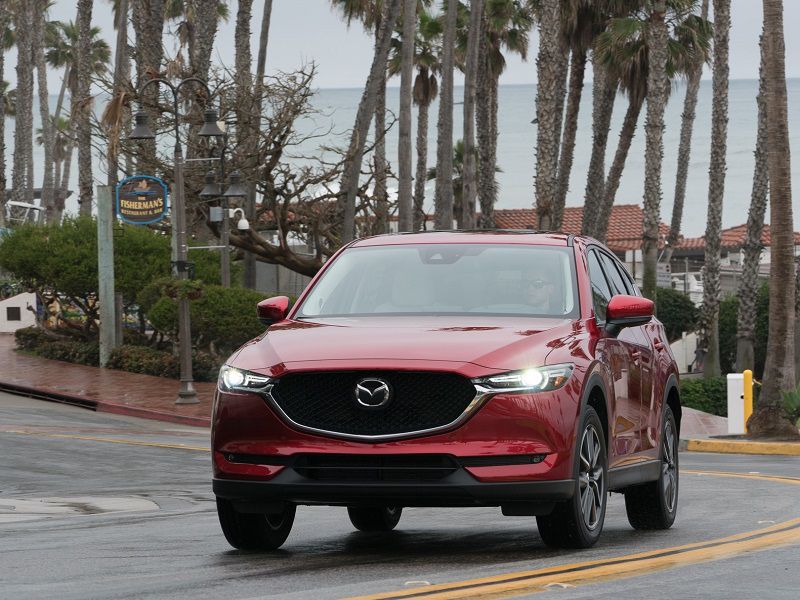 Photo by Mazda
7. 2018 Chevrolet Tahoe
The Chevrolet Tahoe is a conventional body-on-frame SUV that has been leading its segment in sales for more than a decade. It uses the same platform as the Silverado pickup truck, so it is an excellent tow vehicle. And though it is based on a truck, ride quality and interior quiet are very good.
The base Tahoe has a 5.3-liter V8 that offers 355 horsepower, while an optional 6.2-liter V8 delivers 420 horsepower. The 5.3-liter has a six-speed automatic transmission, and the 6.2-liter sports a 10-speed automatic. Rear-drive is the standard configuration, but four-wheel-drive versions are available as well. Inside, the Tahoe can be equipped as luxuriously as a premium sedan with leather seats, multi-zone climate control, and upscale infotainment. The GMC Yukon, a Tahoe sibling, is another good choice.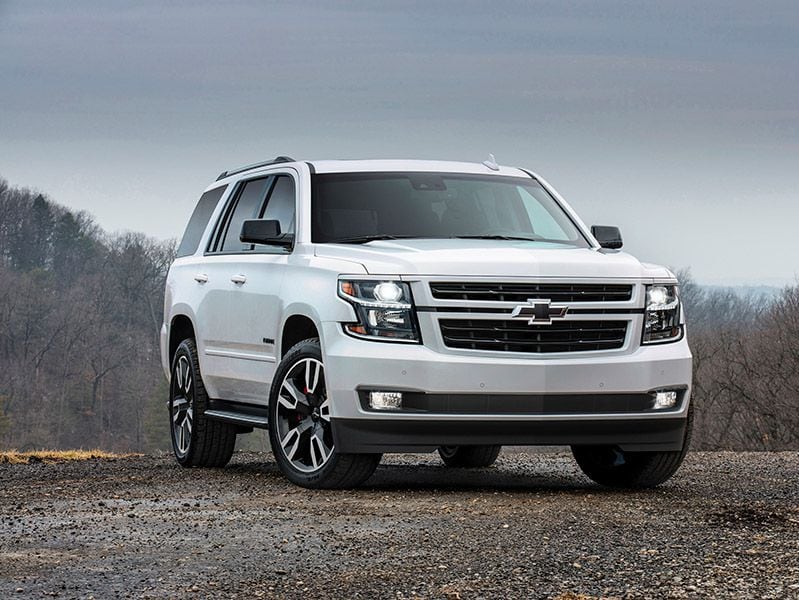 Photo by General Motors
8. 2018 Jeep Wrangler
The Jeep Wrangler is an outlier among today's SUVs because it really walks the off-road talk in a way that other vehicles in the segment simply don't. For years, Jeep Wrangler fans have reveled in being different while suffering through some of the consequences that included a rough highway ride and a noisy interior.
But the most recent Wranglers have addressed those issues very directly. We're not going to tell you a 2018 Wrangler is as quiet and comfortable as the run-of-the-mill SUV, but the gap has definitely been tightened. The most recent Wrangler generation delivers unparalleled off-road performance, but it also has an interior that features state-of-the-art infotainment and heated front seats. Under the squared-off hood is a 3.6-liter V-6 with 285 horsepower or a 2.0-liter turbocharged four-cylinder with 270 horsepower, and several four-wheel-drive systems are available to suit individual off-road needs.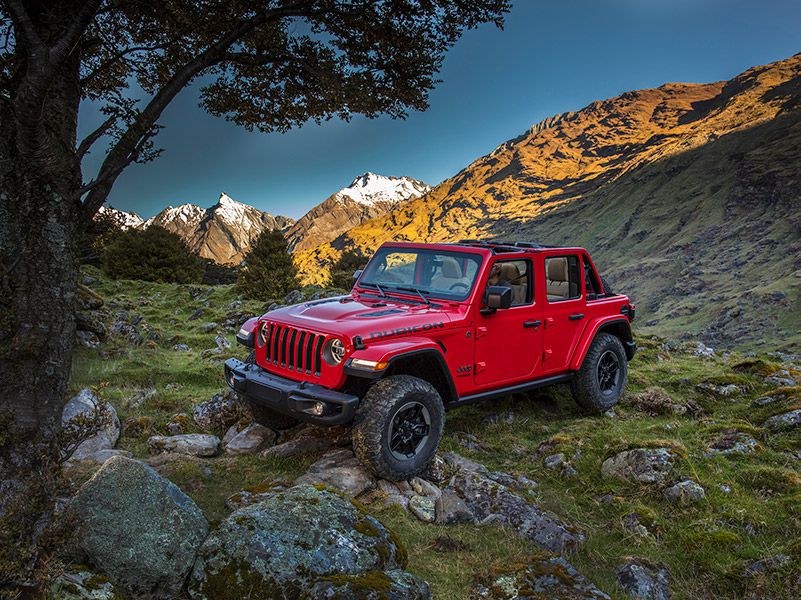 Photo by Fiat Chrysler Automobiles
9. 2018 Lexus RX Hybrid
The Lexus RX has always been a favorite in the luxury crossover class, and it is especially satisfying in hybrid form. The innovative drivetrain in the 2018 Lexus RX 450h incorporates a 3.5-liter V6 gasoline engine plus two electric-drive motor-generators. It offers 308 combined horsepower and delivers 30 miles per gallon EPA-estimated fuel economy.
The all-wheel-drive system uses an electric motor to drive the rear wheels when needed, offering great traction in inclement weather or on those rare occasions when the RX is used for off-roading. While the RX is more rugged than you'd guess, its natural element is cruising down a broad highway in supreme comfort and quiet. In the 2018 model year, the RX was offered in both five-passenger and seven-passenger versions, the latter with an extended wheelbase. In both, the cabin is impeccably finished and filled with luxury.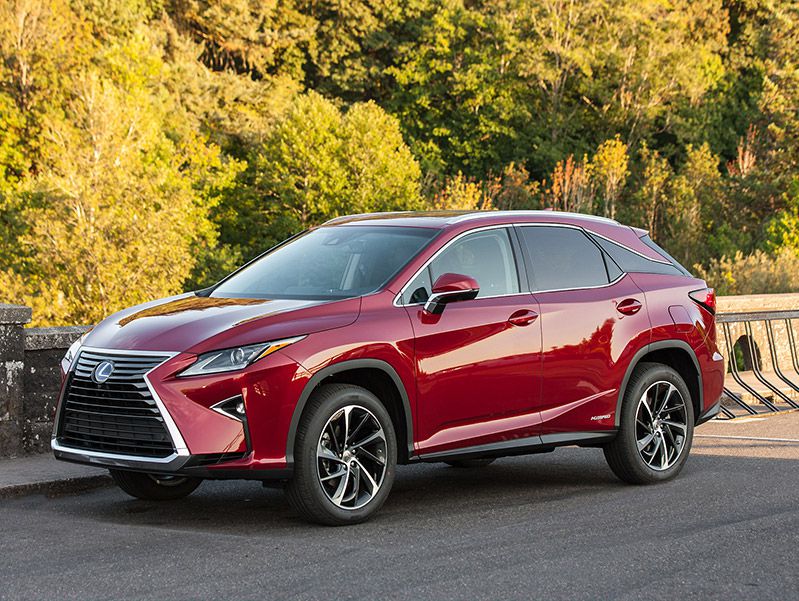 Photo by Lexus
10. 2018 Mitsubishi Outlander PHEV
The Mitsubishi Outlander PHEV the world's bestselling plug-in hybrid crossover, and there are ample reasons for its popularity. For a vehicle in its class, the five-passenger Outlander PHEV offers a lot of cargo space, and its controls are straightforward and easy-to-understand.
The plug-in hybrid powertrain teams a 117-horsepower 2.0-liter four-cylinder engine and a pair of 60-kilowatt electric motors for a combined output of 197 horsepower. The motors supply virtually instant torque to each axle when desirable making the standard all-wheel-drive system very responsive. The 12-KWh battery pack offers 22 miles of electric-only driving range. Apple CarPlay, blind-spot monitoring, and an advanced forward-collision warning system are on the equipment list. Drivers the world over have praised the Outlander for its ruggedness and value.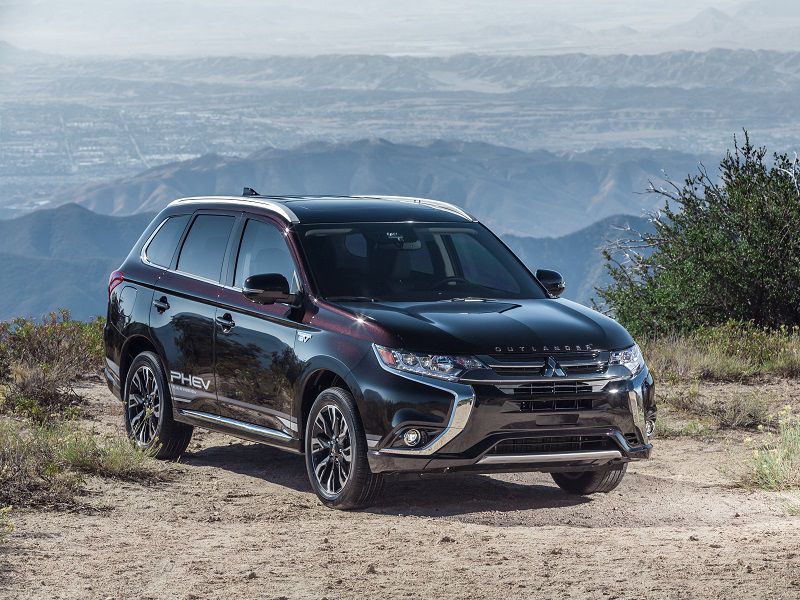 Photo by Mitsubishi