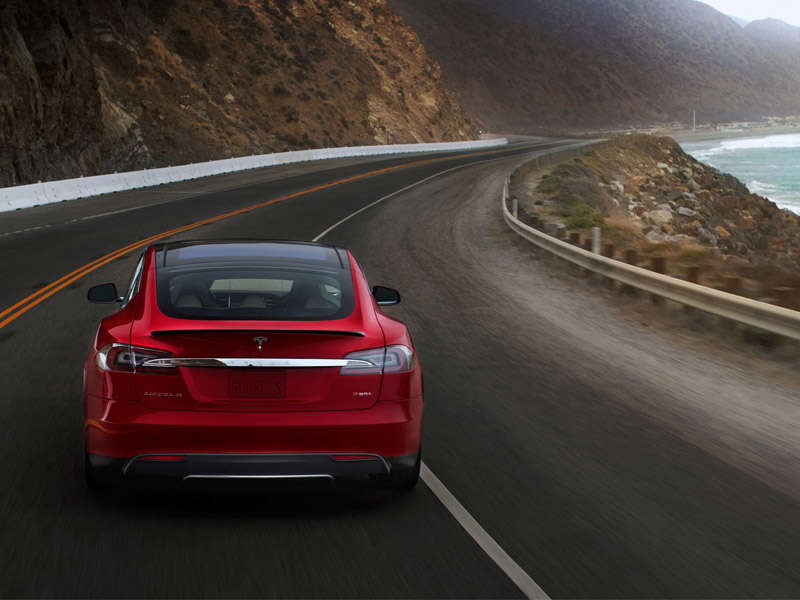 Red Tesla Model S Performance, fastest of the four door electric vehicle ・ Photo by Tesla
Some people like the idea of owning an electric car but think that they'll have to sacrifice acceleration performance, which isn't always the case. To help dispel the notion, the following is a list of the 10 Fastest Electric Cars from 0-60 mph.
Even the slowest car on our list can get to 60 miles per hour in under 10 seconds, and the top five can do it in eight seconds or less. A few even combine that level of performance with ranges of well over 200 (or even 300) miles between recharges. As you'll see, most of today's electric cars have no problem keeping up with traffic.
2017 Ford Focus Electric
The Ford Focus Electric is the slowest vehicle on this list, but it's far from the slowest electric vehicle out there, with a reasonable zero to 60 mile per hour time of 9.9 seconds. The Focus Electric is very similar to the regular gasoline-powered version (even on the road,) but with less cargo room and no engine noise. Together the 33.5 kWh battery and 143-horsepower electric motor are good for a range of 115 miles, and charging takes only five and a half hours. The Ford Focus Electric is a good car, however, it could benefit from a higher-capacity battery.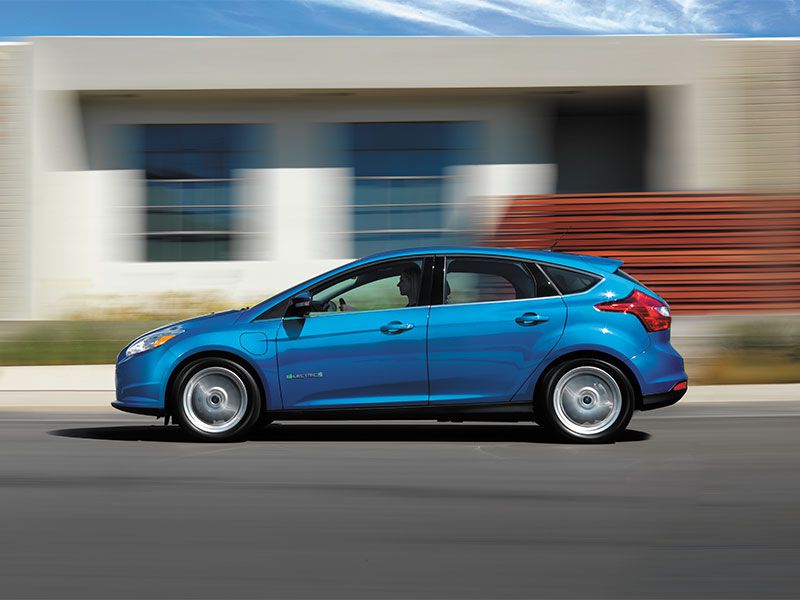 Photo by Ford
2018 Nissan Leaf
The current Nissan LEAF isn't quite quick enough (at slightly over ten seconds to sixty) to make the list, but the new version that's coming next year should be able to do the run in around 8.9 seconds. The 2018 Nissan Leaf will feature a 147-horsepower electric motor connected to a 40 kWh battery that should up the range to approximately 150 miles (versus 30 kWh and 107 miles for the current version,) and a full charge should take around eight hours. A version with a 60 kWh battery should come later with a range somewhere north of 200 miles, making the Leaf more practical for more people.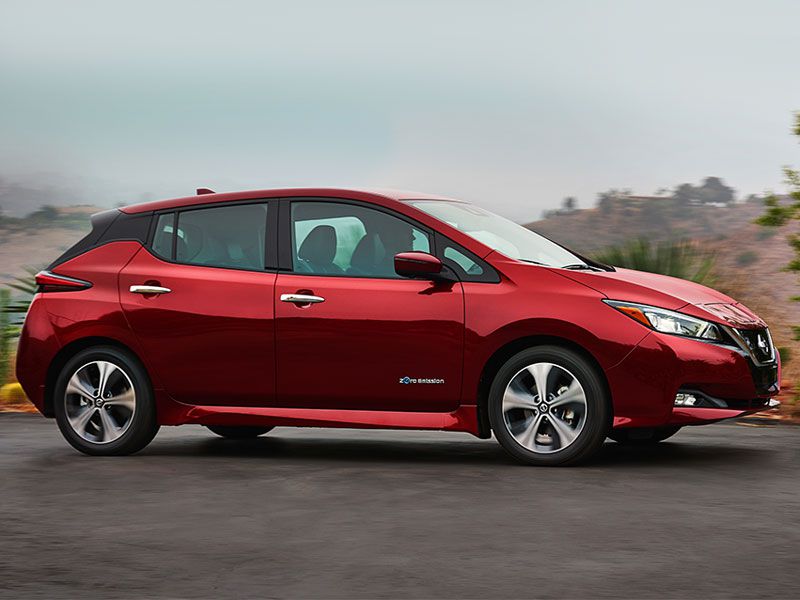 Photo by Nissan
2017 Fiat 500e
The 2017 FIAT 500e makes our list with a time of around eight and a half seconds that comes largely thanks to its compact dimensions and a relatively light weight (right around 3,000 pounds.) The 111-horsepower electric motor is connected to a 24-kWh battery, and together they offer a range of only 84 miles (though thankfully a full charge is relatively quick at around four hours.) The FIAT 500e makes an awesome city car thanks to its easy-to-park size and nippy handling, as well as the quick off-the-line acceleration inherent to most electric cars, but it isn't ideal for long distance highway driving.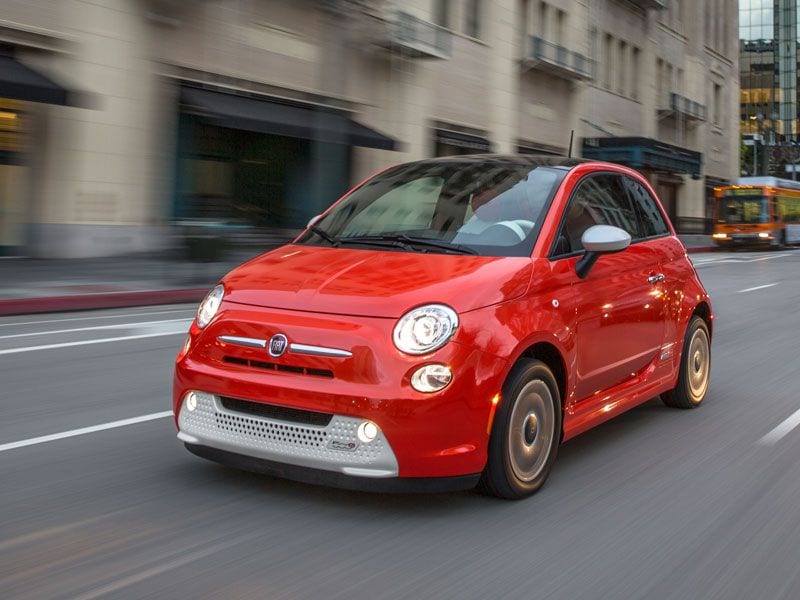 Photo by Fiat Chrysler Automobiles
2017 Hyundai Ioniq Electric
The new Ioniq is Hyundai's entry in the electric car segment (though it's also available as a hybrid model.) and with a zero to 60 mile per hour time of just over eight seconds, it's competitive with the other cars in its class. Power comes from a 28 kWh battery that sends its juice to a 118-horsepower electric motor. Where the Ioniq isn't quite as competitive is in the range department, where it maxes out at 124 miles. On the other hand, a  full charge can be completed in just under four and a half hours, and the Ioniq is currently the most efficient electric car on sale, with an EPA rating of 136 MPGe (Miles Per Gallon equivalent.)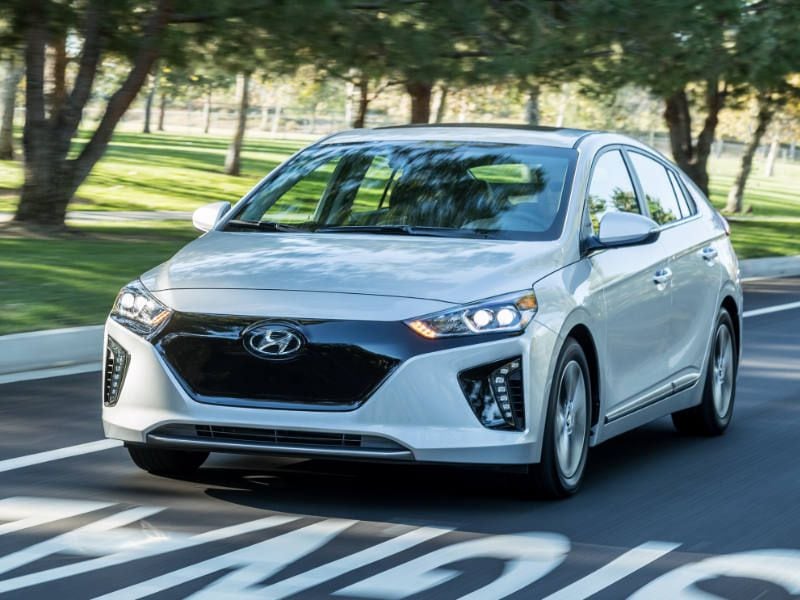 Photo by Hyundai
2018 Honda Clarity Electric
The 2018 Honda Clarity Electric makes the list thanks to a 161-horsepower electric motor that helps it complete the sprint in right around eight seconds. The Clarity Electric falls a bit flat in the battery department, with a 25.5 kWh unit that can only provide 89 miles of range, however, a full charge takes only a little over three hours. The Clarity is also available as a hydrogen fuel cell vehicle (with a small 1.7 kWh battery, 174 horsepower and a range of 366 miles per tank of hydrogen,) and a plug-in hybrid model (with a 17 kWh battery, 181 horsepower and an all-electric range of 40 miles or so) will be arriving soon.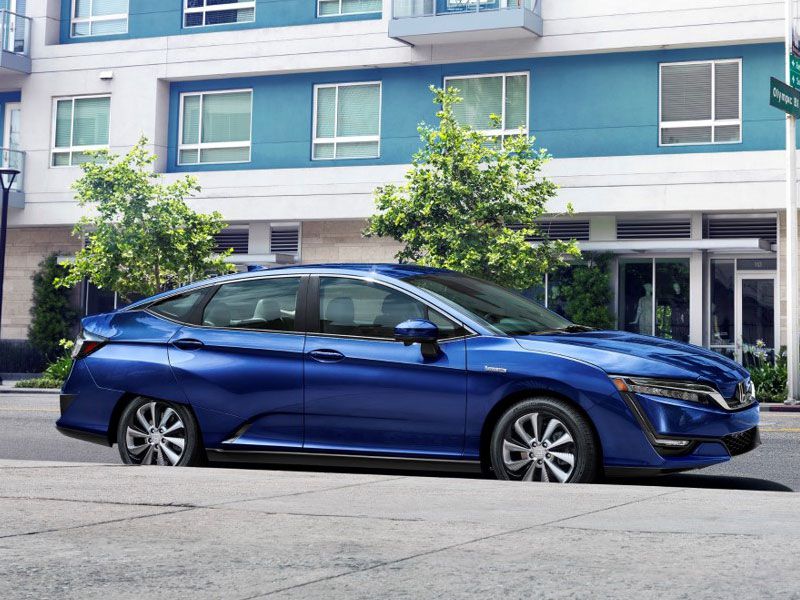 Photo by Honda
2017 Mercedes-Benz B250e
The 2017 Mercedes-Benz B250e is a bit of an all-electric sleeper. Mercedes-Benz lists a 0-60 mile per hour acceleration time of 7.9 seconds and a top speed of 101 mph, but real-world numbers seem to be much quicker, even rivaling the next entry on our list. A 36-kWh battery sends power to the front-mounted 177-horsepower electric motor and provides a range of 87 miles, which is a bit short by today's standards but might still be fine for many. The B250e isn't a luxury car, but it is more luxurious than most other cars in the class. Production of the B250e is winding down, so if you've had your eyes on one it's time to take the plunge.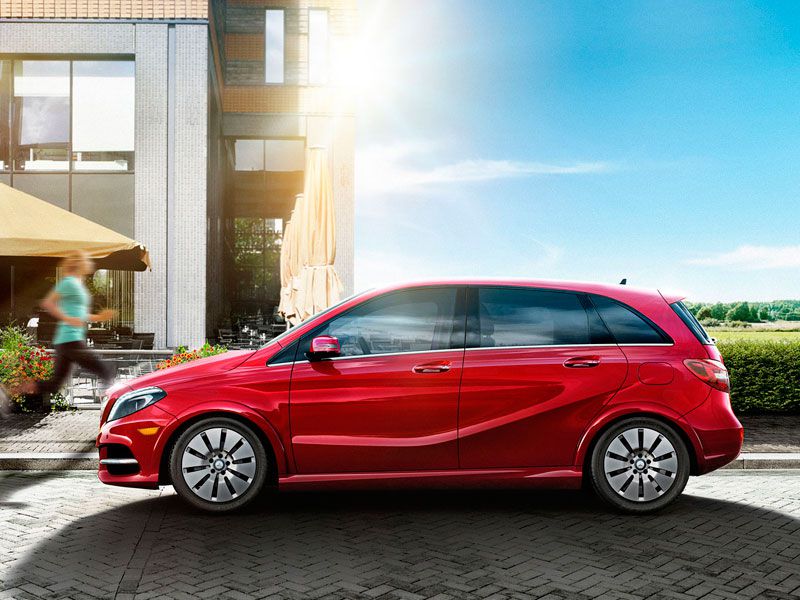 Photo by Mercedes-Benz
2017 BMW i3
The 2017 BMW i3 is now available with a 33 kWh battery (compared to the previous 22 kWh battery) which increases its range to 114 miles. Thanks to a relatively lightweight and 170-horsepower electric motor, the sprint to 60 miles per hour is over in 7.2 seconds, with top speed limited to 93 mph. Handling isn't quite up to the standards set in other cars in the BMW range, but it is good for an electric car, though the ride can be a bit rough. The i3 is also available with a tiny two-cylinder range-extending gasoline engine, but the added weight decreases electric-only range (to 97 miles) and decreases 0-60 performance (up to eight seconds flat.)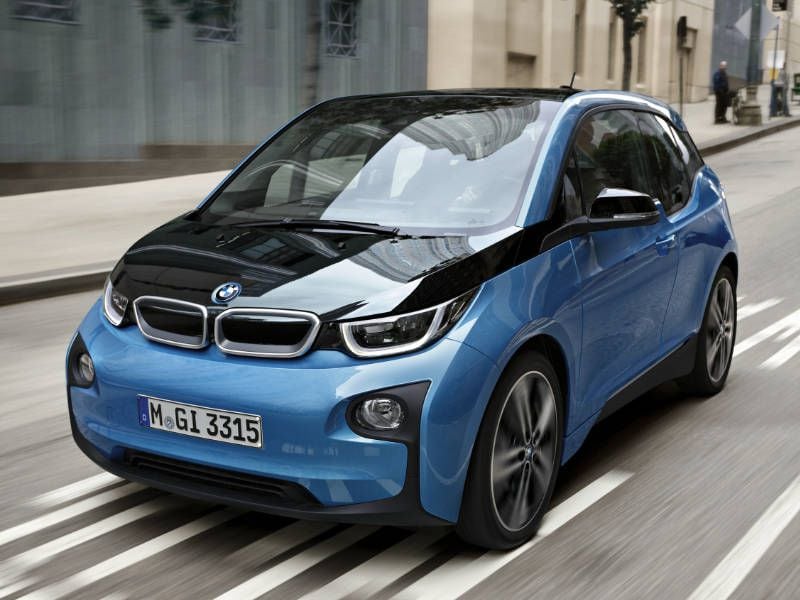 Photo by BMW
2017 Chevrolet Bolt
The 2017 Chevrolet Bolt uses a 60 kWh battery and a 200-horsepower permanent magnet electric motor, the combination of which can get it to 60 miles per hour in 6.3 seconds and on to a top speed that is limited to 91 mph. The range is estimated by the EPA to be 238 miles (assuming you aren't testing acceleration or top speed,) and a full charge takes nine hours. While that isn't quite up to Tesla standards, it should be more than enough so that most drivers rarely encounter range anxiety. The Bolt doesn't have much grip, but handling is decent and the ride is good, though the interior quality isn't quite as nice as some other vehicles on this list.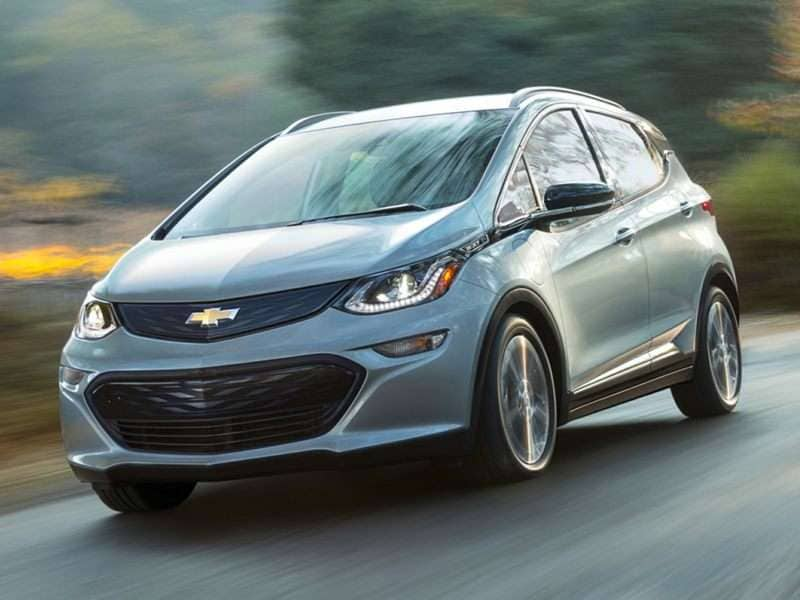 Photo by General Motors
2018 Tesla Model 3
We still don't have all the information on the 2018 Tesla Model 3, but the manufacturer suggests that the extended-range rear-wheel drive version (the first version to be available) should be able to hit 60 miles per hour in 5.6 seconds before going on to reach a top speed of around 140 mph. The Model 3 will also provide 310 miles of range (though not at the same time as running top speeds.) Energy comes from a battery in the 75 to 80 kWh range, and the electric motor should be able to pump out a little over 250 horsepower. The ride is a bit firm, but handling is exceptional for an electric vehicle. For those interested, be prepared, there is already a long waiting list.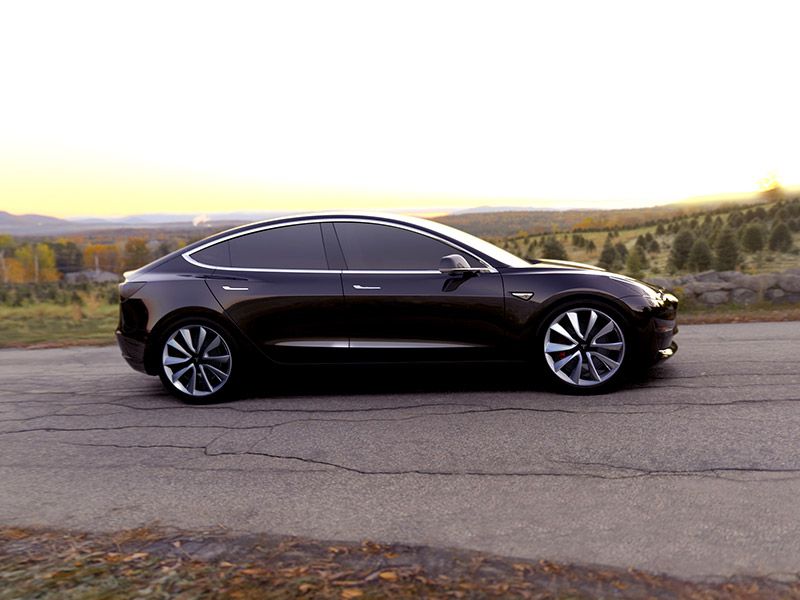 Photo by Tesla
2018 Tesla Model S P100D
The mighty 2018 Tesla Model S P100D takes the top spot on this list thanks to a blast to 60 miles per hour that's over in only 2.5 seconds. The secret to that speed is the 100 kWh electric battery and the two electric motors, a 259-horsepower unit attached to the front axle and a 503-horsepower unit in the rear. The Tesla Model S P100D is actually limited more by battery output than by its motors, which can handle more power than the current batteries can supply (for brief periods at least.) Of course, the Tesla Model S P100D isn't all show and no go, it also has a useful range of 315 miles according to the EPA.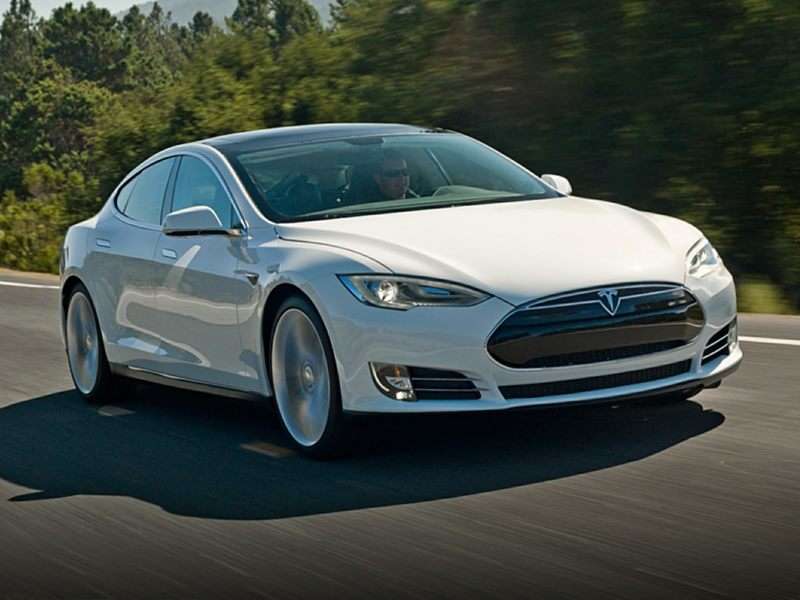 Photo by Tesla