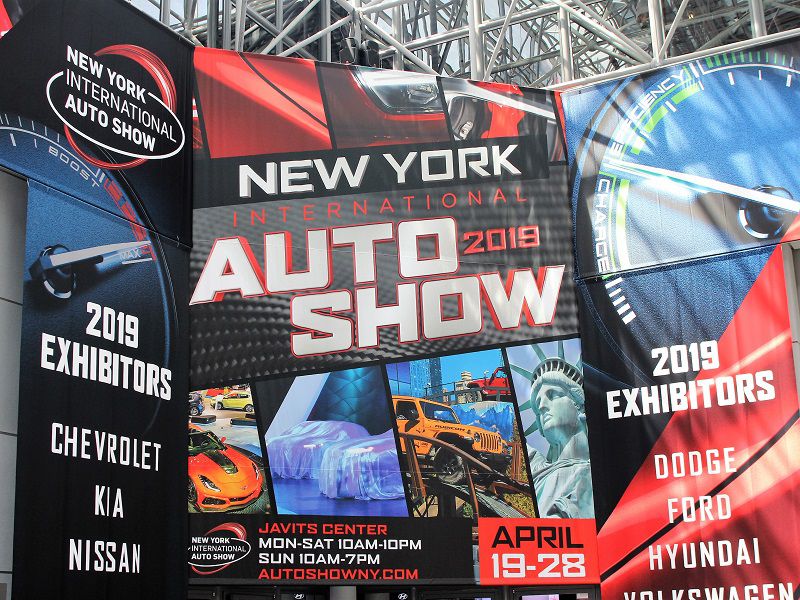 2019 NYIAS HERO MC ・ Photo by Mathew Carpenter
Almost as long as there has been an automobile, there's been an auto show in New York. The 2019 New York International Auto Show runs from April 19 – 28 at the Jacob Javits Center in Manhattan, the latest edition in a run of annual expositions of the best and most up-to-date in automotive design, engineering, and technology that began in 1900 at the first Madison Square Garden. 1949 marked the First International Automobile Show at the 69th Regiment Armory. Since 1987, the show has been held at the Javits Center. The show is expected to attract more than 1 million attendees this year, with vehicles and booths spread across over 900,000 square feet of display space.
Here are some of the must-see vehicles at the 2019 New York International Auto Show.
2020 Acura TLX PMC Edition (production) and MDX PMC Edition (prototype)
TLX is Acura's midsize luxury sedan, based on the same platform as the Honda Accord. It is a front-engine/front-wheel drive or all-wheel drive four-door that was introduced as a 2015 model. Exclusive PMC Edition features will include: Valencia Red Pearl nano-pigment paint; PMC Edition numbered serial plaque; gloss black 19-inch wheels, roof panel, door handles, and grille; dual black chrome exhaust finishers; black Milano leather seats with Alcantara inserts and red stitching; and more.
This summer (TLX PMC); Soon thereafter (MDX PMC).
Around $50,000 (TLX PMC); TBA (MDX PMC).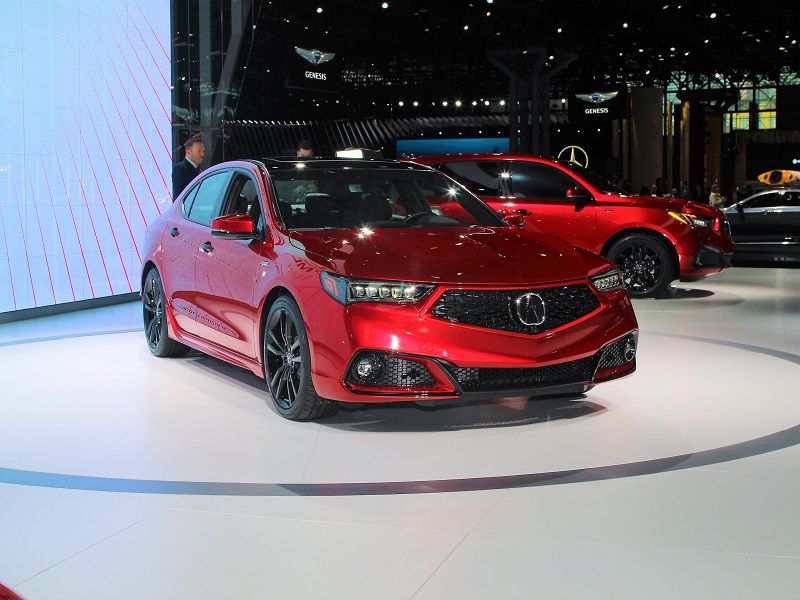 Photo by Mathew Carpenter
Alfa Romeo Quadrifoglio NRING Vehicles
The Nürburgring is one of the most renowned motorsports parks in the world, located in the western part of Germany south of Bonn. Manufacturers from across the globe regularly bring their vehicles to the Nürburgring to pit them against the course and the competition. Alfa Romeo will produce a limited-edition run of 110 vehicles bound for North America celebrating the brand's successes at the Nürburgring, dubbed "NRING Editions." The vehicles will be divided among Giulia Quadrifoglio NRING sport sedans and Stelvio Quadrifoglio NRING SUVs. Each will feature distinct exterior styling and a 505-hp twin-turbocharged 2.9-liter V6 engine, Circuito Gray Matte Paint, red brake calipers with white Alfa Rome Script, carbon fiber mirror caps and V Scudetto grille, a serialized number inlay on the passenger console, carbon fiber steering wheel and shifter bezel, two-tone red and black leather interior with red stitching, and more.
To be announced
To be announced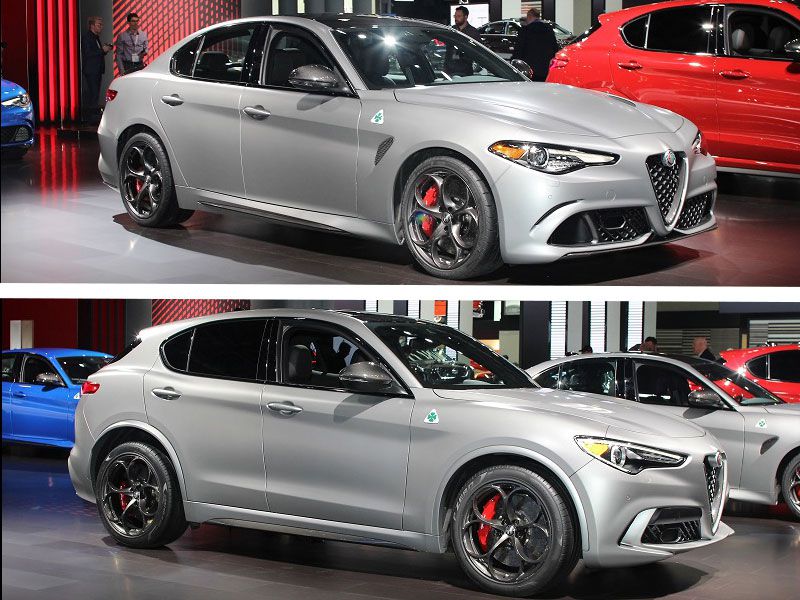 Photo by Mathew Carpenter
2019 Audi Q3
The 2019 Audi Q3 has benefitted from a sharpened exterior design following cues of the latest generation of its larger sibling, Q5. It is longer, wider and taller than the outgoing Q3. Inside, the rear seats now slide fore and aft by 5.9 inches, allowing for a compromise between rear seat legroom and luggage space. A digital instrument cluster with a 10.25-inch screen is standard, along with a 10.1-inch touchscreen display at the top of the center stack. A 2.0-liter turbocharged inline four-cylinder gas engine with Audi's quattro all-wheel drive system is standard on all trim levels.
Later in 2019.
$34,700 - $42,900.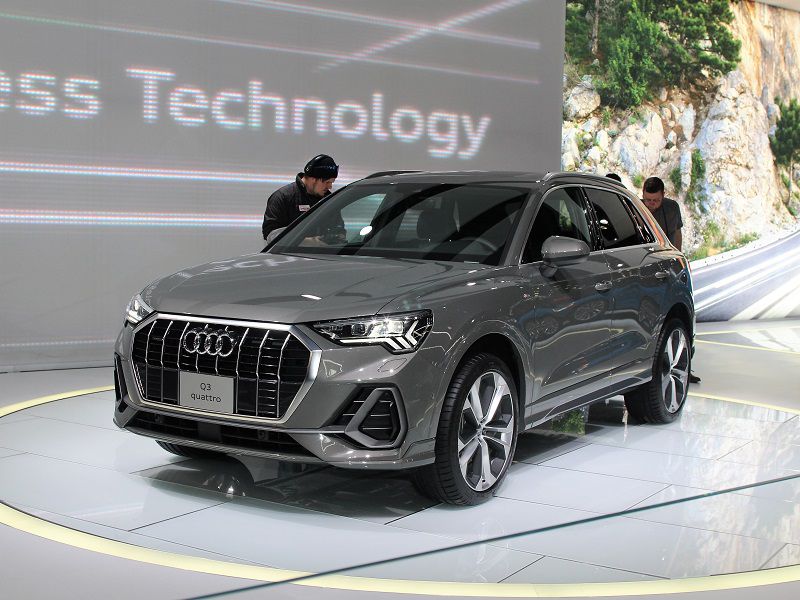 2020 Audi R8
Audi's mid-engine supercar, the R8, gets refreshed for 2020 with sharpened design and enhanced performance. Each model of R8 will now be capable of a track speed of at least 200 mph. On the exterior, a new grille, spoiler lip and lateral air intakes dress the front, while a new bumper, oval exhaust pipes and a new diffuser spiff up the rear. A 5.2-liter naturally aspirated (non-turbo) V10 engine lurks beneath the glass deck lid, either in 562-hp tune or 602-hp tune. Each engine is matched with a seven-speed S tronic automatic transmission with quattro all-wheel drive. Both Coupe and Spyder versions will be available. A limited-edition 2020 Audi R8 V10 Decennium edition celebrates the 10th anniversary of the supercar, with 50 of the 222 units produced slated for sale in the U.S.  
To be announced.
R8 V10: $169,900 - $208,100. R8 V10 Decennium: $214,995.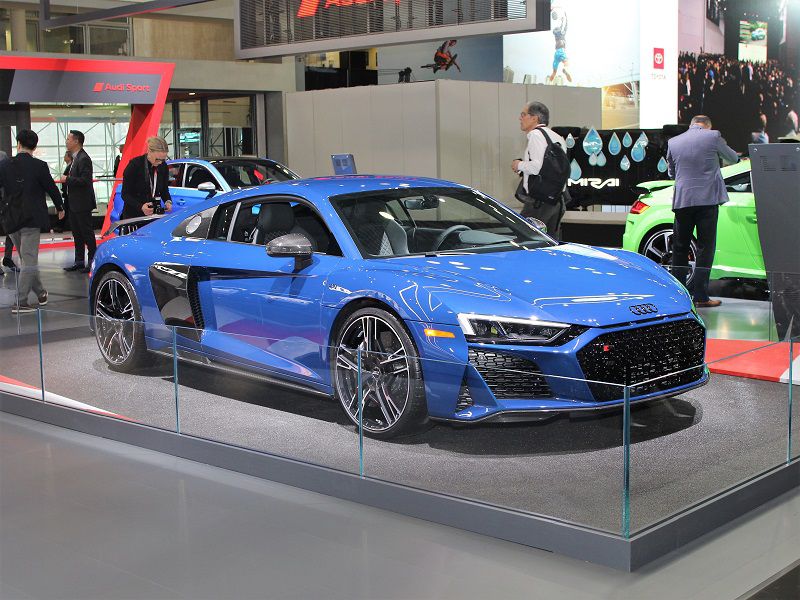 Photo by Mathew Carpenter
2019 Audi TT RS
The top of the TT lineup, the 2019 Audi TT RS, has been refreshed with a redesigned front and rear fascia, enhanced technologies and new packages and trims designed to provide buyers with more options for personalization. Seven exterior colors will be offered, including new colors Turbo Blue; Tango Red metallic; and Kyalmi Green. Full LED lighting is standard, and OLED rear taillights are available. 19-inch Auid Sport wheels are standard, and 20-inch wheels are available. The Audi virtual cockpit is standard, as is a 680-watt Bang & Olufsen audio system. A 2.5-liter turbocharged five-cylinder gasoline engine with 394 hp and 354 lb-ft of torque helps the all-wheel drive TT RS scoot from 0 – 60 mph in 3.6 seconds.
Spring 2019.
$66,900.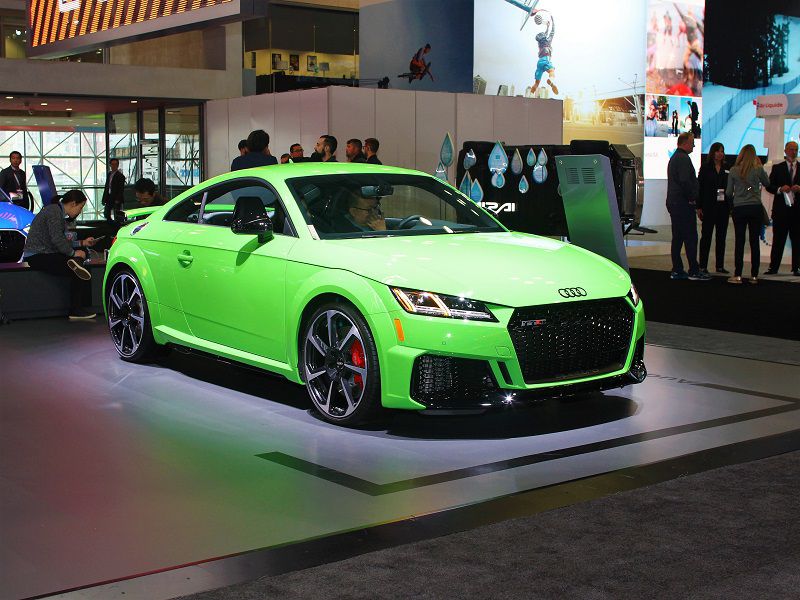 Photo by Mathew Carpenter
2020 Cadillac CT5
The 2020 Cadillac CT5 is an all-new compact luxury sedan. It will be the second vehicle, joining CT6, to offer Super Cruise, Cadillac's semi-autonomous freeway driving technology. The front-engine/rear-wheel drive sedan will be offered with a choice of turbocharged 2.0-liter inline four-cylinder gasoline engine or twin-turbocharged 3.0-liter V6 gasoline engine, each paired with a 10-speed automatic transmission. All-wheel drive will be available on all models, and customer-selectable drive modes will be standard. Luxury, Premium Luxury, and Sport trim levels will be available at launch, with a Platinum package available on Premium Luxury and Sport.
Available for ordering Fall 2019.
To be announced.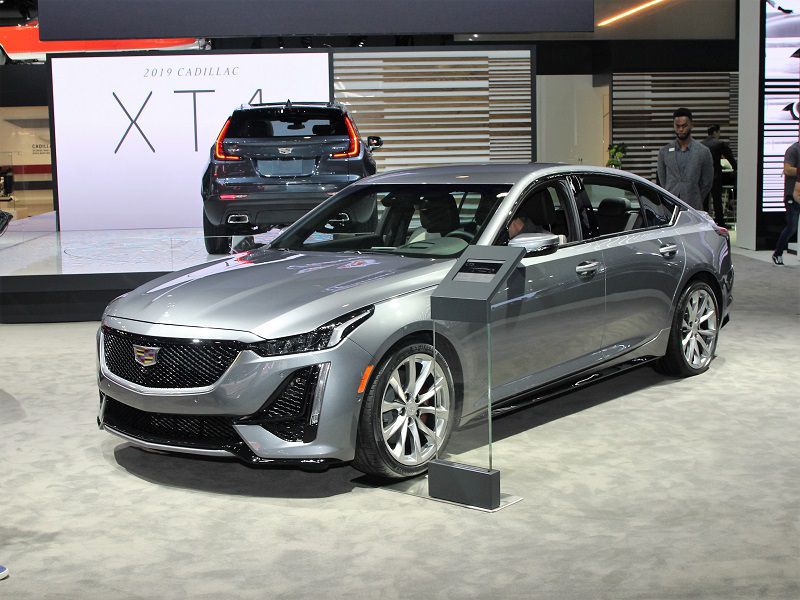 Photo by Mathew Carpenter
2020 Ford Escape
The 2020 Ford Escape makes its first U.S. car show appearance at 2019 NYIAS. The Escape first debuted as a 2001 model, and has gone on to become Ford's second-best seller (right after the F-Series pickups), so a new fourth-generation vehicle is a big deal. The Escape will be available with two gasoline-only powertrain choices (new 1.5-liter and 2.0-liter EcoBoost), and two new hybrid gasoline-electric choices (conventional hybrid and plug-in hybrid). The Plug-in Hybrid (PHEV) Escape projects to have an EV range of 30 miles. Gasoline-only models will have a sliding second-row seat, allowing for best-in-class second-row legroom when slid fully rearward, and 37.5 cubic feet of luggage space when slid fully forward.
Fall 2019 for gasoline-only and HEV models; Spring 2020 for PHEV.
To be announced.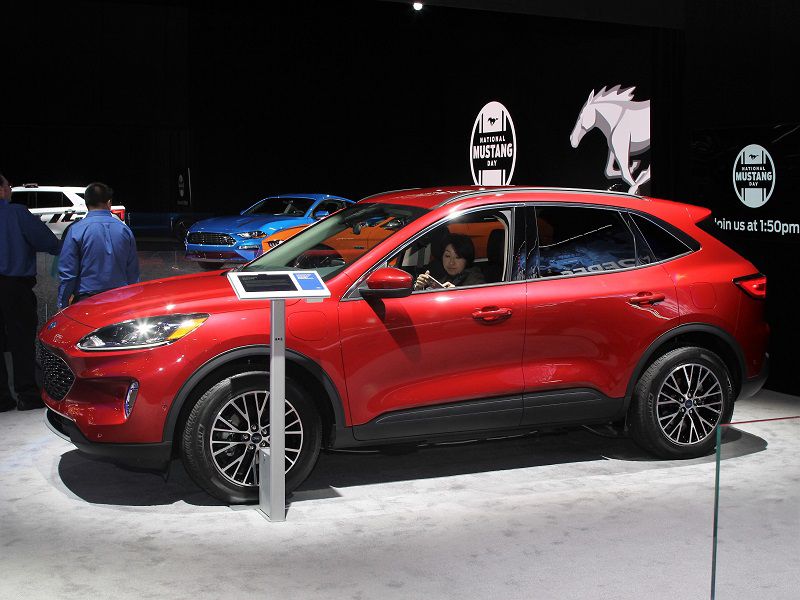 Photo by Mathew Carpenter
2020 Ford Mustang High Performance Package
On the 55th Anniversary of its debut, the entry-level 2020 Ford Mustang gets a new 2.3-liter High Performance Package. The EcoBoost turbocharged engine will create most powerful four-cylinder sports car currently offered by an American automaker, delivering 330 hp and 350 lb-ft of torque. The 2.3L High Performance Package includes Mustang GT brakes and Mustang GT Performance Package aerodynamics and suspension components. The engine was originally featured in the Ford Focus RS. In the Mustang, it will enable 0-60 mph runs in the mid-four-second range, up to a top speed of 155 mph. Running on Premium fuel, the new engine has a flat torque curve with 90 percent of peak torque between 2,500 and 5,300 rpm.
Fall 2019.
To be announced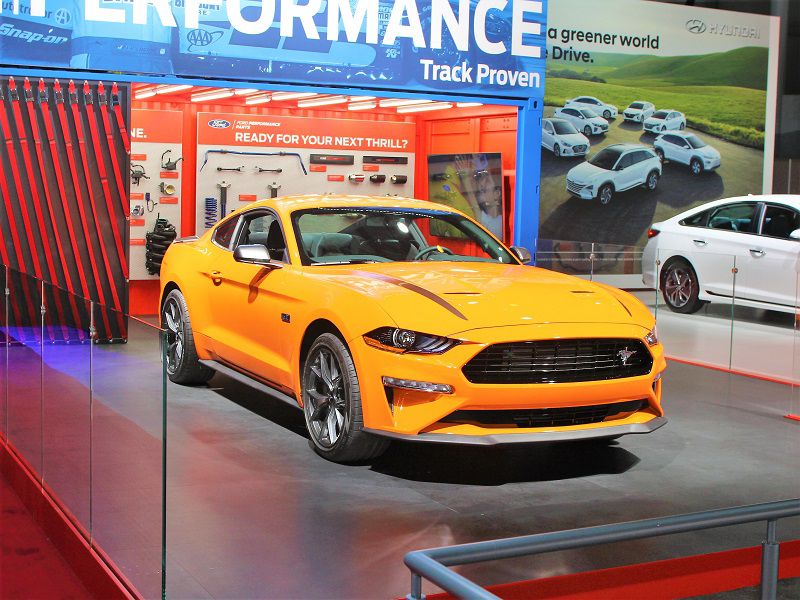 Photo by Mathew Carpenter
Genesis Mint Concept
Genesis unveiled the Genesis Mint Concept, a two-door luxury electric vehicle concept. The vehicle takes inspiration from the brand's design cues, including Quad Lamps in front and back, the Crest Grille, and signature Parabolic Line. Scissor-opening side panels provide access to the rear package shelf in place of a traditional notch-back trunk. Seating for two uses lightweight textiles and cognac leathers emblazoned with the G-Matrix pattern. An oblong steering wheel is surrounded by six copper Graphic User Interface (GUI) screens, while a seventh screen is mounted in the steering wheel, displaying primary vehicle information. A high-density battery-electric powertrain is predicted to provide 200 miles of range per full charge, and 350-kW fast charging.
No current plans for production.
N/A.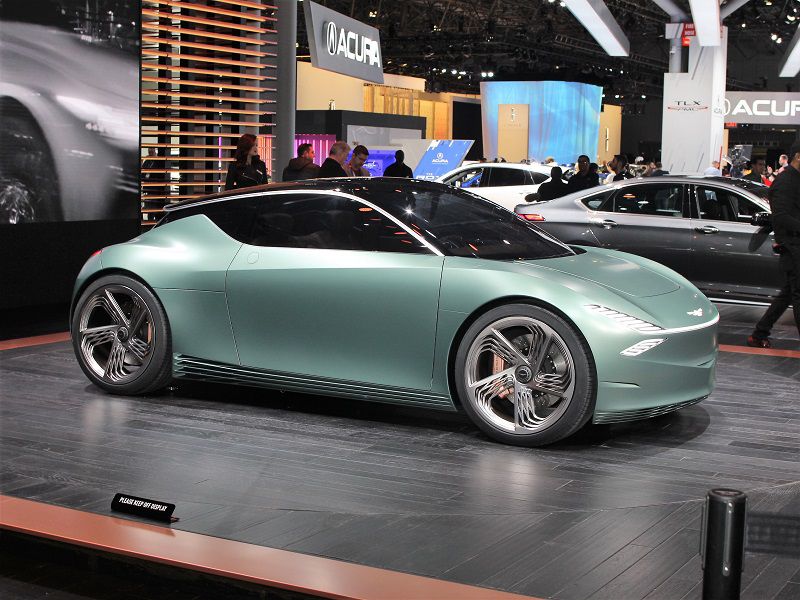 Photo by Mathew Carpenter
2020 Hyundai Sonata
The 2020 Hyundai Sonata is the latest in the company's longest-running and most successful model, having debuted as a 1985 model. The new Sonata features a redesigned exterior with a "four-door coupe" look, a new 2.5-liter four-cylinder gasoline direct-injection (GDI) engine, and a preliminary EPA fuel economy estimate of 33 mpg combined, up from 29 mpg combined for the outgoing 2.4-liter engine. The Sonata will support Hyundai Digital Key, a smartphone app-based technology that uses Near Field Communication (NFC) to control selected vehicle systems remotely.
October 2019.
To be announced.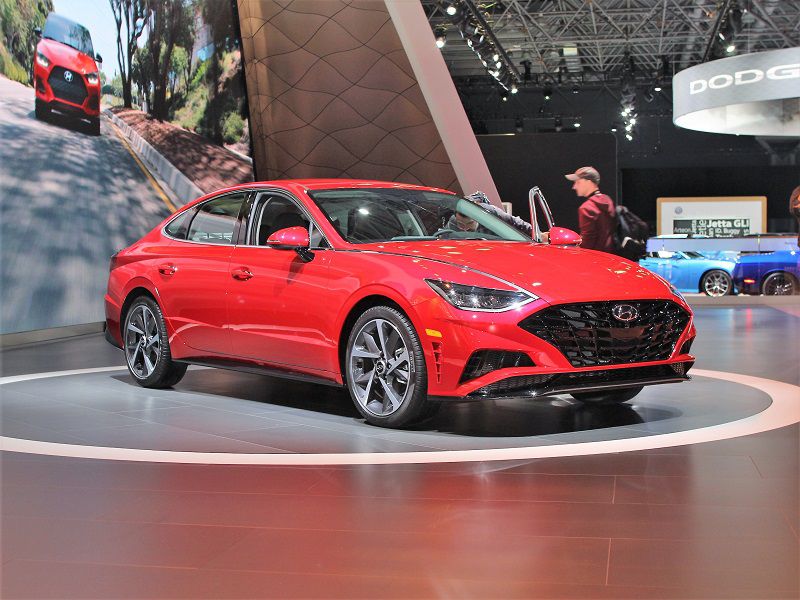 Photo by Mathew Carpenter