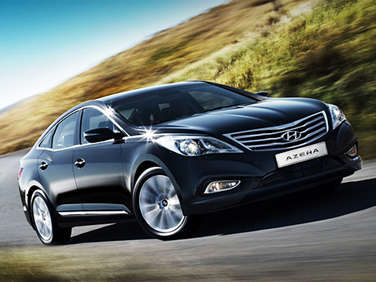 Hyundai's complete-makeover project, which jump-started the automaker's fortunes here in the U.S. thanks to a string of all-new products, has now had its way with the Hyundai Azera—and with much the same success. The completely redesigned 2012 Azera has been thoroughly upgraded across nearly all vehicle systems to bring Hyundai's usual combination of value, style and fuel efficiency to the full-size sedan segment.
A Proprietary Powertrain
A key hallmark of the new generation of Hyundais has been a robust combination of power and fuel economy, and that's on full display in the Azera as well. The car's 3.3-liter V6 is an advanced engine that showcases technologies like gasoline direct injection, dual continuously variable valve timing, piston-cooling jets, a roller timing chain and three-stage variable intake system, all of which work together to deliver 293 hp and 255 lb.-ft. of torque, along with projected EPA ratings of 20 mpg city/29 mpg highway/23 mpg combined. It's an impressive accomplishment that gets a helping hand from Hyundai's in-house-designed six-speed automatic transmission and represents a significant power boost—an extra 33 hp and 22 lb.-ft. of torque. Yet there's no sacrifice to fuel economy, which actually improves by an extra mile per gallon on the highway as compared to 2011. For a sharper focus on efficiency, a driver-selectable Active Eco mode also is standard and can improve real-world fuel-economy by up to 5 percent.
As a result, the new Azera brings to the table more horsepower than potential rivals like the current-generation Nissan Maxima, Toyota Avalon, Ford Taurus, Lexus ES 350 or Acura TL, and the Hyundai's EPA ratings are unsurpassed by any of those vehicles, too. And while the Buick LaCrosse does offer 10 more hp with its V6, the Azera has a better power-to-weight ratio because it's more than 200 lbs. lighter than the Buick. Needless to say, the Azera's fuel efficiency also trumps that of the V6 LaCrosse.
The Azera's new powertrain is enhanced by an innovative suspension that boasts both a standard front stabilizer bar and Amplitude Selective Dampers (ASD), developed by the engineering experts at ZF Sachs. The valve-actuated ASD setup allows for optimal damping over a variety of road surfaces as compared to traditional systems, but it's not as costly or complicated as an electronically controlled system.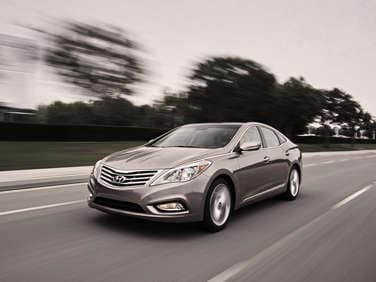 A Comfortable Cabin
Hyundai clearly expects the Azera to compete against entry-premium rivals—as implied by the automaker's decision to include cars from Lexus, Buick and Acura in the Azera's powertrain comparisons—so much effort went into upgrading the car's interior—especially its seats. In addition to best-in-class front headroom and legroom, front-row occupants enjoy a 10-way power-adjustable driver's seat and eight-way power-adjustable front-passenger seat, while both front and second rows feature heated seats and leather seating-surfaces. And all that is standard; ventilated front seats are available.
Also notable is that the Azera debuts a new impact-reducing seat system that, among its other benefits, is expected to cut head and neck injuries to front-seat occupants by 17 percent as compared to the seats in the 2011 models.
A tech upgrade also has been deployed within the Azera's cabin, providing standard content like touch-screen/voice-activated navigation with a rearview camera system; full Bluetooth functionality, allowing wireless audio streaming and hand's-free/voice-activated calling; and a complimentary 90-day subscription to Hyundai's Blue Link telematics system.
"Blue Link combines safety, service and infotainment into a complete package that works to both help simplify Hyundai owners' lives and reduce distracted driving," said Barry Ratzlaff, director of customer satisfaction and service business development, Hyundai Motor America. "We've carefully studied how drivers rely on smart phones and navigation systems as an innovative link to the outside world. Blue Link brings that seamless connectivity directly into the car with technology like voice text messaging, POI web search download, turn-by-turn navigation, and monthly vehicle reporting. Our agent-assisted advanced voice recognition system offers a 21st century solution to performing POI searches in the vehicle. This unique and innovative approach enables Hyundai to deliver fast, accurate searches and downloads of POIs to vehicles without the unnecessary costs of traditional operator-only type systems of our competitors."
Two premium audio choices are available as well, including a standard seven-speaker Dimension AM/FM/HD/XM/CD/MP3 sound system with seven-speakers and iPod/USB/auxiliary input jacks. Optional is a 550-watt Logic 7 audio setup from Infinity that boasts 12 speakers, including an eight-inch subwoofer and available external amplifier.
A Fluid Fashion
Hyundai then covers the 2013 Azera in sheet metal that's inspired by "the mechanics of flight." It's a subtle extension of Hyundai's Fluidic Sculpture design language that puts an emphasis on long, flowing lines. Setting the stage for the Azera's improved appearance is a particularly bold new front end that boasts high-intensity discharge (HID) headlamps set off by strong "eyebrow" accent lights and a large, eye-catching chrome grille. Additional exterior touches include wraparound LED taillamps, a curvaceous beltline and standard 18-inch Hyper Silver alloy wheels; 19-inch wheels with a similar design are available.
Owners also can fine tune the look of the Azera even further by choosing from a wide range of exterior colors, including Black Onyx Pearl, Porcelain White Pearl, Silver Frost Metallic, Smoke Gray Metallic, Hyper Silver Metallic, Venetian Red Pearl, Bronze Mist Metallic and Midnight Blue Pearl. Hyundai offers three color choices—Camel, Graphite Black and Chestnut Brown—for the Azera's interior, which builds on the fluid lines of the car's body with a "flow-through" center-stack area and detailed dashboard.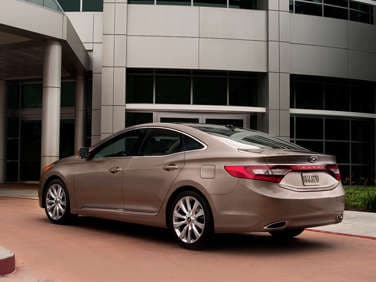 A Positive Prospect
While the upper end of the Hyundai lineup is getting increasingly crowded, with an increasing amount of overlap between the Azera and Hyundai Genesis sedan, as well as a similar challenge with the Genesis sedan and the Hyundai Equus, the new Azera should offer a typically Hyundai-esque value and deliver typically Hyundai-esque sales.
Pricing for the 2012 Hyundai Azera will be released at a later date; the car itself will be released early next year.