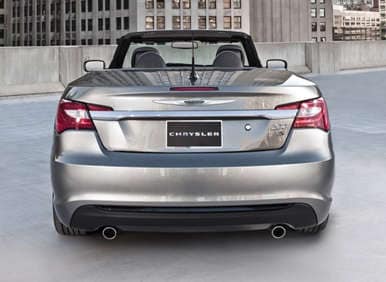 Although neither of them got the same kind of bounce as Toyota—which enjoyed a massive 87.3 percent sales increase in May—Ford and GM both rebounded strongly from their sub-par April numbers, while the Chrysler Group stayed the course by raising sales by more than 20 percent for the 12th straight month. Significantly, the domestic automakers also reported similarly impressive results on the retail side of the business, along with a number of record-setting performances by individual models. 
May Auto Sales: Chrysler Group Posts 33 Percent Sales Gain
Everything continues to come up roses for the Chrysler Group, as sales blossomed for all brands and the company as a whole posted its best May sales in five years. The tale of the tape: 150,041 units, an increase of 33 percent over the same month last year.
Further, five vehicles set new sales records last month:
Chrysler 200—13,250 sales, +87 percent
Jeep Wrangler—14,454 sales, +44 percent
Dodge Avenger—10,682 sales, +93 percent
Dodge Challenger—4,816 sales, +41 percent (and a new all-time monthly record)
Fiat 500—4,003 sales, +128 percent
Other notable Chrysler Group performers last month included the Chrysler 300, up 140 percent; Dodge Journey, notching a 56 percent jump; and the Jeep Grand Cherokee, which lifted sales by 40 percent. The Jeep division also recorded its highest May sales totals since the same month in 2000.
It's worth pointing out, too, that the Chrysler Town & Country, which the automaker recently announced would be discontinued in 2014, benefited from a 56 percent sales bump in May on its way to 10,323 deliveries; its Dodge Grand Caravan sibling, set to carry on the company's minivan leadership, grew sales by 32 percent with 12,418 deliveries last month.
May Auto Sales: Ford Fusion Sets Retail Record
Ford tallied 216,267 May sales, good for a 13 percent leap, and that included a 12 percent increase in retail sales. The big story was the Ford Fusion, which captured its highest number of monthly retail sales ever—despite the fact the current model will soon be replaced by the all-new 2013 Fusion. All told, the Blue Oval's midsize sedan garnered 26,857 sales in the previous month and reaped an 8.9 percent rate of growth.
The Ford Explorer and Ford F-150 also showed strong sales in May. The former expanded sales by 10.1 percent on the strength of 14,662 deliveries—the highest monthly total for the current-generation Explorer. The latter was once again the fastest-growing of the Big Three full-size pickups, with an incredible 54,836 sales and a 29.3 percent advance.
Backed by the arrival of refreshed entries for the new model year, the Ford Mustang (10,427 sales, up 57.8 percent) and Ford Flex (3,818 sales, up 40.4 percent) also moved ahead noticeably.
Finally, it does appear as if Ford's lux division may have started turning things around, as the Lincoln MKS, Lincoln MKX and Lincoln MKT reported gains of 24.2 percent, 26.7 percent and 103.5 percent, respectively.
May Auto Sales: GM Achieves Highest Total in 33 Months
General Motors surprised observers with its strongest sales volume in more than 2½ years—245,256 units—which was good for an 11 percent overall boost in deliveries and a 14 percent leap in retail sales. Buick, Chevrolet and GMC were up by 19, 10 and 19 percent, respectively, but Cadillac struggled its way to a 15.1 percent decline, with all models losing ground except for the Cadillac Escalade ESV.
Bright spots for the General included:
Buick Enclave—6,709 sales, +55.2 percent
Chevy Sonic—7,205 sales, +59 percent (as compared to the vehicle it replaced, the Chevy Aveo)
Chevrolet Silverado—34,555 sales, +21.5 percent
Chevy Malibu—29,579 sales, +15.5 percent
Chevrolet Equinox—20,238 sales, +15.1 percent
GMC Acadia—9,128 sales, +31.8 percent
Also, the Buick Verano, in its first year on the market, had its fourth consecutive month-over-month sales gain, thanks to 3,609 deliveries.
And while much of GM's growth came on its full-size trucks—big pickups stepped up their sales by 23 percent last month—green watchers can take some solace in noting that the Chevrolet Volt was the company's fastest-growing entry in May, racking up a 249.3 percent increase in sales on 1,680 deliveries.