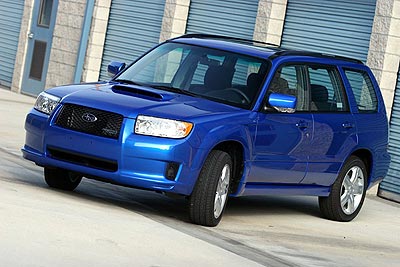 IIHS Top Safety Picks – Photo Gallery: Four 2007 cars, seven SUVs and two minivans have been recognized by the Insurance Institute for Highway Safety (IIHS) as doing the best job of protecting occupants in front, side, and rear crashes. For the first time this year, all winners had to have electronic stability control (ESC), although this life-saving technology will not be government-mandated until 2012. "We added ESC because the research is so compelling," says Rader. "It's a must-have feature." Noteworthy is that the list contains a number of SUVs for the first time, "because SUVs have become more crashworthy and, in the case of the winners, have added ESC," said Rader. Big winners this year are Honda/Acura and Hyundai/Kia with two vehicles, and Subaru – which garnered Top Safety Picks for three 2007 models.
How IIHS Crashes Cars
Crash tests are designed to cover the most common type of real-world collisions and gauge performance in high-speed front and side crash tests, plus evaluate seat/head restraints for protection against neck injuries in rear impacts. The IIHS factors in vehicle size and type and designates vehicles as good, acceptable, marginal and poor. Last year, the IIHS gave Silver Awards for vehicles with "acceptable' ratings in some areas. This year only vehicles achieving "good" across the board have been selected as Gold and made the newest list of winners. While the list contains American-made models, there are currently no domestic brands to make the first round of awards, although testing will be on-going for newer 2007 models such as the Ford Edge and Lincoln MKX.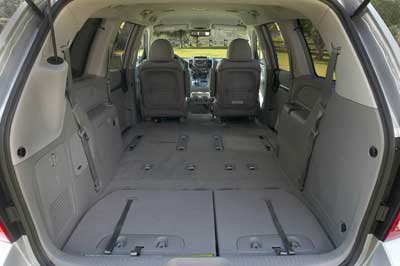 Large car – Audi A6
Redesigned for the 2005 model year, this third-generation luxury sedan features a 255- horsepower, 3.2-liter V6 engine and available 350-horsepower 4.2-liter V8 engine. A Multitronic Continuously Variable Transmission (CVT) shifts front-wheel-drive A6s, while a six-speed Tiptronic automatic is featured in all-wheel-drive Quattro variants. The IIHS award goes to models produced after December, 2006 with standard safety equipment that includes ABS brakes, stability control, side curtain airbags, front seat-mounted side impact airbags and programmable daytime running lights. Rear seat-mounted torso protecting airbags arrive optionally.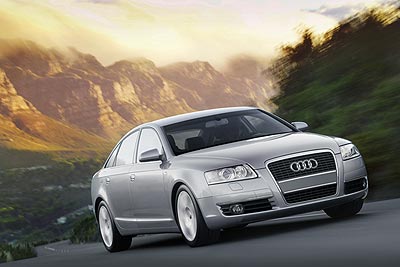 Midsize car – Audi A4
Joining its bigger brother, the A6, on the IIHS podium, the Audi A4 had its last major redesign in 2002. For 2007, the 2.0T model arrives with a turbocharged 2.0-liter inline-four, which, when hooked up to the standard six-speed manual transmission, gets 23 mpg in the city and 34 mpg on the highway. An optional 3.2 liter V-6 comes paired with a six speed Tiptronic automatic transmission, and consumes 19 mpg urban, and 27 mpg highway. Standard are stability control, ABS brakes, and airbags in the front dash and the sides of the seat, as well as curtain airbags in the roof.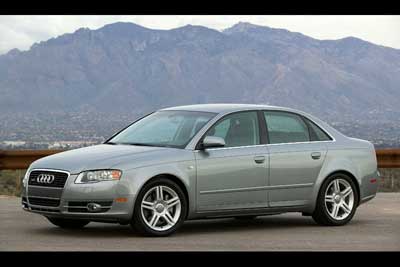 Midsize cars – Subaru Legacy
Completely redesigned for 2005, the Subaru Legacy arrives in two body styles: wagon or sedan (both meeting IIHS criteria). The 2.5i base model comes equipped with a 175-horsepower, 2.5-liter four cylinder engine mated to a five-speed stick or an optional four- speed automatic. It travels 22 mpg in the city, and 29 on the open road. At the top of the line sits the 2.5 GT Limited Wagon, with a 243-horsepower, turbocharged 2.5-liter engine and a five-speed automatic transmission. All Legacy models have ABS brakes, side torso airbags for those in the front seat, and side curtain airbags for both front and rear. The award winning Legacy also comes equipped with optional electronic stability control.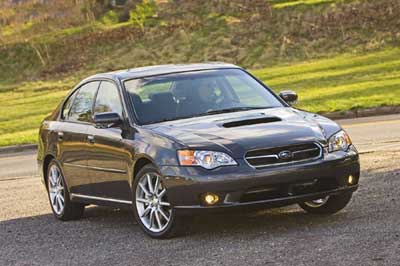 Midsize cars – Saab 9-3
Sweden's own sports sedan, the Saab 9-3, comes in two turbocharged flavors: the 2.0T, with a 2.0-liter four-cylinder engine that makes 210 horsepower, and the Aero, with a 2.8-liter V6 that produces 250 horsepower. When equipped with the standard six-speed manual transmission, the four cylinder gets 20/30 city/highway mpg, with the six-cylinder rating 18/28 mpg. Both have an optional automatic gearbox available, with five speeds for the four-cylinder and six for the V6 engine. Further, the 9-3 comes with electronic stability control and front, side, and curtain airbags on board.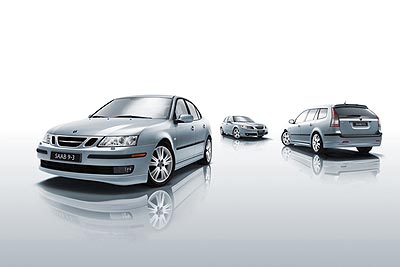 Minivans – Hyundai Entourage
All new for 2007, the four-door Hyundai Entourage represents Hyundai's first foray into the minivan segment. Powered by a 242-horsepower, 3.8-liter V6 engine and mated to a five-speed automatic transmission, the Entourage is capable of 18 mpg city and 25 mpg highway. There are three-point seat belts and side curtain airbags for all passengers, as well as seat-mounted side airbags in the front. The biggest of all Hyundais is slowed by four-wheel discs, equipped with standard ABS, and is aided with traction by standard electronic stability control (ESC).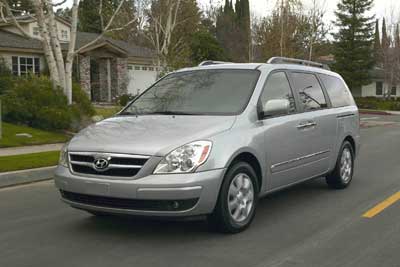 Minivans – Kia Sedona
Virtually the same as its sister ship, the Hyundai Entourage, the second generation Kia Sedona offers a number of upgrades. New is the 3.8-liter V6 engine, producing in this application 244 horsepower and getting 17 mpg in urban driving – 25 on the highway. The newest iteration of the Sedona also gains four-wheel disc brakes, as well as electronic stability control (ESC). It has side curtain airbags for all three rows, plus torso airbags for those in the front seats.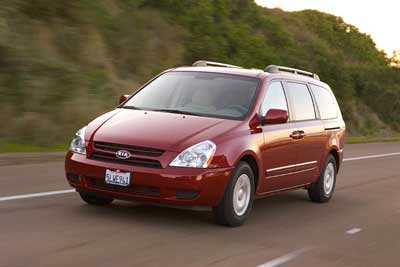 Luxury SUVs – Mercedes-Benz M Class
An all-new vehicle in 2006, the 2007 M Class luxury suv strives to defend the territory staked out by the first generation M Class. It is available in four trims, the ML350 with a 3.5-liter V6 that makes 268 horsepower; the ML500 and its 302 horsepower V8; the ML320 CDI with a diesel that delivers 398 lb.-ft. of torque, and the 503-horsepower ML63 AMG. The ML350 3.5-liter gets 17 mpg city and 21 miles on the highway, while the AMG delivers 12/16. All models come with curtain and torso airbags for front and rear; stability control and a rollover sensor to deploy all airbags in a rollover collision.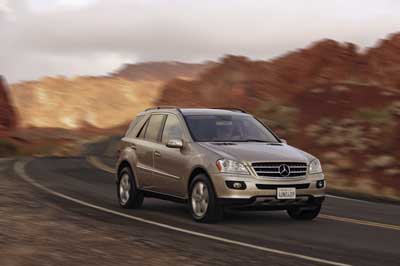 Luxury SUVs – Volvo XC90
The 2007 Volvo XC90 SUV is available with three rows of seating for up to 7 passengers and with two different engines. Gone is the entry-level inline five-cylinder, replaced by the previously optional 3.2-liter, 235-horsepower six cylinder that gets 17 mpg city, and 22 mpg highway. At the top of the range is a 4.4-liter V8 good for 311 horsepower, as well as 15/20 mpg. Both engines come mated to a six-speed automatic transmission. Volvo pioneered rollover stability control with the XC90, which senses and stops a rollover before it occurs. The XC90 comes equipped with standard front side airbags and curtain airbags for all three rows.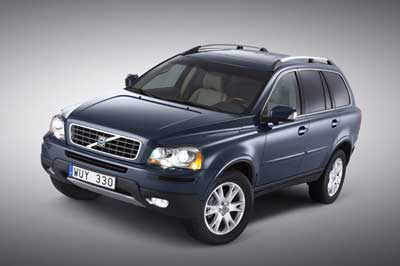 Midsize SUVs – Acura RDX
All-new for 2007, the RDX slots below the MDX in Acura's lineup of luxury SUVs. Powered by a 2.3-liter turbocharged four-cylinder, the RDX produces 240 horsepower and achieves 19 mpg in the city and 23 on the highway. Standard is a five-speed automatic transmission, as well as side airbags for the front passengers and curtain airbags for both rows. Electronic stability control, as well as road-gripping all-wheel-drive, helps keep the RDX on the road.