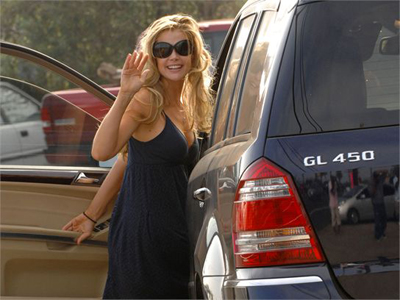 Denise Richards was spotted hopping into her Mercedes GL450 in Brentwood, California today. Perhaps Denise appreciates the GL's desert-quiet interior, perfect for sealing out the media madness surrounding a custody battle with Charlie Sheen. Or maybe she just wants to blend in with all the other wealthy moms in Southern California rocking the Mercedes-Benz GL these days like it's going out of style (and with volatile gas prices, it kind of is). Certainly Denise Richard's kids must love the optional dual 8" flat-panel-LCD screens, perfect for watching Dora the Explorer, Hannah Montana, Starship Troopers, etc. Or maybe Denise likes the GL450's 16 cubic feet of cargo space...for transporting her 11 dogs! (Who knew Denise Richards was the canine equivalent of your block's crazy cat lady?) Regardless, the Mercedes GL is a good look on Denise, and if she's ready to get her clean diesel on and still rock a GL, Mercedes is already there with their GL320 BlueTec.
Photo Credit: Splash News
Page 2
The Mercedes Three-Pointed Star carries a lot of star power into 2009. A luxury V-8 with three rows of seating that starts below $60,000 is an achievement deserving of top billing on anybody's shopping list, and the Mercedes GL450 deserves a long, longing look. Fact is, the GL-Class is the best-looking SUV that Mercedes builds. For your environmental well-being, Mercedes offers a very smart diesel: the 2009 Mercedes GL320 BlueTec which has a gift for fuel economy and a ton of towing torque.
Photo Credit: Mercedes-Benz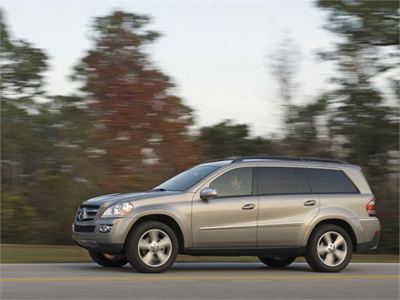 Page 3
Photo Credit: Splash News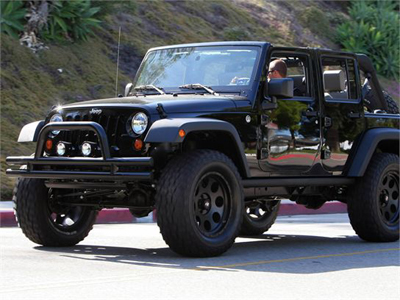 Page 4
Ah, the Jeep Wrangler. A classic off-roader in the spirit of the great Kit Carson and that bug-eating guy from "Man Against Wild." The venerable Jeep Wrangler (and of recent vintage, the 4-door Wrangler Unlimited) won't brag about horsepower (202-hp V-6) or comfort, and it won't preen itself in the mirror. But it will climb up and over just about anything you put in front of it. Plus, it's got Chrysler's lifetime powertrain warranty. This is an SUV stud.
Photo Credit: Jeep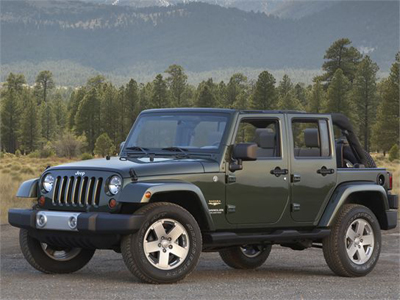 Page 5
I've started to see Paris Hilton out in her new GMC Yukon Hybrid, one of the first off dealer lots in Los Angeles. TMZ immediately called Paris a hypocrite for keeping her fuel-intensive Bentley GTC; where I'm from we call that "player hating." Congrats Paris, go cry about it TMZ. Trying to figure out if a hybrid is right for you? MyRide already did the math for you. Check out how long it will take Paris to get gas mileage payback on the Yukon (hint: good thing she's rich).
Photo Credit: Splash News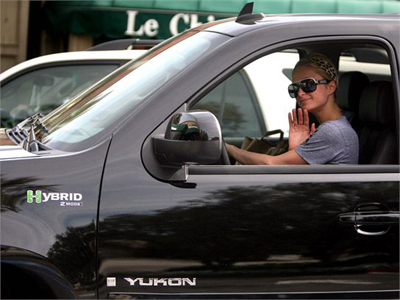 Page 6
New last year, the GMC Yukon Hybrid is a bit of a stretch for the Sierra Club's imagination, but it gets better EPA city fuel economy than a V-6 Toyota Camry. The 21-mpg/city, 22-mpg/highway fuel economy may not stop a Greenpeace schooner in its tracks, but it's plenty impressive for a full-size, full-weight SUV. Face it, Rainbow, some folks actually do need all that space, so they might as well take it up with a gasoline-electric hybrid like the GMC Yukon Hybrid.
Photo Credit: GMC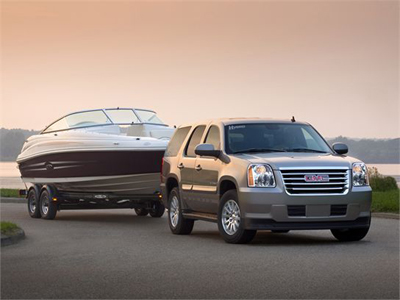 Page 7
Did you hear about Justin Timberlake's new album Orange Slices and PTA Meetings? At least that's what you'd expect after seeing him get out of a Lexus RX. Justin, has your car game gone soft? To his credit, Timberlake does drive a Porsche Carrera GT in a death race with Scarlett Johansson for the "What Goes Around... Comes Around" music video (skip to the good part). Timberlake also has a pretty cool Jeep Wrangler Rubicon. Even back in 2002, Timberlake had three Mercedes, two Cadillac Escalades, an Audi TT, a Dodge Viper, a BMW, a Porsche, plus five motorcycles and three Sea-Doos (credit). Step it up JT! More death race, less Little League.
Photo Credit: Splash News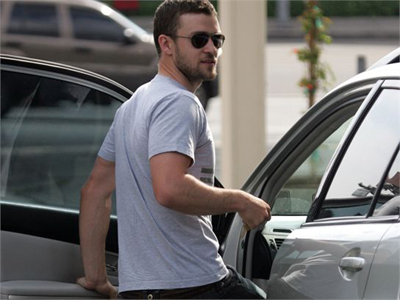 Page 8
The Lexus RX 350 does its ballet along the line of entry level luxury. Its silken 270-horsepower V-6 and clean, steady exterior are complemented by carlike handling and a legitimate luxury interior. It's strictly an on-road affair. And if you decide that your comfortable conscience or environmental consciousness needs to be expanded by your ride, the 27-mpg-in-the-city Lexus RX 400h hybrid will get you there in precious style.
Photo Credit: Lexus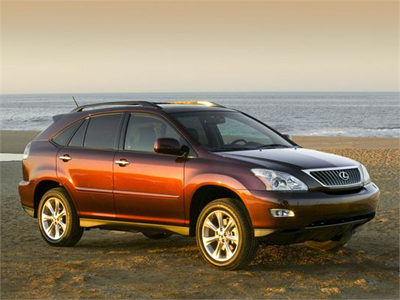 Page 9
For every time I've said the Mercedes G-Wagon is about as practical as eating ice cream in the Sahara desert, I apologize. Brooke Shields has pointed out to me that her G's pizza box-flat roof is perfect for transporting Christmas trees. My guess is that strapping a tree to the roof doesn't harm vehicle aerodynamics either, because quite frankly with the Mercedes G they couldn't get much worse to begin with. In some countries, a G-Wagon is a practical choice on a daily basis, particularly in any country that resides in the aforementioned Sahara
Photo Credit: Splash News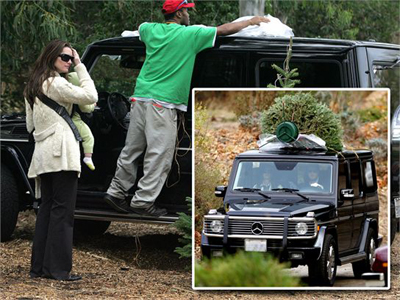 Page 10
If you're ever feeling less than all-powerful, the Mercedes G-Class is the antidote. Looking for all the world like World War II in a Box, the Mercedes G-Class is a hand-built icon of power. It started life as the official vehicle of NATO, and could be the most capable off-roader available. And as an icon of in-your-face Spartan-lux, the Mercedes G55 AMG has no peer, on or off the pavement. No performance or fuel economy to speak of, but drive this into the club and you will not be forgotten.
Photo Credit: Mercedes-Benz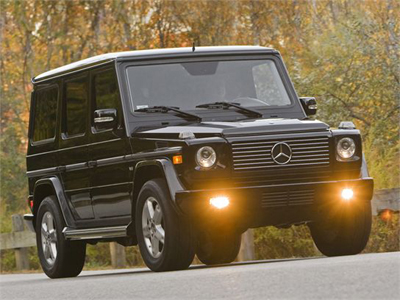 Page 11
Matthew McConaughey was spotted recently getting some last minute training in for the annual Malibu triathlon. McConaughey's mobile locker-room of choice seems to be the GMC Yukon XL Denali. It doesn't look like McConaughey went for the matching GMC Yukon XL road bike though (I swear I'm not making it up, it really does exist).
Photo Credit: Splash News