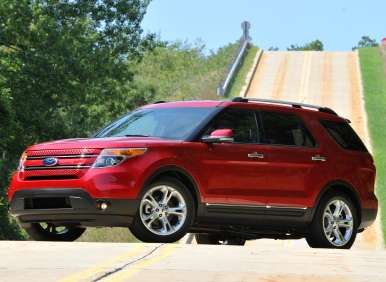 These days, if you can't find a crossover that combines both the segment's signature approach to versatility with EPA highway marks at least a few points above the 30-mpg mark, you're just not trying very hard. But the best-mpg crossovers of 2012 deliver on those benefits and then some, mixing in luxury, drivability, style, technology and more. In fact, limiting Autobytel's roster of high-mpg crossovers for 2012 to just five entries meant foregoing strong choices that ranged from the Ford Explorer (28 mpg highway in a full-size package) to the Toyota Prius v (with a hybrid-enabled 42 mpg combined) to the VW Touareg TDI (boasting 29 mpg highway and a diesel-icious 406 lb.-ft. of torque).
So, who did make the cut?  Let's find out …
Best MPG Crossovers of 2012: Ford C-MAX
The next wave of crossovers is continuing to drift further away from its SUV origins, and the all-new Ford C-MAX is a prime example of the trend: It puts an exceedingly sharp focus on versatility and efficiency—without much in the way of traditional sport-utility styling cues; taxonomically speaking, it might more properly belong to the growing sub-species of "multi-purpose vehicles," or MPVs. But it definitely belongs among our best-mpg crossover vehicles for 2012, too.
That's thanks to its ability to reach 47 mpg in all components of EPA testing, while also swallowing up to 52.6 cubic feet of gear (with its rear seats folded flat) and offering the Blue Oval's usual plethora of tech features—starting with the vehicle's powertrains. The C-MAX is available in two flavors, one with Ford's next-gen hybrid tech and the other with both that hardware and plug-in capabilities that allow owners to travel more than 20 miles using electricity alone.
The bottom line here: Priced from $25,200, the Ford C-MAX delivers more power, more cargo room, more passenger room, a lower price and higher EPA ratings than its direct rival, the Prius v, while also capturing the flag as the most efficient of our high-mpg crossovers for 2012.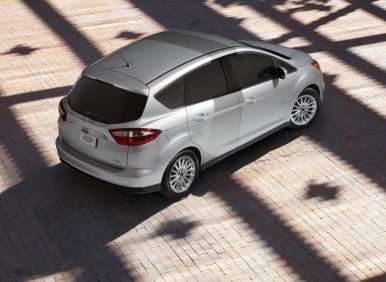 Best MPG Crossovers of 2012: Mazda CX-5
Among the high-mpg crossovers for 2012 with traditional internal-combustion engines, few players can top the EPA marks of the Mazda CX-5. Of course, "traditional" probably isn't the best way to describe the CX-5's SKYACTIV powertrain, which leverages a comprehensive suite of friction-reducing measures and other efficiency enhancers to deliver ratings of up to 26 mpg city/35 mpg highway/29 mpg combined. Those figures represent an 11.5 percent advantage in combined driving over the Honda CR-V, and a 16 percent edge over the Ford Escape with its standard engine. (Even when EcoBoosted, the Escape trails the CX-5 by 3 mpg in combined fuel efficiency.)
True, the CX-5 only gets those marks with a six-speed manual transmission, but that gearbox is the one best suited to bring out the Mazda's zoomy nature anyway.
This one of our high-mpg crossovers for 2012 also sports a relatively low price of admission—$20,995—as well as up to 65.4 cubic feet of space for cargo and premium standard features like steering-wheel-mounted audio controls, 17-inch aluminum-alloy wheels, push-button start, and collapsible pedals/steering-wheel column for added safety.
The Mazda CX-5 also is a 2012 Top Safety Pick of the Insurance Institute for Highway Safety (IIHS).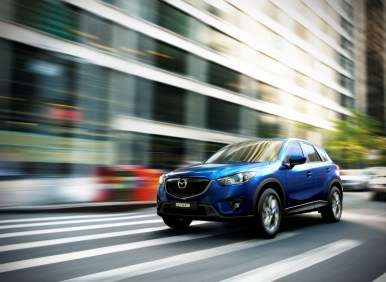 Best MPG Crossovers of 2012: Lexus RX 450h
Bringing world-class luxury to Autobytel's list of high-mpg crossover vehicles for 2012 is the Lexus RX 450h, now wearing a thoroughly refreshed interior with improved ergonomics, a redesigned exterior—showcasing the brand's dynamic "spindle" grille—and a revamped powertrain that adds a Sport driving mode for times when the owner prefers a more athletic approach to travel.
On the other hand, it is worth pointing out that the RX 450h is plenty athletic right out of the box, backed by a hybrid powertrain that mates a 3.5-liter Atkinson-cycle V6 with a 123-kw electric motor/generator for a total of 295 hp—complemented by EPA ratings of 32 mpg city/28 mpg highway/30 mpg combined in its two-wheel-drive configuration. But even with Lexus' advanced all-wheel-drive system, the RX 450h can still post fuel-economy grades of 30 mpg city/28 mpg highway/29 mpg combined.
Clearly among the best-equipped of the best-mpg crossovers of 2012, the Lexus RX 450h brings an MSRP of $45,910 and can be kitted out with standard and available amenities like the Lexus Enform connectivity and infotainment system, Bluetooth technology, a heads-up display that projects key vehicle info on the inside of the front windshield, a dual-screen rear-seat entertainment system, and a Mark Levinson Premium Surround Sound audio system.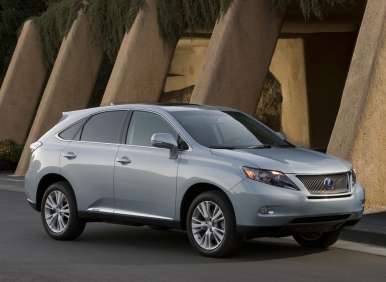 Best MPG Crossovers of 2012: BMW X1
The BMW X1 is among the smallest of today's best-mpg crossovers for 2012, planting its flag as the country's first premium subcompact entry. The X1 is a trim 176.5 inches in length, which is just a few inches bigger than a Chevy Sonic sedan, yet the Bavarians have managed to engineer it to handle a non-negligible 14.5 cubic feet of gear and whatnot in its rear cargo hold, and up to 47.6 cubic feet with its back seats folded down.
And what the X1 may lack in versatility it more than makes up for in terms of velocity: Mating BMW's twin-turbocharged 2.0-liter I4 engine—worth 240 hp and 260 lb.-ft. of torque—to an eight-speed automatic transmission (with sport-shifting mode), the X1 can run from 0-60 in just 6.2 seconds and keep on running right up to an electronically limited top speed of 127 mph.
As for its credentials as one of the best-mpg crossover vehicles of 2012, consider: Despite its performance-oriented design, the rear-wheel-drive BMW X1 has been certified by the EPA to deliver ratings of up to 24 mpg city/34 mpg highway/28 mpg combined, and the all-wheel-drive variant is capable of 22 mpg city/33 mpg highway/26 mpg combined.
MSRPs for the X1 start at $30,650.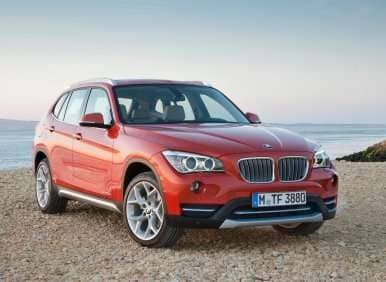 Best MPG Crossovers of 2012: Ford Explorer
The Blue Oval comes up as the only brand with two alternatives among Autobytel's high-mpg crossovers for 2012, courtesy of the Ford Explorer. The Explorer is the only three-row vehicle on the list—making it the ideal choice for customers who need a full-size crossover—and it gets there by leveraging the automaker's exclusive EcoBoost technology.
When bolstered by its 2.0-liter EcoBoost I4, the Explorer has a robust 240 hp and 270 lb.-ft. of torque in the bank, yet it also returns fuel-economy scores of up to 20 mpg city/28 mpg highway/23 mpg combined. And remember, the Explorer  stretches a bit more than 197 inches in length, so it's the biggest of our high-mpg crossovers for 2012; as a result, compared to rivals like the Honda Pilot or Toyota Highlander, the Explorer is both bigger and more fuel-efficient. The Pilot, for example, tops out at 18/25/21, and while the Highlander can reach 20/25/22 with its own I4 engine, that powerplant produces 53 fewer horses and 84 fewer lb.-ft. of twist than the Explorer's four-cylinder EcoBooster.
The high-efficiency Explorer starts at $29,865 and offers a wealth of satisfying features, including SYNC with MyFord Touch, a Terrain Management System, Sony premium audio, and safety features like a rearview camera, blind-spot information system, adaptive cruise control and industry-first inflatable seatbelts.