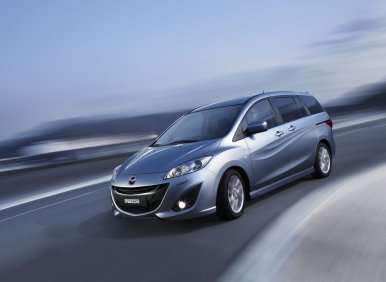 Minivans may not be the most glamorous vehicles on the road today, but they're still among the most popular. In fact, as Autobytel was developing its list of the top minivans to buy for 2012, the minivan segment had just finished July as the fastest-growing vehicle type in America. According to data from MotorIntelligence, the minivan category grew 23.1 percent that month, while cars advanced by 14.9 percent, SUVs and crossovers moved ahead by 2.4 percent, and pickups slipped by 2.0 percent.
Those numbers make perfect sense, too, since the best minivans to buy in 2012 offer an unrivalled combination of interior versatility and comfort, as well as better fuel-economy ratings than big crossovers and, particularly with the current crop of entries, some fairly dynamic designs.
Best Minivans to Buy for 2012: Honda Odyssey
The Honda Odyssey was the highest-rated minivan in both the 2012 Autobytel/AutoPacific Vehicle Satisfaction Awards and the Autobytel/AutoPacific Ideal vehicle awards, making it an obvious choice for Autobytel's short list of top minivans to buy for 2012. Helping matters is a long list of advantages for the Odyssey, including a cabin that can hold up to eight people in 172.6 cubic feet of comfort, with five positions capable of securing child safety seats. That same interior also can be transformed into a mobile entertainment hub, thanks to a full-scale rear-seat media system that provides a 16.2-inch LCD screen, a 650-watt audio setup with 12 speakers and Dolby Digital 5.1 Surround Sound, an HDMI video input, and a pair of wireless headphones.
Like any of the best minivans to buy in 2012, the Odyssey is equally adept at handling cargo. It can hold up to 148.5 cubic feet of stuff, including 4- x 8-foot sheets of plywood and 10-foot 2 x 4 studs.
Even better, the Odyssey can all this while relying on the best fuel-economy marks in the segment. Honda's minivan is capable of 19 mpg city/28 mpg highway/22 mpg combined according to the EPA, and that's with a powerful V6 engine that makes 248 hp and 250 lb.-ft. of torque.
Also showcasing a distinctive "lightning bolt" exterior design, the Honda Odyssey starts at $28,375.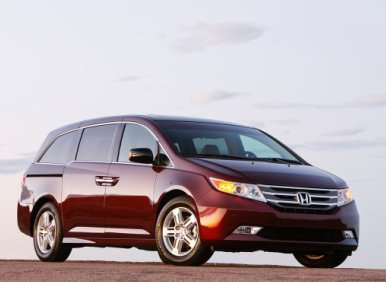 Best Minivans to Buy for 2012: Toyota Sienna
Perhaps the driver's choice among the best minivans to buy in 2012 is the Toyota Sienna. After all, the Swagger Wagon provides the only all-wheel-drive variant in the segment and a "sport" model with a lowered ride height, sport-tuned suspension, aero-style side skirts, 19-inch alloy wheels, exclusive instrumentation and interior accents, and smoked taillights.
But that doesn't mean the Sienna requires sacrificing usability for drivability. Toyota's minivan actually has a bit more cargo space than the Honda Odyssey, for example, as well as significant passenger-carrying versatility: Owners can choose from either middle-row captain's seats with 23 inches of fore-and-aft travel or, in the Limited trim, standard Lounge Seating that offers leg/foot support for passengers.
Motivation for the Sienna comes courtesy of a 266-hp, 3.5-liter V6 engine that also makes 245 lb.-ft. of torque and delivers an EPA line of up to 18 mpg city/25 mpg highway/21 mpg combined. Those shopping for good minivans to buy in 2012 should note that the 2012 Sienna also offers an I4 engine that produces 187 hp and 186 lb.-ft. of torque, along with an extra mpg in city driving as compared to the V6 version—albeit while losing an mpg on the highway side of the ledger. But what's more important for potential customers is the fact that the four-cylinder Sienna opens at $25,060, providing a more affordable entrée to the Toyota minivan lineup than the V6 version that starts at $26,300. And the former will be discontinued for 2013.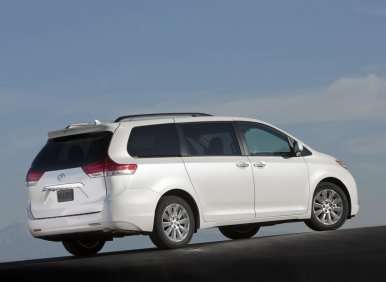 Best Minivans to Buy for 2012: Nissan Quest
The Nissan Quest is fast becoming a cult favorite for owners who want one of the best vans of 2012, but also want to stand out from the crowd in a lower-volume vehicle that still offers all the amenities as the big boys—along with some unique features of its own. Thus, there's plenty of space in the Quest's interior, but it also boasts an innovative cargo-management setup for its rear seats, which all fold flat and forward to allow gear to be stowed behind the third row at all times.
Touches like this helped propel the Quest to the top of its segment in this year's J.D. Power and Associates 2012 Automotive Performance, Execution and Layout (APEAL) Study.
And other customer-satisfying features available on the 2012 Quest, with a starting MSRP of $25,990, include:
Dual moonroofs, both of which open to provide fresh air for all rows
One-touch power-sliding side doors
Power windows for both first and second rows
A "conversation mirror" that makes it easy to keep an eye on the kids
Nissan innovations like a high-tech climate system with air purifier and cabin air filter, as well as the company's 360-degree AroundView monitor and Easy Fill Tire Alert
Nissan's entry on this roster of top minivans to buy for 2012 also provides a competitive powertrain that mates a 3.5-liter V6—with output ratings of 260 hp and 240 lb.-ft. of torque—to a continuously variable transmission (CVT) for EPA marks of 19 mpg city/24 mpg highway/21 mpg combined.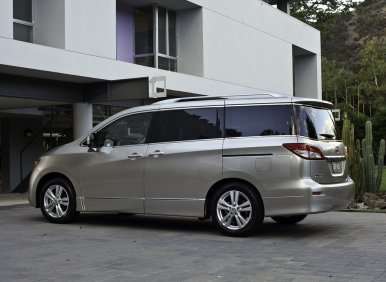 Best Minivans to Buy for 2012: Dodge Grand Caravan
The least-expensive full-sizer of the top minivans to buy in 2012 is the Dodge Grand Caravan, with a sticker price that opens at $20,995. Yet it also boasts best-in-class V6 power (283 hp and 260 lb.-ft. of torque), a best-in-class tow rating of 3,600 lbs., and the groundbreaking Stow 'n Go seating system. It's a setup that now includes a unique third-row bench that can be completely flipped around to face the rear of the vehicle during tailgate parties and camping adventures (not while the vehicle is in motion).
And while the entry-level Grand Caravan may not be as lavishly equipped as the starter models from the competition, it does undercut the MSRPs of those rivals by more than $4,000, and the other members of the Dodge minivan family more than pick up the slack. All the expected goodies are available, from a rear-seat DVD entertainment system to the award-winning Uconnect infotainment and connectivity technology, as well as dual power-sliding side doors, 17-inch wheels, navigation, ambient interior lighting, an athletically tuned R/T entry, and an up-scale sound system with nine speakers and an amplifier.
Remember, too, that a modified Grand Caravan is currently available for commercial customers as the Ram C/V, with a heavy-duty suspension, transmission and engine oil cooler that all have been tailored for the work environment; the owner's choice of solid or privacy-glass panels instead of side and rear windows; and two structural aluminum floors, one for maximum capacity and one with integrated storage bins.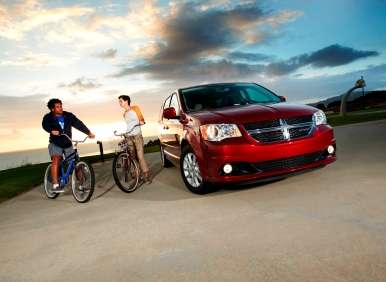 Best Minivans to Buy for 2012: Mazda Mazda5
It's about 20 inches shorter than the rest of the best minivans to buy in 2012, but the Mazda MAZDA5 makes an excellent choice for customers who prefer a three-row vehicle with a smaller footprint. Of course, the Mazda5 also delivers a smaller price tag, with a starting point of $19,625, and a smaller engine that delivers bigger EPA numbers. The powerplant transforms four cylinders and 2.5 liters of displacement into 157 hp and 163 lb.-ft. of torque, along with EPA grades of 21 mpg city/28 mpg highway/24 mpg combined with either a five-speed automatic or six-speed manual transmission.
Unsurprisingly, the Mazda5 doesn't have quite the cargo space that's a hallmark of the other best minivans to buy for 2012, but there is more than 44 cubic feet of room, even with passengers in the second row. To put that into perspective, the Mazda5 is just one inch longer than the station wagon version of the VW Jetta, but it supplies 11.6 more cubic feet of cargo volume behind the second row, while still showcasing an extra 6 cubic feet of room for first- and second-row passengers.
The Mazda5 also makes a large statement in terms of style. Completely made over for the 2012 model year, the mini-minivan is an ideal canvas for the brand's fresh "Nagare" design language, which incorporates flowing, organic shapes for "a look of quality, emotional styling and elegance that intensifies the joy of ownership."