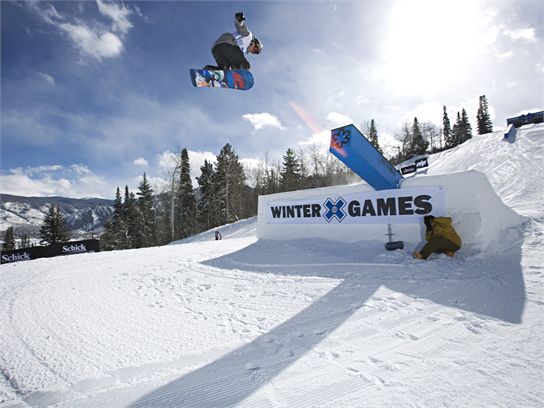 This year ESPN once again hosted it's annual Winter X Games competition, an event attracting some of the world's most talented extreme athletes. This got some of us at Autobytel thinking: When your job entails jumping snowboards across 50-foot gaps while performing a variety of mid-air acrobatics with names like "switch 1260" and "backside 540 rodeo", what do you drive home after a day at the office? We tagged along with ESPN to ask a couple of the sport's up-and-coming what they are currently driving, and what their next ride might be as their success grows. Turns out most of the extreme rides are kept on the slopes and not the road.
By Elliot Darvick, ESPN Photo credit: ESPN
Page 2
Right now, I've got a pretty sweet mountain bike back in Tahoe and that's pretty much my only transportation [laughs]. But I did win a little car last week! I won a little Suzuki at the Burton Open. It's a little Suzuki "Eurocar" that's worth a lot, I don't even know what kind it is. [It was a custom Suzuki Grand Vitara]
We're curious, the Burton Open took place in Switzerland, the Vitara was Euro-spec, and Jamie lives in Nevada; did she get to keep it or is it back to the ol' mountain bike?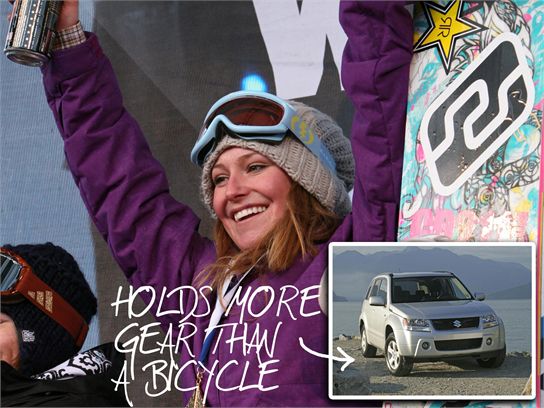 Page 3
I'd like a Toyota Tundra or something; a pickup truck with a sled in the back. Nothing too crazy…maybe leather seats, tinted windows. I'm not gonna put like a million dollars into it. Get some thump in there, maybe Kicker will help me out. The thing is, I want like a cool Bimmer or Audi to cruise around, but I kind of need a truck for my life.
Every seventeen year old (yeah, she's only seventeen) wants a Bimmer or Audi, but how many are mature enough to recognize their life actually needs a pickup truck instead?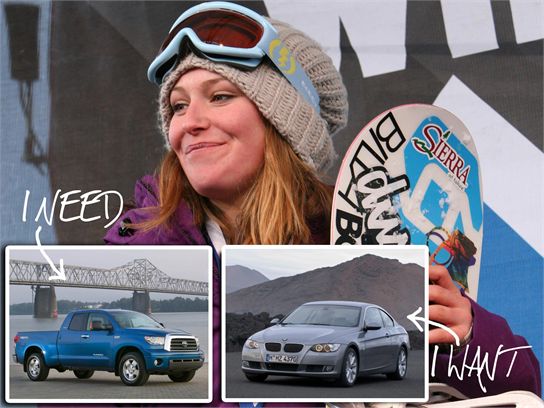 Page 4
I drive a Pontiac Sunfire, I love it though. It's a 2002, I think. My dad has a new Tundra so I drive that when I go sledding. I just steal it. That's the way to go.
I'll probably just try and save it [cash winnings] and put it towards buying a truck or something.
Two of the three Women's Snowboard Slopestyle medalists mentioned the Toyota Tundra. Something smells funny here…or maybe they love the cold and snow so much that a truck named "Tundra" is the only way to go. We're guessing driving an Avalanche would be bad karma?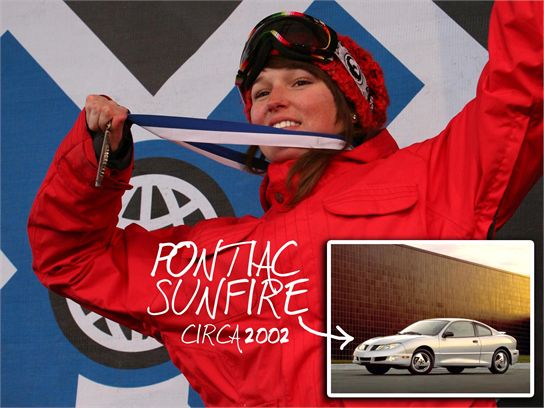 Page 5
I drive a SEAT, they're my sponsor. Now [I've got] a SEAT Altea; it's a minivan so I can take all my stuff. It's a sexy minivan because it's MY car. It's just a normal car, no pimping or anything.
We looked up the SEAT Altea, and it looks like a crossover-version of a Honda Fit; perhaps in Austria (where Markus resides), the term minivan has a different connotation? Either way, Markus, don't be ashamed; we're all for pimping minivans, on either side of the Atlantic.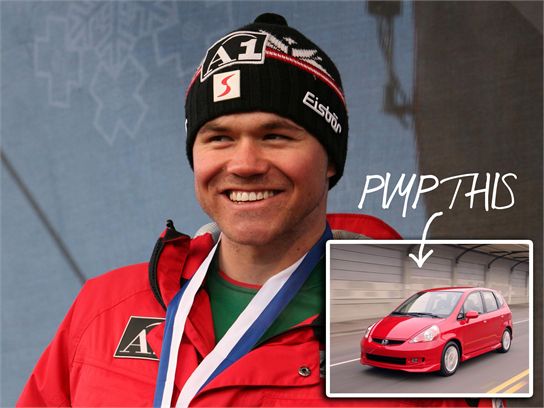 Page 6
SEAT is my sponsor and while it's like that, I'll not buy a car.
While SEAT isn't sold in the US (its parent, VW is), Markus did remark that when he drives in America, "the cops stop us and tell us 'you're not on the Autobahn.'" Ironically we have the same issue. Word of advice, Markus? Vehicular run-ins with the law are not a good way to retain automotive sponsorships.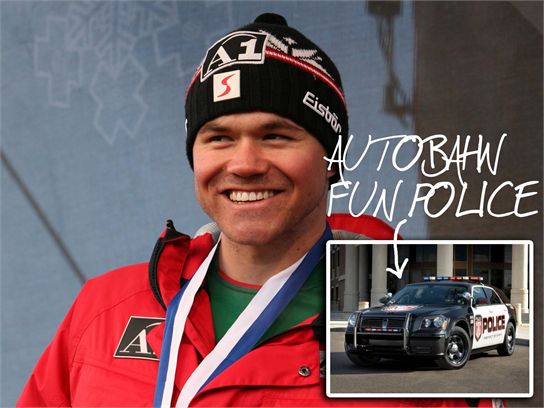 Page 7
I share a car with my parents. It's a Nissan Palmera and it goes 220 Km/hr. David is from Germany and we're pretty sure he meant (or maybe said?) Primera, which is comparable to the Nissan Altima we get to rock in the States. We do know, however, that 220 Km/hr is roughly 135 mph, which is cool. Sharing a car with your parents, though? Not so cool. Performing stunts on snowboards for a living and probably getting tons of girls? Very cool. Actually, cooler than anything we do, and we test drive cars for a living.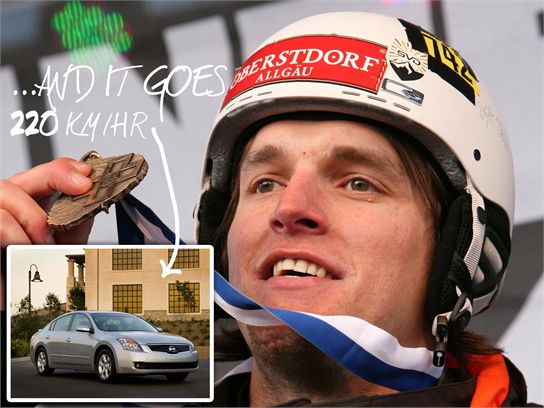 Page 8
Maybe a Volvo V70 which the guys get at the Abominable Snow Jam. On snowboards they have a lot of locks and decks so you need a big car that's safe and fast, maybe 4-wheel drive. Actually, maybe an Audi A6.
When someone asks you what your next car might be, responding with "a Volvo station wagon" might be expected from, oh, we don't know, an English professor! But a professional snowboarder? In fairness to David, he did explain that he goes to a lot of concerts where having a big car to sleep in is convenient. We'll give him that. And the fact that snowboards don't fit in Porsches. Real Porsches.