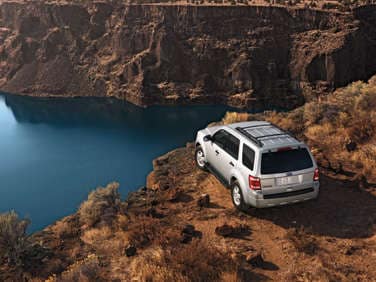 Saying that "Fuel economy leadership remains the bull's-eye for [its] new utility lineup for 2012," Ford recently announced some important powertrain news for both the completely redesigned 2012 Ford Escape and all-new 2012 Ford C-MAX Hybrid: The former will offer drivers a choice of three four-cylinder engines—including two using Ford's innovative EcoBoost technology—while the latter will rely on the automaker's next-gen hybrid system, boasting a transmission and lithium-ion battery pack built by Ford here in America.
An Escape from Ordinary Engines
The 2012 Escape's engine roster will include the first U.S. application of the automaker's 1.6-liter EcoBoost engine, which is currently used in the European Ford Focus and Ford C-MAX. When it debuts in the new Escape, Ford says this engine will provide more than 31 mpg highway, besting the mileage of the current Escape Hybrid. The 2012 model also will offer the same 2.0-liter EcoBoost engine now available in the Ford Edge and Ford Explorer, providing a high-performance option with the same kind of power found in rivals' V6 engines but with much better fuel efficiency.
"Expanding the availability of EcoBoost technology in the all-new Ford Escape will give customers a great range of choices for the fuel efficiency and performance they want in a small SUV," said Joe Bakaj, vice president, Powertrain Engineering. "This advanced technology in the new Escape delivers on our commitment to provide class-leading fuel efficiency in every new Ford product."
In addition, the '12 Escape will offer a more "traditional" 2.5-liter I4 engine, although it, too, will rely on efficiency-boosting technologies like twin independent variable camshaft timing.
The production version of the 2012 Ford Escape will be revealed to the public at the upcoming Los Angeles Auto Show, which opens November 18. The new vehicle is expected to be heavily influenced by the Vertrek concept that Ford showed earlier this year, with new styling that draws on the same "kinetic" design language used to excellent effect on the Focus. Also significant: The latest Escape is a strong "next step" in the automaker's One Ford strategy to integrate its global product lineups—that is, the Escape offered in this country will be basically identical to that sold elsewhere in the world.
Hybrid Technology and the Crossover Segment
As notable as all this is, the big news requires a bit of reading between the lines: Once Ford stops production of the Escape Hybrid—to be clear, the all-new model will not offer this technology—the number of non-lux hybrid crossovers on the market will fall to exactly zero.
It's an odd situation, especially because the Escape Hybrid was relatively successful as far as hybrids go. Ford has sold more than 7,000 of them this year, more than Toyota has sold Camry Hybrids, and the vehicle has been solidly among the hybrid top 10 throughout 2011. And while it's true overall hybrid demand remains weak in this country, that hasn't stopped automakers from introducing the technology in a growing number of vehicles on the car side. The first hybrids from South Korea were launched this year in the forms of the Hyundai Sonata and Kia Optima, and both Toyota and Honda continue to put significant resources into hybrid cars.
The problem goes deeper than this, too, because it's not just hybrid tech that's missing from the mainstream crossover segments; except for the coming Toyota RAV4 EV, there's a distinct lack of any new powertrain technology among the crossovers. For example, while GM's eAssist light-electrification setup continues to migrate to new cars (like the 2013 Chevrolet Malibu), there's been no talk yet of seeing it on a crossover.
Instead, "multi-activity" vehicles such as the C-MAX and forthcoming Toyota Prius v are being positioned as the hyper-efficient choices for people who would otherwise be looking for vehicles with traditional crossover/SUV body styles. Yes, the new Escape will have that 1.6-liter EcoBoost, but remember, Ford is claiming that vehicle will have better highway fuel efficiency than the current Escape Hybrid. Yet highway fuel-economy is actually the weak link in any hybrid's EPA line, since the technology provides most of its advantage in city driving. Consider: Hybrid crossovers like Kia Sportage and Chevrolet Equinox already get more than 31 mpg highway. It's the Escape Hybrid's ability to get 34 mpg in urban driving that's so impressive, with the Sportage and Equinox trailing that mark by a full 12 mpg.
(It's also worth pointing out that the 2011 Escape Hybrid is available in a four-wheel-drive model that still manages an EPA line of 30 mpg city/27 mpg highway/29 mpg combine; the C-MAX, regardless of its fuel-efficiency, will be front-wheel-drive only.)
Now, there's not much in the way of evidence for customers preferring the appearance of MAVs—in fact, sales figures show just the opposite, with buyers always flocking to purchase trucks and "trucks" whenever fuel prices allow it—so it almost appears as if automakers are purposely using hybrid technology where it's least likely to gain a significant number of adherents.
But that can't possibly be right—can it?