2020 Ford Ranger ・ Photo by Ford
The Ford Ranger is an excellent mid-size pickup truck. Its unique turbocharged four-cylinder engine delivers lively acceleration, respectable fuel economy, and mighty towing capability. Ford also fills the vehicle with advanced driver-assistance features, an up-to-date infotainment system, and a decently spacious backseat.
The Ranger is priced from a competitive $24,820, and every model uses a 2.3-liter four-cylinder engine with a generous 270 horsepower and 310 lb-ft of torque. Its EPA ratings are the highest of any pickup truck on the market with a conventional gasoline engine, rather than a hybrid or diesel powertrain: up to 21 mpg in the city and 26 mpg on the highway. Still, not everyone would find the Ranger perfect. It only offers a short 5-foot bed on its crew cab, unlike the optional 6-footers on most mid-size trucks. Also, maybe you'd like a tougher character, a smoother ride, or just something different. That's why we've rounded up five excellent alternatives to the 2021 Ford Ranger. Read on as we discuss how each of these other vehicles compares with the Ranger, and see if one of them might be the better fit for you.
1. 2021 Chevrolet Colorado / 2021 GMC Canyon
The Chevrolet Colorado and GMC Canyon are mechanical twins that offer similar pros and cons but different exterior styling. They're great-driving pickups for this segment, with unusually smooth rides and agile handling, even on their most rugged off-road-ready versions.
The Colorado starts at $25,200 and the Canyon starts at $26,400; those are higher starting prices than last year, but that's because General Motors discontinued their stripped-down base models. Both trucks have a choice of three engines: a base 200-horsepower four-cylinder, a 308-horsepower V6, and a four-cylinder diesel with just 181 horsepower but 369 pound-feet of torque.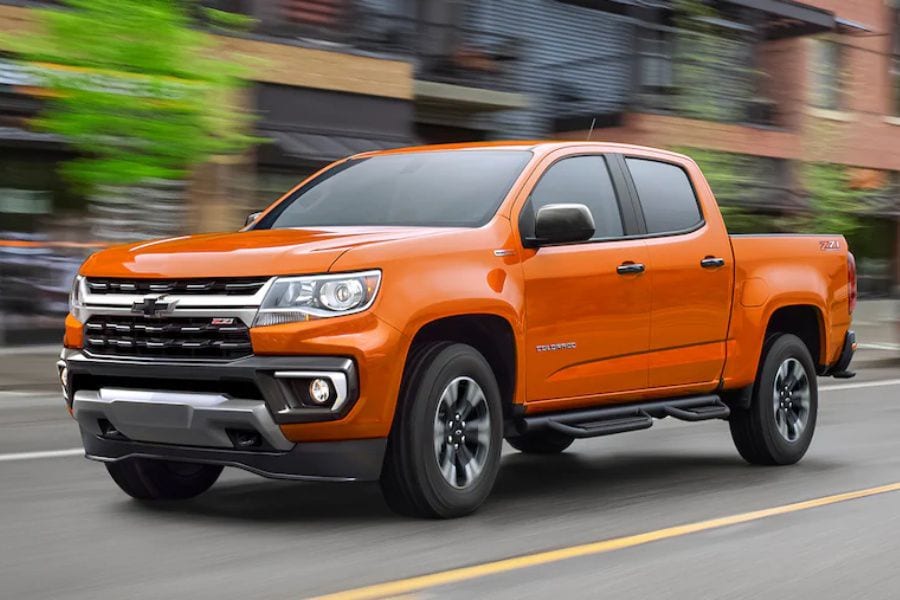 Photo by Chevrolet
One Truck, Two Looks
The Chevrolet Colorado looks somewhat similar to the Ford Ranger. Both have gentle curves, unlike more squared-off trucks that try to telegraph their toughness. If that's not to your tastes, consider the blockier GMC Canyon. It still looks more genteel than aggressive, but it's less anonymous than its Chevy cousin.
Both the Colorado and the Canyon have some notable downsides. Neither is available with a long list of advanced safety features like automatic emergency braking or lane-keeping assistance. They earned mediocre crash-test scores. Like the Ranger, their interior decor is a bit drab. And even though they offer a fuel-saving diesel engine, the diesel's EPA ratings only tie the gas-powered Ranger's.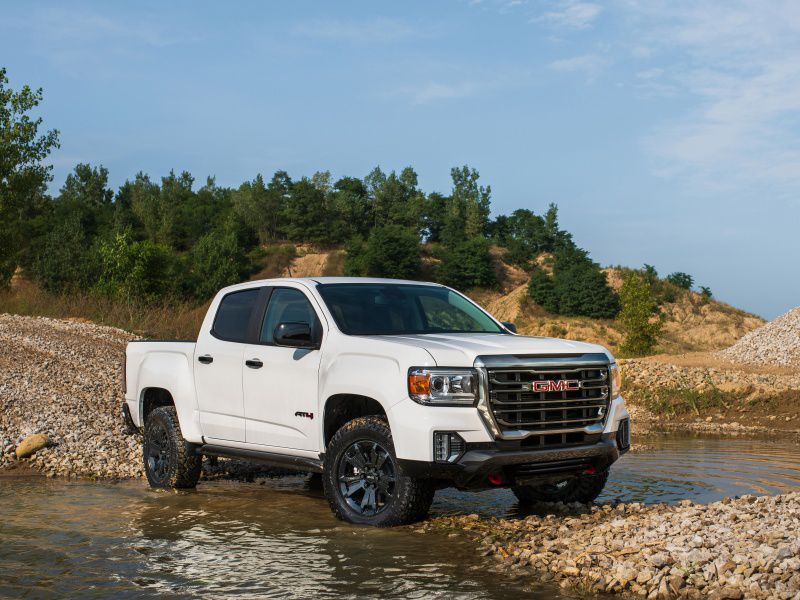 Photo by GMC
2. 2022 Nissan Frontier
While other automakers — including Ford and GM — temporarily abandoned the mid-size truck market, Nissan stayed the course with the Frontier. In fact, until now, it had barely changed the truck since 2005.
But for 2022, Nissan has thoroughly reworked the Frontier. It still has some of the same mechanical bones, but the redesigned model introduces modern looks, up-to-date infotainment and interior decor, and a full complement of advanced safety features. If the outgoing Frontier is any clue, the Ranger might still drive better, tow more, and get better gas mileage than the Frontier, but the Nissan has tougher looks, might cost less, and should continue to deliver the mechanical honesty and simplicity that most modern vehicles have walked away from.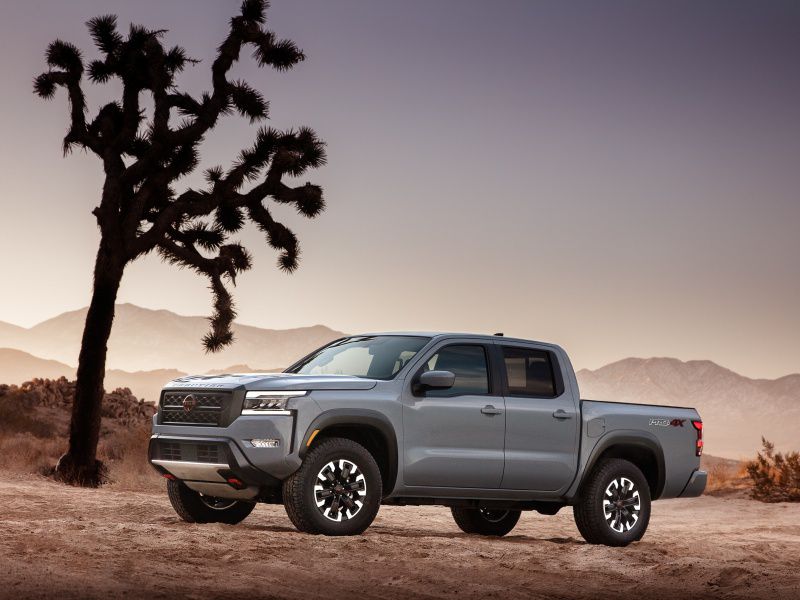 Photo by Nissan
Or Consider the 2020 Frontier
The 2022 Frontier isn't on sale yet, and Nissan elected to skip the 2021 model year. That means the 2020 Nissan Frontier is still available. It introduced a sneak preview of the new generation's engine: a more powerful, more efficient 3.8-liter V6 with 310 horsepower and 281 lb-ft of torque.
But it's otherwise the product of an earlier age, for better or for worse: Either you miss Apple CarPlay, adaptive cruise control, and a hushed cabin, or you're grateful for a truck that doesn't have them. The 2020 Frontier is priced from $26,790, but even its base model is decently equipped, including the now-standard 3.8-liter V6.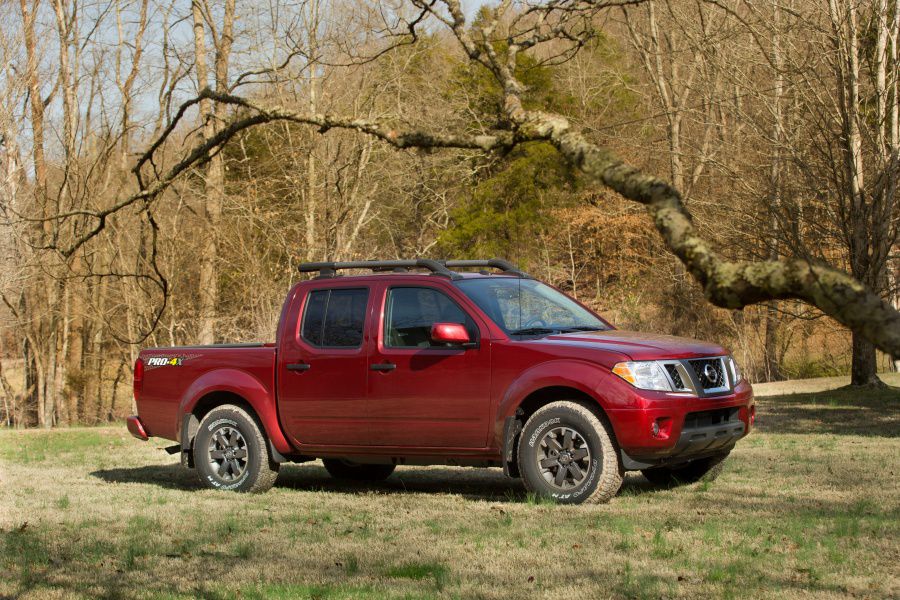 Photo by Nissan
3. 2021 Honda Ridgeline
Maybe instead of the rougher character of the Nissan Frontier, you want something gentler than the Ranger. Enter the 2021 Honda Ridgeline. While other pickups use truck platforms, the Ridgeline is derived from the Honda Pilot and Passport crossovers. That gives the Ridgeline far superior ride comfort, on-road agility, and interior space compared with other small pickups. Its huge backseat, airy cabin, and high-end refinement even make it an alternative to a full-size pickup, at least as a commuter car or family hauler. 
What's more, the 2021 Ridgeline is newly updated with revised styling that makes it look less like a Pilot. Its front end is now more squared off, and a new Honda Performance Development (HPD) package adds further visual flair. Other changes included, at last, adding a volume knob to its troublesome touchscreen-only infotainment system.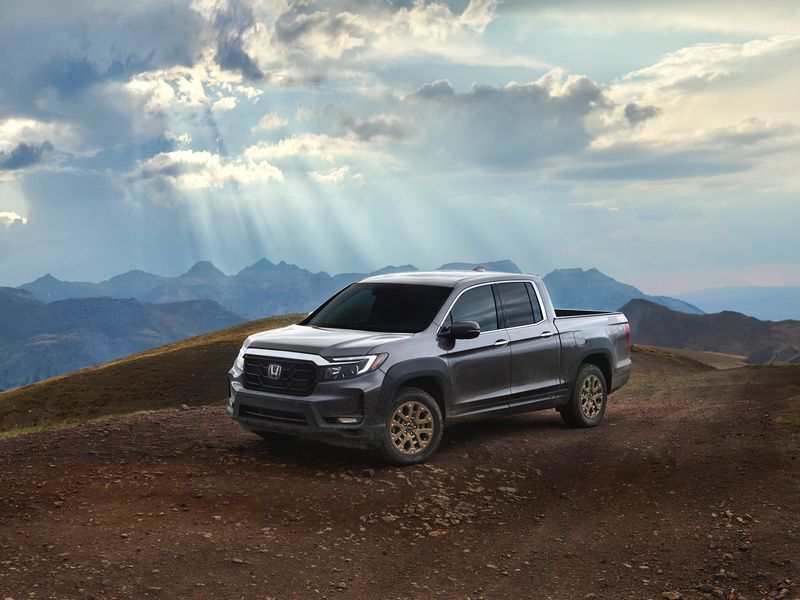 Photo by Honda
All the Truck Many Folks Need
The Ridgeline is still a logical truck more than an emotional one. It doesn't have a long bed, huge towing or payload limits, or mighty off-road abilities — but realistically, many truck buyers will be better served by a spacious, smooth-riding pickup than by a bouncier vehicle with capabilities they wouldn't use anyway.
Of course, many truck purchases are about emotions; they're often lifestyle accessories as much as utility vehicles. And as a lifestyle accessory, the mild-mannered, sensible Ridgeline comes up short. It's also expensive, sold only in pricey configurations with a crew cab body, a V6 engine, all-wheel drive, and lots of features; the base price is $36,490. It's the perfect Ranger alternative for some buyers, and a lousy one for others.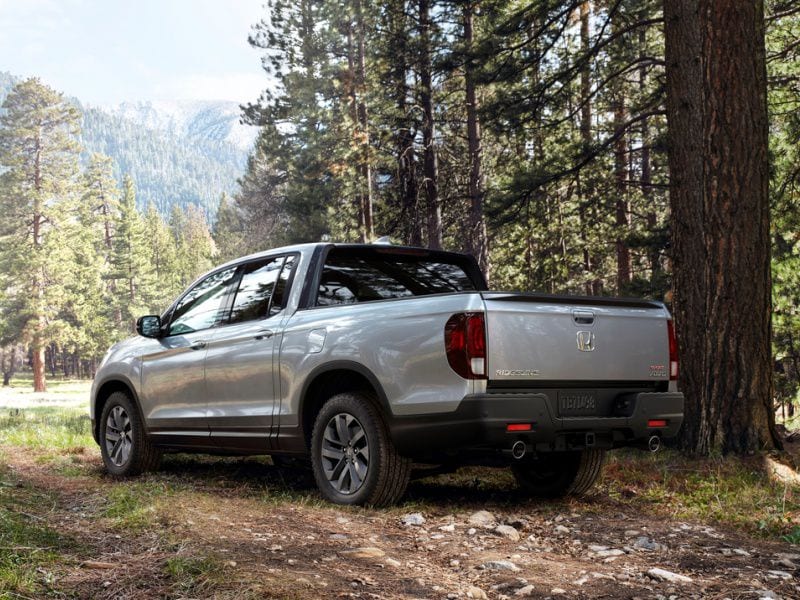 Photo by Honda
4. 2021 Jeep Gladiator
The opposite of the Honda Ridgeline, the 2021 Jeep Gladiator is an all-out lifestyle vehicle. Think of it as a Jeep Wrangler with a pickup bed, and you're close. It also has a heavier-duty rear suspension for true truck work.
If you like a Wrangler, you'll also probably like a Gladiator. It's bulkier than its SUV sibling, but the Gladiator has the same throwback styling, the same removable roof and doors (making it the only convertible pickup truck on the market), and off-road-ready versions like the Rubicon and Mojave. These classic Jeeps provide a beloved blend of all-business capability and, with "Easter egg" design cues and round headlights, lighthearted whimsy.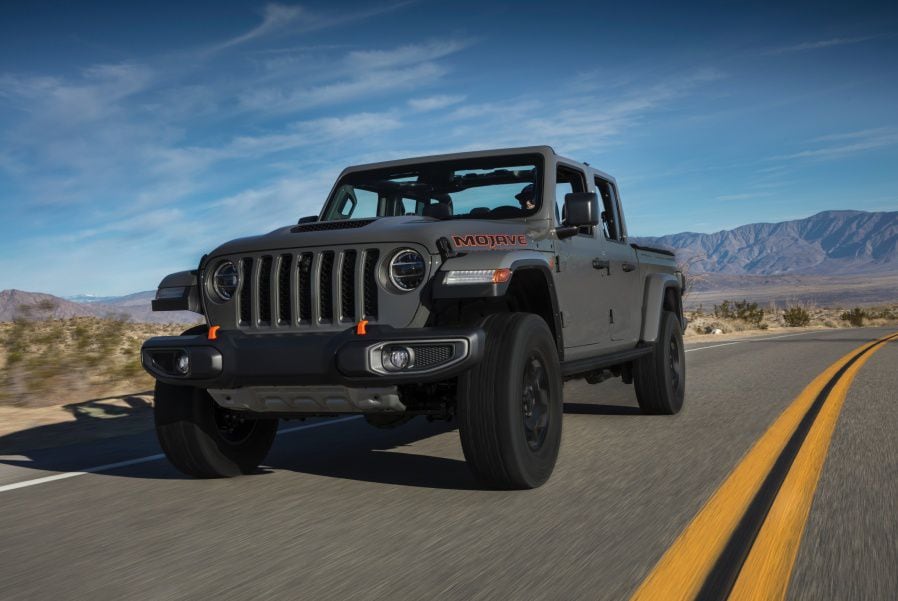 Photo by FCA US LLC
It Costs HOW Much?
The Gladiator isn't cheap. Quite the opposite. Like the Ridgeline, it comes only as a four-wheel-drive V6-powered crew cab, which contributes to its lofty $33,565 base price. But that base price doesn't even include an automatic transmission or power windows; getting this truck up to the modern "basics" means a price near $40,000. Do you want luxury amenities, extra off-road goodies, and the available fuel-sipping diesel engine? You could be looking at upwards of $60,000. That's full-size-truck money.
Also, the Gladiator's loose steering and noisy ride mean that you have to treat it differently from other modern vehicles. If you don't love the character, this Jeep will quickly turn you off. But if you do find trucks like this charming, you'll consider spending extra over the Ranger.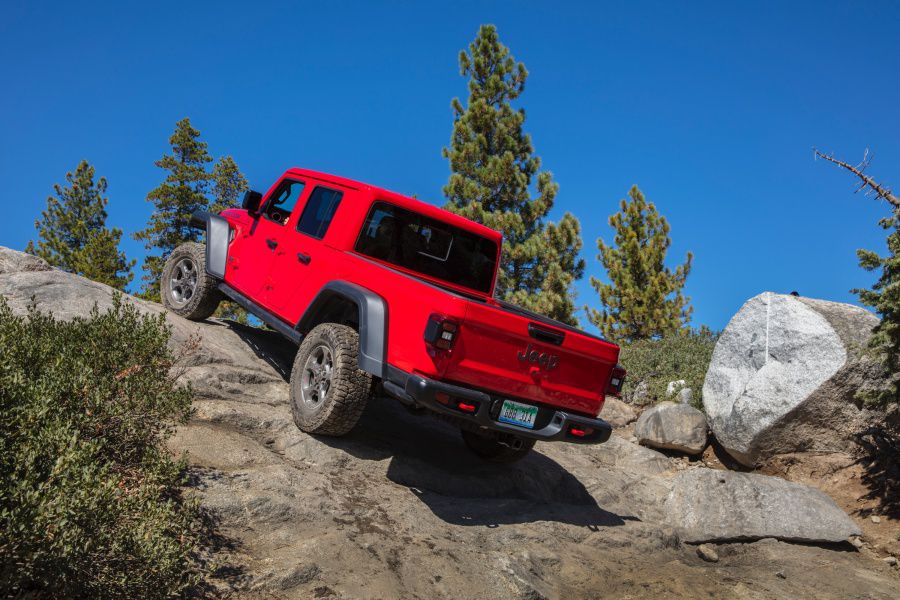 Photo by Fiat Chrysler Automobiles
5. 2021 Ford Bronco
You don't have to leave the Ford brand to get a character-filled, off-road-ready lifestyle vehicle. You just have to give up the pickup bed to get it. We're talking about the all-new 2021 Ford Bronco, a highly anticipated SUV that's roaring back to the market to take on the Jeep Wrangler — and that also presents an excellent alternative to the 2021 Ford Ranger.
The Bronco will start at $28,500 for a two-door short-wheelbase model and $33,200 for a significantly bigger four-door. Like the Jeep Wrangler and Gladiator, you can remove the Bronco's doors and roof, and four-wheel drive is standard. And it's packed with retro character, evoking the 1960s original with round headlights and a boxy shape.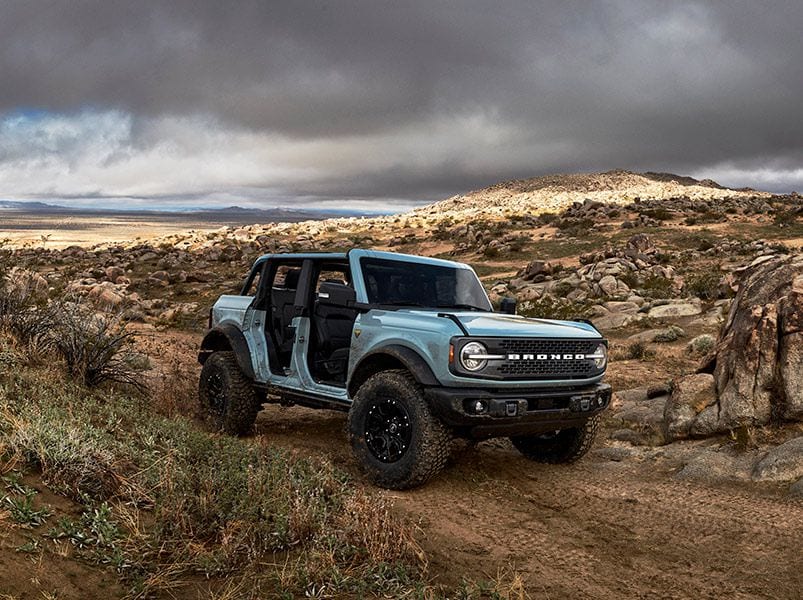 Photo by Ford
Have It Your Way
The Ranger has a fairly simple model lineup. Choose among lightly, moderately, and luxuriously equipped trim levels; between an extended cab and a crew cab; and two-wheel or four-wheel drive. The Bronco goes much further. Most models use the same 2.3-liter four-cylinder turbo as the Ranger, but the Bronco alone lets you choose a manual transmission or a V6 (though not both). And the seven trim levels, including Outer Banks to Badlands, offer different characters as well as different features.
The Bronco is also built for off-roading, with a five-mode terrain management system as standard equipment (with two more modes available). This truck isn't just here to look cool; it intends to look cool while tackling any obstacle you throw at it. If you're OK throwing your stuff in the back on an SUV rather than a pickup bed, join the crowds who can't wait for the Bronco to go on sale.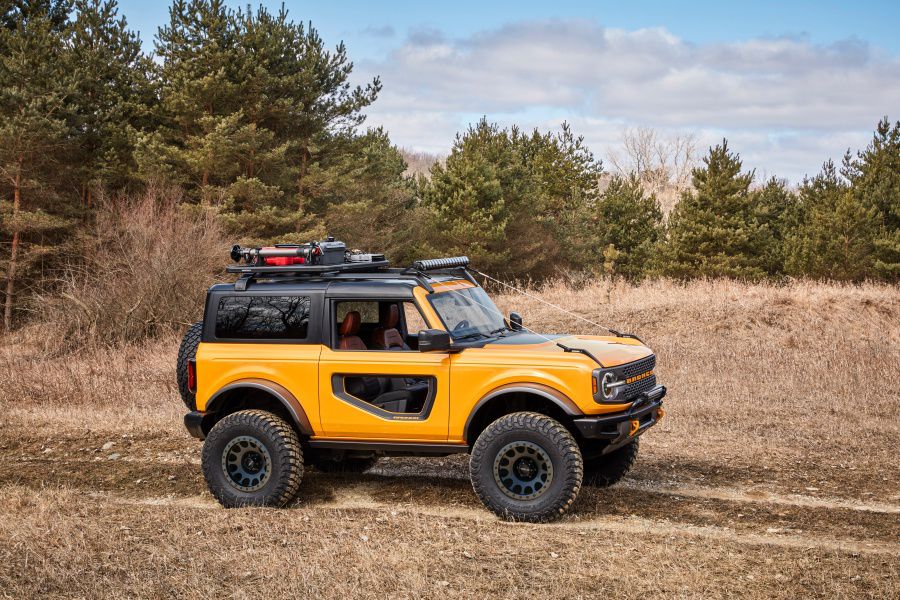 Photo by Ford