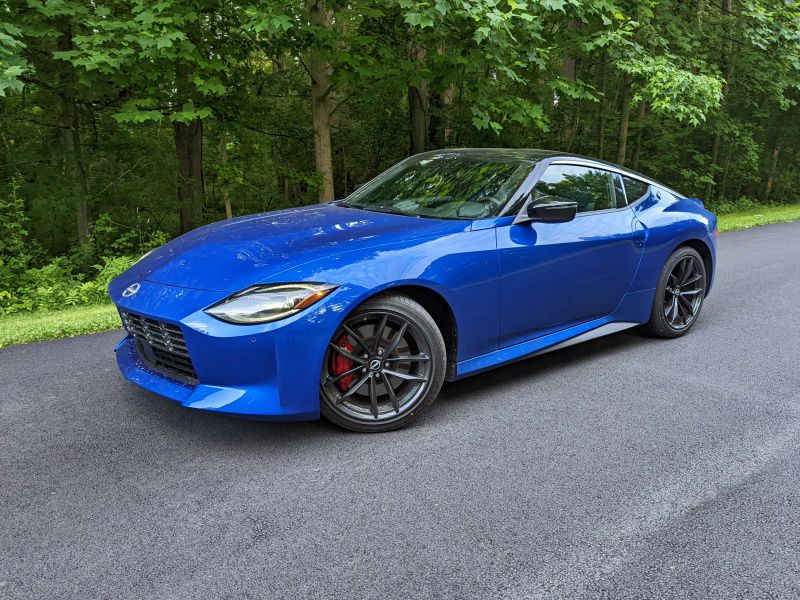 2023 Nissan Z ・ Photo by Brady Holt
A successful sports car often has two core elements: great looks and great specs. And on that front, the redesigned 2023 Nissan Z makes a compelling process. It's a beautiful two-seat rear-wheel-drive coupe that makes a whopping 400 horsepower at a starting price of just $39,990. 
But after we spent a week testing the new Z, we came away impressed with it in another way. As critics have been grumbling, some rival performance cars put down better racetrack numbers — 400 horsepower or not. But while this Nissan may not be a spec-sheet winner after all, it delivers an overall experience that will win it many fans if it gets the chance. Keep reading as we explore the 2023 Nissan Z's pros and cons to show whether it's the right type of sports coupe for you.
Unmistakable Yet Restrained Design
Nissan reinvented the Z in 2003. After rising prices killed its sales in the '90s, the 2003 350Z was a hit for value-packed performance. Over the ensuing 20 years, two new generations of Z have kept a familiar shape. And the 2023 model is more of an overhauled version of the old 370Z (sold from 2009 to 2020) than a ground-up new model. 
Still, we love the way Nissan managed to evolve the styling. It keeps the overall shape and proportions of its most modern predecessors, but its rounded headlights and rectangular taillights pay homage to classic Z cars. At the same time, it's not so distractingly retro that it feels like a relic. What's more, Nissan resisted the urge to make the body busy; it lets a low two-seat rear-wheel-drive sports coupe speak for itself while staying clean and classy. We also appreciate its wide selection of bright or otherwise distinctive colors, including our test car's Seiran Blue. This car turns heads. You don't get to see the sun, though; unlike the previous generation, no convertible model is currently available. There isn't even a sunroof.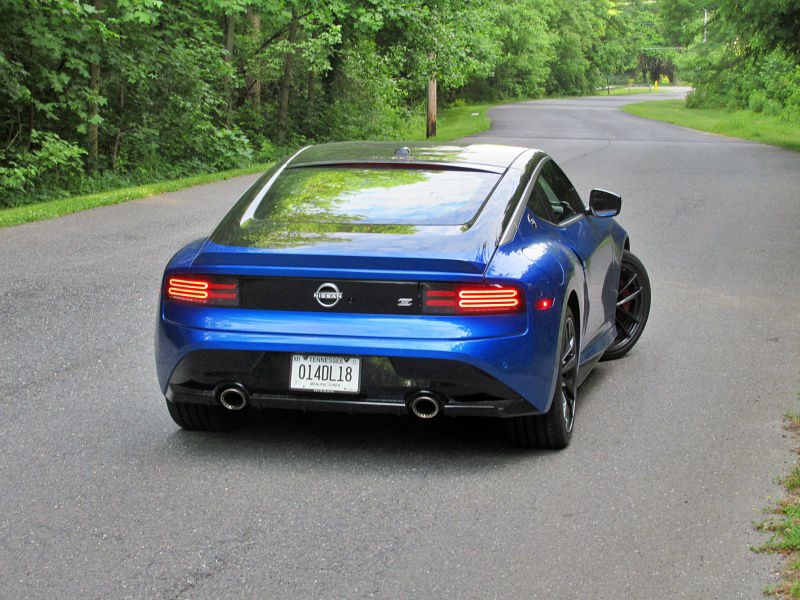 Photo by Brady Holt
400 Horsepower and a Choice of Transmissions
The old 370Z got its name from a 3.7-liter naturally aspirated V6, which made 332 horsepower and 270 lb-ft of torque. The 2023 model borrows a 3.0-liter turbo from the Infiniti Q50 Red Sport 400 luxury sports sedan; it makes 400 hp and 350 lb-ft of torque. 
Unsurprisingly for an Infiniti-sourced engine, this turbo growls subtly rather than screaming wildly. It sounds rich in routine conditions, but it won't thrill those who crave aural invigoration. We think they'll appreciate the engine's mildness on quiet residential streets, though (or, at the very least, the neighbors will). The Z should reach 60 mph in around 4 seconds, and while that's not setting world records, that's incredible real-world speed. Nissan lets you choose between two transmissions: a six-speed manual and a nine-speed automatic. Both are better than the Q50's seven-speed automatic, and we're grateful that Nissan still offers a manual in its sports car. The EPA estimates that the automatic Z gets 19 mpg in the city, 28 mpg on the highway, and 22 combined, while the manual dips to 18 mpg city, 24 mpg highway, and 20 mpg combined.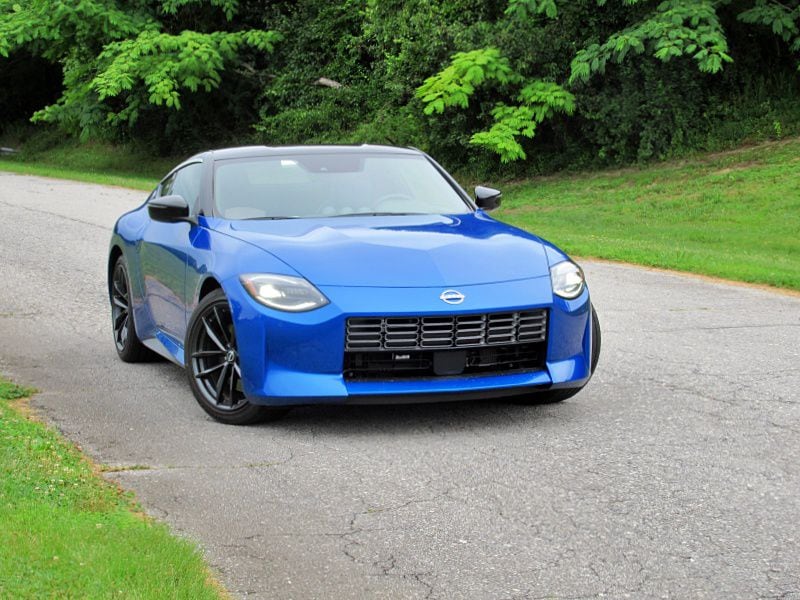 Photo by Brady Holt
The Gentle-Ride Sports Car
Given the age of the Z's bones and its performance focus, we expected it to be bumpy and noisy, and maybe even feel downright crude. That's certainly our take on the old 370Z. On that front, the 2023 Nissan Z is a pleasant surprise. It's no Altima family sedan, but it's gentle enough for stress-free commuting, and the automatic transmission is geared to keep the engine humming at low rpms on the highway. If you're interested in a sports coupe for style and flavor more than racetrack domination, you'll love how the Z turned out. 
Of course, making the Z smoother and quieter also made it heavier and softer-sprung. It has become more of a stylish cruiser than a tautly honed track star. We don't mean this is a lazy, clumsy car to hustle around a curve — except in comparison to the world's finest driving machines. We enjoyed driving the Z, but you'll find a friskier experience in a Toyota Supra. The Toyota also offers adjustable dampers to tune your suspension for different driving conditions, a feature the Nissan skips. But we're confident that the Z minimal-sacrifice performance is perfect for many customers.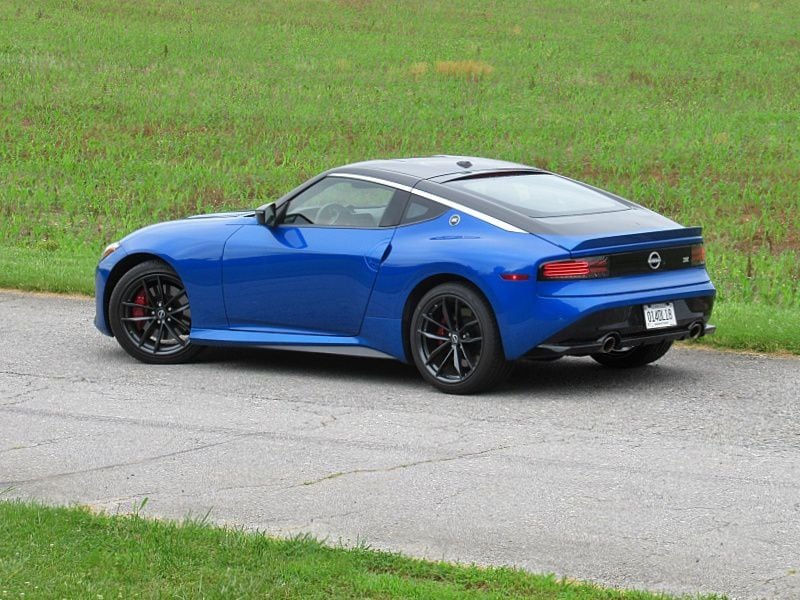 Photo by Brady Holt
Modernized Dashboard
The old 370Z had an interior straight out of 2009, and its dashboard bore all the style and elegance of a desktop computer tower. The new 2023 Z is fully reworked with fresher styling, richer materials, and up-to-date technology. 
At the center of the new Z dashboard is its new infotainment system. It avoids the modern trend of perching a screen atop the dash, and the chunky dashboard is instead built around it. The base Sport model gets an 8-inch touchscreen and our Performance test vehicle has a 9-incher. Standard Nissan fare, this infotainment system is nothing flashy, but it's fully featured and easy to operate. The Z also pairs a set of old-school analog gauges at the center of the dashboard with a customizable digital gauge cluster. You can set it up with classic speedometer and tachometer circles, swap to a view that prioritizes the tach in classic sports-car style, or pick a funky alternative with a small speedometer and tachometer on the side. We think it's an interior that will age well, which is especially important in a performance car whose appeal will long outlast its production.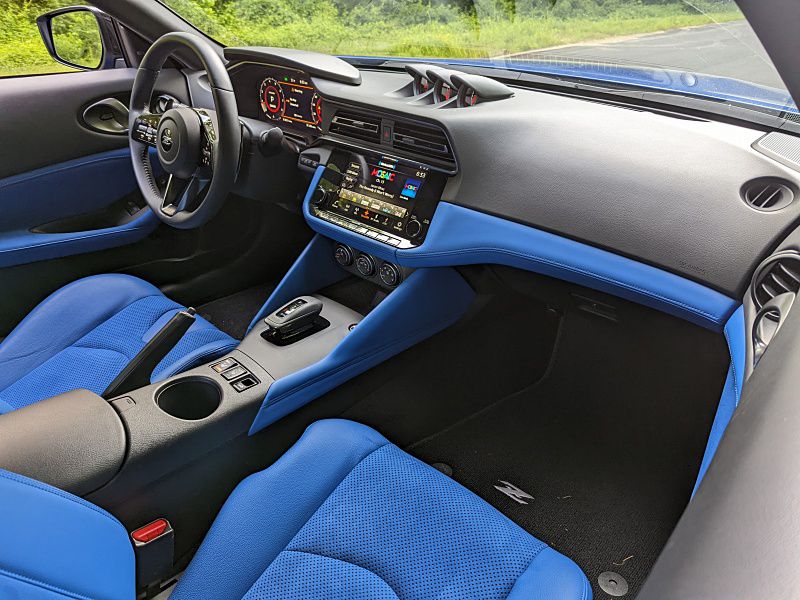 Photo by Brady Holt
Two-Seat Functionality
We didn't mention on the previous page that our test car's interior was blue, but we probably didn't have to. You didn't miss it in the photos, and it also got bystanders talking during our test. This suede carries over from the seats to the door panels and dashboard, and it's as rich-feeling as it is eye-catching. 
And speaking of the seats, yes, there are just two of them. Nissan doesn't even pretend to squeeze in a backseat. The seats are comfortable and supportive, and they're appropriately low to the ground. We've heard gripes about the Performance model's power seat adjusters being squeezed in next to the center console, but once you have the seat in place, you should be comfortable and won't have to adjust it again for a while. Behind you is a modest 6.9 cubic feet of trunk space, which is even smaller when you remember there's no backseat to hold your overflow luggage. Pack carefully if you're taking your partner on a weekend road trip.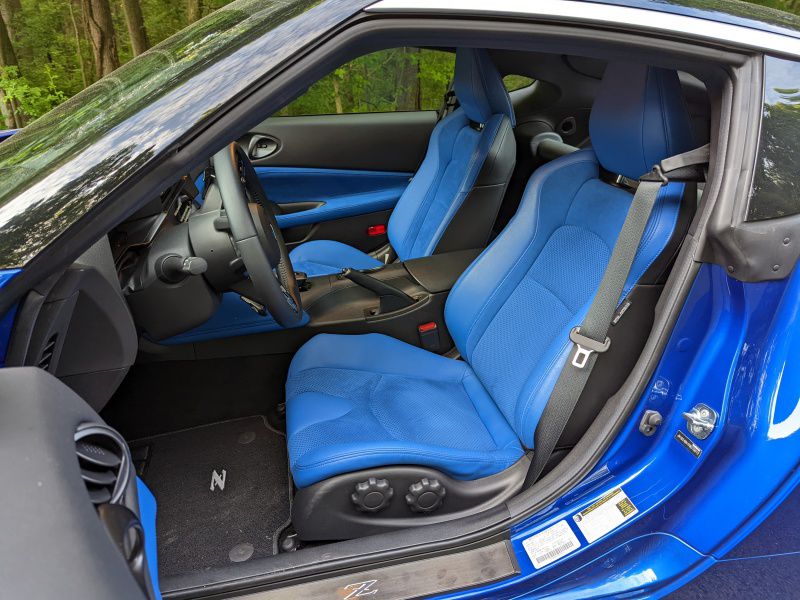 Advanced Driver Aids
The old Nissan 370Z had a federally mandated backup camera but none of the other advanced driver aids that have become ubiquitous on modern vehicles. The new model rectifies that omission. 
Now, every 2023 Z comes with adaptive cruise control, automatic emergency braking, a lane-departure warning, blind-spot monitoring, and front and rear parking sensors. Purists might argue that these features are unwelcome interferences with driving, but to us, they're a useful backstop against driver fatigue or inattention. One quibble: It looks like Nissan continues to use the same backup camera, and it looks extra-low-resolution on our test vehicle's 9-inch screen. We're sure it looked better on the old car's 7-inch screen.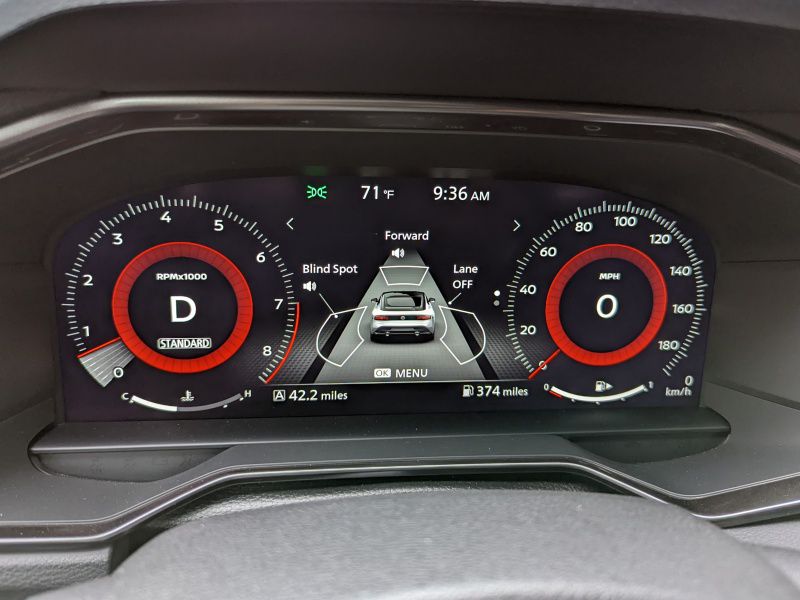 Photo by Brady Holt
Surprisingly Reasonable Pricing
The 2023 Nissan Z starts at $39,990 for its base Sport model and $49,990 for the Performance model like our test vehicle. As the name suggests, the top trim level brings higher performance: upgraded brakes, wheels, and tires; a mechanical limited-slip differential; a dressier exterior; and a stiffer suspension. Your $10,000 also buys luxuries like leather and suede upholstery, power-adjustable seats, a Bose sound system, a 9-inch touchscreen with GPS navigation, and a Wi-Fi hotspot. 
Even the base model isn't stripped-down, though. You already get the big 400-horsepower engine and your choice of no-charge transmissions. There's also an 8-inch touchscreen with Android Auto and Apple CarPlay; a digital instrument cluster; push-button starting; automatic climate control; and the advanced driver aids we mentioned on the previous page. These prices aren't cheap, and you'll likely pay some amount of dealer markup for a while. But for an entrancing performance coupe, we're content to call the Z a fair price — and the Sport is a performance bargain.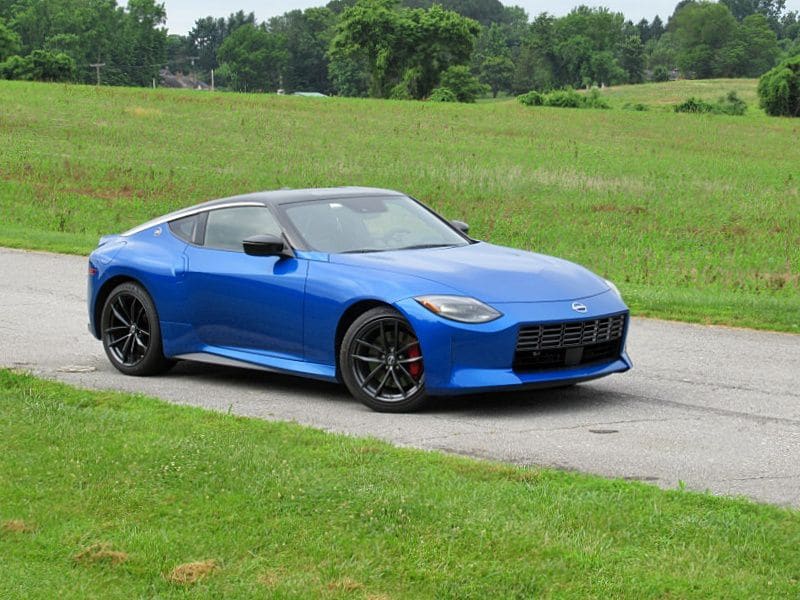 Photo by Brady Holt
Compelling Competitors
Of course, the Nissan Z isn't the only incredible performance car for less than $50,000. Principally, it faces its old 1990s-era archrival: the Toyota Supra, which was reintroduced for 2020. The Supra is a wild-looking Toyota that's built on BMW bones, giving it a greater sense of mechanical sophistication atop its harder-edged tuning. Toyota also lets you choose between an economical four-cylinder engine and a heartier six-cylinder. Not only is the Z more comfortable to drive on a daily basis, but it costs less than even a four-cylinder Supra — and a whopping $12,505 less than the cheapest six-cylinder model.  
We'd also compare the Z against Detroit's trio of performance bargains: the Chevrolet Camaro, Dodge Challenger, and Ford Mustang. They offer V8s for even less than the base Z, along with the functionality of a rear seat. The Nissan counters with additional panache and a cleaner design than the retro Americans.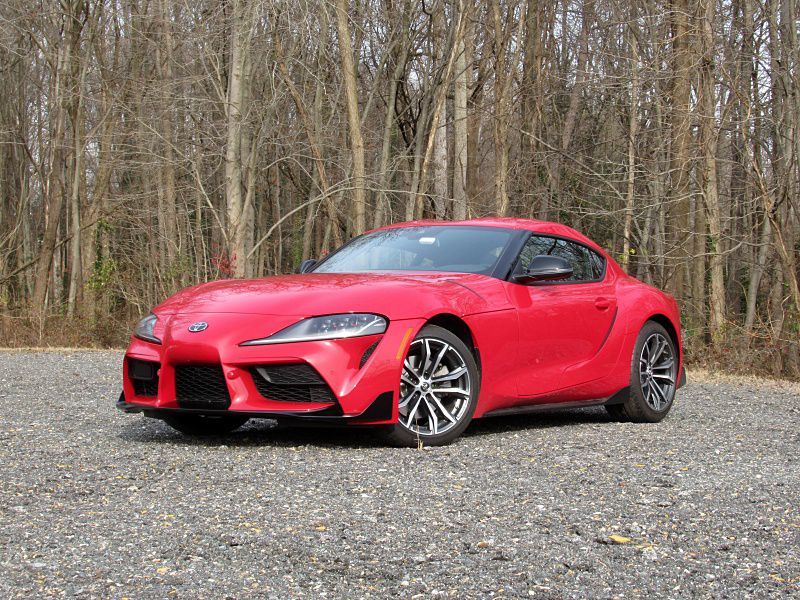 Photo by Brady Holt
A Subtler Flavor of Driving Pleasure
Sometimes, you fall in love with an incredible performance machine that wears you out on a daily basis. The freshly civilized 2023 Nissan Z avoids that flaw. It's not only attractive to look at and to ride in, but it's also a splendid overall experience. It's a good-looking car that's both comfortable and fast, speedy yet civilized. And it has modern technology and amenities. In multiple senses of the world, this is a beautiful sports coupe that we don't think its owners will regret buying. 
What's more, if you're able to avoid markups, Nissan will sell you this head-turning, refined 400-horsepower two-seat sports coupe for as little as $40,000. While some folks will wish for a rawer, harder-edged experience, we're on board with the Z's subtle flavor of driving pleasure. It's a performance car that you can enjoy for more than just its sheer performance. Equal parts desirable and livable, the Z is an uncommonly fine automobile.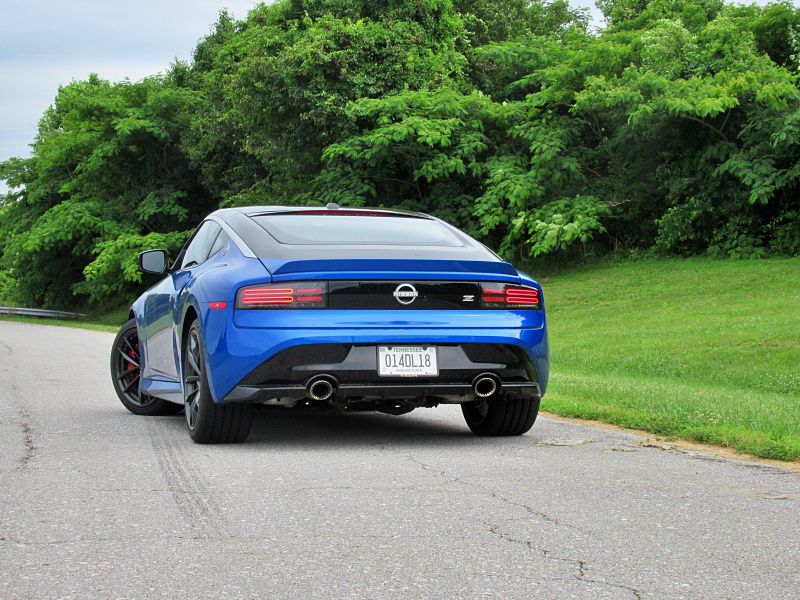 Photo by Brady Holt