2023 Nissan Rogue Platinum ・ Photo by Brady Holt
The Nissan Rogue used to be a sensible, businesslike entry in the compact crossover segment. It was roomy, comfortable, and affordable, but it had little in the way of verve or panache. That changed for the 2021 model year, when a full redesign brought in sharper styling, crisper driving manners, and a richly finished interior. 
What changed the least was the Rogue's engine. A few updates made this 2.5-liter four-cylinder quieter and slightly quicker, but it still wasn't a class standout. So after just one year on the market, Nissan scrapped that engine in favor of a technologically advanced turbocharged three-cylinder, which promises more power along with better fuel economy. We spent a week in the 2023 Nissan Rogue, which is priced from $27,360, to see how it lives up to its promise. Keep reading to hear what we learned and to find out if the Rogue is the right small SUV for you.
Sharp-Looking Body
Some crossover SUVs are designed to look like aggressive performance cars or heavy-duty off-road machines. Others are mild-mannered rounded-off boxes. The 2023 Nissan Rogue borrows from all three approaches without going to any extremes. 
Up at the front, Nissan splits the headlights with high-mounted slits above chunkier rectangles, both sitting astride a big, upright, chrome-trimmed grille. It's the most in-your-face part of the Rogue's design, but we don't think it's overdone. The sides and back of the car are smartly chunky, making the Rogue look purposeful yet still upscale. Overall, we find the Rogue to look substantial and respectable. We don't think folks will stop and stare, but especially from the rear, it could look right at home in just about any driveway, from cottage to mansion.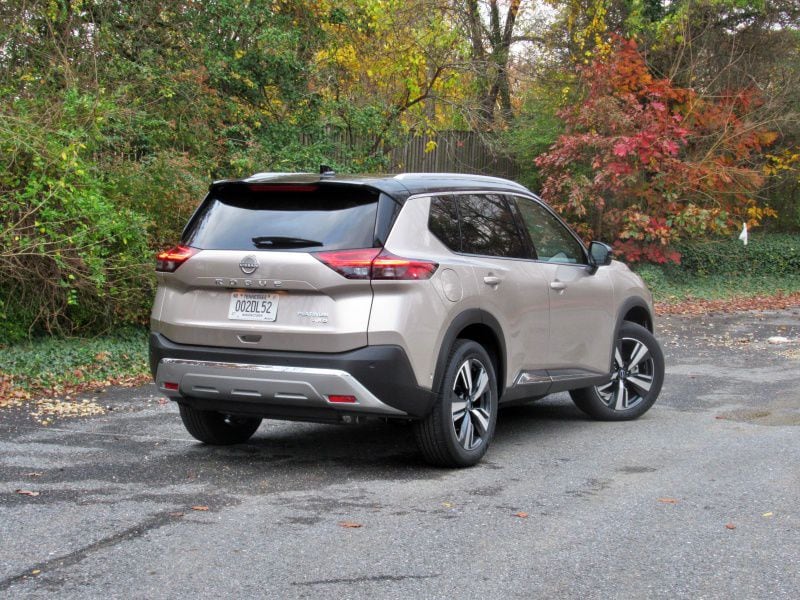 Photo by Brady Holt
Upscale Interior Decor
When Nissan shows off the Rogue, it plays up the pleated tan leather seats you see on our test vehicle. It's the top Platinum model, which starts at $37,140 and tops $40,000 as tested. Fortunately, even lesser Rogues have a lot of appeal. 
The interior is clean and contemporary, with a choice of 8-inch and 9-inch infotainment touchscreens and simple controls. Most materials look and feel nice, and moving parts like the turn signals operate with commendable precision for a humble small SUV. There are plenty of storage areas, including in an open space under the center console. And if you are spending big bucks on your Rogue, the Platinum like our test vehicle does indeed dazzle with its upgraded upholstery and available brighter tan. Our chief nitpick is that the doors feel light and insubstantial; you won't forget you're in a mainstream-brand crossover when you slam them closed.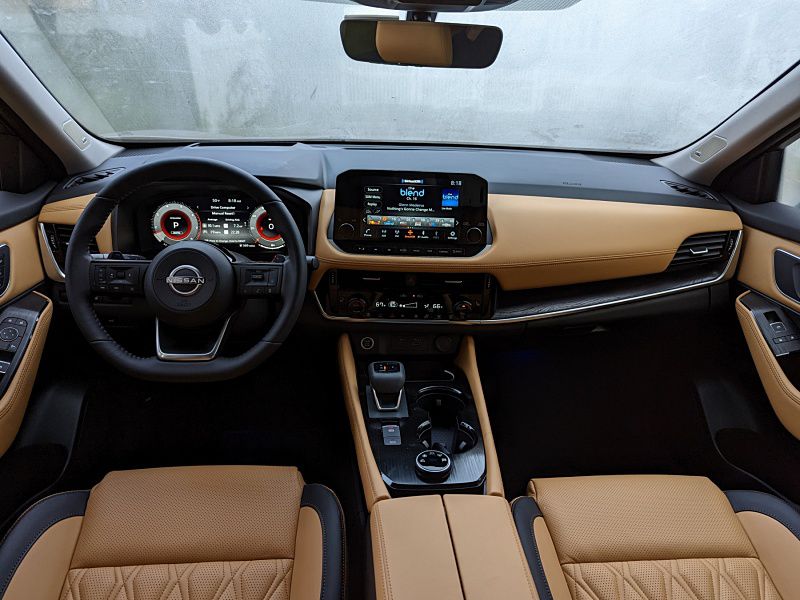 Photo by Brady Holt
Tons of Space
The Rogue isn't just attractively finished inside; it's also particularly roomy. It has more space for passengers and cargo than you'd even get from the mid-size Nissan Murano. The front and rear seats are firm and comfortable. Nissan's "Zero Gravity" foam promises maximum long-term support. The back doors open 90 degrees for easy access. All but the base model gets an eight-way power driver's seat, while heated front seats, a heated steering wheel, and even rear-seat sunshades are available on most trim levels. Heated rear seats are optional only on the Platinum, though, and ventilated front seats aren't offered at all. 
For cargo, the Rogue provides an excellent 36 cubic feet of space behind the rear seat and 74 cubic feet with the rear seat folded. It folds easily, and a useful Divide-N-Hide cargo system lets you reposition panels to raise or lower the cargo floor, or to quickly create a mini wall that keeps your stuff from rolling around or tipping over. We just wish that system were more widely available, as it was in the past; you now need a top trim level for it.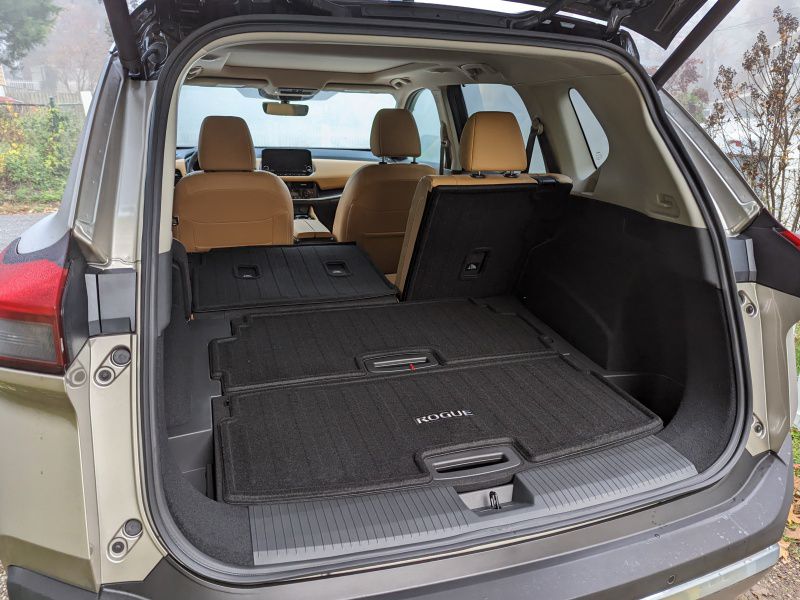 Photo by Brady Holt
Three Mighty Cylinders
A three-cylinder engine might make you think the Rogue is underpowered. Quite the opposite. With 201 horsepower and 225 pound-feet of torque, this little 1.5-liter accelerates eagerly for a compact crossover. You'll eventually reach a point where pressing your foot down fails to make the Rogue go any faster, but many drivers will never even push that far. And the engine makes a pleasant growl, nothing like the raspy wheeze from a few competitors and some older Rogue models; by sounding nice, this three-cylinder dodges the impression of being overworked. Its well-sorted continuously variable automatic transmission helps, too, by simulating the natural experience of a conventional automatic. 
The Rogue's three-cylinder engine borrows the variable-compression technology that's also used on a couple of four-cylinder Nissan and Infiniti models. It adjusts the turbocharger on the fly to prioritize fuel economy or power, based on the driver behavior. We'll discuss the results on the next page.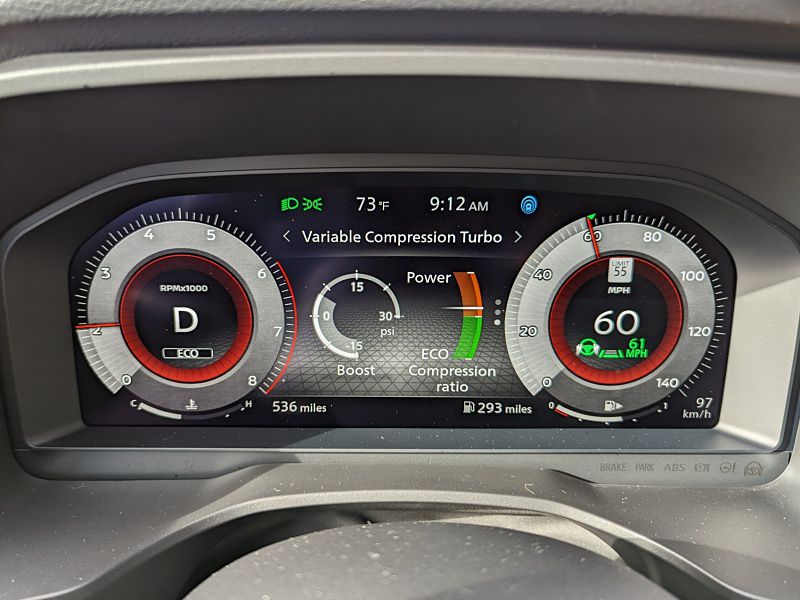 Photo by Brady Holt
Class-Leading Efficiency, With a Catch or Two
In EPA testing, the three-cylinder Nissan Rogue gets up to 30 mpg in the city, 37 mpg on the highway, and 33 mpg combined. That's as good as a Nissan Sentra economy sedan with a sluggish conventional four-cylinder. It's 3 mpg better than the equivalent 2021 Rogue. And it's better than any other gas-only compact crossover. The 2023 Rogue's mileage varies by trim level and whether you've chosen front-wheel drive or the heavier all-wheel-drive system; our top-trim AWD test vehicle has the lowest EPA ratings of a still-excellent 28 mpg city, 34 mpg highway, and 31 mpg combined. 
A couple of caveats: If you like to drive hard, the Rogue's variable compression cuts both ways. You'll go fast but burn more fuel. That's why we've seen some reviewers get lousy mileage from the three-cylinder Rogue. On the other hand, we drove fairly gently and averaged 33 mpg during a weeklong test. The other caveat is that a growing number of competitors offer fuel-sipping gas-electric hybrid versions. Nissan sticks with only gasoline. For maximum possible fuel savings, consider the hybrids from Ford, Honda, Hyundai, Kia, Mitsubishi, or Toyota, or even the all-electric Volkswagen ID.4.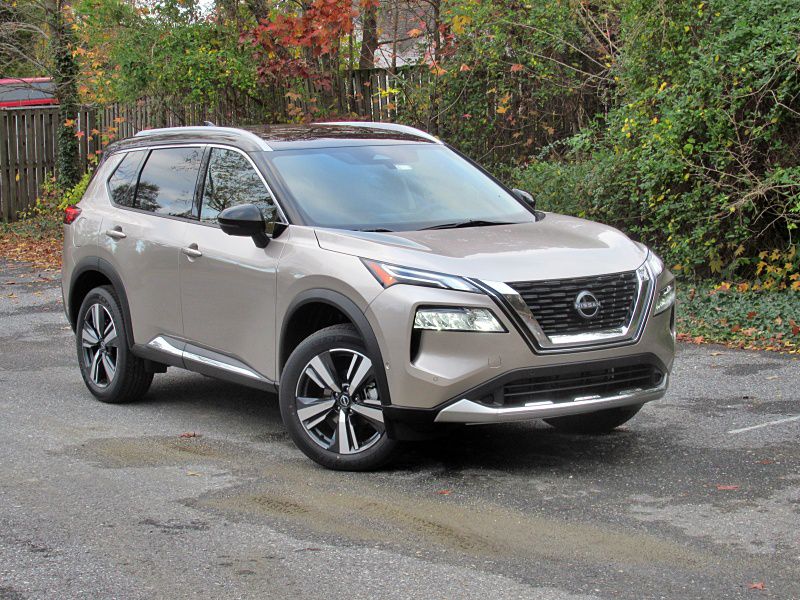 Photo by Brady Holt
Polished Ride and Handling
The Rogue's smooth, lively engine complements polished overall driving manners. The Rogue feels solid and upscale, with a taut ride and poised handling. 
Now, this isn't a corner-carving performance machine, so don't rush to trade in your BMW. But the Rogue feels expensive, with a firmness and connectedness about its controls and behavior. Some small suvs feel like empty boxes that skitter along the road; the Rogue feels planted and inspires confidence. Some drivers might prefer a cushier ride and lighter steering effort, but we think Nissan did an impressive job overall. Selectable driving modes let you optimize the throttle and steering for fuel efficiency, sporty performance, or off-road or all-weather conditions.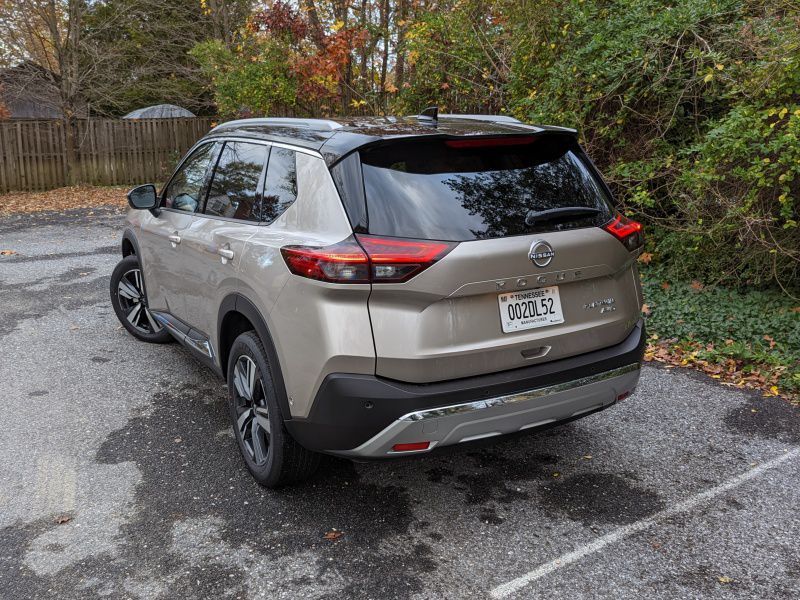 Photo by Brady Holt
Highest Safety Status
The Nissan Rogue earned the highest designation of Top Safety Pick+ from the Insurance Institute for Highway Safety, reflecting its top crash performance and collision-avoidance technologies. Notably, even its base model has top-ranked headlights; many cars have dimmer lighting on their lower trim levels. The Rogue also scored Acceptable, the second-highest rating, in a challenging and newly introduced IIHS side-impact test that simulates a collision with a large SUV. And it earned five out of five stars from the National Highway Traffic Safety Administration. 
Every Rogue is packed with safety features, including front and rear automatic emergency braking, a lane-departure warning, and blind-spot monitoring with a rear cross-traffic alert. All but the base model add Nissan's ProPilot Assist suite, which adds adaptive cruise control and lane-keeping steering assistance. And upper trim levels add a surround-view parking camera, which shows an overhead view of the Rogue and surrounding obstacles.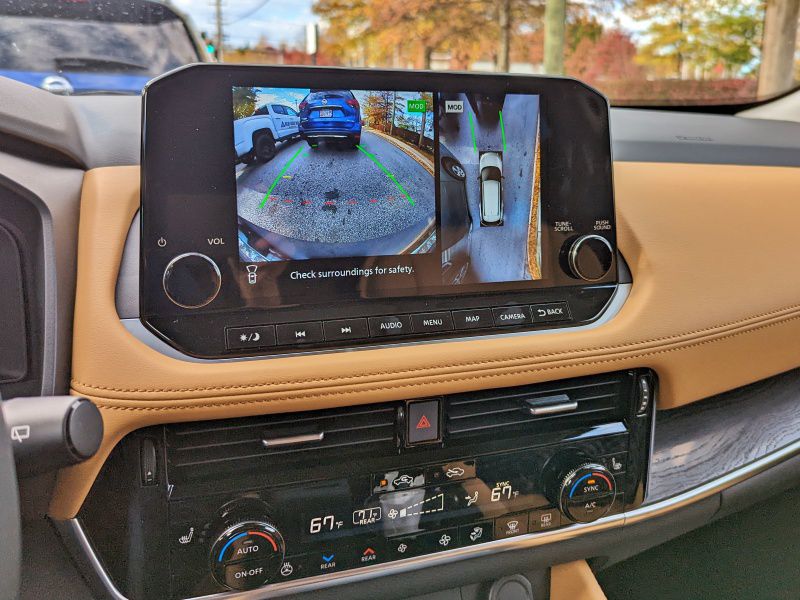 Photo by Brady Holt
Costs Less Than Top Competitors
The 2023 Nissan Rogue starts at $27,360. That may seem high, but it's actually quite a bargain — both because the competition is getting even more expensive and because the Rogue has so many standard features. We'd happily buy the base S model. But the next-up SV ($29,050) and leather-trimmed SL ($33,710) are also reasonably priced for what you get, undercutting comparably equipped Toyota RAV4s or Honda CR-Vs. 
The Rogue costs a bit more than a comparably equipped Ford Escape, Hyundai Tucson, Kia Sportage, Mazda CX-5, or Subaru Forester. On the other hand, the Nissan delivers a higher-end experience than most of these models. The Rogue's new three-cylinder has more zip than any of the other's base engines. It drives with more composed solidity than all but the Honda or Mazda. It has simpler controls than the Hyundai or Kia. It has more space inside than the Ford, Mazda, or Toyota. And it gets better gas mileage than any of them (except their optional hybrid upgrades). Note that many Rogue advantages, plus a third-row seat and an even lower price, are available on its mechanical twin: the Mitsubishi Outlander. But it's missing the Nissan's new engine.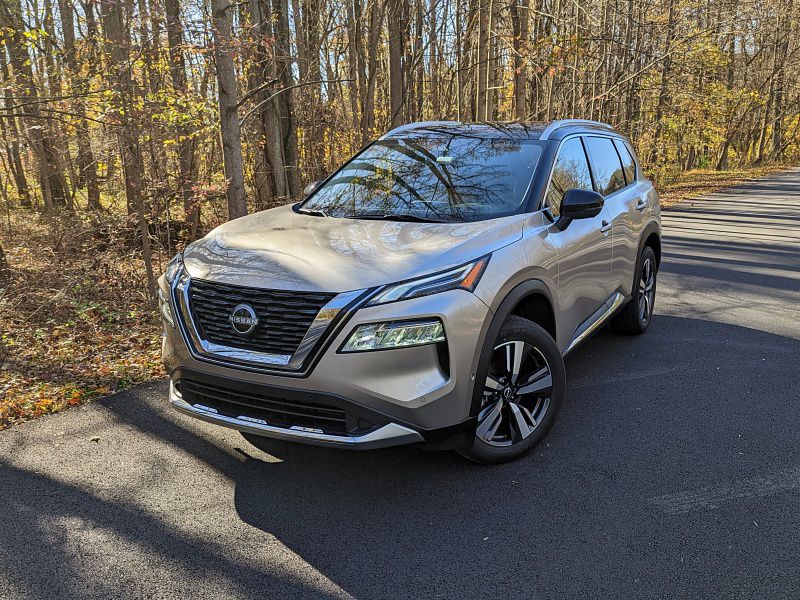 Photo by Brady Holt
This Fine Crossover Keeps Improving
The 2023 Nissan Rogue is a superbly executed compact crossover suv at a compelling price. It has family-friendly safety, spaciousness, fuel economy, and value. Yet even at its base price, It has the lively engine, steady ride and handling, and well-finished interior of a high-end model. 
We do love a number of the hybrids available in this class. Some of them even provide zippier acceleration to go with their excellent gas mileage, and often for less than $2,000 extra. But the Nissan combines power and efficiency at a lower price, which will suit many buyers just fine. We were fans of the Rogue even before it became more luxurious in 2021 (your author owns a 2019 model), and even before the new engine arrived in 2022. Don't miss this well-rounded and freshly improved small SUV.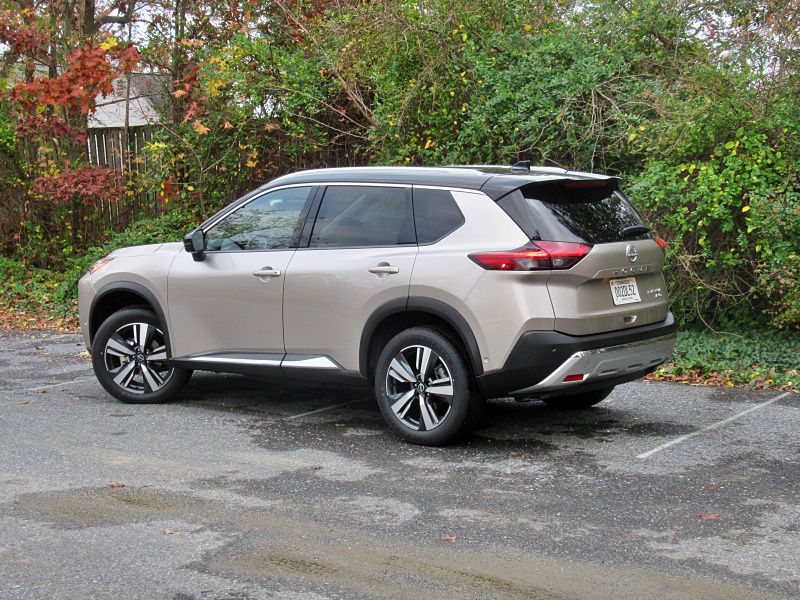 Photo by Brady Holt